Workable Solutions
Step-by-step Troubleshooting
Transfer Microsoft Office to Another Drive

Fix 1. EaseUS Todo PCTrans...Full steps

Fix 2. Manual Way...Full steps

Transfer Microsoft Office 2016 to Another Computer
(EaseUS Todo PCTrans) Step 1. Launch EaseUS Todo PCTrans and select the transfer mode...Full steps
Can I Move Office to Another Drive
"Hello, I want to move my current installation of Microsoft Office from its current location in drive C. Now I want to move it to another hard drive partition within my computer. How can I do this without losing the Office suite? I would appreciate any simple steps or methods you have. Thanks a lot."
Yes, you can. If you are dogged by how to move Microsoft Office to another drive, stay here, you can easily transfer your programs to another drive or another PC easily and quickly by professional PC transfer software. And if you prefer a tried-and-true solution, using EaseUS Todo PCTrans is easier than CMD written by Microsoft. Furthermore, we also give you another method to transfer Office between two devices.
How to Move Microsoft Office to Another Drive (2013/2016/2010/365/2019)
See More: Transfer Office between Two PCs
Why EaseUS Todo PCTrans Is Your Best Choice
If your programs are installed by default, Apps & Features in Windows Settings can help you transfer some installed programs from C drive to another drive. 
However, most programs are not installed by default. You cannot change the installation location of Microsoft Office, as the "Move" option is not available.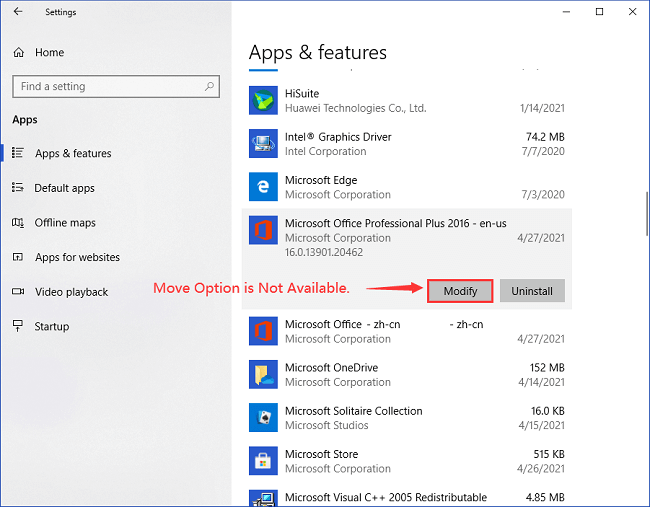 Then, what can you do to move Microsoft Office to another drive when your C: drive gets full or you have a new hard drive? You can't get help by simply copying and pasting the programs neither. At this time, what you need most is EaseUS Todo PCTrans. This reliable and effective PC transfer software helps transfer your data, applications, and account settings from one PC to another in one click. It takes all stuff to a new PC or another dive. This software has many fantastic features: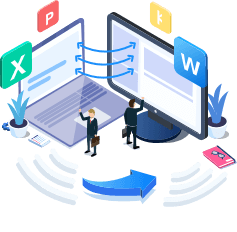 How to Move Microsoft Office to Another Drive
Now that you have known that this Microsoft Office mover can help you change the installation location, you can download EaseUS PC transfer software and follow the steps below to move MS office to another place.
Step 1. Launch EaseUS Todo PCTrans.
Download and install EaseUS Todo PCTrans on your computer.
Launch EaseUS Todo PCTrans and go to "App Migration" > "Start".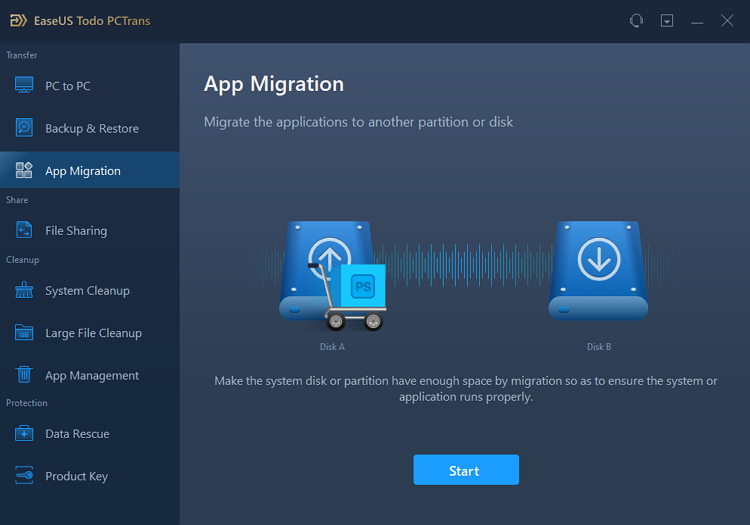 Step 2. Select Microsoft Office and the target drive.
Click the drive on which you have installed Microsoft Office and check the application.
Click "triangle icon" and choose the drive you want to transfer the application to.
Click "Transfer" to start transferring Microsoft Office to another drive on your computer.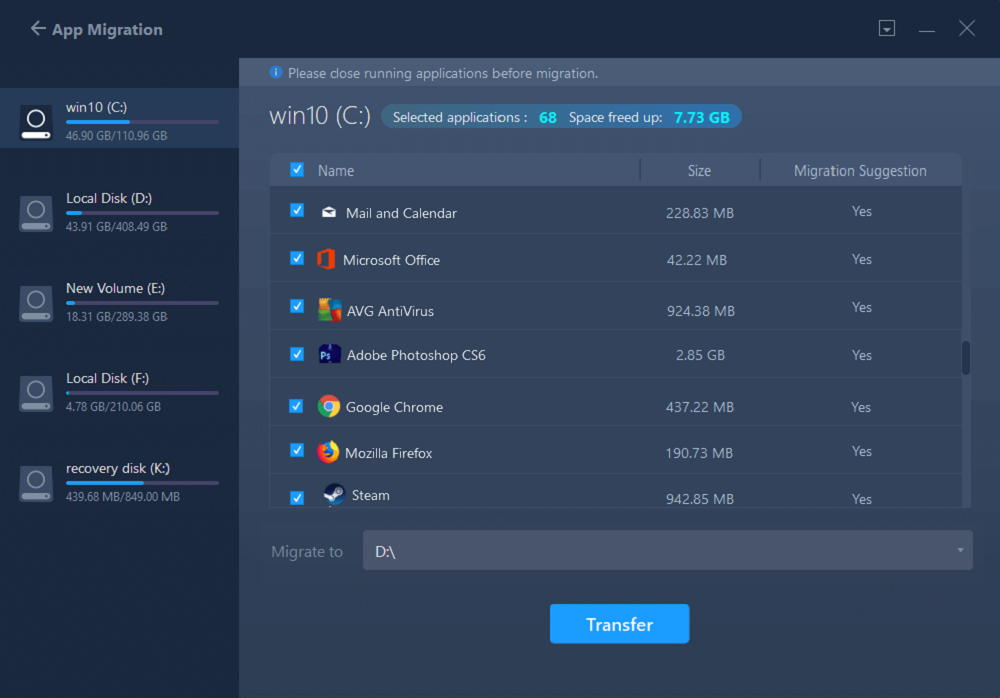 Step 3. Wait for the process to finish.
The time spent depends on the size of the application(s) you attempt to finish. Thus, wait patiently for the process to complete.
When it has done, click "OK".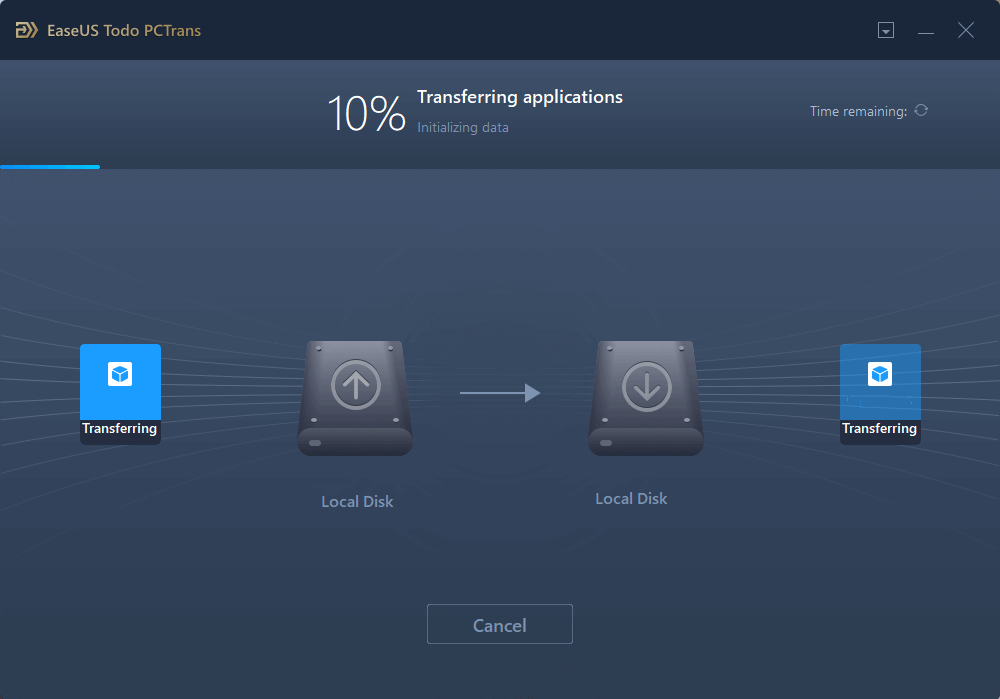 In fact, many people are looking for ways to migrate Steam games, Microsoft Office, and Adobe to another drive to save their space. You also interested in: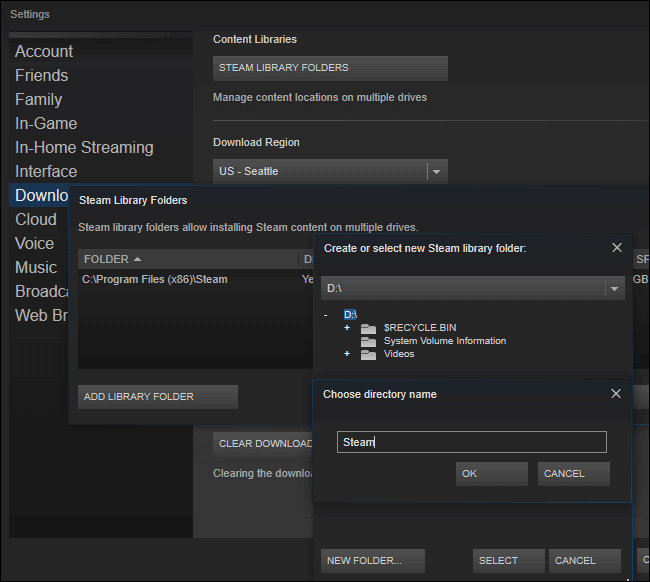 Manual Way - Move Office 365 to Another Drive
You can change the install directory to install Office on another drive. 
Step 1. Click Windows + R to open RUN window, type regedit.
Step 2. Open the Registry Editor.
Step 3. Follow the way: HKEY_LOCAL_MACHINE\SOFTWARE\Microsoft\Windows\CurrentVersion
Find "ProgramFilesDir", and then change the Value data to the new location.
How Do I Transfer Microsoft Office 2016 to Another Computer
As I have mentioned above, EaseUS Todo PCTrans can not only move Microsoft Office 2016/2013/2010 between local disks, it can also transfer Microsoft to another PC. All you need is EaseUS Todo PCTrans - fast and efficient data transfer software. Download it and transfer Microsoft Office from one PC to another.
Step 1. Launch EaseUS Todo PCTrans and select the transfer mode.
Step 2. Connect the source PC and the target PC.
Step 3. Select Office to transfer.
Step 4. Transfer Microsoft Office to another PC.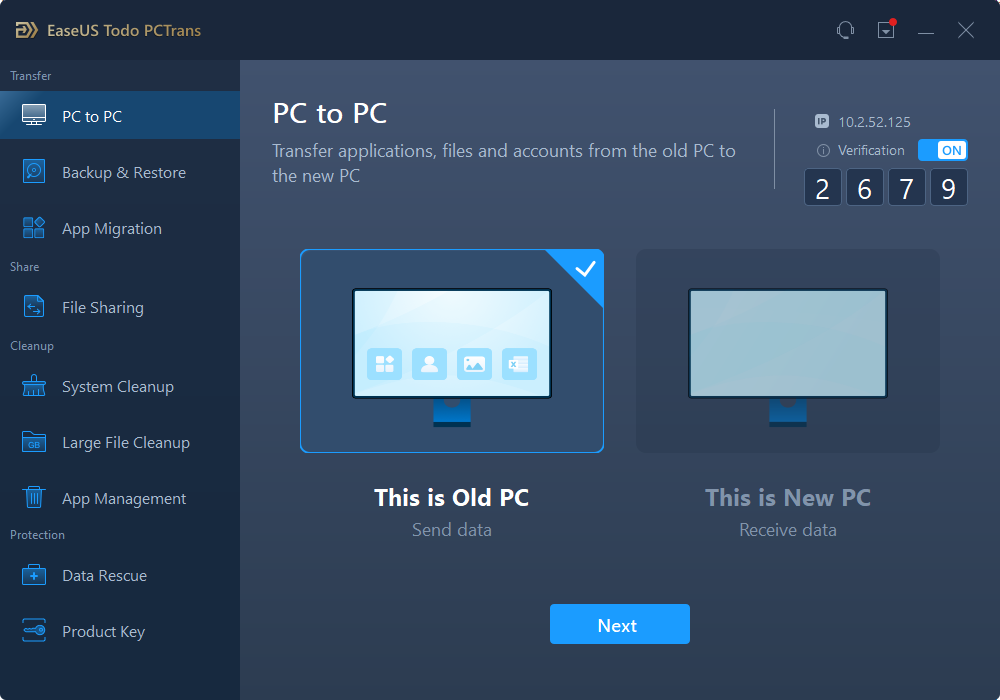 After the transfer, deactivate the office on the old computer (maybe you have to uninstall), activate the MS office again on the new computer with the key.
If you forget the product key and don't know how to find it, you can use the "Product Key" feature of EaseUS Todo PCTrans to export it.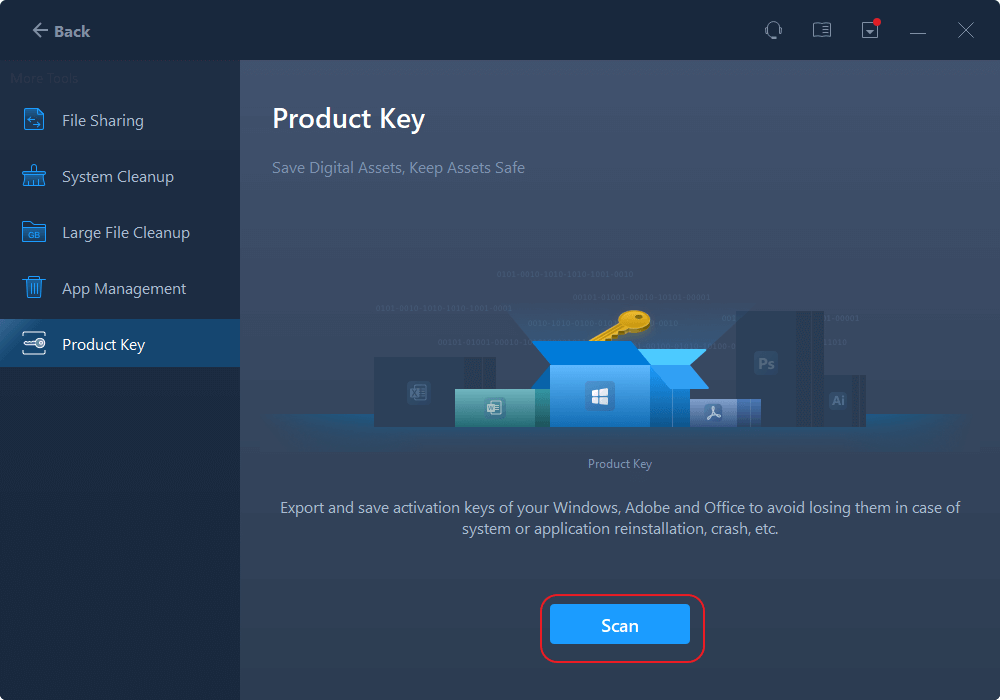 Conclusion
With the help of EaseUS PC transfer software, you cannot only change Microsoft installation location but also migrate Microsoft to a new PC or laptop. If you want to move other programs like Origin games, Photoshop, antivirus software, and more, you can also use this software.
About the Author

Roxanne is one of the main contributors to EaseUS and has created multiple posts on digital devices like PCs, Mobile phones, tablets, Mac, etc. She loves to share ideas with people of the same interest.

Brithny is a technology enthusiast, aiming to make readers' tech life easy and enjoyable. She loves exploring new technologies and writing technical how-to tips. On her spare time, she loves sharing things about her favorite singer - Taylor Swift on her Facebook or Twitter.
Reviews and Awards
EaseUS Todo PCTrans Free is a useful and and reliable software solution created to serve in computer migration operations, be it from one machine to another or from an earlier version of your OS to a newer one.

 Read More

EaseUS Todo PCTrans is by the folks at EaseUS who make incredible tools that let you manage your backups and recover your dead hard disks. While it is not an official tool, EaseUS has a reputation for being very good with their software and code.

Read More

It offers the ability to move your entire user account from your old computer, meaning everything is quickly migrated. You still get to keep your Windows installation (and the relevant drivers for your new PC), but you also get all your apps, settings, preferences, images, documents and other important data.

 Read More