PAGE CONTENT:
Method 1: Extend c drive with partition manager software

Method 2: Free up hard disk space (3 ways)

Method 3: Upgrade or add a larger hard disk

Bonus tips to make full use of hard drive space
Overview of C drive full issue
When the C drive is out of space, Windows OS pops up the low disk space warning to alert computer users. Different Windows OS will show different symptoms when the C drive is full.
Here, the following we'll show you two symptoms on Windows XP, Windows 7 and Windows 10:
If C drive gets full in Windows 10 or Windows 7, it will be shown in red as below:

Windows XP displays the Low Disk Space warning as "You are running out of disk space on Local Disk (C:). To free space on this drive by deleting old or unnecessary files, click here."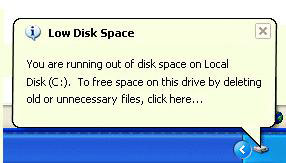 If C drive is full, what will happen
If your computer reports that the C drive is out of space, you're likely encountering one or more of the situations listed below:
The Windows operating system will slow down
Low storage space for storing more data and files
Not big enough to install Windows update
Unavailable for program installation
 Tip

To avoid unnecessary data loss issue, we'd like to suggest you back up important data in advance.
EaseUS Todo Backup Free can help you effectively back up valuable files, disk partition, and even the OS in 3 simple steps.
Three solutions for "c drive is full" in Windows 10/8/7/XP
If you are facing the C drive full or low disk space issue, don't worry. Follow the provided solutions below, you'll be able to effectively extend C drive and speed up PC.
Method 1: Extend c drive with partition manager software
When c drive is out of space on your PC, trying a partition manager software is an efficient way to solve this issue. You can extend C drive as you wish without losing data.
EaseUS Partition Master is a comprehensive hard disk partition management software. Enlarging the system drive is only one of its powerful features. It lets you enjoy all its powerful functions, such as merging partitions and converting MBR to GPT.
Now, follow the steps below to extend your C drive with simple clicks.
Step 1: Launch EaseUS Partition Master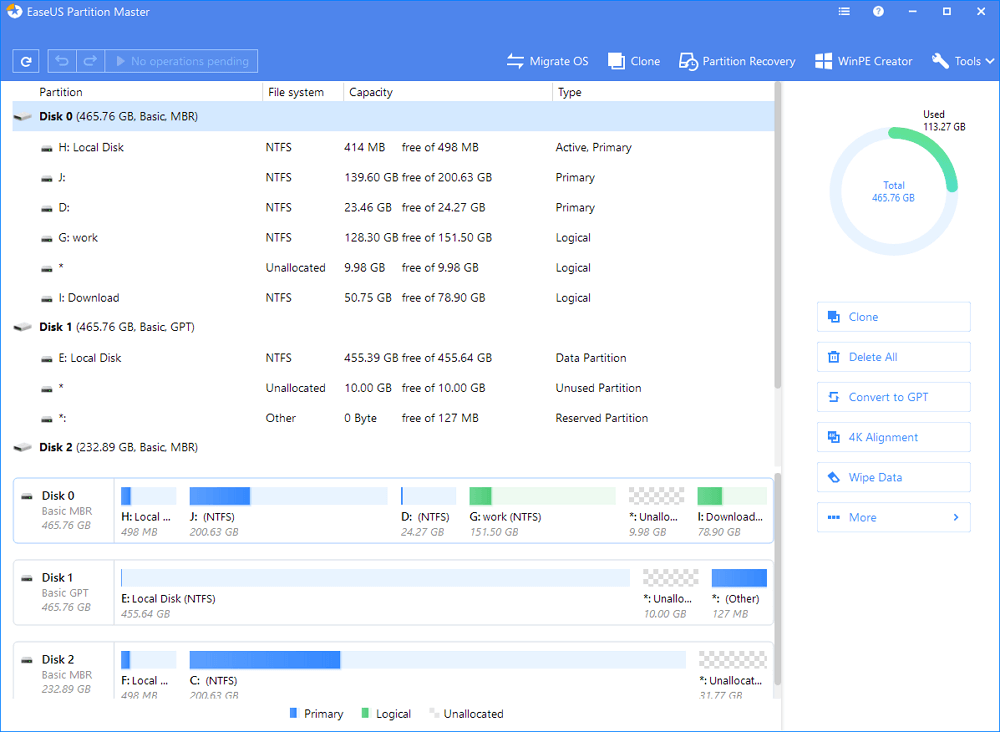 Step 2: Add space to the System C drive
1. Shrink partition and leave unallocated space for extending C: drive:
Right-click on a partition next to the C: drive and select "Resize/Move".
Drag the end of the partition that is next to the C: drive and shrink it, leaving unallocated space next to the system C: drive, and click "OK".
2. Right-click on the System C: drive and select "Resize/Move".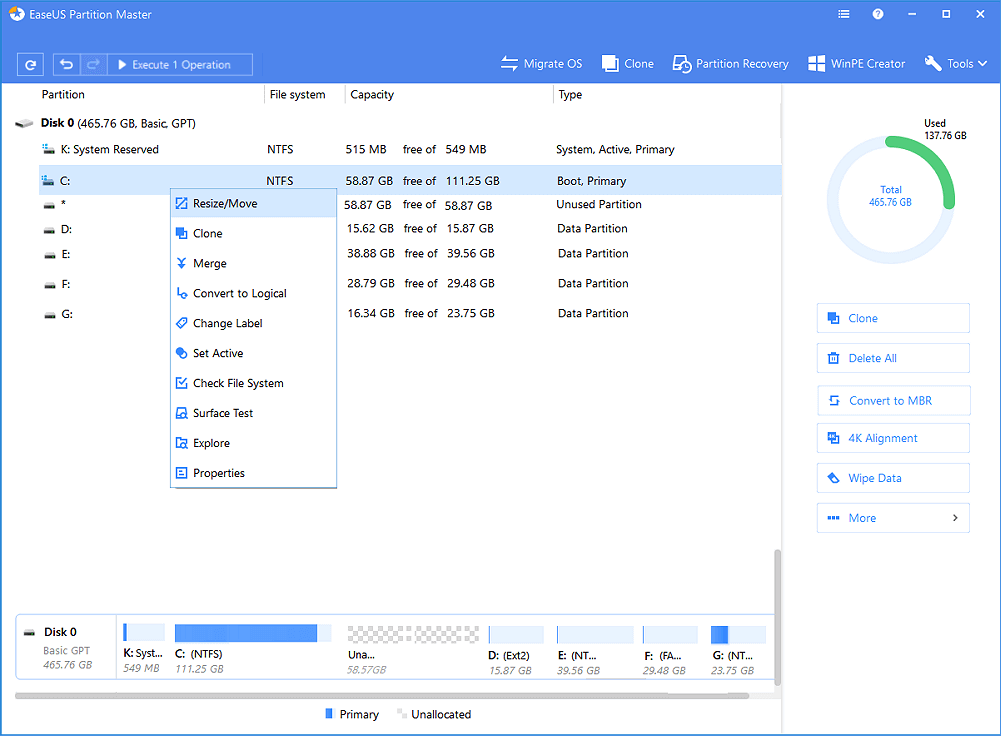 To add space to the C: drive, drag the system partition end into the unallocated space.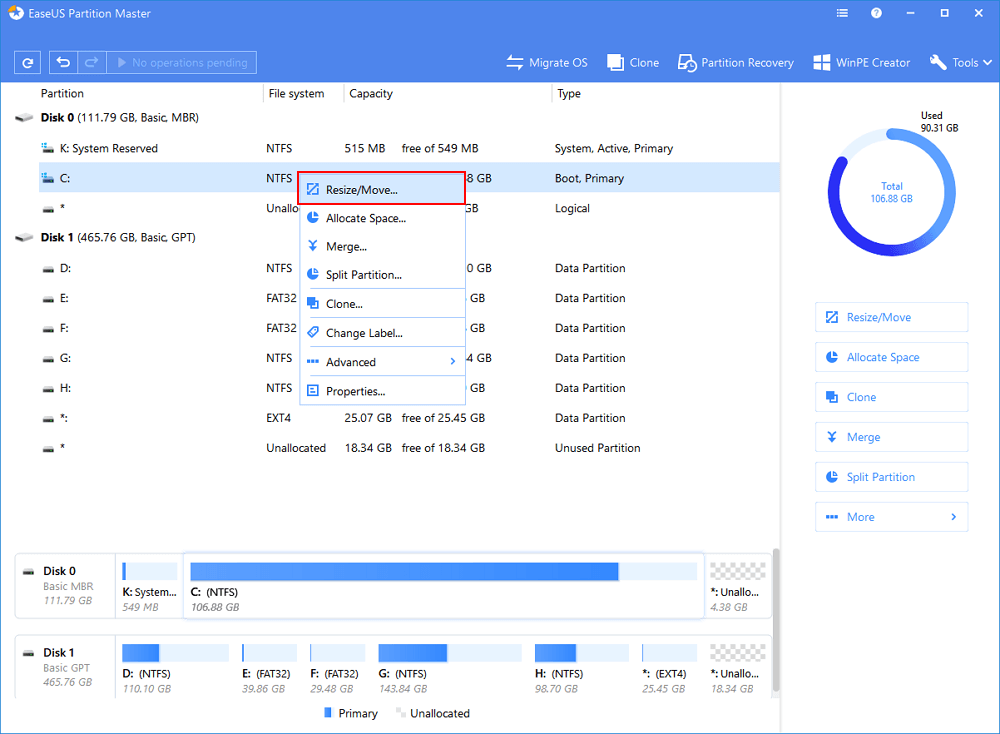 Step 3: Confirm to extend system C drive
Click the "Execute Operation" button, it will list the pending operations, and click "Apply" to execute the changes and extend the C drive.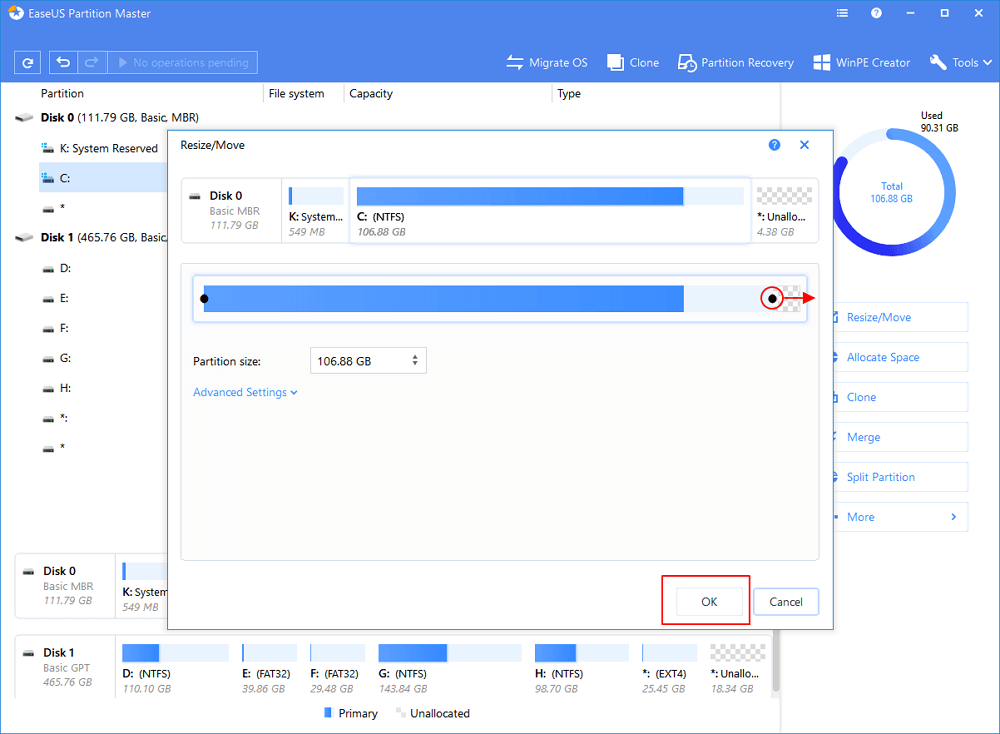 With this tool, you can manage your disks or partitions safely and effectively. Don't hesitate to give it a try.
Method 2: Free up hard disk space
Mostly, after using the hard disk for a long time, the system C drive and other data partition all will be occupied by temporary files, junk files, big files, and huge programs. The other effective method you can try is to free up hard disk space.
Here are 3 ways that you can apply to free up C drive and the hard disk space:
# 1. Clear useless large files
During the usage of applications, software, and computer hard drive, the hard drive will be occupied by a huge number of useless large files. You can effectively scan and delete the large files on the system C: drive and other drives with the help of EaseUS Partition Master:
Step 1: Launch EaseUS Partition Master in Windows PC. Select "Tools" and click "System Optimization".
Step 2:Choose the right feature - Large File Cleanup that you need to locate, find and delete large files from PC.
Step 3: Select the drive and click "Scan" to let the program locate, find all large files on your disk.
Step 4: Identify and select useless large files and click "Delete" to remove those files from your PC or laptop. A message tells you this process will permanently delete the files, click "Yes" to start the process.
# 2. Delete temporary files on C drive
In Windows 10/8:
Step 1: Press "Windows + I" to open Windows Settings, click on "System" and " Storage".
Step 2: Under "Storage", select the C: drive to analyze. (Note that the "This PC" drive is the main computer's hard drive where Windows 10 is installed.)
On Storage usage, you can see that Windows 10 categorizes the content based on default folders (e.g., Documents, Pictures, Music, etc.), apps and games, and system files, and you can view the storage usage.
Simply click on of the item's name to get more information.
Step 3: If you want to delete its content, click the View button to open the folder location, and delete the files you don't need.
Step 4: Go back to Storage usage and click on "Temporary files".
In this section, Windows 10 will list different kind of temporary files you may want to delete, including "Temporary files", "Downloads folder", "Recycle bin", and more.
Step 5: Check the box of content you want to remove and click on the Remove files button.
Step 6: Go back to Storage usage and now click "Other".
Identify which folders are using the most storage space saving unwanted files and click on them to access the location.
Select its content, right-click, and select "Delete" to remove the files and folders.
In Windows 7:
Step 1: Open My Computer, right-click the C drive and select "Properties".
Step 2: Click the "Disk Cleanup" button in the disk properties window.
Step 3: Select temporary files, log files, Recycle Bin, and other unimportant files that you want to delete and click "OK".
# 3. Transfer big files and programs to other non-system drives
The other way to free up C drive space is to transfer the saved big files, installed big programs to another hard drive.
You can manually copy big files from C drive to other non-system drives on your PC. To transfer C drive installed program to another drive, you can apply professional PC transfer software like EaseUS Todo PCTrans for help.
Method 3: Upgrade or add a larger hard disk
If you find your C drive is out of space frequently or the method above doesn't help you resolve your issue, it may be necessary to upgrade or add another hard disk to your computer.
# 1. Upgrade and replace current hard drive to a larger hard drive
If the whole system hard disk is out of space, or the hard drive is too small, you can consider upgrading the current hard disk to a larger hard disk.
"Disk Copy" feature of EaseUS Partition Master has the ability to help you upgrade to a larger disk. You don't need to reinstall the operating system and applications.
After doing so, you can add more free space to the system C drive by following Method 1.
# 2. Add another hard disk
If you have a decent-sized hard drive which running out of space, adding a new hard disk will give you additional storage without having to erase the existing hard drive. It could be either an internal or external hard disk.
Later, you can follow the 3rd way in Method 2 to manually copy big files and transfer installed programs to the other hard drive with ease.
Bonus tips to make full use of hard drive space
To prevent a similar issue from happening again, it's necessary for you to know how to make full use of hard drive partitions, managing storage space well. Here are some useful tips that you should grad as a guide to re-manage your hard drive:
First, leave 120GB or more space to system C: drive.
Second, install big programs and software to non-system partition, like D: or E:.
You can also use EaseUS Todo PCTrans to transfer installed program to other drives.
Third, save large files to non-system partition or external storage devices.
Last, clear temporary files, junk files regularly.
EaseUS Partition Master with its system optimization feature can effectively do the job for you.
100% of people found this article helpful.
Frequently Asked Questions
Why Choose EaseUS Partition Master?

"I've used Partition Master Professional many times to create, delete, format, move, rename, and resize partitions." —PCWorld

"Partitioning tools have come a very long since the days of complicated command line utilities and EASEUS Partition Master is one of the most advanced programs available." —TECH ADVISOR

"I love that the changes you make with EaseUS Partition Master Free aren't immediately applied to the disks. It makes it way easier to play out what will happen after you've made all the changes." —Lifewire
Will the "Migrate OS" feature transfer the Windows system files only or the whole C drive?

To ensure that the migrated system will boot normally, the Migrate OS feature will transfer all the files in the system and the boot partitions. Generally, the boot partition is the C drive so the transfer will include all the files in C.
Does EaseUS Partition Master license apply to multiple computers?

The license of Partition Master Professional and Server editions can be used on 1 computer only, while that for for the Technician and Unlimited editions can be used on multiple machines.
What is the difference between EaseUS Partition Master Trial version and the Free version?

Free is for home users only, with most basic functions available such as partition resize and clone. While trial can help you understand how this product works and test what a full license can do on a business or server OS machine.
Will it cause any data loss after resizing the partition in EaseUS Partition Master?

Generally, it will not cause any data loss or boot issue by resizing a partition. However, in order to protect your data, we suggest that you backup the partition before resizing, in case of any unexpected situations such as power outages, computer hardware failures, etc. You can use EaseUS Todo Backup to backup the partition and its trial version is fully functioned for 30 days.
What should I prepare before resizing the partition?

On the partition that is going to be operated, there might be some files being occupied by other programs. To ensure a successful operation, we suggest that you close all the unnecessary software before resizing that partition. Otherwise, EaseUS Partition Master will detect the partition being locked by the other software and require a reboot to resize the partition under boot mode.
About EaseUS Partition Master
All-round disk & partition management software for personal and commercial use. Let it manage your storage drive: resize, format, delete, clone, convert, etc.