Windows system uses a Master Boot Record (MBR) or GUID Partition Table (GPT) depending on the age, operating system, and system firmware. Sometimes it is necessary to convert MBR to GPT. EaseUS Partition Manager Free is your best choice to convert MBR to GPT without losing data. Select the disk to convert > Right-click the MBR disk and choose "Convert to GPT" > Click "Apply" to commit the changes. It doesn't require partition deleting or formatting before MBR to GPT converting process.
Applies to Windows 10/8/7/Vista/XP
Trusted by over 10,000,000 users for more than 10 years
Free Windows partition software helps you create, resize, clone, move, merge, and format partitions
Why Convert MBR to GPT (3 Reasons)
Users want to convert MBR to GPT for various reasons. Usually, people convert MBR to GPT due to three reasons: disk replacement, system upgrading, and personal willingness.
A GPT disk supports larger than 2TB volumes while MBR cannot. If your bigger MBR disk is larger than 2TB, you'll need to convert it to GPT. Then you can break the 2TB limitation to make full use of the disk.
You want to upgrade or install the OS
When installing or upgrading the operating system, you might be asked whether you want to use MBR or GPT partition table format.
If the motherboard on your computer supports UEFI, choose GPT. (If you have UEFI boot problem, fix it by following this guide - Fix UEFI Boot in Windows 10/8/7.)
If the motherboard uses the legacy BIOS system, choose MBR.
GPT does not have limitations that MBR suffers from. GPT can hold a nearly unlimited number of partition and there is no need to create an extended partition to make them work. As a result, most people would like to convert MBR to GPT. But the problem is how to convert MBR to GPT without data loss? Here, you can learn the way to convert to GPT easily and quickly.
Wondering how MBR compares to GPT? We share the facts of the MBR vs. GPT discussion to find which is best for your SSD.
How to Check the Partition Style of a Disk
You must identify the disk type before you are going to convert to the target type. The easiest way to identify the disk type is by using Disk Management. Under Windows Disk Management, you can check the partitioning scheme of a hard drive:
Step 1. Right-click "This PC" and choose "Manage".
Step 2. Go to "Disk Management".
Step 3. Right-click the disk you want to check and choose "Properties".
Step 4. Go to the "Volumes" tab and you will see the partition style under the disk information.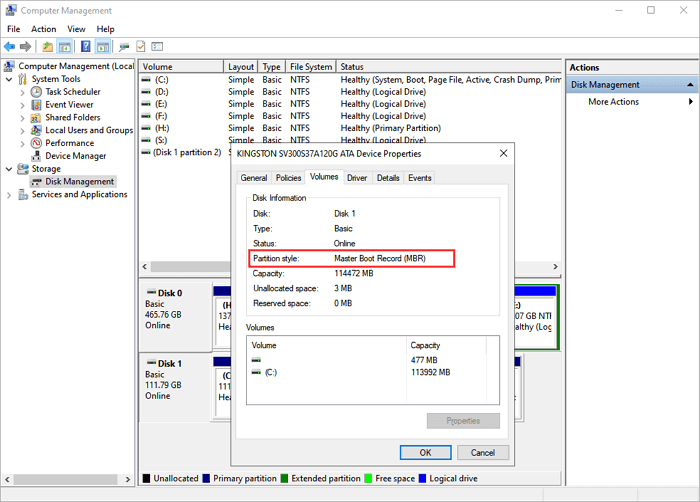 The Best MBR to GPT Converter - EaseUS Partition Master Free
Windows Disk Management can change MBR to GPT disk for free, but it only supports to convert a non-partitioned hard disk. That is to say, you must delete all your partitions on the disk before the converting process, which will result in data loss. Windows Disk Management is not the best choice. You can use free third-party partition management software to convert a hard disk from MBR to GPT. EaseUS Partition Master is our recommendation.
This free program enables you to convert MBR disk to GPT disk without deleting the partitions. So, you can avoid the data loss problem. This wonderful and considerate feature makes this program stand out all other partition management software. Besides, the quick partitioning capabilities allow you to resize disk space without data loss. This tool is useful for all computer users - home, business, and service providers.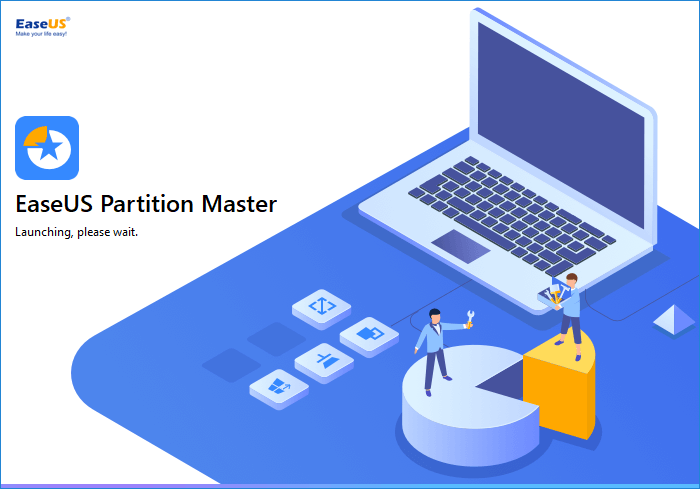 How to Free Convert MBR to GPT Without Data Loss
It only takes three steps to easily convert an MBR disk to GPT disk with EaseUS Partition Master Free. Read on and convert to GPT with this converter. By the way, This partition magic software also supports to convert GPT disk to MBR disk, you can try at any time you have a need.
Step 1: Download and launch EaseUS Partition Master on your Windows computer.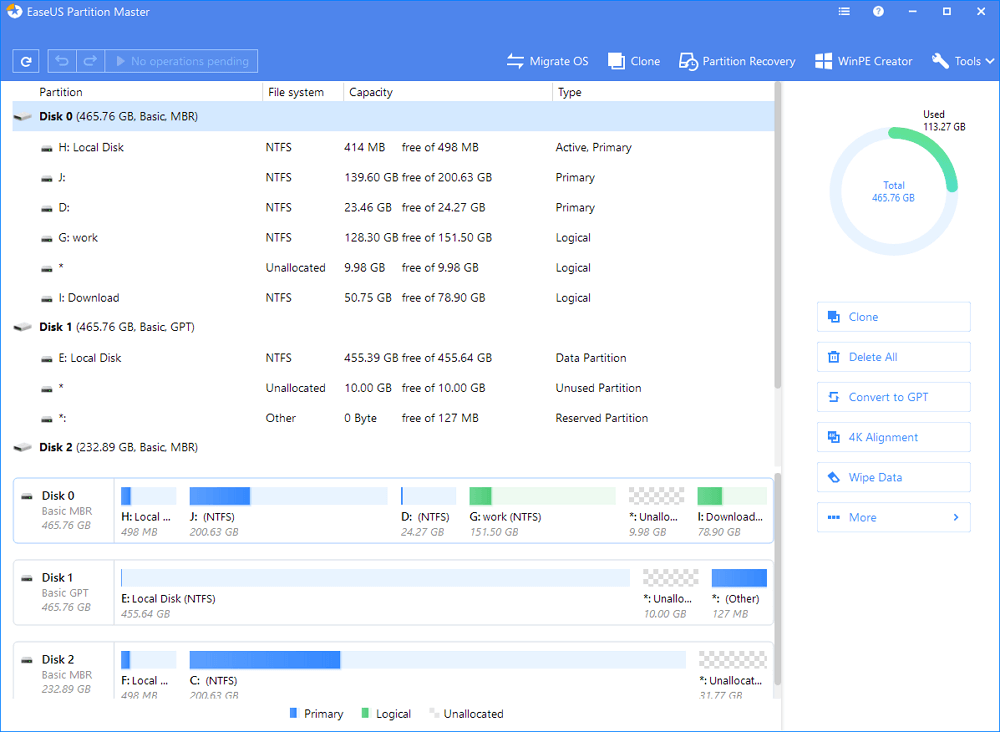 Step 2: Right-click the MBR disk that you want to convert and choose "Convert to GPT".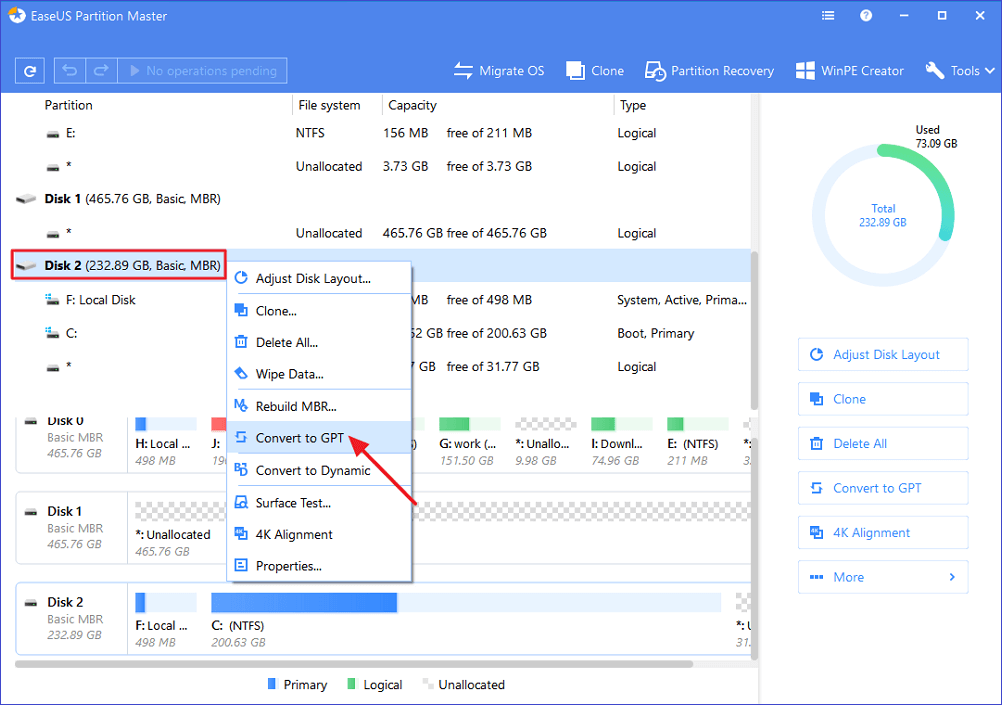 Step 3: After that, find and click the "Execute 1 Operation" button on the toolbar and choose "Apply" to start the conversion. You need to restart your device to enable this change.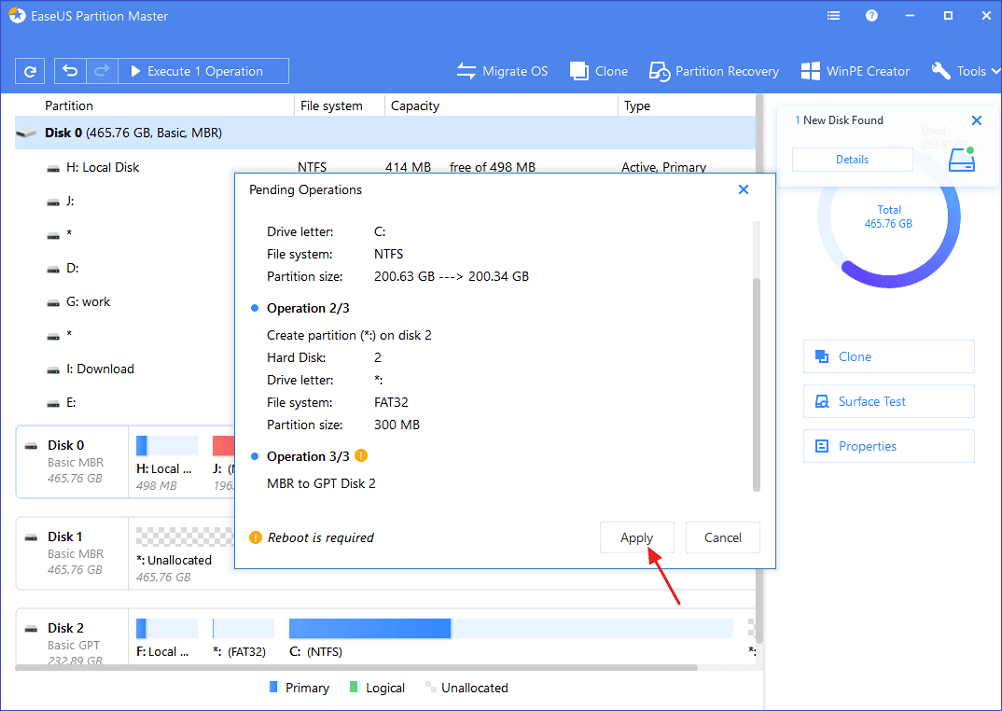 Other Manual Solutions to Convert MBR to GPT in Windows 10
If you don't want to download third-party software, you can also convert MBR to GPT using manual solutions.
Solution 1. Convert MBR to GPT Disk with Disk Management
Step 1. Right-click on "This PC", choose "Manage", then head to "Disk Management".
Step 2. Right-click the volumes on your target disk and choose "Delete Volume..." (If you accidentally deleted a volume in Disk Management, you can recover the partition and the files on it referring to the linked article.
Step 3. When your disk becomes empty (shows as unallocated space), right-click your disk and choose "Convert to GPT Disk".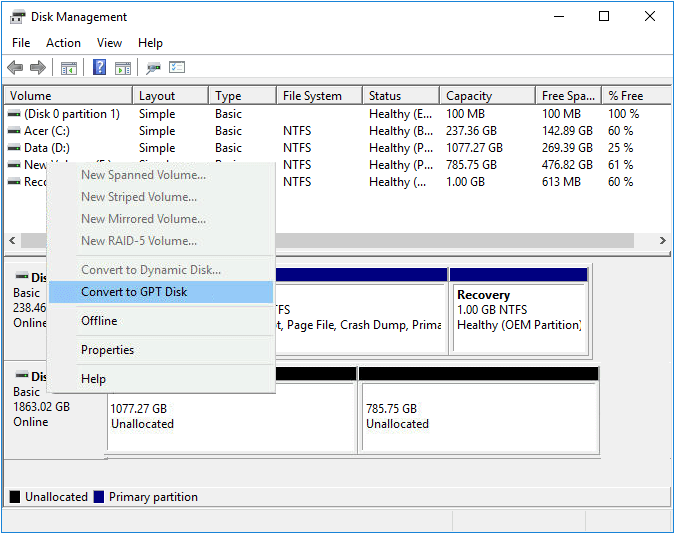 Solution 2. Convert MBR to GPT via Diskpart
You need to know the number of your MBR disk. If you don't know, you can refer to Part 2. Then, take these operations: open command prompt, type the following commands in Command Prompt, and press Enter after each command.
People Also Ask These Questions
There are some hot topics about MBR and GPT on the internet. You can find the answers here:
1. Can MBR be converted to GPT?
Yes. If you are using Disk Management, you can change a disk from MBR to GPT partition style as long as the disk contains no partitions or volumes. If you want to convert the system disk to GPT, you need to get EaseUS partition software.
2. How do I change from MBR to GPT in Windows 10?
In general, there are 3 ways to convert MBR to GPT.
1. Convert MBR to GPT using EaseUS MBR to GPT converter.
2. Convert MBR to GPT Windows 10 with Disk Management.
3. Convert MBR to GPT via Diskpart.
3. What is GPT format?
GPT, GUID Partition Table, the format used to define the hard disk partitions in computers with UEFI startup firmware. The GUID Partition Table (GPT) replaces the previous master boot record (MBR) method. While the MBR supported partitions as large as 2.2TB, GPT partitions can be up to 18 exabytes.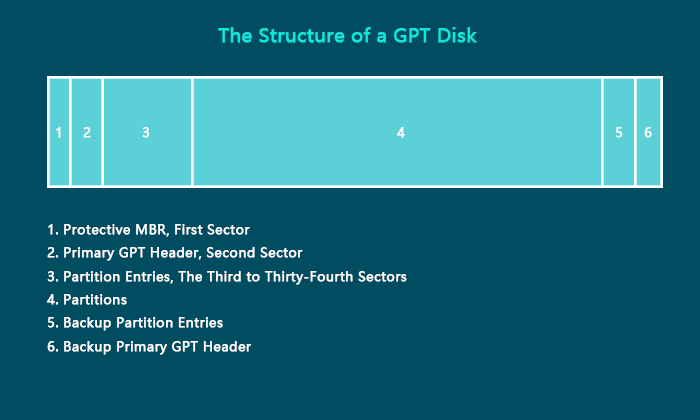 4. What is UEFI boot mode?
UEFI stands for Unified Extensible Firmware Interface. It's a modern solution to be gradually replacing the legacy BIOS on PCs since the introduction to Windows with Windows Vista Service Pack 1 and Windows 7 in 2007. It can do a lot more than a BIOS. It may be stored in flash memory on the motherboard, or it may be loaded from a hard drive or network share at boot. Different PCs with UEFI will have different interfaces and features.
5. Should I use MBR or GPT?
It depends on your disk space. If your hard disk is larger than 2TB, GPT is better than MBR. If your computer is BIOS-based, choose MBR for the system disk instead; If you use a disk under 2TB for data storage, both GPT and MBR are OK.
100% of people found this article helpful.
Frequently Asked Questions
Why Choose EaseUS Partition Master?

"I've used Partition Master Professional many times to create, delete, format, move, rename, and resize partitions." —PCWorld

"Partitioning tools have come a very long since the days of complicated command line utilities and EASEUS Partition Master is one of the most advanced programs available." —TECH ADVISOR

"I love that the changes you make with EaseUS Partition Master Free aren't immediately applied to the disks. It makes it way easier to play out what will happen after you've made all the changes." —Lifewire
Will the "Migrate OS" feature transfer the Windows system files only or the whole C drive?

To ensure that the migrated system will boot normally, the Migrate OS feature will transfer all the files in the system and the boot partitions. Generally, the boot partition is the C drive so the transfer will include all the files in C.
Does EaseUS Partition Master license apply to multiple computers?

The license of Partition Master Professional and Server editions can be used on 1 computer only, while that for for the Technician and Unlimited editions can be used on multiple machines.
What is the difference between EaseUS Partition Master Trial version and the Free version?

Free is for home users only, with most basic functions available such as partition resize and clone. While trial can help you understand how this product works and test what a full license can do on a business or server OS machine.
Will it cause any data loss after resizing the partition in EaseUS Partition Master?

Generally, it will not cause any data loss or boot issue by resizing a partition. However, in order to protect your data, we suggest that you backup the partition before resizing, in case of any unexpected situations such as power outages, computer hardware failures, etc. You can use EaseUS Todo Backup to backup the partition and its trial version is fully functioned for 30 days.
What should I prepare before resizing the partition?

On the partition that is going to be operated, there might be some files being occupied by other programs. To ensure a successful operation, we suggest that you close all the unnecessary software before resizing that partition. Otherwise, EaseUS Partition Master will detect the partition being locked by the other software and require a reboot to resize the partition under boot mode.
About EaseUS Partition Master
All-round disk & partition management software for personal and commercial use. Let it manage your storage drive: resize, format, delete, clone, convert, etc.