"My recovery disk of 16GB on my HP laptop is full due to the preload folder using all the space. I can't open this folder but get the following messages that I'm running out of recovery disk space and files are continuously copied into the preload folder. This even slows down my PC. So I'm wondering whether I can free up the recovery disk and solve 'Recovery Disk Space Is Full' error with ease in Windows 10?"
Causes for recovery disk full error
The full error message should be like this: "Low Disk Space. You're running out of disk space on recovery d drive. Click here to see if you can free space on this drive."
So what reasons may cause the recovery disk full? And how? It's highly necessary for us to know why does recovery disk become full before finding a solution to free up disk space in Windows 10 or solve "Recovery Disk Is Full" issue.
Recovery disk (drive) is set to store all files that needed to do an emergency recovery when the system becomes unstable. Usually, the recovery disk is a partition on the main hard drive in your PC with much less available space than system drive (C:). If you save files or backups in the recovery disk, it will become full very soon, which may cause serious problems when you need it to do a system recovery. Therefore, it's highly recommended for you not to store files on the recovery drive. Only files relate to a system recovery. So how to fix the recovery disk full issue in Windows 10? Here below, you'll find effective methods to free up recovery disk and fix the recovery disk full issue in Windows 10 now.
Method 1. Move stored files and free up the recovery disk
If you need a simple and direct solution to solve 'recovery disk is full' issue in Windows 10, you may try to move all stored files into a new storage device and then free up recovery disk with ease. How to do that? Follow below detail steps and start freeing up disk now:
# 1. Remove/move all important stored files in recovery disk/drive
You can either choose to copy/cut each file into a new storage device or create backups for all data in the recovery drive into a new storage device or PC partition with ease. This will help you to avoid data loss error or problems while freeing up recovery disk in Windows 10.
# 2. Free up recovery disk in Windows 10
After moving all data and files away, it is now the turn to free up recovery disk in Windows 10. How to do it? Here we'd like to recommend you to use professional partition manager software - EaseUS Partition Master. You can apply this software to free up recovery disk or even free up system disk within 3 simple steps. Feel free to download this software and free up recovery disk now:
Step 1: Launch EaseUS Partition Master. Select "Tools" and click "System Optimization".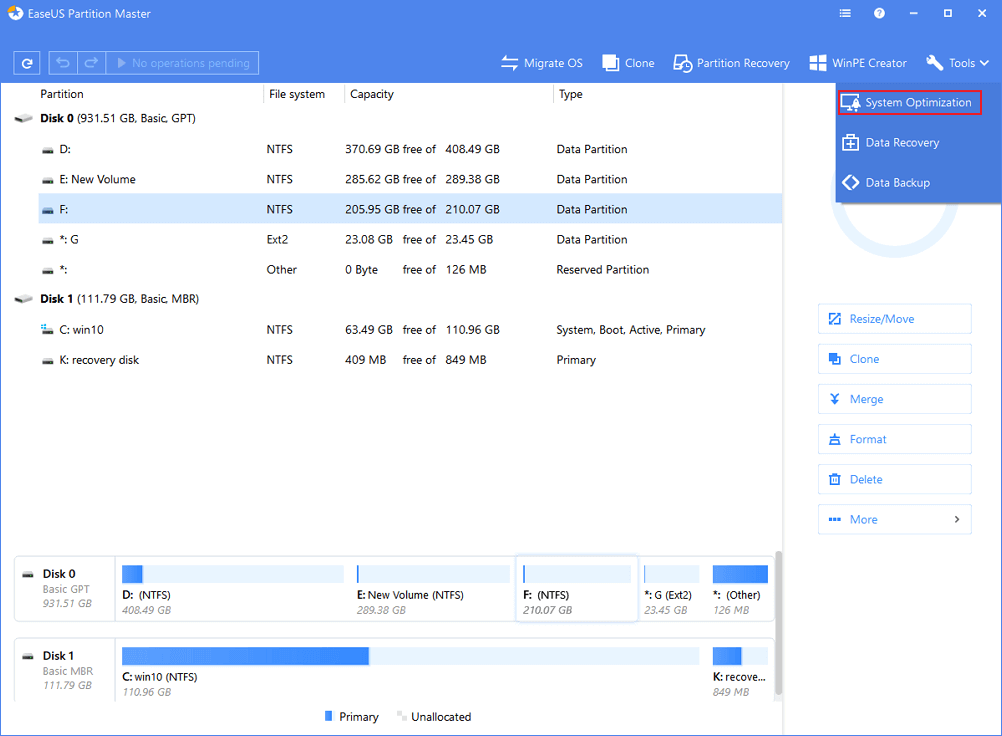 Step 2: Click "Junk File Cleanup". Then you can click "Analyze" to let EaseUS Partition Master find junk files on your PC.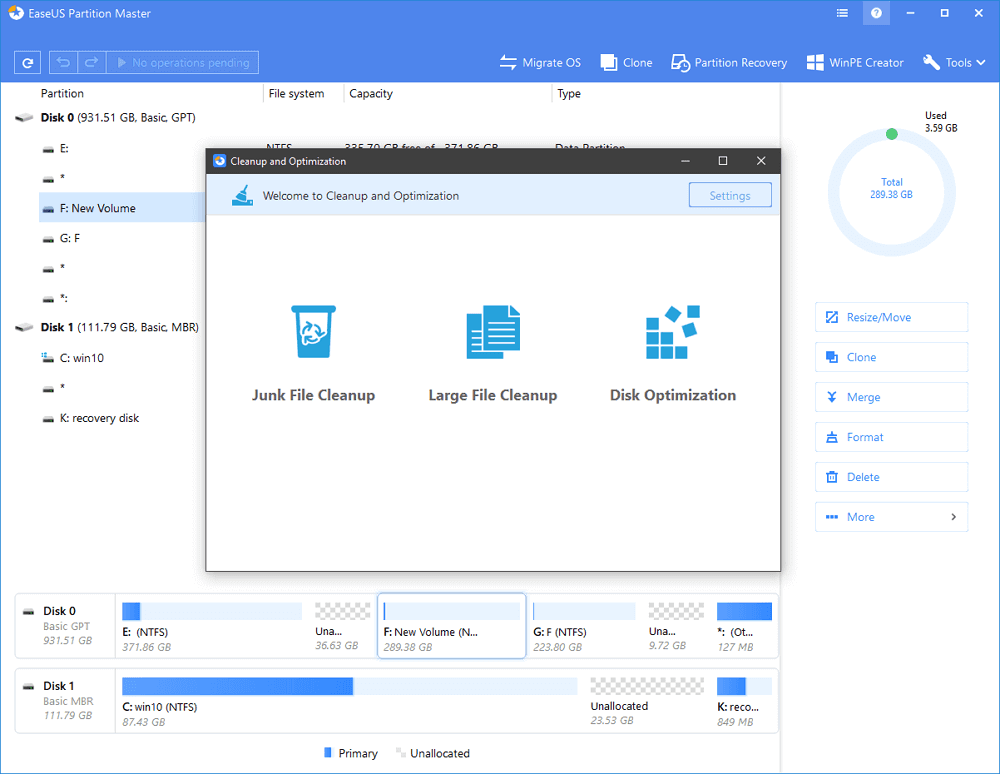 Step 3: You can check and choose junk files and click Clean up. All of the selected junk files will be cleaned and deleted from your PC. Click "Yes" to clean up junk files.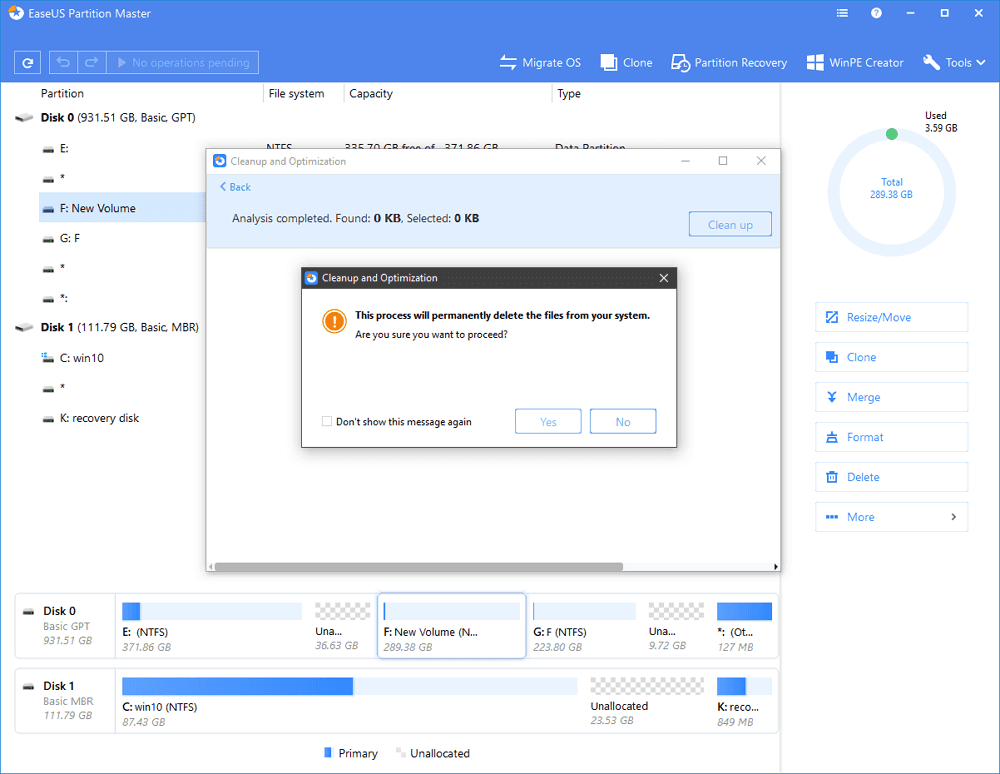 After all these steps, you'll get the recovery disk space freed up and you can reuse it to perform emergency recovery or perform system recovery now.
Method 2. Fix Recovery disk full error
If you are quite familiar with Windows 10 system management, you may also try to follow this access to fix 'Recovery Disk Is Full' issue in Windows 10 now.
Right-click the system icon in the taskbar and click "System".
Click "System Protection" and look for Recovery drive in the list of Available Drive.
If the recovery drive is listed, check whether protection is turned on or off.
If protection is turned "Off", close the window.
If the protection is turned "On", click "Recovery drive name" to highlight it and click "Configure" > Select "Disable system protection" and click "OK". If confirmation messages appear, click "Yes" or "OK".
Right-click Windows icon in the taskbar and select "File Explorer".
Click "View" > "Options" and in the Folder Option window, click "View".
Select "Show hidden files, folders, and drives" and then move the selection of "Hide protected operating system files".
If a warning message appeared, click "Yes" or "OK" to confirm. Click "OK" to close the Folder Options window.
In the Explorer window, click "Recovery drive", click "Continue" if the system says "You don't currently have permission to access this folder".
If you created or stored files in the Recovery disk, copy or move these files into a new partition or storage device, then press Shift + Delete to permanently remove the files in Recovery drive.