Usually, in all types of Windows operating systems, you can format a hard drive from the command prompt, a hard drive formatting tool or within the Windows Explorer and Windows Disk Management. But, how are you going to make it happen if your computer has no operating system at all? You see, when there is no operating system, you cannot operate those format utilities.
Nevertheless, such a problem has been resolved already. You can depend on Windows PE (Preinstallation Environment) to boot the computer. The overall process is as follows:
Create a bootable media, which can be an ISO file, USB flash drive or CD/DVD disc
Boot the non-operating-system computer from the bootable drive
Format the hard drive for a normal usage
EaseUS Bootable Partition Manager
Are you looking for a bootable partition manager that allows for creating a bootable USB flash drive or bootable CD/DVD disc? It's good to know the plenty of advantages by preparing a bootable media at hand, especially when your operating system fails to work and doesn't boot normally, what's more, there is even no operating system installed on a newly bought computer. So, what's the best bootable partition manager which helps partition, format or wipe hard drive without OS easily?
EaseUS Partition Master is designed with a highlighted feature called WinPE Bootable disk, with which customers can run the partition magic software from the bootable device and make full use of its disk and partition management functions, such as format a partition, wipe a partition, create a new partition and many other useful features you're supposed to check by yourselves.
Create the EaseUS bootable drive
Go and find another working computer. You need to download and install the EaseUS Partition Master to accomplish the essential steps to make a bootable drive.
Step 1: Prepare a disc or drive
To create a bootable disk of EaseUS Partition Master, you should prepare a storage media, like a USB drive, flash drive or a CD/DVD disc. Correctly connect the drive to your computer.
Launch EaseUS Partition Master, go to the "WinPE Creator" feature on the top. Click on it.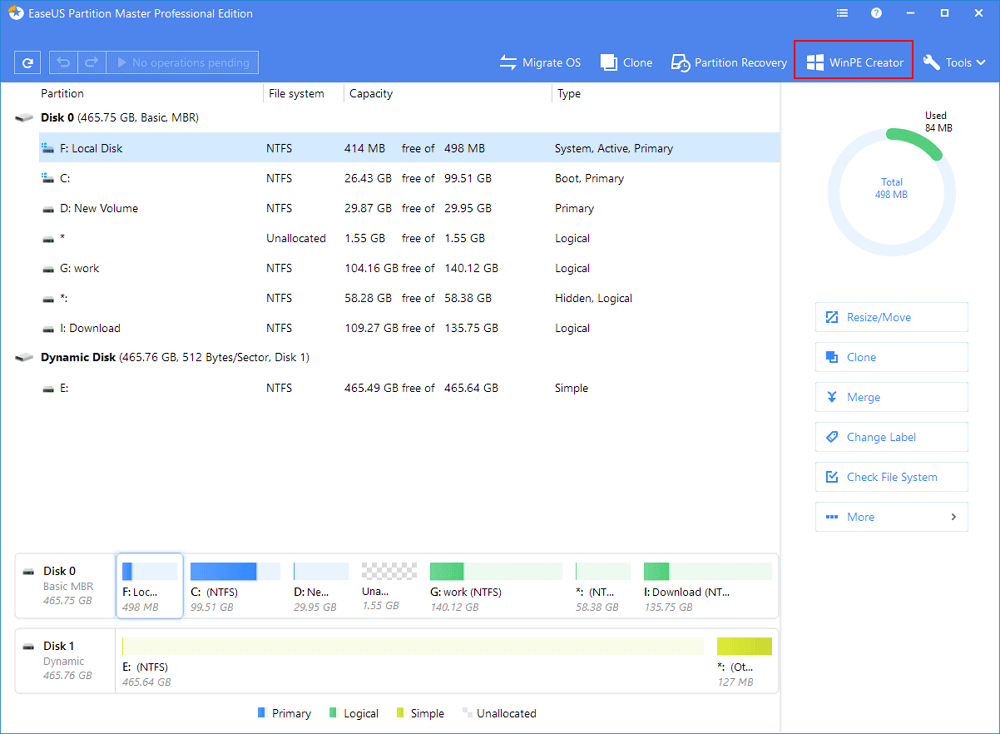 Step 2: Create EaseUS Partition Master bootable drive
You have created an EaseUS Partition Master WinPE bootable disk now. You can manage your hard disks and partitions through the bootable drive whenever the computer fails to boot normally.
If you have RAID drives, load the RAID driver first by clicking Add Driver from the menu bar, which can help you add the driver of your device under WinPE environment, as some specific device cannot be recognized under WinPE environment without drivers installed, such as RAID or some specific hard disk.
Boot the non-operating-system computer and format a hard drive
Insert the bootable drive in the computer without OS, set the boot order in BIOS to boot the computer from the EaseUS bootable USB drive. Follow the steps to perform your own task.
Smaller cluster size makes less wasting of disk space. The smaller cluster size is, the bigger file allocation table (FAT) will be. The bigger the FAT is, the slower the operating system works with the disk.
Click for additional help:
1. How to partition hard drive with EaseUS Partition Master?
2. How to format a partition with EaseUS Partition Master?
3. How to wipe partition with EaseUS Partition Master?