Can I Use SSD and HDD at the Same Time
Yes, without giving any second thought, you can seamlessly use SSD and HDD together in a single system. In the previous days, HDD was always the first choice for storing a large amount of data. Still, with the advancement in technology, multiple types of storage media appeared, and one such storage media is SDD. 
SSD comes with a fast speed feature, but an SSD with a large storage capacity is quite expensive than an HDD. Due to this reason, most of the users can only afford SSD with small storage. If the same is the case with you, you can choose to use SSD and HDD simultaneously on the same PC.
Is It Better to Have Both SSD and HDD
Yes, having both SSD and HDD at the same time is absolutely a good-to-go option. An SSD comes up with many benefits that involve low power consumption and fast loading speed. Due to this reason, many users want to install an SDD with an existing HDD.
By using both SSD and HDD together, you can simply take advantage of the lightning speed of an SSD, and on the other hand, you can be benefited from the large storage capacity of an HDD. 
Some of the top benefits of using SSD and HDD together involve:
Increased storage space
Multiple drives and redundancy
Reducing costs One Gig at a time
How to Use SSD and HDD Together in Laptop/PC Windows 10
Your search for "How to use SSD and HDD together" ends here! 
Well, using SSD and HDD together on a laptop or PC might seem to be a challenging task to do but with the right tools in hand, you can easily do it in just a few simple steps. So, here's a list of top solutions that will help you in using SSD and HDD together in your Laptop/PC ideally!
1. Use SSD As a Boot Drive
To use SSD and HDD together, you can consider using SSD as a boot drive. One of the essential things that must then be kept in SSD is the Windows Operating System. When you have your OS on the SSD, it will speed up all the elements of Windows involving launching programs, booting up, and shutting down your PC.
Now, if we talk about installing the Windows operating system on SSD, you can do it either by fresh install or OS migration. Here's how each of them works!
Install OS on SSD by Fresh Install
One of the most traditional ways to install OS on an SSD is Fresh Install or Clean Install. Under this process, instead of migrating the OS, you will have to Clean Install the entire OS on SSD by using Windows Media Creation Tool. 
Have a look at how Fresh Installing OS on SSD works!
Preparations:
Empty USB (8GB min)
Download Windows Media Creation Tool
An empty SSD
Windows product key (activate after the installation)
Step-by-Step Guide:
To Clean Install or Fresh Install OS on SSD, you need to follow the steps below:
Step 1. Install and run Windows Media Creation Tool on your PC. Now accept all the license terms and conditions and select "Create Installation Media" from the main interface. Later, hit the "Next" button.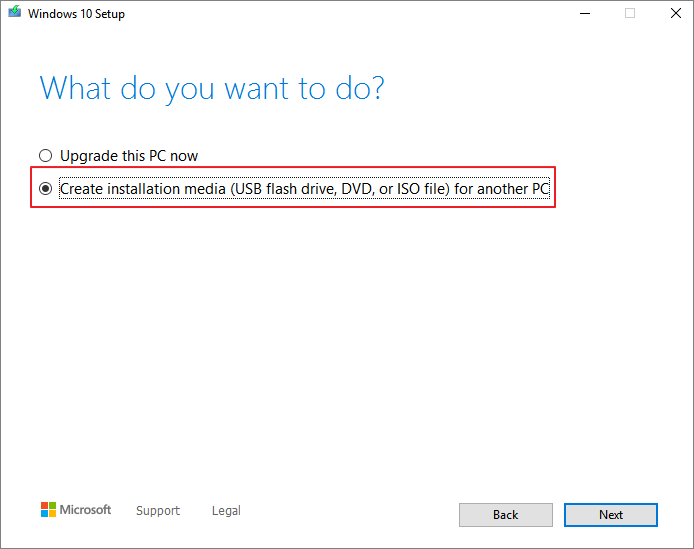 Step 2. Plugin the installation disc on your PC and Shut it Down. Now, open its case and remove the old hard drive and replace it with a new SSD into the drive bay.
Step 3. Turn ON your PC and press a specific key to boot into BIOS and change the boot order to make your PC boot from the installation disc.
Step 4. Once the loading gets completed, verify "Language to Install," "Time and Currency format," and "Keyboard and input method." Later, you need to click on "Next"> "Install Now."
Step 5. You will now have to enter "Windows Product Key" and activate it after Windows Installation is completed.
Step 6. Now, a screen will appear that will ask you, "Which type of installation do you want?" Here, select the "Custom: Install Windows only (advanced)" option.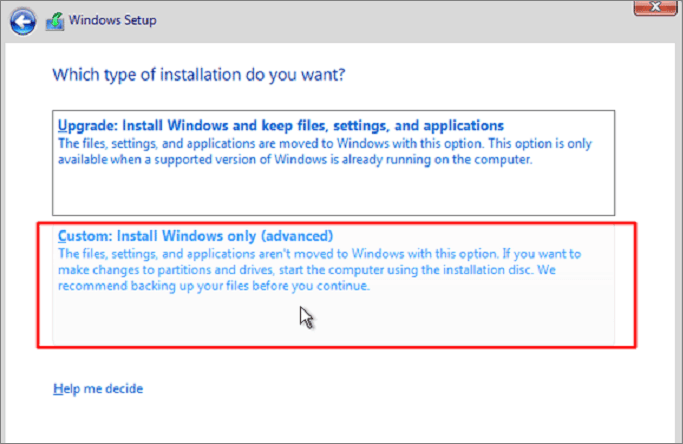 Step 7. Finally, select your SSD on which you want to install Windows 10 and hit the "Next" button. The Windows installation process will start automatically.
Install OS on SSD by OS Migration
Another method to install OS on SSD is by OS Migration. This method of installing OS on SSD saves a lot of time and is much faster than the previous one.
So, for installing OS by OS Migration, EaseUs Partition Master is a perfect option that will help you migrate Windows OS to SSD without any need for re-downloading or re-installing. EaseUS Partition Master Tool is free to download tool that performs excellently when it comes to managing the disk. May it be merging partitions or deleting the partitions, you can do it all quickly with this partitioning tool! 
Have a look at how OS Migration works with Ease Us Partition Master Tool!
Preparations:
A SATA Cable
An SSD 
An OS migration tool - EaseUS Partition Master
Step-by-Step Guide:
Using the EaseUS Partition Master Tool is easy and quick! You just need to follow the steps below to install OS on SSD by its OS migration feature!
Note: The operation of migrating OS to SSD or HDD will delete and remove existing partitions and data on your target disk when there is not enough unallocated space on the target disk. If you saved important data there, back up them to an external hard drive in advance.
Step 1. Select "Clone" from the left menu. Select the "Migrate OS" and click "Next" to continue..
Step 2.  Select the target disk you want to clone. Click "Next".
Step 3. Click "Yes" after checking the warning message. The data and partitions on the target disk will be deleted. Make sure that you've backed up important data in advance. If not, do it now.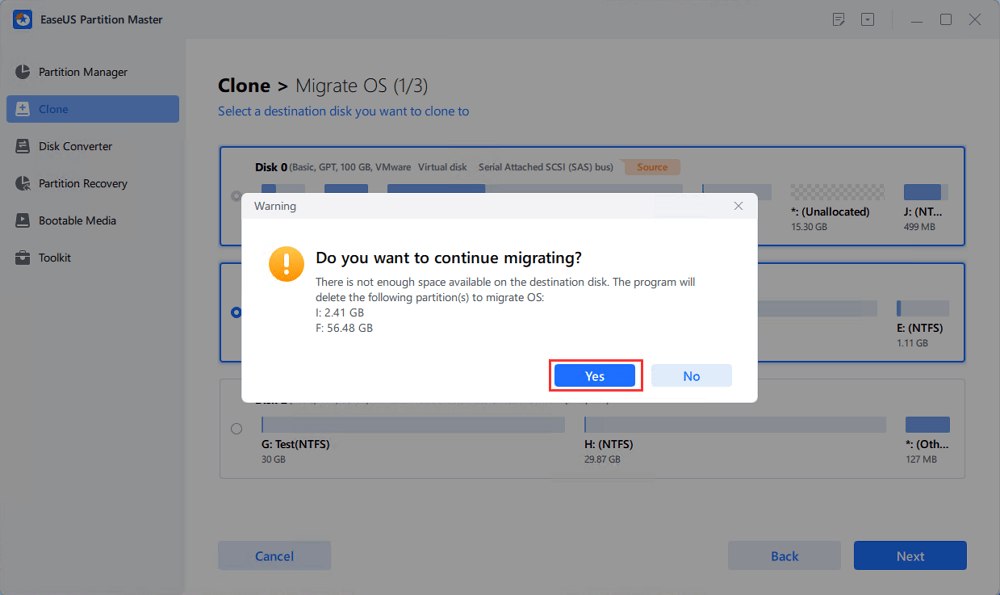 Step 4. Preview the layout of your target disk. You can also click the disk layout options to customize the layout of your target disk as you want. Then click "Start" to start migrating your OS to a new disk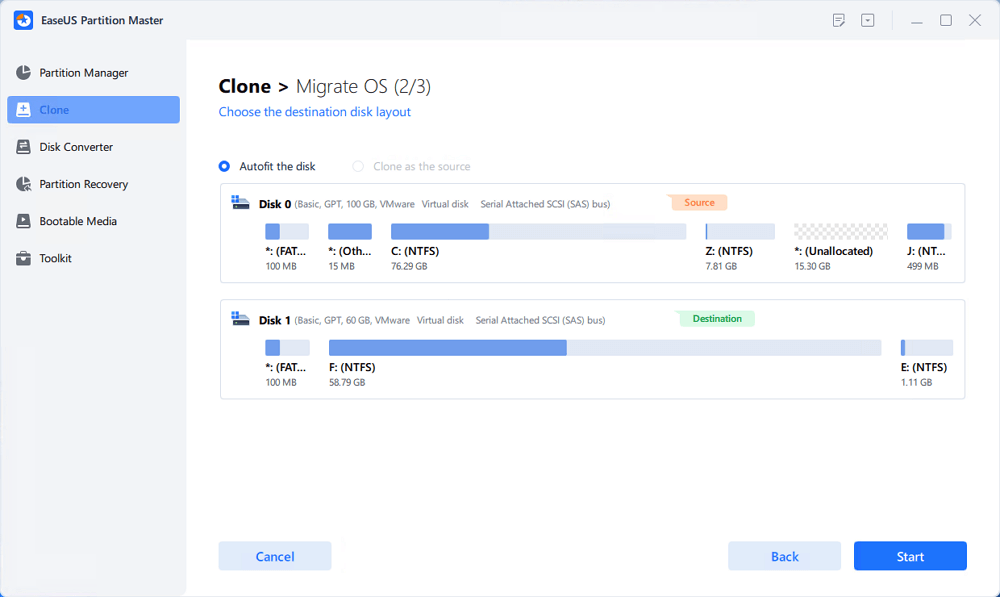 Reminder: If the SSD is large, you can also install some important software on the SSD to get a better user experience. 
2. Store Personal Data on HDD 
If you have purchased an SSD of low capacity due to its high price, then you can consider opting for this solution! A fully-filled SSD cannot work effectively, and therefore it is always suggested to store all the personal data on HDD. Consequently, you can consider storing the infrequently used personal data and files like videos, music, movies, photos, etc., on HDD.
Once you start storing the personal data on HDD, make sure to clean and optimize it frequently to avoid technical issues. 
Bonus Tip: How to Optimize SSD or HDD on Windows 10 
If you are not aware of how you can keep your hard drive optimized, then it's time for you to look forward to EaseUS partition management software again! Yes, along with helping you migrate OS to SSD, EaseUs Partition Master is an ideal option for optimizing your HDD. With this free tool in hand, you can perform various functions that involve resizing partitions, merging partitions, deleting partitions, erase/wipe hard disk, format partition, etc.
The steps below show you how to resize and move the partition on HDD or SSD.
Step 1: Locate and select the target drive/partition
Launch EaseUS Partition Master and go to Partition Manager, select the target drive/partition to adjust its size, right-click on it and choose "Resize/Move".
Step 2: Resize or move the partition
1.To shrink the partition, simply drag one of its ends to free up unallocated space. Once done, click "OK". 
2. To extend the partition, make sure that there is unallocated space aside (if there isn't, follow the above steps to create some). In the same way, drag your mouse into the unallocated space. Click "OK".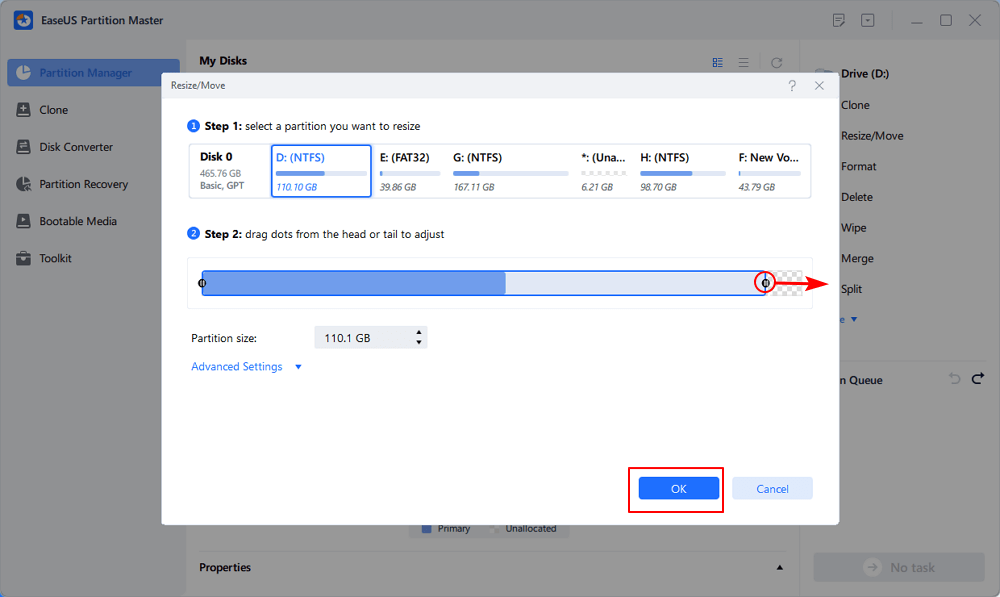 3. To move a partition position, you need to leave unallocated space next to the target partition. If no, free up some unallocated space first.
Right-click the target partition, select "Reize/Move". Then drag the whole partition leftward or rightward to adjust its position. Click "OK" to confirm. 
Step 3: Confirm the result and apply changes
At this step, you will see the new disk partition information & diagram.
To save changes, click the "Execute Task" button and then "Apply".
As you have now learned how to use SSD and HDD together, it's vital for you to know some of the common tips that will help you make effective use of SSD and HDD together! So, let's learn the tips in the upcoming section of this article!
Tips to Use SSD and HDD Together Windows 10 
If you are successful in using SSD and HDD together in Windows 10 Operating System, then it's beneficial for you to learn some of the basic tips that will help you get the most out of this case!
Tip 1. Install System and Apps on SSD
Most users recommend SDD due to the speed that it offers. Basically, SSD is much faster in reading the data from an SSD in comparison to the traditional HDD. Therefore, it is always suggested to place all the things on SSD that you often need to read. Additionally, it is advised to install the system and frequently used apps on the SSD so that your PC is capable enough to work faster.
Tip 2. Don't Defrag SSD
 While using SSD and HDD together, make sure to defrag HDD only. On an HDD, data is fragmented and stored in more than one location. So, whenever you read/write data on HDD, it will make much time to locate the specific file. Therefore, you can accelerate the HDD by defragging it. This will improve the drive's performance and speed it up. But make sure not to defrag SSD; otherwise, it will accelerate the degradation of SSD.
Tip 3. Store Data Files on HDD
As SSD cannot be filled up completely, therefore, it is advisable to store data files on HDD. An SSD with no free space will not work faster because it will suffer repetitive writing, which in turn will damage the blocks in use. Therefore, it is suggested to store the data files like music, movies, and other large files on HDD.
Tip 4. Enable TRIM Feature
Due to the TRIM feature, SSD works more quickly than HDD. Whenever a file is deleted, the TRIM feature commands the drive to clean the file from all the sectors that are no longer required. This process makes it faster for the new data to be written into the drive. So, to make better use of SSD, always enable the TRIM feature on your computer system.
Conclusion
Hope you've now got a clear understanding of how to use SSD and HDD together! Well, using SSD and HDD together comes with a handful of benefits, but you can make the most out of them only if you keep the above tips in mind.
And if we talk about disk management, then you must undoubtedly look towards EaseUS Partition Manager because this tool comprises excellent features that will surely make disk management a hassle-free and time-saving process!
Updated by Tracy King 
Tracy joined in EaseUS in 2013 and has been working with EaseUS content team for over 7 years. Being enthusiastic in computing and technology, she writes tech how-to articles and share technical solutions about Windows & Mac data recovery, file/system backup and recovery, partition management and iOS/Android data recovery.

Cedric Grantham is one of the senior editors of EaseUS who lives and works in Chengdu, China. He mainly writes articles about data recovery tutorials on PC and Mac and how-to tips for partition management. He always keeps an eye on new releases and likes various electronic products.