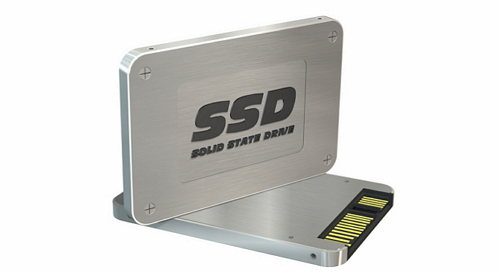 SSD, also known as Solid-State Drive, uses flash memory to deliver vastly superior performance and durability. It's faster and more durable than normal HDDs. With these advantages, SSDs are excessing traditional HDDs, becoming computer manufacturers' love.
Thus, with more PCs shipped with SSD coming on the market, how to partition SSD, making full use of an SSD, becomes a new issue. And you can address it here with the complete guide below. 
Should I Partition SSD for Windows 11/10 or Gaming? Help!
"Recently, I bought a Kingston 1TB SSD. And I want to replace the old HDD with it. I was thinking about partitioning it into two partitions, one with about 250GB (250GB with windows boot partition and all) and then use the rest for gaming. Shall I partition my SSD? How to do it?"
Should I partition my SSD for windows 11/10? I want to use my SSD for gaming, is it a good idea to partition SSD? The answer is Yes.
Advantages of Partitioning SSD:
By partitioning SSD, you'll enjoy all the advantages listed below. So I recommend you to do it especially when you want to make additional partitions:
Easier to Back Up and Restore System
Better to Manage System and Personal Data
Protect Data from System Crash or Failure Issue
More Efficient to Use OS, Files
 EaseUS SSD Partition Tips:

1. If you have only one disk, create at least two partitions: one is for OS, the one is for data.
2. If you have 2 or more disks, partition SSD as the OS disk and use HDD as a data disk.
In a word, the best way to protect your OS and personal data is to install Windows and your various programs on the system partition and store your data such as games, documents, pictures, music, and video files to a new partition. 
For most users, SSD partitioning is not an easy task. To help you start with this task, follow the next two parts to make partitions on SSD now.
Part 1. Check The State of Your SSD
The ways to partition SSD may be different based on the state of your SSD disk. Let's check the state of your SSD first in Disk Management:
Step 1. Install SSD to your computer correctly via the connection cable.
Step 2. Restart PC, right-click "This PC/My Computer" > "Manage".
Step 3.  Click Disk Management and check the state of your SSD: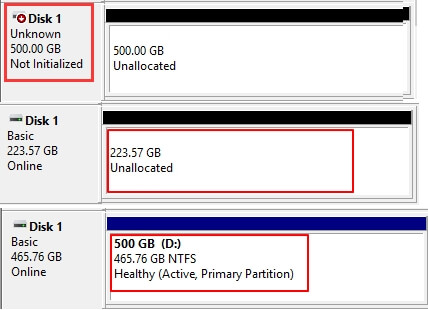 Not Initialized: It means that you need to initialize SSD first before creating partitions on it.
Unallocated: It means your SSD is initialized and you can directly create partitions on it.
Partitioned: It means you have partitions on SSD, and you need to resize and repartition SSD.
And you can follow the complete guide in the next part to start partitioning your SSD now.
Part 2. How to Partition SSD Safely & Easily
It's not like making folders. You know, creating and resizing partitions is a hassle. Here you can follow the respective guide to partition SSD by using partition software or using Disk Management easily:
#Guide 1. SSD Shows Not Initialized - Initialize SSD
If your SSD shows Not Initialized in Disk Management, you'll need to initialize the disk first. And then follow #Guide 2 to create new partitions on it.
Here are the steps to initialize SSD in Disk Management:
Step 1. Right-click"This PC/My Computer", click "Manage" and click "Disk Management".
Step 2. Right-click the not initialized SSD and select "Initialize SSD".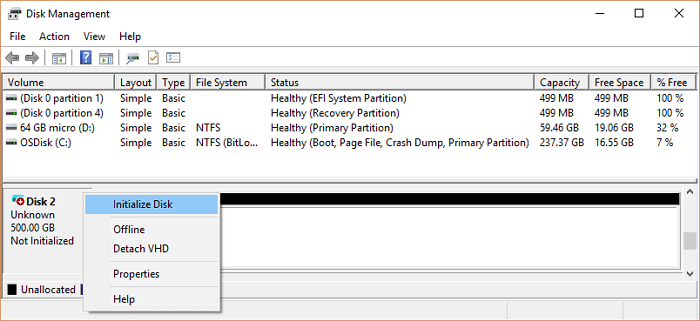 Step 3. Set "MBR" or "GPT" for SSD, and click "OK" to confirm.
What partition style should I use for SSD? Basically, if you only want to create 1 or 2 partitions, MBR is good. But if you want to create multiple partitions or install the latest Windows 11/10 on SSD, choose GPT. For more information, learn MBR vs GPT. 
After initializing the SSD, you can follow #Guide 2 to create partitions on your SSD.
#Guide 2. SSD Shows Unallocated - One-Click to Partition SSD & Create New Volumes
If your SSD currently displays as unallocated in Disk Management, the computer will regard it as a brand new disk. To make use of it, you need to create partitions on the drive.
Here, we'd like to show you how to partition unallocated SSD in only one click with the help of EaseUS Partition Master. Its New Disk Guide makes partition SSD safe and easy:
Step 1. Open EaseUS Partition Master, go to Partition Manager and click "Partition this disk" on the popped-up New Disk Guide window.
Step 2. Set the number of partitions you need to create, and set the partition style to your disk - MBR or GPT.
Or, you can accept the default setting offered by EaseUS Partiton Maste. Once done, click "Proceed".
Step 3. Click "Execute 1 Task" and "Apply" to finalize partitioning the new HDD/SSD or external disk.
After this, you can install OS, applications, or personal files to the SSD partition flexibly. 
In addition to disk partitioning, you can use other features in EaseUS Partition Master to make use of your SSD disk:
Convert Disk/Partitions
Recover lost partitions
...
You May Also Like: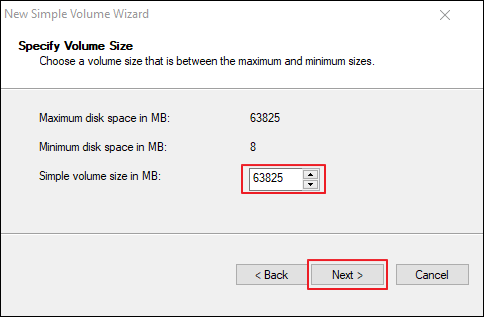 #Guide 3. SSD Shows Partitioned - Resize and Partition SSD
Note that if you have already created partitions on SSD, and you want to re-allocate the disk space, you can turn to EaseUS Partition Master or Disk Management for help.
For an easier solution, the EaseUS partition tool is a better choice.
Way 1. Partition SSD with EaseUS Partition Tool 
With this tool, you can format SSD to the various file system. Partition SSD to multiple partitions with 4K alignment, clone SSD, etc.  Now you can directly download EaseUS Partition Master and follow the steps to partition it.
Step-by-Step Guide to Re-Partition SSD
Step 1. Launch EaseUS Partition Master to check for free space at the Partition Manager section.
If your hard drive has unallocated space, jump to Step 3 to create partition.
If the hard drive has no unallocated space, continue with Step 2.
Step 2. Shrink a disk partition to create unallocated space.
Right-click on the target drive partition with a lot free space and select "Resize/Move".
Drag either end of the partition rightwards or leftwards to shrink the partition size so as to get ample unallocated space. You can visually know how much space you've decreased in the "Partition size" area. Click "OK".
Click "Execute xx Task" and then "Apply" to save all the changes.
Go back to Partition Manager, there should be unallocated space appearing on the same disk and you can continue with Step 3 tocreate new partition on your.
Step 3. Create a new partition with unallocated space on the target hard drive.
 Right-click on the unallocated space and choose "Create".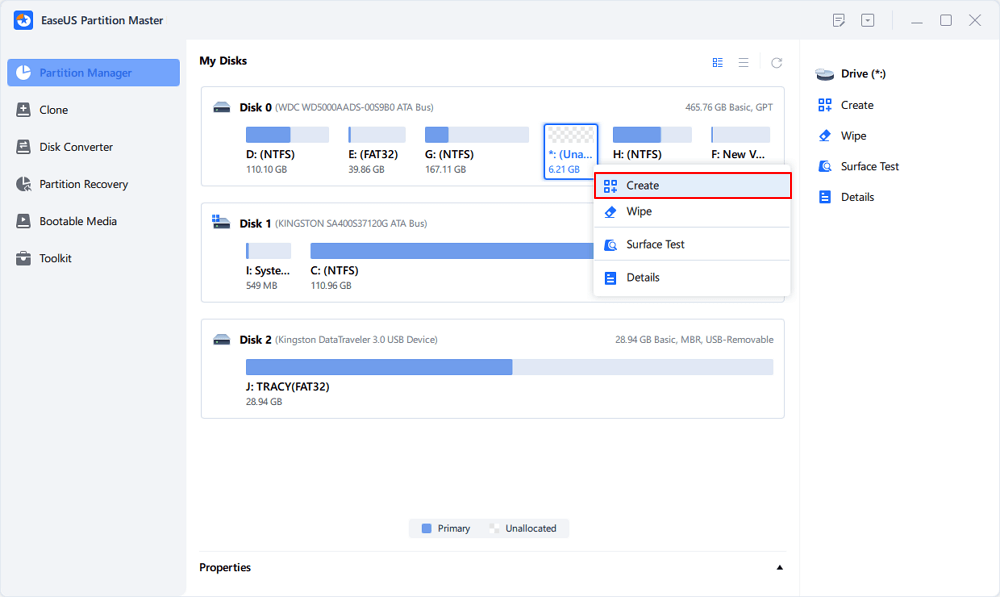 Customize the partiton size, partition drive letter, partition label, file system (NTFS, FAT32, EXT2/3/4, exFAT) and more in the Advanced Settings. Click "OK".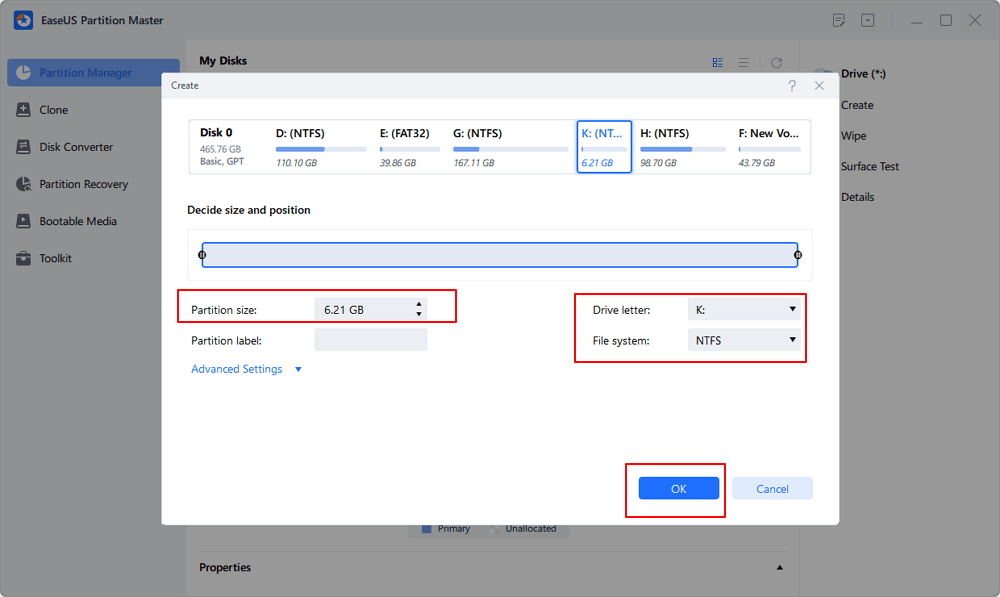 Finally, click "Execute * Task" and "Apply" to complete creating partition with the unallocated space on your disk. Repeat the steps to partition a hard drive and get many more partitions.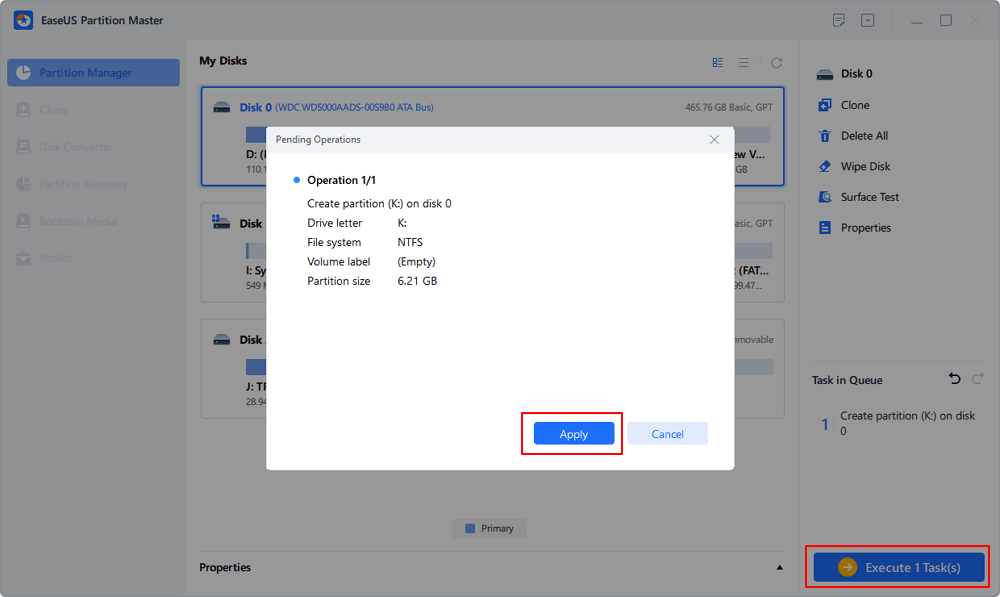 In order to ensure the best performance of an SSD, EaseUS Partition Master provides the 4K alignment function to align the 4K sectors on your SSD. You can optimize your SSD with this feature.
Way 2. Partition SSD with Disk Management 
This method is used to shrink the existing partition and then use the unallocated space to create a partition. If the SSD hasn't been partitioned, you can create partitions on it directly. 
Step 1. Open Disk Management.
Step 2. Right-click one SSD partition and select "Shrink Volume".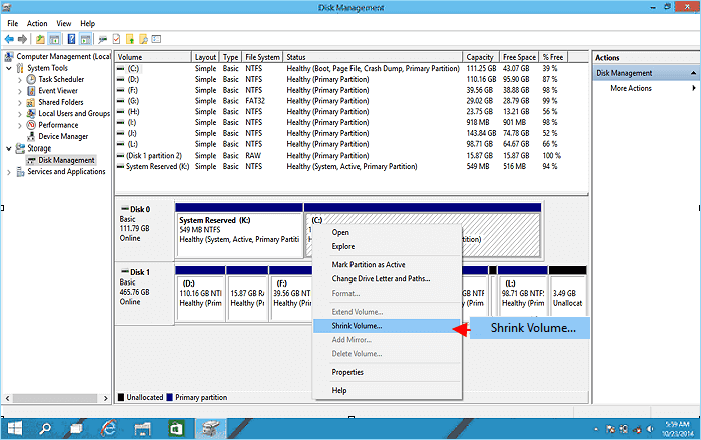 Enter the amount of space you want to shrink then click on the "Shrink" button. (This would create unallocated space.)
Step 3. Right-click on the unallocated space and select "New Simple Volume".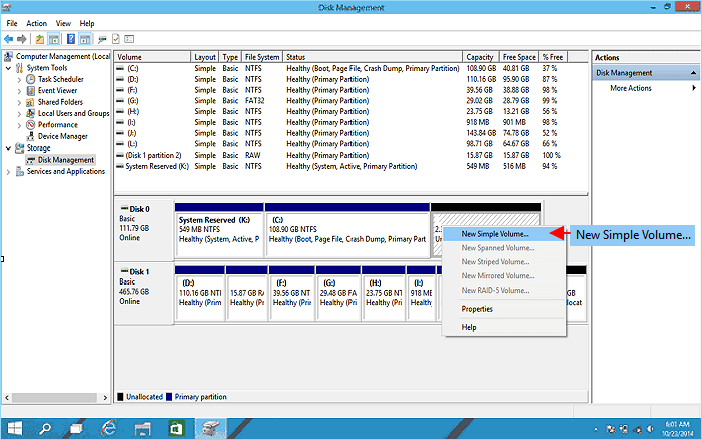 Step 4. On the New Simple Volume Wizard interface, click "Next", and click "Next' to continue.
The unallocated space will be added to the new SSD partition.
Step 5. Assign Drive Letter or Path, then set the file system as NTFS. Click "Finish".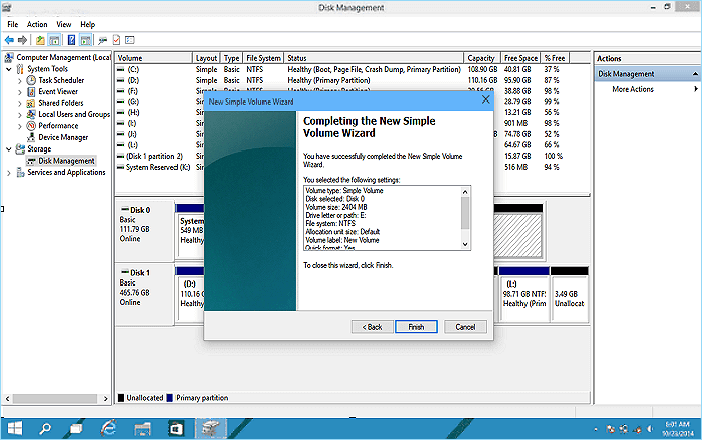 Wait for the process to complete and this will create a new partition in your SSD.
Partitioning SSD Is Easy, Take Steps to Make Use of Your SSD Now
On this page, we explained the advantages and the necessities of partitioning SSD and offered a complete guide to help you fully partition SSD in Windows 10/8/7.
To do so, you need first check the SSD state in Disk Management. And then, follow the respective solution to partition SSD with ease. For the easiest SSD partitioning tool, EaseUS Partition Master is recommended for you to try.
Following this tutorial, you'll safely and easily partition SSD on your computer. Take steps to make use of your SSD now.
Updated by Tracy King 
Tracy joined in EaseUS in 2013 and has been working with EaseUS content team for over 7 years. Being enthusiastic in computing and technology, she writes tech how-to articles and share technical solutions about Windows & Mac data recovery, file/system backup and recovery, partition management and iOS/Android data recovery.

Author Jean has been writing tech articles since she was graduated from university. She has been part of the EaseUS team for over 5 years. Her special focuses are data recovery, disk partitioning, data space optimization, data backup and Mac OS. By the way, she's an aviation fan!