Shall I Partition My SSD or Not? Help!
"Recently, I bought a Kingston hyperX 3k 240GB SSD. And I want to replace the old HDD with it. But now I am wondering if I need to partition it. Is there any point in partitioning an SSD? And if so, how can I do the job? I need experienced users to give me some advice."
Many users ask such a question: should I partition a new SSD? SSD partitioning has many advantages, so I recommend you to do it especially when you want to make additional partitions.
First, SSD partitioning allows you to have multiple operating systems on one computer. It is helpful if you want to run two versions of Windows, or Windows and Linux.
And second, SSD partitioning enables you to separate system and data. You can install Windows and your various programs on the system partition and store your data such as documents, pictures, music, and video files to a new partition. It is the best way to avoid unexpected data loss disaster caused by system problems.
How to Partition SSD with Easeus Partition Tool
For most users, SSD partitioning is not an easy task. It's not like making folders. You know, creating and resizing partitions is a hassle. So, finding a powerful and easy-to-use partition software is important. We recommend you to try EaseUS partition tool. It offers you two safe methods to partition SSD: 4k align SSD or to create or resize SSD partition in simple steps. Now you can learn the detailed guide.
Method 1. 4k Align SSD - Optimize SSD
According to 4K align SSD, it will help you optimize SSD drive and speed up your computer with faster running speed. Follow below steps to try optimize SSD with 4K alignment feature in EaseUS Partition Master now.
Step 1: Install and launch EaseUS Partition Master on your Windows computer.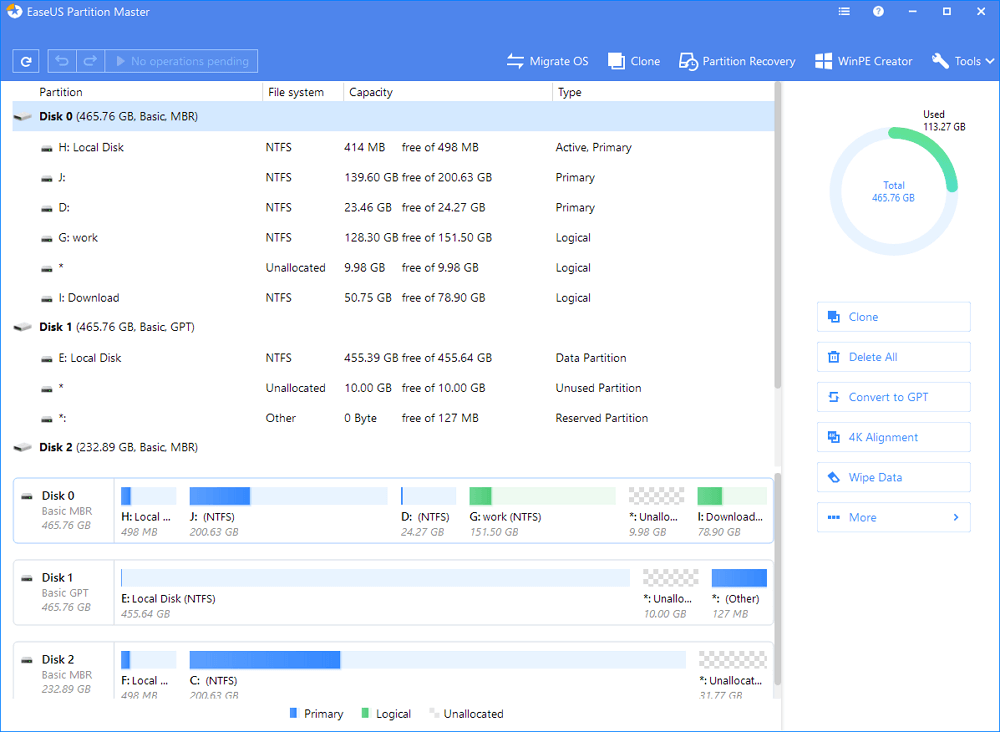 Step 2: Select the SSD disk that you want to align, right-click it and choose "4K Alignment".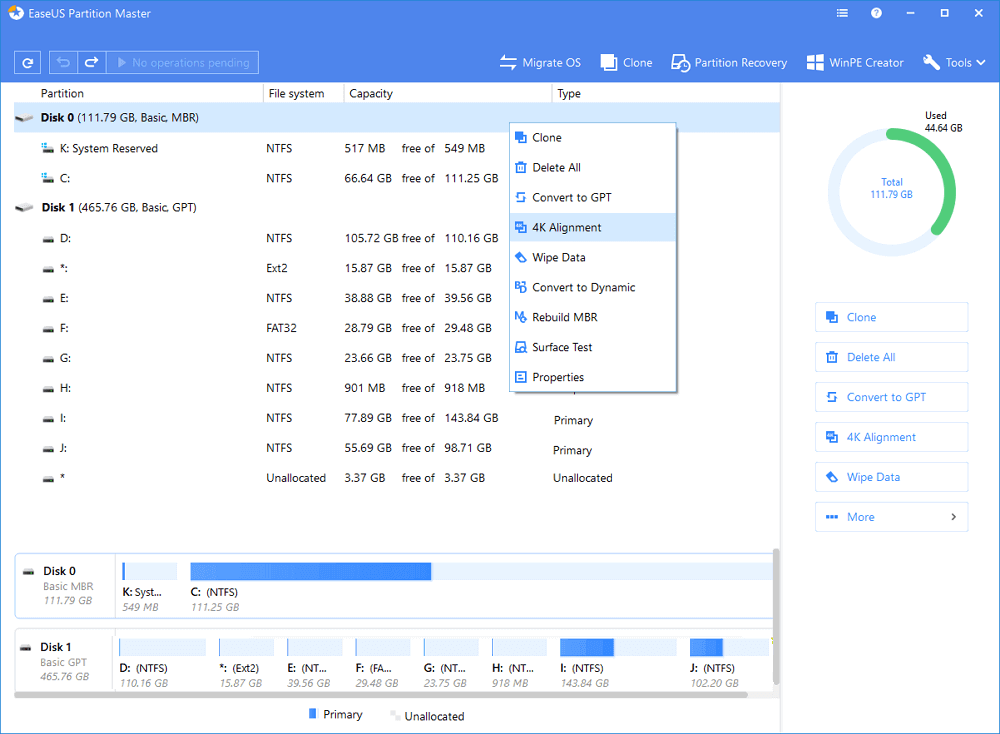 Step 3: Go to find task by clicking the "Execute 1 Operation" button at the top-left corner and click "Apply". Then, the SSD drive partitions are all 4K aligned with all sectors on it.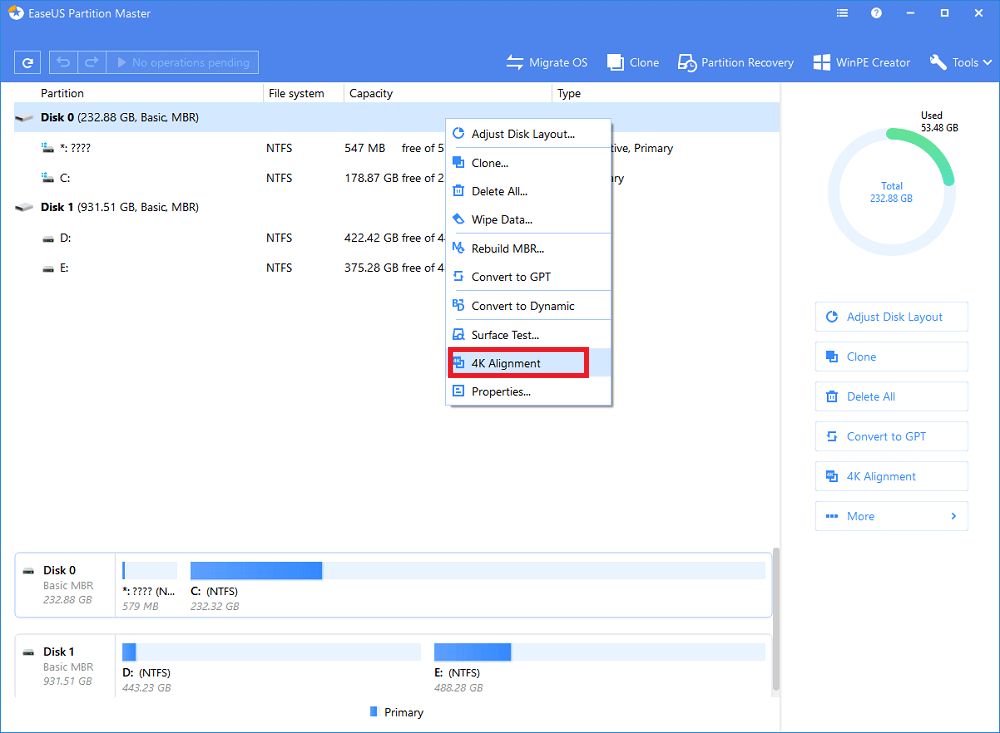 Method 2. Create or Resize SSD Partition
After optimizing SSD, you can now apply EaseUS partition tool to create or resize SSD partitions with ease now.
 Notice:

If you want to create a partition on an empty USB, SD card or external hard drive, connect it to your PC in advance.
Step 1: Launch EaseUS Partition Master
On the main window, right-click on the unallocated space on your hard drive or external storage device and select "Create".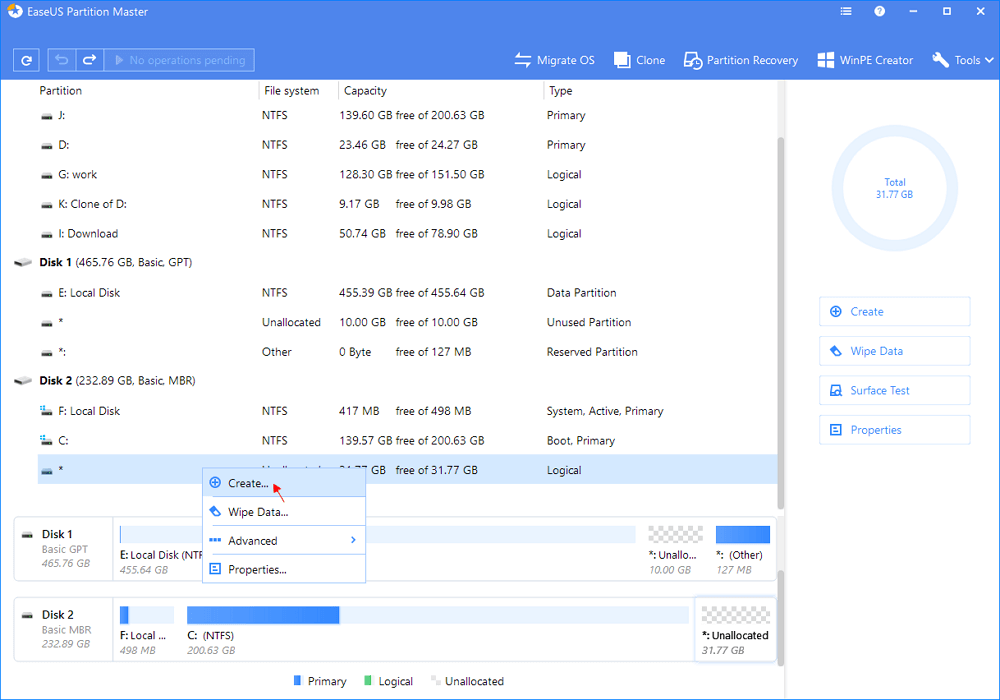 Step 2: Adjust the new partition size, file system, label, etc.
Set the size, partition label, drive letter, file system, etc. for the new partition and click "OK" to continue.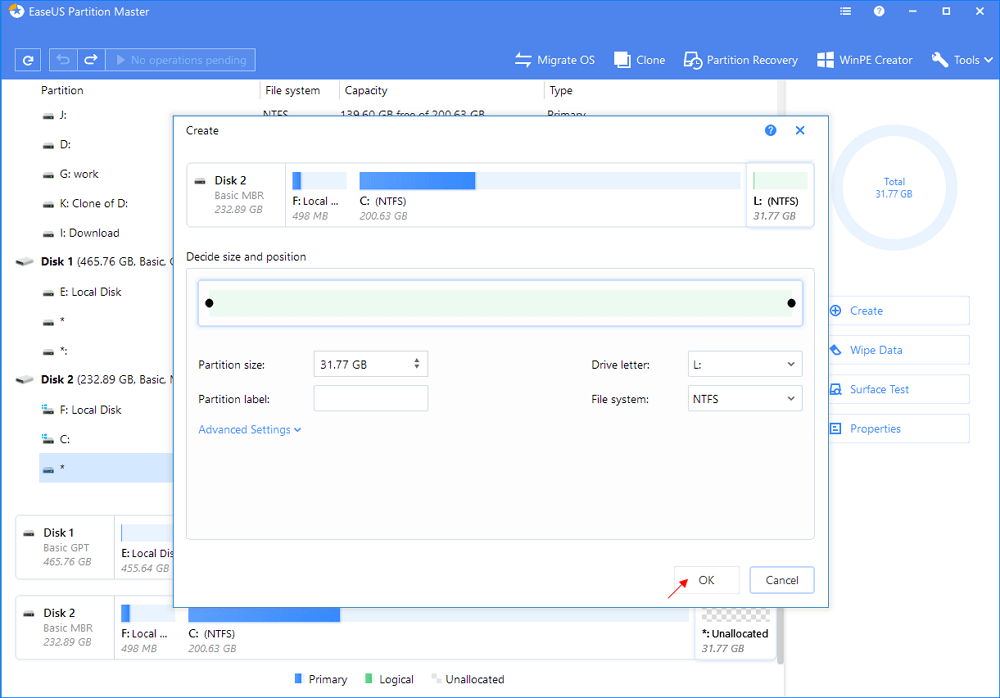 Step 3: Confirm to create a new partition