Follow the content navigation and find the best solution to remove read-only state from your device immediately:
Applies to: Fix "Current Read-Only State Yes" error on HDD, SSD, external hard drive, USB flash drive, SD card, etc., in Windows 10/8/7/XP/Vista.
You May Also Interest In: 1. Fix External Hard Drive Read-Only Error on Mac; 2. Android SD Card Mounted as Read-Only; 
How Do I Fix 'Current Read-only State Yes" Error
Case 1 - How do I turn off read-only on USB?
"Hi, I tried diskpart to remove write protection from SanDisk USB flash drive, it worked for the first time, but now it's showing 'Current Read-only State: Yes' and I can't format it or write on it. What should I do to restore it to normal read and write state?"

Case 2 - Current read-only state yes on Micro SD card
"Does anyone know how do I unlock a micro SD card? I have many photos saved on my old Android phone card but I cannot access it as it shows as read-only on my computer. How do I remove a current state from read-only?" 
According to many ordinary users, they don't know what is 'current read-only state yes' error and how come this issue occurred. What's more, merely none of them know how to remove the current read-only state yes to no on a hard drive, USB flash drive, and SD card, etc. devices.
In the following, we'll help you to fix this issue, making device work normally again, and help to protect your device from becoming read-only again.
Overview of Current Read-Only State Yes
In this part, you will learn: 1. What is "current read only state yes" error; 2. Why is your device read-only.
The 'current read-only state yes' error is used to describe the state of your current device which is write-protected. With this issue, you can neither save new files nor use the saved data on the device. It is commonly seen in removable storage devices of many big brands, such as SanDisk, Transcend, Kingston, and so on. 
So why is your device read-only? It's caused by the following issues:
The physical switch is locked.
Your device is write-protected.
The registry key is set to be a write-protection number.
So how to change read-only to read and write without trouble on your devices? Continue reading and try the following workarounds in sequence, you'll be able to make your read-only USB, SD card, etc., work properly again. 
Solutions to 'Current Read-Only State Yes' on USB Flash Drive or SD Card [4 Methods]
Here we found 4 best ways, which are given from easy to complex, for you to follow and get rid of this issue from your device efficiently without losing any data:
Let's start removing current read-only state yes to no on your USB, SD card, external or internal hard drive now.
Solution 1. Check and Turn Off the Physical Switch
Not all the flash disks or thumb drives have the lock switch. So, first, have a check.
Step 1. Take out your stick and check if there is a physical lock switch on the side of it.
Step 2. If there is a lock switch, slide the switch to the unlock side.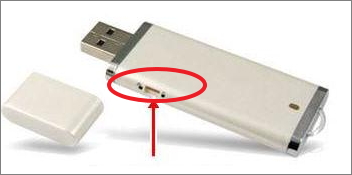 Step 3. Now, connect your USB or sd card to your computer and check if it's accessible.
If it shows as read-only on your computer, try the following methods to make your device and data usable again.
Solution 2. Open Regedit and Change Registry Key
If you find no switch on the flash disk, you may use the Regedit editor to unlock your device, removing the write protection. This way is somehow harder and needs to be done carefully.
Here is how to do it:
Step 1. Connect the read-only USB flash drive to a Windows PC correctly.
Step 2. Press Windows + R keys at the same time to open the Run box. Type regedit and click "OK".
Step 3. Now, you've opened the "Registry Editor" and navigate to this path: HKEY_LOCAL_MACHINE\SYSTEM\CurrentControlSet\Control\StorageDevicePolicies.
Step 4. Click the "write Protection" icon, and set the "Value data" to 0. Click "OK".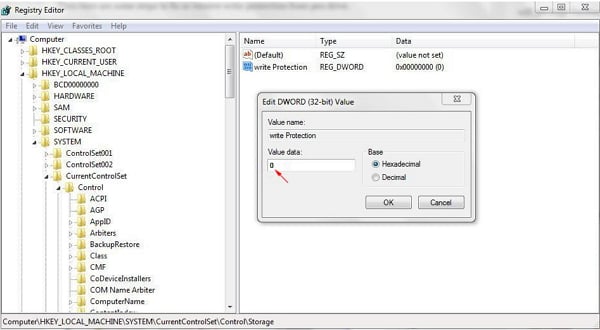 Step 5. Close Registry Editor, and recheck your files on the USB or external device.
Solution 3. Registry Alternative - Write-Protection Removal Tool
If you don't consider yourself a pro-computer user and you're not familiar with command-lines, don't worry. There are graphical-based solutions to help you remove write-protection from your hard drives, USB drives, and even SD cards.
EaseUS CleanGenius is one of these tools that helps you fix aforementioned issues on your drives without knowing a thing about command-line.
Here's an easy-to-follow guide on how to use this tool to get your issues sorted:
Step 1: DOWNLOAD and install EaseUS CleanGenius (free) on your computer.
Step 2: Run EaseUS CleanGenius on your PC, select Optimization and choose the Write Protection mode.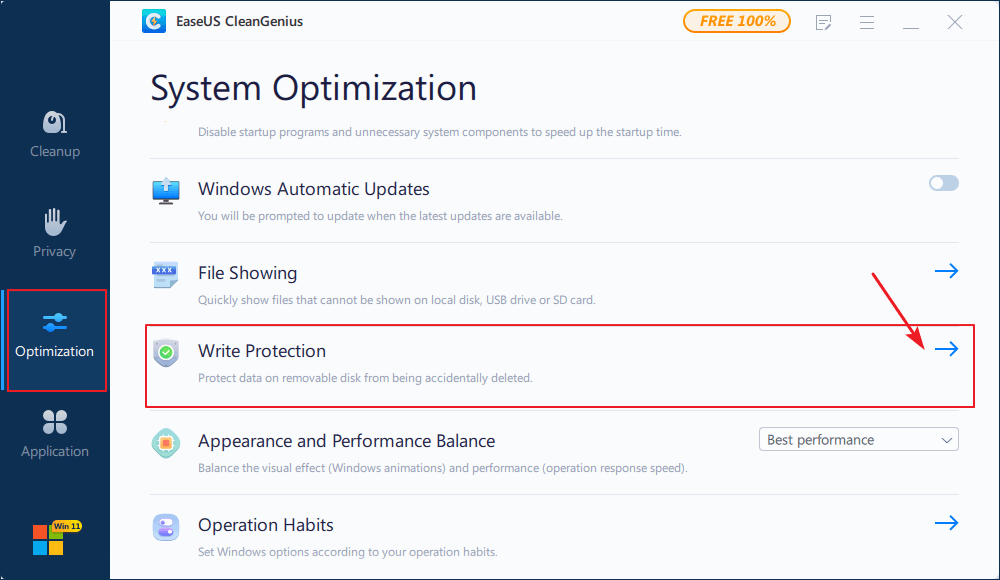 Step 3: Select the device that is write-protected and click Disable to remove the protection.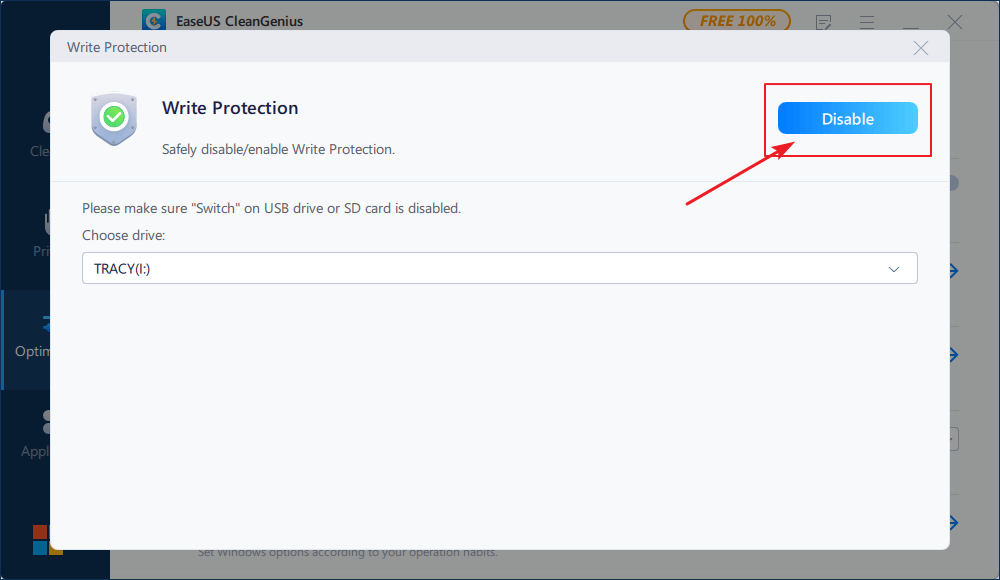 Solution 4. Clear Read-Only State Yes via Diskpart Command
The last effective method that you can try is to run the Diskpart command as an administrator to get rid of the 'Read-Only State Yes' error from your storage devices.
Here are the steps:
Step 1. Restart PC, click your username icon, and select to log in as "Administrator".
Step 2. Connect your read-only or locked device to your computer if it's an external storage device.
Step 3. Type cmd in Windows Search box, right-click Command Prompt and select "Run as Administrator".
Step 4. Type diskpart and hit Enter.
Step 5. Type the following commands and hit Enter each time to clear the read-only state from your device:
list disk
select disk 2(Replace 2 with the disk number of your problematic drive.)
attributes disk clear readonly
Step 6. Type exit to close Diskpart when the process completes.
After trying the above 4 solutions, your storage devices should be accessible and available for modifying again.
Bonus Fix for 'Current Read-Only State Yes' With EaseUS Partition Master
Note that many reasons would cause your disk in a current read-only state, for example the device corruption or file system error, virus infection, etc.
So, you can try to download EaseUS partition manager to format a corrupted flash drive and memory card, resetting the device to usable again from 'current read-only state yes' issue on SanDisk, Kingston, and other brands.
It allows you to:
Format External/Internal Hard Drive to NTFS
Format USB, SD Card to FAT32 (Smaller than 32GB), exFAT (Larger than 64GB)
Before you formatting the device, remember to back up all valuable data to another secure location in advance. Let's start with the following steps:
Right-click the external drive or USB you intend to format and choose "Format".
Set the Partition label, File system (NTFS/FAT32/EXT2/EXT3/EXT4/exFAT), and Cluster size, then click "OK".
Click "Yes" to continue.
Click the "Execute 1 Task(s)" button and click "Apply" to format the hard drive partition.
How to Prevent Device from Becoming Read-Only
Here we also find some tips that you can follow to prevent and protect your storage devices from becoming read-only:
1. Create an extra backup of valuable files to another secure location
2. Clear virus regularly on your computer
3. Don't encrypt the drive regularly
4. Eject and unplug your device properly
5. Setting a Windows-compatible file system on your device
The Bottom Line
On this page, we explained what is "Current Read-only State Yes" error is and how did this error happen to your storage devices. To fix this issue, we collected 4 useful tools to help you out, including changing the physical switch side, changing the Registry key number, using a write-protection removal tool, and running the Diskpart command to remove the Read-only yes to no. 
In order to make your device 100% secure for saving files again, we also suggest you format and reset the device to NTFS (for external, internal hard drive), FAT32, or exFAT (for USB, SD card) with the help of EaseUS partition manager software.

Roxanne is one of the main contributors to EaseUS and has created multiple posts on digital devices like PCs, Mobile phones, tablets, Mac, etc. She loves to share ideas with people of the same interest.

Author Jean has been writing tech articles since she was graduated from university. She has been part of the EaseUS team for over 5 years. Her special focuses are data recovery, disk partitioning, data space optimization, data backup and Mac OS. By the way, she's an aviation fan!