Receive error "the disk is write protected" when trying to format a removable disk (such as USB flash drive, SD card, CD, or pen drive)? The disk is write protected error in Windows 10/8/7 that stops operation of formatting, writing data, i.e. copy & paste files to the generic USB stick. It's imperative to remove write protection on the drive. Learn the how-to guide step by step to fix the "disk is write protected, remove the write-protection or use another disk, removable disk" now.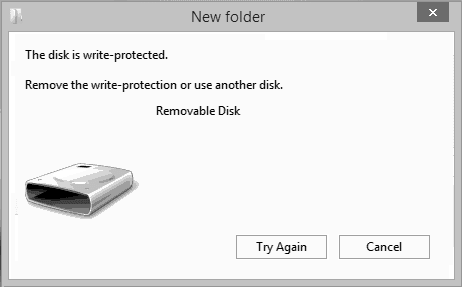 How to fix the write-protected error
We use removable storage devices a lot on a Windows computer, and some of you may encounter the issue of the disk malfunction, which is mostly about "the disk is write protected". When Windows starts to write protect your disk, for example, a SanDisk 4GB USB flash drive, you can no longer use it anymore until you remove the write protection. The fixes are as follows.
Method 1: Diskpart command
Step 1: Open administrative Command Prompt.
Step 2: Type these commands one by one and press Enter key after each:
diskpart
list disk
select disk # (# is the number of the USB drive with which you're getting the write-protected error and is plugged in, see screenshot below)
attributes disk clear readonly
Step 3: You may now close Command Prompt and re-plug the USB drive and check if the issue is resolved, by dragging a file to the drive or trying to format in Windows Disk Management or EaseUS Partition Master coming in the later part.
If you are not professional in computing management and not familiar with command lines, don't worry. EaseUS R&D team has promoted a fresh kit for helping you resolve the write-protection issue on your hard drive, external hard drive, USB or SD card, etc., devices.
EaseUS Tools M is a practical computer fixing tool that is safe and light-weighted. It's a perfect alternative to the command line.
Use this one-click tool to solve the write-protection issues on your own:
Step 1:  DOWDLOAD and install EaseUS Tools M for free.
Step 2: Run EaseUS Tools M on your PC, choose "Write Protection" mode.
Step 3: Select the device which is now "Write-Protected" and click "Disable" to remove the protection.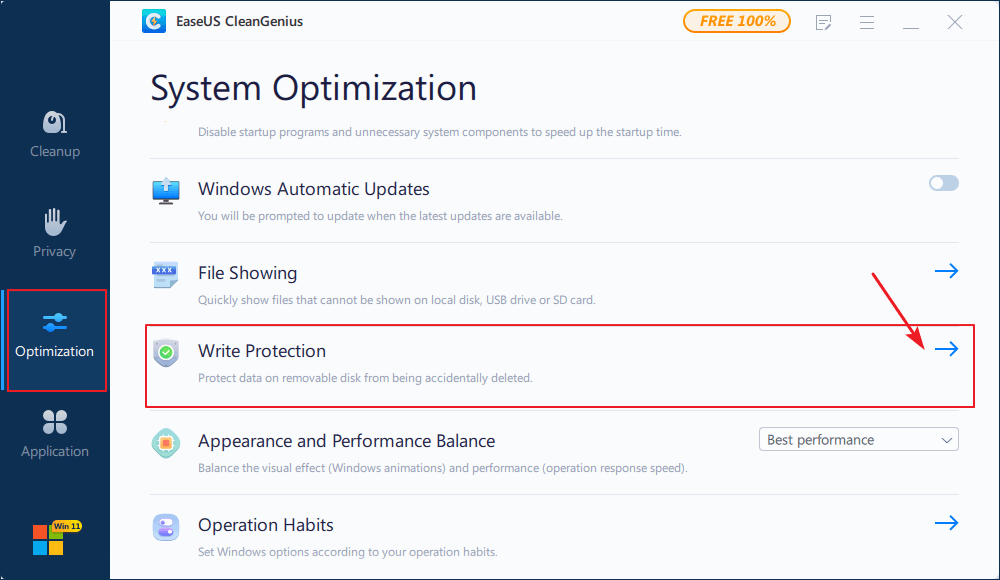 Method 2: Regedit.exe
Step 1: Press Windows Key + R keys simultaneously, type "regedit" in Run dialog box and hit Enter to open the Registry Editor.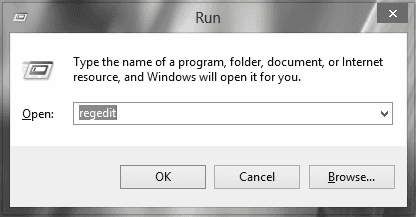 Step 2: In the left pane, navigate here: HKEY_LOCAL_MACHINE\SYSTEM\CurrentControlSet\Control
Step 3: In the left pane of this location, right click Control key and select New -> Key. Name the new sub-key so created as StorageDevicePolicies. Now come to the right pane of this sub-key i.e. StorageDevicePolicies, right click and select New -> DWORD Value. Name the newly created DWORD as WriteProtect. In some cases, you might find that this DWORD under the sub-key already exists and the DWORD has a Value set to 1. Double-click on the DWORD to modify its Value data.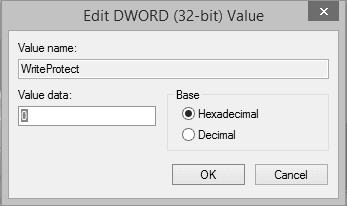 Step 4: In the above-shown box, change the Value data to 0 from 1. Click OK. Close the Registry Editor and check if the issue is resolved by dragging a file to the drive or trying to format in Windows Disk Management or EaseUS Partition Master coming in the later part.
You can try those methods mentioned above and they may help you remove the Write Protected error. Besides, if you have the need to format a hard drive, memory card, sd card or external drive, we recommend you a reliable partition software - EaseUS Partition Master, which is a powerful yet user-friendly alternative for Windows 10/8/7 disk management program.
How to Format a Hard Drive with EaseUS Partition Master
Step 1: Run EaseUS Partition Master, right-click the hard drive partition you intend to format and choose "Format".
Step 2: In the new window, set the Partition label, File system (NTFS/FAT32/EXT2/EXT3), and Cluster size for the partition to be formatted, then click "OK".
Step 3: Then you will see a warning window, click "OK" in it to continue.
Step 4: Click the "Execute Operation" button in the top-left corner to review the changes, then click "Apply" to start formatting the partition on your hard drive.
The smaller cluster size makes less wasting of disk space. The smaller cluster size is, the bigger file allocation table (FAT) will be. The bigger the FAT is, the slower the operating system works with the disk.
100% of people found this article helpful.
Frequently Asked Questions
Why Choose EaseUS Partition Master?

"I've used Partition Master Professional many times to create, delete, format, move, rename, and resize partitions." —PCWorld

"Partitioning tools have come a very long since the days of complicated command line utilities and EASEUS Partition Master is one of the most advanced programs available." —TECH ADVISOR

"I love that the changes you make with EaseUS Partition Master Free aren't immediately applied to the disks. It makes it way easier to play out what will happen after you've made all the changes." —Lifewire
Will the "Migrate OS" feature transfer the Windows system files only or the whole C drive?

To ensure that the migrated system will boot normally, the Migrate OS feature will transfer all the files in the system and the boot partitions. Generally, the boot partition is the C drive so the transfer will include all the files in C.
Does EaseUS Partition Master license apply to multiple computers?

The license of Partition Master Professional and Server editions can be used on 1 computer only, while that for for the Technician and Unlimited editions can be used on multiple machines.
What is the difference between EaseUS Partition Master Trial version and the Free version?

Free is for home users only, with most basic functions available such as partition resize and clone. While trial can help you understand how this product works and test what a full license can do on a business or server OS machine.
Will it cause any data loss after resizing the partition in EaseUS Partition Master?

Generally, it will not cause any data loss or boot issue by resizing a partition. However, in order to protect your data, we suggest that you backup the partition before resizing, in case of any unexpected situations such as power outages, computer hardware failures, etc. You can use EaseUS Todo Backup to backup the partition and its trial version is fully functioned for 30 days.
What should I prepare before resizing the partition?

On the partition that is going to be operated, there might be some files being occupied by other programs. To ensure a successful operation, we suggest that you close all the unnecessary software before resizing that partition. Otherwise, EaseUS Partition Master will detect the partition being locked by the other software and require a reboot to resize the partition under boot mode.
About EaseUS Partition Master
All-round disk & partition management software for personal and commercial use. Let it manage your storage drive: resize, format, delete, clone, convert, etc.