How to Format Write Protected USB/Pen Drive [7 Ways]
Error: "The Disk Is Write-Protected" While Formatting USB Pen Drive
Are you having the "disk is write protected" error while formatting write protected USB pen drive? What does it mean when you receive "The disk is write-protected" error message while trying to format a flash drive, pen drive or SD card?
It means the Windows operating system has set administrator limitations, the registry entry is damaged, virus infection or third-party encryption software locked your USB pen drive. With the write protection status on the USB pen drive, you can't format it and you'll get a "The disk is write-protected" error message.
You may wonder "How do I remove write protection on a USB drive?" on your mind. Here, you can first follow solutions in Part 1 to remove write protection from USB, pen drive, SD card, external hard drive, etc., and then format the device with ease.
Part 1. Remove Protection from USB/Pen Drive, etc., Devices
Here in this part, there are six ways that you can try to remove the write protection from your USB, pen drive, etc., storage devices. After fixing this issue, you may follow tips in Part 2 to format the USB flash drive and pen drive with no hassle. 
#1. Unlock Write Protected USB/Pen Drive by Switching Its Lock
If you have previously locked your USB flash drive or pen drive by switching its Lock to ON, the device is locked and write-protected. It means that you cannot format the device nor make any changes to it. Here is how to unlock the write-protected USB:
Step 1. Find the physical switch on your USB or pen drive.
Step 2. Move the switch from ON to OFF.

Now, you can connect the USB to your PC and you can re-access or format the device again.
#2. Cleanup Virus that Cause Write Protected USB or Pen Drive
Virus infection may also sometimes cause storage devices like USB flash drive write-protected or locked. The best way to fix this issue is to run professional virus cleaner software to fully remove the virus and unlock the device.
Here is a list of recommended virus removal programs for you to try:
Avast Antivirus
Norton AntiVirus
McAfee
BitDefender
AVG
All you need is to install one of the recommended virus cleaners, connect the problematic device to your PC, run and let the virus cleaner tool to scan and remove all write-protection virus from your USB or pen drive.
#3. Remove Write Protection from Device Using CMD
Step 1. Type cmd in the search box, right-click "Command Prompt" and select "Run as Administrator".
Step 2. Type the following command lines and hit Enter after each command line.
diskpart
list disk
select disk #
attributes disk clear readonly
Replace # with the number of your write-protected flash drive or memory card.
Let CMD command to remove the write protection from your device.
Step 3. Type exit when the process finishes.
#4. Fix Write Protected USB/Pen Drive with CMD Alternative
If you don't consider yourself a pro-computer user and you're not familiar with command-lines, don't worry. There are graphical-based solutions to help you remove write-protection from your hard drives, USB drives, and even SD cards.
EaseUS CleanGenius is one of these tools that helps you fix aforementioned issues on your drives without knowing a thing about command-line.
Here's an easy-to-follow guide on how to use this tool to get your issues sorted:
Step 1:  DOWNLOAD and install EaseUS CleanGenius (free) on your computer.
Step 2: Run EaseUS CleanGenius on your PC, select Optimization and choose the Write Protection mode.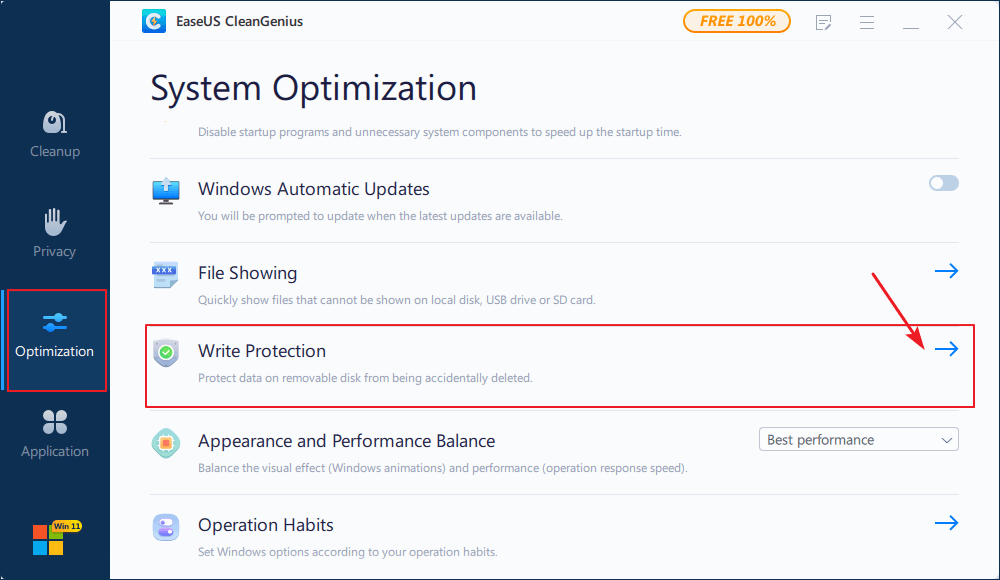 Step 3: Select the device that is write-protected and click Disable to remove the protection.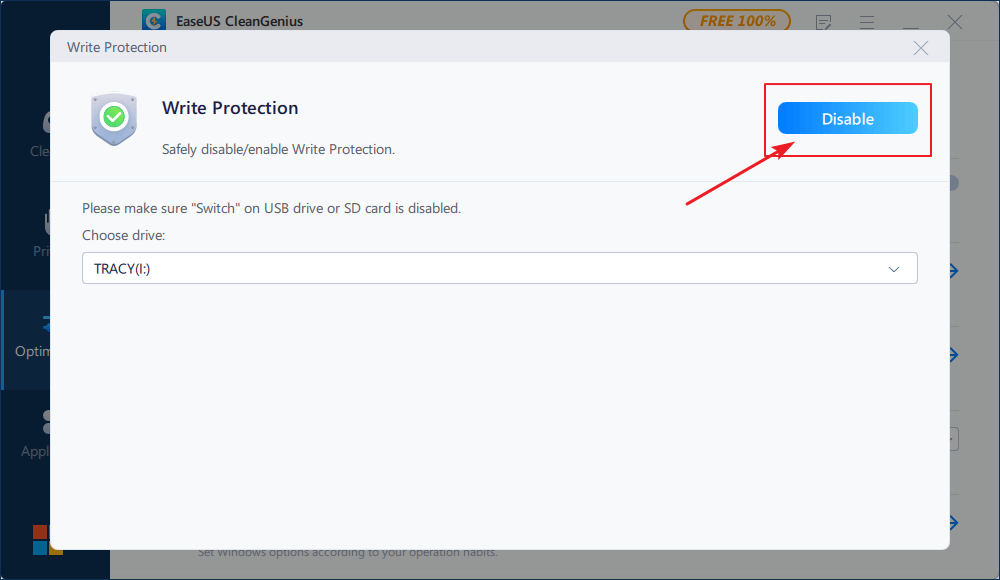 #5. Remove Write Protection on USB Flash Drive/Pen Drive using Regedit.exe
When a device is locked or a disk is write-protected, you can using Registry Editor to change its key from 1 to 0 so as to unlock the device. 
 Warning

Note that you need to be very careful while using Registry Editor - Regedit.exe to remove write protection on a device. Any false operation or typo error will cause serious problem.
If you are a beginner, try the former solutions. 
Step 1. Type: Regedit in the search box, click "Regedit.exe" to open the Registry editor.
Step 2. Navigate to: Computer\HKEY_LOCAL_MACHINE\SYSTEM\CurrentControlSet\Control\StorageDevicePolicies
Step 3. Double-click on the "WriteProtect" value in the right-hand pane of Regedit.exe.
Step 4. Change the "Value" data from "1" to "0" and click "OK" to save the change.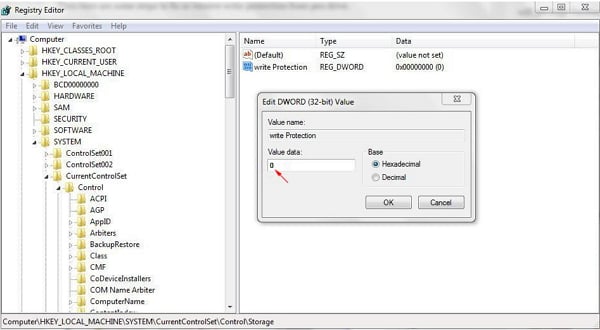 Step 5. Close Regedit and restart your computer.
After this, you can reconnect your USB flash drive or pen drive to your PC again, and you should find the write protection is removed and the device is no longer write-protected.
#6. Change Read-Only or Write-Protected USB/Pen Drive to Normal
Sometimes, your drive may also get locked or write-protected if you set it as read-only. And you can simply change the read-only state to remove the device write protection. 
Note that this method can also be applied to remove the read-only state on your files.
Step 1. Connect your USB or pen drive to PC.
Step 2. Open Windows File Explorer, locate and right-click on the USB which is write-protected, and select "Property".
Step 3. Go to the General tab, uncheck "Read Only", click "Apply" and "OK" to finish.
After removing write protection on your USB or pen drive, you can directly access the device with ease. However, if the USB or pen drive still contains some logical or internal error, you may need to format the device to recognizable again.
Part 2. How to Format Write Protected USB Pen Drive after Fixing the Error 
Usually, Disk Management or Windows File Explorer can format a device that is in a normal state. But if the storage device is in a special state, such as displaying as I/O device error, Windows was unable to complete the format, USB cannot be formatted, etc., you will need a professional all-in-one formatting tool.
EaseUS Partition Master is capable of formatting your USB or pen drive, etc., from any the above logical errors. Besides USB flash drive, the program also allows you to format a write-protected SD card with the write protection error removed.
Here is the detailed guide:
Step 1. Launch EaseUS Partition Master, right-click the partition on your external hard drive/USB/SD card which you want to format and choose the "Format" option.
Step 2. Assign a new partition label, file system (NTFS/FAT32/EXT2/EXT3/EXT4/exFAT), and cluster size to the selected partition, then click "OK".
Step 3. In the Warning window, click "OK" to continue.
Step 4. Click the "Execute Operation" button in the top-left corner to review the changes, then click "Apply" to start formatting your external hard drive/USB/SD card.
When the formatting process finishes, you've finished the process of formatting a write-protected USB/pen drive on your own. And now, your device is in a good state for you to save and store data again. 
FAQs about USB, Pen Drive, SD Write Protection
This page answers the questions of "How do I remove write protection on a USB drive" and "How can I format a write-protected pen drive". With the provided solutions in Part 1 and Part 2, you can easily resolve "The disk is write-protected" error and successfully format your USB flash drive, pen drive, SD card, external hard drive, and even internal hard drive after removing the write protection.
However, some of you may have more concerns that are related to the write protection issue. Here, we have found some top FAQs asked in Google searching result and left a brief answer below each question. If you have the same doubts, check and find your answers here immediately.
1. How do I format write-protected USB in Windows 10?
As introduced on this page, to format a write-protected USB in Windows 10, you need first remove the write protection by following methods in Part 1.
Then you can apply EaseUS Partition Master or Windows built-in formatting tool - Disk Management, Windows File Explorer, CMD to format the USB in Windows 10.
2. What is the best write-protected USB format tool?
As you search online, you may find that there is no one professional write-protected USB format tool available for free download. The reason is that write protection error is complex and most formatting tips don't even work.
So the best solution toward this issue is that you should first remove the USB write protection and then apply the best USB formatting tool for help.
3. How to format read-only USB?
When a USB displays as read-only on your computer, you cannot directly format the device either. You should first remove or fix the "Read Only" error on USB. Then apply Windows Disk Management, File Explorer or EaseUS formatting software - EaseUS Partition Master to format your USB to FAT32 (usable) again.
4. Can you recover data after formatting a write-protected SD card?
When you removed the write protection and formatted your SD card, it's safe for you to save the data on the card again. As for the lost data, you can recover data from SD card with powerful data recovery software. If you need a reliable one, EaseUS Data Recovery Wizard is available to help.
Updated by Tracy King 
Tracy joined in EaseUS in 2013 and has been working with EaseUS content team for over 7 years. Being enthusiastic in computing and technology, she writes tech how-to articles and share technical solutions about Windows & Mac data recovery, file/system backup and recovery, partition management and iOS/Android data recovery.
I love that the changes you make with EaseUS Partition Master Free aren't immediately applied to the disks. It makes it way easier to play out what will happen after you've made all the changes. I also think the overall look and feel of EaseUS Partition Master Free makes whatever you're doing with your computer's partitions easy.

 Read More

Partition Master Free can Resize, Move, Merge, Migrate, and Copy disks or partitions; convert to local, change label, defragment, check and explore partition; and much more. A premium upgrade adds free tech support and the ability to resize dynamic volumes.

 Read More

It won't hot image your drives or align them, but since it's coupled with a partition manager, it allows you do perform many tasks at once, instead of just cloning drives. You can move partitions around, resize them, defragment, and more, along with the other tools you'd expect from a cloning tool.

 Read More
About EaseUS Partition Master
All-round disk & partition management software for personal and commercial use. Let it manage your storage drive: resize, format, delete, clone, convert, etc.
Video Tutorial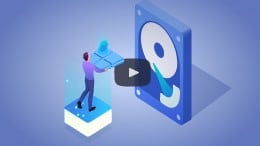 How to Partititon a Hard Drive on Windows 10/8/7
Was This Page Helpful
How Can We Help You
Find answers to common questions below.