Windows 11 Install: Windows Cannot be Installed To This Disk GPT
Windows 11, unlike its predecessors, comes with stringent hardware requirements, which not only needs TPM 2.0, UEFI, and the right GPT partition style. When Installing Windows 11 via a bootable USB Windows Installation Media, you may receive an error—Windows cannot be installed to this disk. The selected disk is of the GPT partition style—then this post will help you fix it.
Be aware that this error appears; you cannot continue installing Windows 11 until fixing it. This guide will show to how to fix this error without converting MBR to GPT.
Reasons of "The selected disk is of the GPT partition style"
When you found this error happen, some tutorials may recommend first convert MBR to GPT, but that will work on Windows 10 instead of GPT available Windows 11. The culprit is which boot modes are used by USB installation media.
If you want to install Windows 11 on a GPT disk, your USB should boot into UEFI mode. Otherwise, you will receive such an error.
UEFI - GPT
Legacy BIOS - MBR
How to Fix "The selected disk is of the GPT partition style"
To change the boot mode, you can smoothly continue the Windows 11 setup. Try the proven method as follows:
Boot to UEFI Mode
One straightforward way to fix the problem is to change from BIOS to UEFI, but it is only applicable to computers that offer support for both. If you have earlier used Legacy BIOS mode, so it works with MBR style, this will not work here.
So when you receive the error—Windows Cannot be installed on this disk. The selected disk is of the GPT partition style—you can boot into BIOS and check if it allows you to switch to UEFI.
Step 1: Turn off your computer and then restart it.
Step 2: Before you get into the OS, you should see a boot logo showing which key you can use to boot into the BIOS. It is usually the DEL or the F2 key.
Step 3: Once the BIOS, locate the Boot Tab and then switch it to UEFI. Save the changes and exit.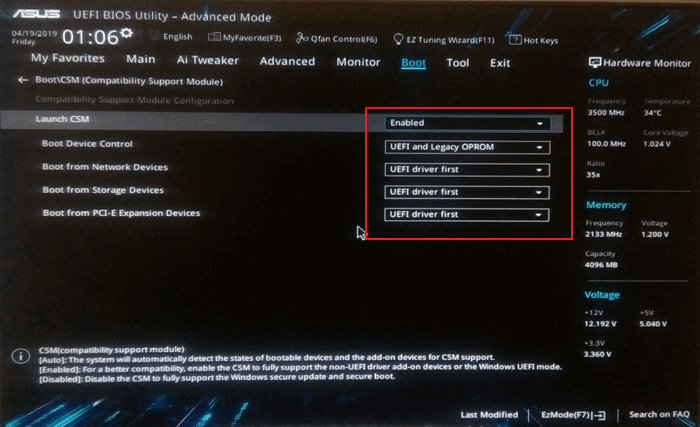 Note: The option to change from BIOS to UEFI will differ from manufacturer to manufacturer
If you do not see any UEFI mode, it means the computer only offers BIOS mode, and in that case, you will have to convert your disk into MBR if it's not already there.
Bonus Tip - How to Fix "Windows can only be installed on GPT Disks"
To fix the problem, you need to do two things. First, make sure you have UEFI enabled on your firmware. Many firmware come with the support of MBR, can switch to support UEFI. The second thing you need to do is convert MBR disks to GPT.
Keeping in mind, Windows needs UEFI and GPT and other security features, you do not have the option to use the legacy BIOS and MBR style anymore.
One of the biggest challenges in converting MBR to GPT style is doing it without data loss and keeping everything intact. Follow the fixes to resolve the problem.
Fix 1: Convert MBR to GPT with EaseUS Partition Master
EaseUS Partition Master is disk management software that performs all kinds of operations when it comes to storage. The tool offers the following features:
Resize/Delete/Merge/Create partitions
Convert MBR to GPT and vice versa
Create WinPE disks for recovery
Convert to other disk formats
Wipe data to make them irrecoverable
Unlike Windows tools, it allows you to convert from MBR to GPT without any loss. So you can convert to GPT from MBR, restart, and you are good to install Windows 11.
Fix 2. Convert to GPT via Command Prompt
Hence you want to install Windows 11 on disk, your Windows installation media (USB or DVD) can convert to GPT with a command prompt. But the method will erase all your data on the device if the preserved data is stored on it. So if you want to avoid data loss, it is better to use EaseUS Partition Master on Method 1 without data loss. 
Step 1. Turn off the computer and put your Windows installation USB or DVD.
Step 2. Boot the device from USB or DVD, then go to the Windows setup, press "Shift + F10" to open the command prompt.
Step 3. Enter the command line as follows: 
diskpart
list disk
select disk
clean
convert gpt
exit
Step 3: Once the command prompt is closed, you can continue with Windows 11 installation.
Please do note, once the conversion is complete, it will appear as one large unallocated space. You need to create new ones, one which is specific to Windows installation. Make sure to create the rest of the partitions using the UI as it is easy to use here.
Concluding Thoughts
In this article, we've shown two common errors during the Windows setup process. The workable method to fix "the selected disk is of the GPT partition style" is to boot USB installation media into UEFI mode. And we also introduce another error with two solutions. Pick the available by your needs.

Roxanne is one of the main contributors to EaseUS and has created multiple posts on digital devices like PCs, Mobile phones, tablets, Mac, etc. She loves to share ideas with people of the same interest.
I love that the changes you make with EaseUS Partition Master Free aren't immediately applied to the disks. It makes it way easier to play out what will happen after you've made all the changes. I also think the overall look and feel of EaseUS Partition Master Free makes whatever you're doing with your computer's partitions easy.

 Read More

Partition Master Free can Resize, Move, Merge, Migrate, and Copy disks or partitions; convert to local, change label, defragment, check and explore partition; and much more. A premium upgrade adds free tech support and the ability to resize dynamic volumes.

 Read More

It won't hot image your drives or align them, but since it's coupled with a partition manager, it allows you do perform many tasks at once, instead of just cloning drives. You can move partitions around, resize them, defragment, and more, along with the other tools you'd expect from a cloning tool.

 Read More
About EaseUS Partition Master
All-round disk & partition management software for personal and commercial use. Let it manage your storage drive: resize, format, delete, clone, convert, etc.
Video Tutorial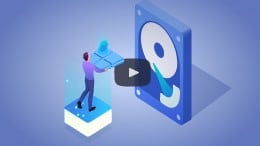 How to Partititon a Hard Drive on Windows 10/8/7
Was This Page Helpful
How Can We Help You
Find answers to common questions below.