Not enough space error message in Windows Disk Management:
Error 1 - "Not enough memory available to complete this operation. Quit one or more applications to increase available memory, and then try again."
Error 2 - "There is not enough space available on the disk(s) to complete this operation."
When your computer says it's running low disk space to execute a certain task with below error messages, don't be fooled. Why does such an error message pop up on your PC? There are two typical reasons.
One. Due to the limitation of the extended partition and Disk Management tool itself, you cannot create a new partition on free space. Instead, you must delete the free space and turn it into unallocated space.
Two. It's only because you're not utilizing the memory right. Many Windows users prefer to install applications and store data files to the system drive, soon the drive will be filling up. And then, such an error generates.
However, if you try to move unused space from drive D:, E: or F: to drive C: with Disk Management program, you'll find that extend volume is grayed out if there's no unallocated space right behind your target disk (which has not enough space). So, we've collected the following solutions to help you resolve this error happened on your computer disk.
Solution 1 - Extend low-memory partition
When Windows Disk Management program sends "not enough space (or free memory)to complete this operation" error, it seems that you'll then have no choice but to close the window.
Instead of deleting existing partitions behind the partition with insufficient space with Disk Management, a third-party Disk Management alternative program to proceed the operation should be your best choice.
RECOMMENDED:
And the most recommended one is EaseUS Partition Master, which provides basic and advanced disk & partition management, among which the "resize/move partition" feature and "cleanup and optimization" feature will help effectively resolve this issue in Windows.
Download, install EaseUS partition manager software on your computer try it to fix this issue with the upcoming four steps:
TUTORIAL GUIDE:
Follow the guide carefully to fix "not enough space available on the disk to complete this operation" error.
Step 1. Locate the Target Partition on EaseUS Partition Master
To start extending partition, you should first launch EaseUS Partition Master and locate the target partition which you would like to extend.
Step 2. Extend the Target Partition
If there is unallocated space left on your disk, use the Resize/Move feature to extend partition with the following tips:
1. Right-click on the target partition which you would like to extend and select "Resize/Move".
2. Drag the partition panel rightward or leftward to add unallocated space into your current partition and click "OK" to confirm.
You may also use the Partition size option to adjust and extend the target partition.
If there is no unallocated space on your disk, use the Allocate Space feature to extend the desired partition with the below tips:
1. Right-click on a partition with enough free space and select "Allocate Space" so as to allocate the free space to the target partition.
2. Select the target partition that you need to extend. And drag the partition panel rightward or leftward so as to add space allocated from the source partition to the target one. Then click "OK" to confirm.
Step 3. Execute Operations to Extend Partition
Click the Execute Operation button and click "Apply" to keep all the changes.
This will completely remove insufficient space error form your Windows PC.
Solution 2 - Clean up junk files and extremely large files to free up space
If the disk is theoretically filling up and gives such an error message, you don't need to buy a new large HDD or SSD to replace it, either. Try to do some cleaning with 'Cleanup and Optimization' feature in EaseUS Partition Master.
Let's see if the problem can be solved after unloading GBs of junk files and large files you never use.
To clean junk files:
Step 1: Launch EaseUS Partition Master. Select "Tools" and click "System Optimization".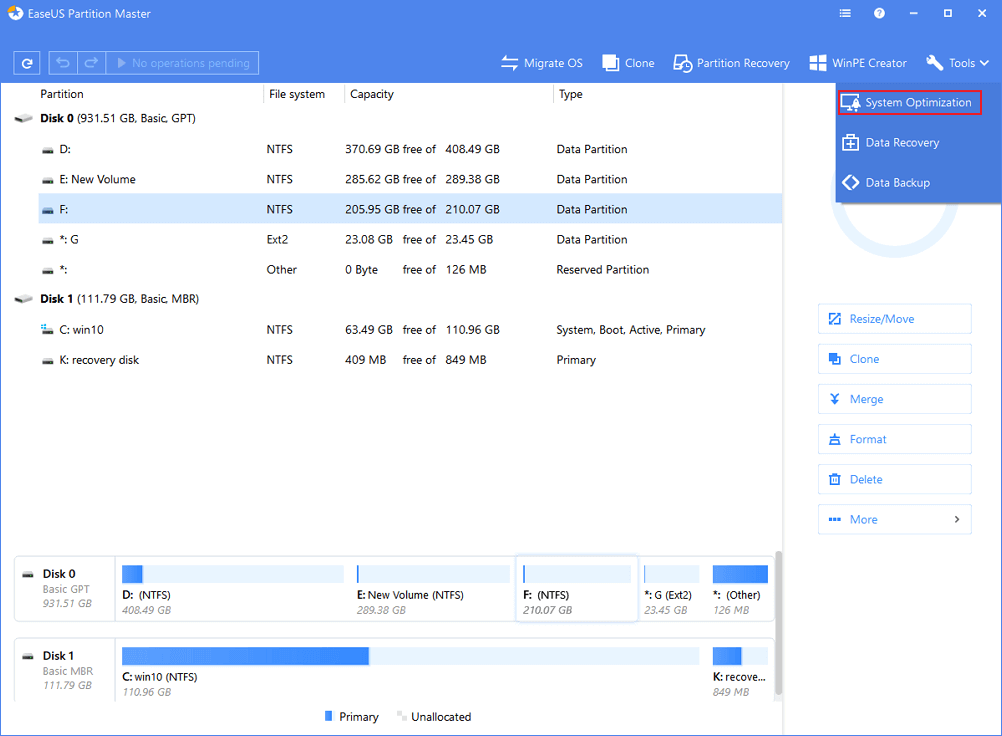 Step 2: Click "Junk File Cleanup". Then you can click "Analyze" to let EaseUS Partition Master find junk files on your PC.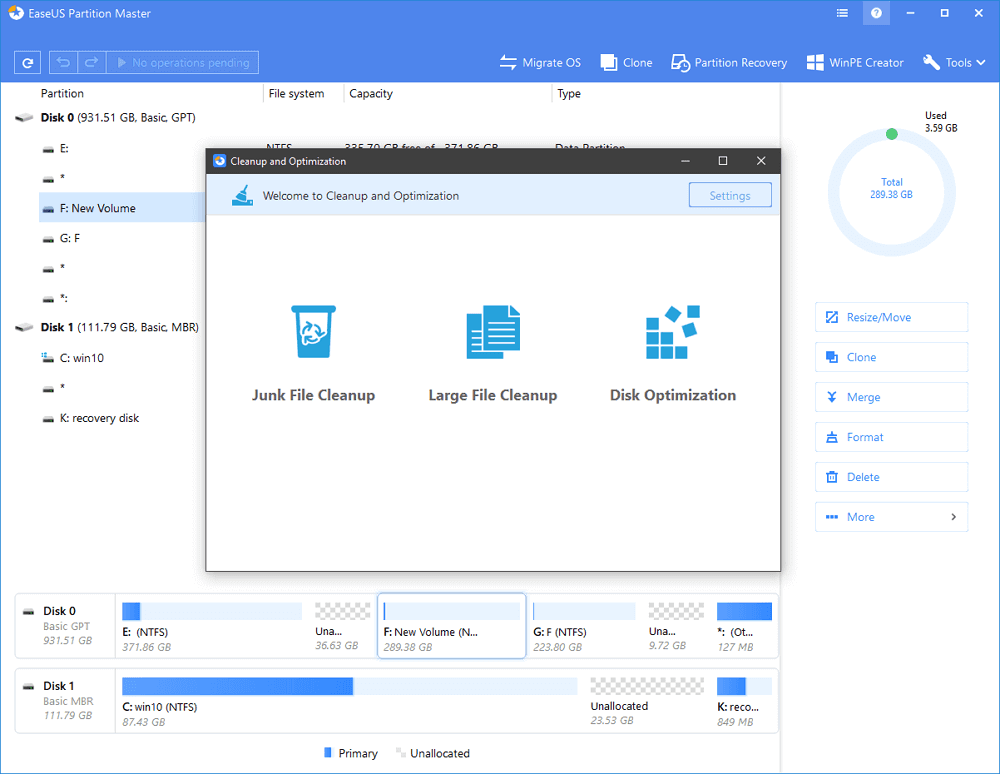 Step 3: You can check and choose junk files and click Clean up. All of the selected junk files will be cleaned and deleted from your PC. Click "Yes" to clean up junk files.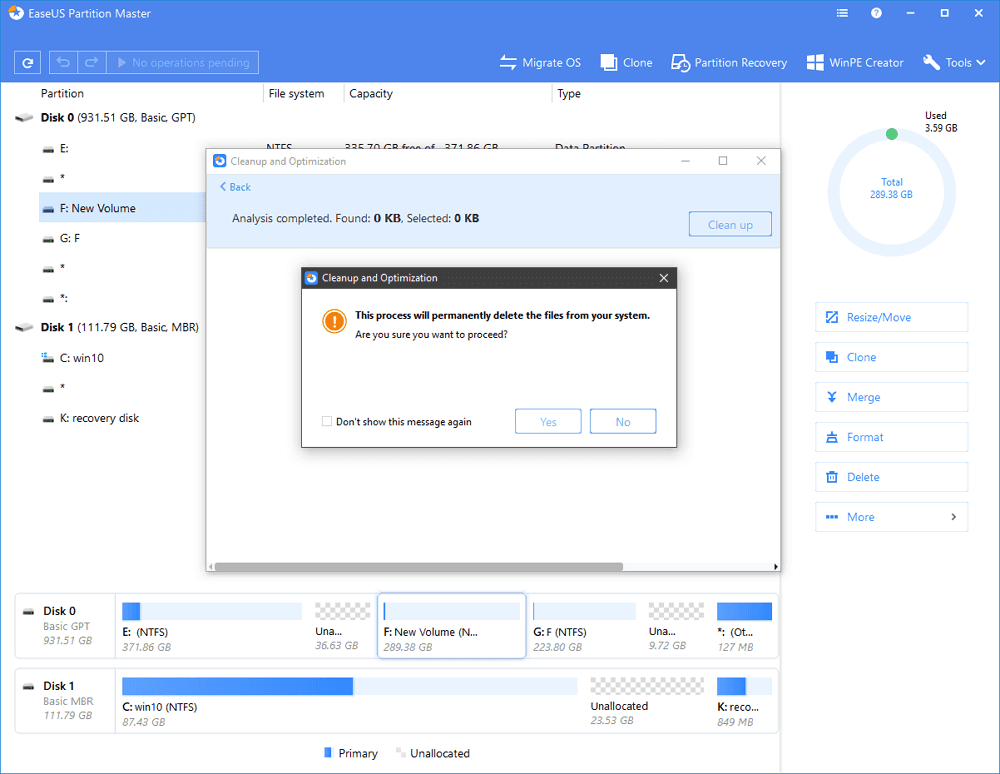 You should now free up quite a lot of space from the partition and fixed the insufficient disk space error.
To clean large files:
Open System Optimization as above mentioned, this time choose Large File Cleanup and then follow the wizard to delete unwanted large files.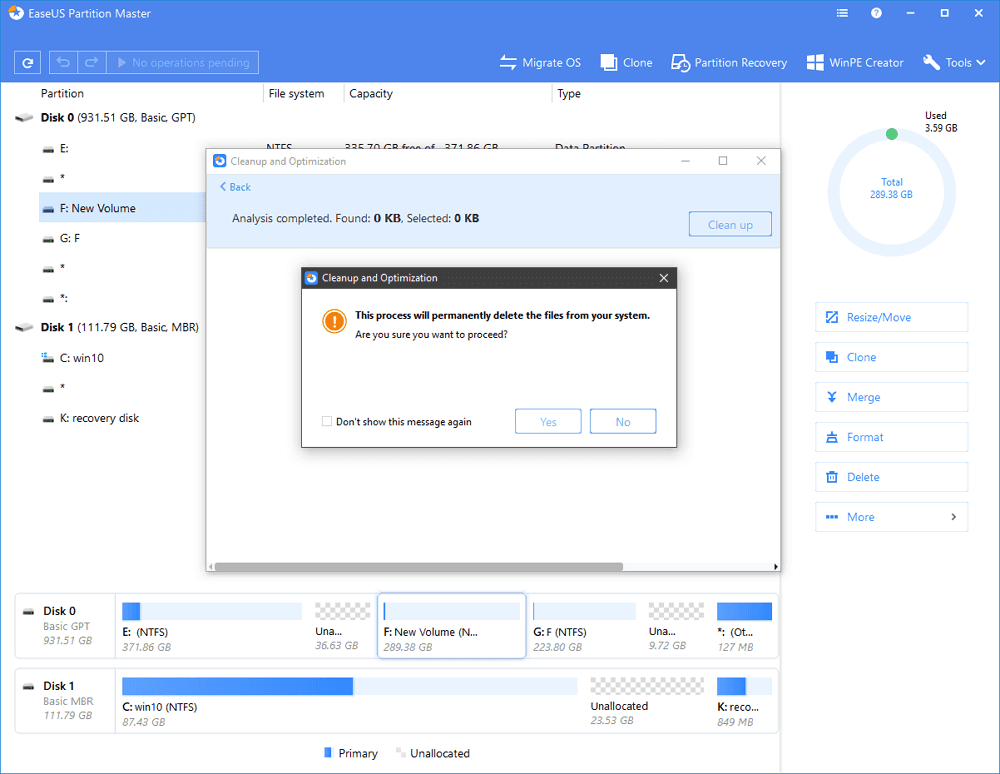 Further Help
EaseUS Partition Master is a cost-effective tool for resolving various disk problems. And if you are having similar problems to the 'not enough space' error, those following tutorial links are helpful.
2. Expand partition in Windows 7
3. Extend C drive in Windows 10
Know more about EaseUS disk & partition management software from the video
100% of people found this article helpful.
Frequently Asked Questions
Why Choose EaseUS Partition Master?

"I've used Partition Master Professional many times to create, delete, format, move, rename, and resize partitions." —PCWorld

"Partitioning tools have come a very long since the days of complicated command line utilities and EASEUS Partition Master is one of the most advanced programs available." —TECH ADVISOR

"I love that the changes you make with EaseUS Partition Master Free aren't immediately applied to the disks. It makes it way easier to play out what will happen after you've made all the changes." —Lifewire
Will the "Migrate OS" feature transfer the Windows system files only or the whole C drive?

To ensure that the migrated system will boot normally, the Migrate OS feature will transfer all the files in the system and the boot partitions. Generally, the boot partition is the C drive so the transfer will include all the files in C.
Does EaseUS Partition Master license apply to multiple computers?

The license of Partition Master Professional and Server editions can be used on 1 computer only, while that for for the Technician and Unlimited editions can be used on multiple machines.
What is the difference between EaseUS Partition Master Trial version and the Free version?

Free is for home users only, with most basic functions available such as partition resize and clone. While trial can help you understand how this product works and test what a full license can do on a business or server OS machine.
Will it cause any data loss after resizing the partition in EaseUS Partition Master?

Generally, it will not cause any data loss or boot issue by resizing a partition. However, in order to protect your data, we suggest that you backup the partition before resizing, in case of any unexpected situations such as power outages, computer hardware failures, etc. You can use EaseUS Todo Backup to backup the partition and its trial version is fully functioned for 30 days.
What should I prepare before resizing the partition?

On the partition that is going to be operated, there might be some files being occupied by other programs. To ensure a successful operation, we suggest that you close all the unnecessary software before resizing that partition. Otherwise, EaseUS Partition Master will detect the partition being locked by the other software and require a reboot to resize the partition under boot mode.
About EaseUS Partition Master
All-round disk & partition management software for personal and commercial use. Let it manage your storage drive: resize, format, delete, clone, convert, etc.