Delete Partition with Diskpart or Partition Manager
Hard drive partition management is always an important task that faced with most computer users. Sometimes people need to delete partition due to virus attack, low disk space problem caused by the dual operating system or some other reasons. But which tool will you choose to do the job, diskpart or third-party partition manager? In this page, we will talk about these two tools and introduce how to delete hard drive partition with diskpart command and EaseUS partition tool.
How to Delete Partition with the Diskpart Command
Diskpart is a command-line interpreter in Windows operating system designed as a disk management tool. It can be used to resolve some common disk problems, for example, create, delete, and resize hard drive partitions as well as assign or reassign drive letters. Now let's look at how to use diskpart to delete the partition.
1. Open the command prompt and type "diskpart".
2. After the launch of diskpart, write in the diskpart window "list volume".
3. In results, choose the partition which you want to delete with select volume "x" and type delete volume. If you receive an error type "delete volume override". Type "exit" and restart PC.
How to Delete Partition with EaseUS Partition Software
Diskpart command sometimes does help. However, there are also several limitations to delete the partition with it.
The partition contains the operating system cannot be deleted.
The drive contains the "pagefile.sys" folder, which means the virtual memory, cannot be deleted.
So sometimes, you might fail to delete a disk partition with diskpart command. Then how do you do the task? Here you might try a third-party tool. EaseUS partition software coming with many advanced disk management feature can do you a favor. It can help you delete partitions in all Windows editions with no limitations.
 Notice:

If you saved important data in the partition which you want to delete, move and save those data to another secure location in advance.
Step 1: Install and launch EaseUS Partition Master on PC
On the main window, right-click on the hard drive partition which you want to delete and select "Delete".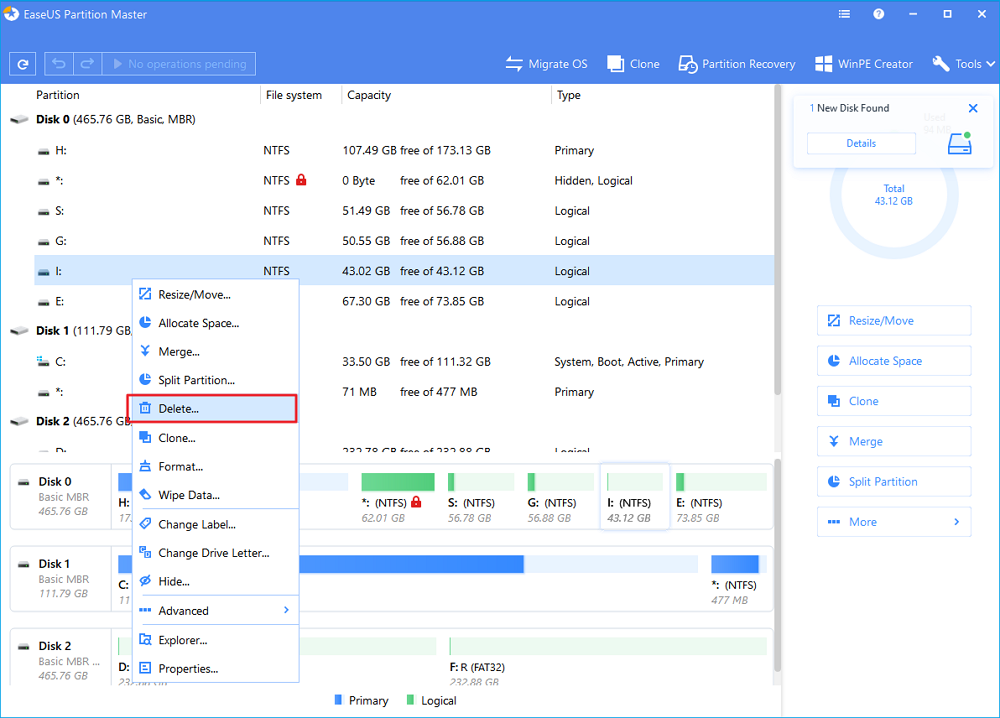 Step 2: Confirm the deletion
Step 3: Execute to delete the partition