Can't delete OEM partition in Windows
"I have a Dell laptop for two years and now the hard drive is running in low disk space. So I need to find a way to free up some space to get a better performance. When checking the device, I noticed that there was an empty partition which says 14.75 GB, Healthy (OEM Partition). I don't know what it is and can't delete it like other partitions. Every time when I open Disk Management and right-click on the partition, I only get the Help option without a delete option. What should I do to remove OEM partition? And is it safe to do that?"
OEM partition is designed for system recovery or factory restore. It allows users to easily and quickly restore the system to the original state when system failure or system crash occurs. This partition usually comes with Dell, Lenovo or HP computer. And some people want to delete OEM partitions to extend more space since they don't plan to restore the device to factory setting.
Then a problem comes out. Windows Disk Management tool doesn't support to remove the OEM partition. Fortunately, users can use Diskpart and a third-party partition manager software - EaseUS Partition Master for help. Here we will talk about it in details.
Delete OEM partition with Diskpart
Step 1. Hit "Windows Key + R to open the run dialogue box, enter: diskpart and click "OK" to open a black command prompt window.
Step 2. Type: list disk to display all the disks of your computer. Type: select disk n to identify which disk you need to work with. Here "n" stands for the disk letter.
Step 3. Type: list partition to display all the volumes on the hard drive. Type: select partition n to identify which partition you want to remove. Here n stands for the volume letter.
Step 4. Type: delete partition override to remove the OEM partition. Finally, type: exit to close the windows when you receive the message says, DiskPart successfully deleted the selected partition".
Delete OEM partition with EaseUS free partition manager
As a command line utility, DiskPart is difficult for average users to understand and use due to its non-graphical interface. For an easy and effective solution, we recommend you try EaseUS free partition manager - Partition Master Free Edition. This program makes OEM partition deleting job as easy as 1-2-3.
 Notice:

If you saved important data in the partition which you want to delete, move and save those data to another secure location in advance.
Step 1: Install and launch EaseUS Partition Master on PC
On the main window, right-click on the hard drive partition which you want to delete and select "Delete".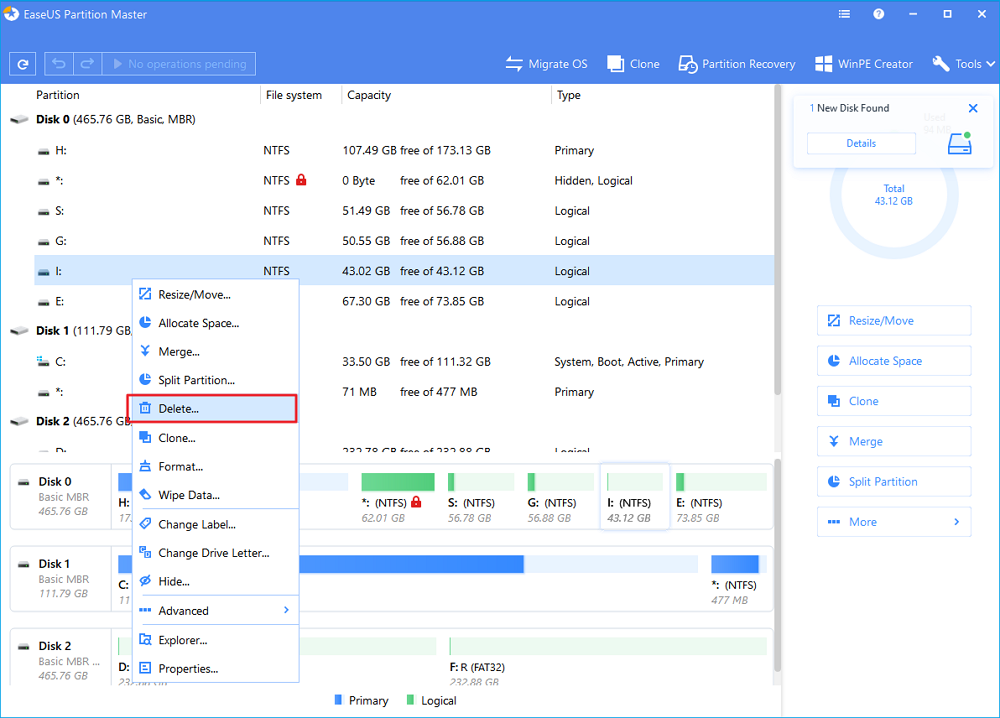 Step 2: Confirm the deletion
Step 3: Execute to delete the partition