Q: Can't delete OEM Partition in Windows 10.
"I have a Dell laptop for two years, and now the hard drive is running in low disk space. So I need to find a way to free up some space to get better performance. When checking the device, I notice that there is an empty partition, named Healthy (OEM Partition), occupying 14.75 GB. I don't know what it is exactly. When I open Disk Management and right-click on the partition, I only see the Help option without the Delete choice. How can I remove the OEM partition? And is it safe to do that?"
What Is Healthy (OEM Partition) in Windows 10
OEM partition is designed for system recovery or factory restore. It allows users to easily and quickly restore the system to the original state when system failure or system crash occurs. This partition usually comes with Dell, Lenovo, or HP computer. Some people want to delete OEM partitions to extend more space since they don't plan to restore the device to factory setting. Besides, you can also get to the same recovery features by simply booting off a Windows 10 CD or memory stick if you ever do have a problem booting up.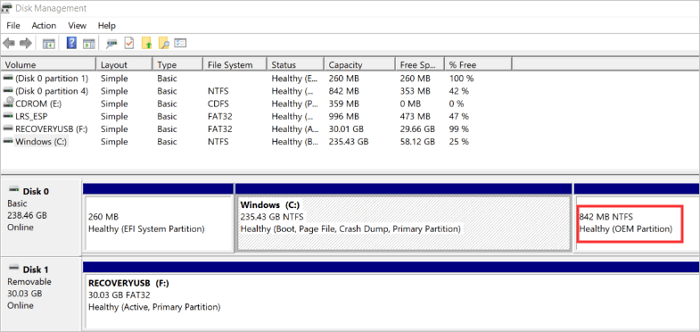 Is It Safe to Delete Healthy (OEM Partition)?
Yes, it is safe for you to delete Healthy (OEM Partition)s without causing any PC issue. OEM partitions are created by computer suppliers, which include some manufacturers' software or one-click factory restore settings. It takes up a lot of disk space and is not very useful.
Windows Disk Management tool doesn't support to remove the OEM partition, as you can tell from the description of the scenario. Then a problem comes out. How can you delete Healthy (OEM Partition)? In this guide, we will show you two ways to delete OEM partition in Windows 10/8/7 by using Diskpart and a third-party partition manager software - EaseUS Partition Master. Now, let's discuss it in detail.
Delete OEM Partition with Diskpart
Step 1. Hit "Windows Key + R to open the run dialogue box, enter: diskpart and click "OK" to open a black command prompt window.
Step 2. Type: list disk to display all the disks of your computer. Type: select disk n to identify which disk you need to work with. Here "n" stands for the disk letter.
Step 3. Type: list partition to display all the volumes on the hard drive. Type: select partition n to identify which partition you want to remove. Here n stands for the volume letter.
Step 4. Type: delete partition override to remove the OEM partition. Finally, type: exit to close the windows when you receive the message says, DiskPart successfully deleted the selected partition".
Delete OEM Partition with EaseUS Partition Management Software
As a command-line utility, DiskPart is difficult for average users to understand and use due to its non-graphical interface. For an easy and effective solution, we recommend you try EaseUS Partition Master, an ultimate partition manager that makes it effortless to organize and take full advantage of your disk space. You can use it to delete/format/hide/wipe partition quickly. Furthermore, it also offers some advanced features to fulfill more needs, like cloning/copying partition and merging partitions.
Now, download and use this user-friendly partition manager by following the steps below. This program makes the OEM partition deleting job as easy as 1-2-3.
 Notice:

If you saved important data in the partition which you want to delete, move and save those data to another secure location in advance.
Step 1: Select partition to delete
On EaseUS Partition Master, right-click on the hard drive partition which you want to delete and select "Delete".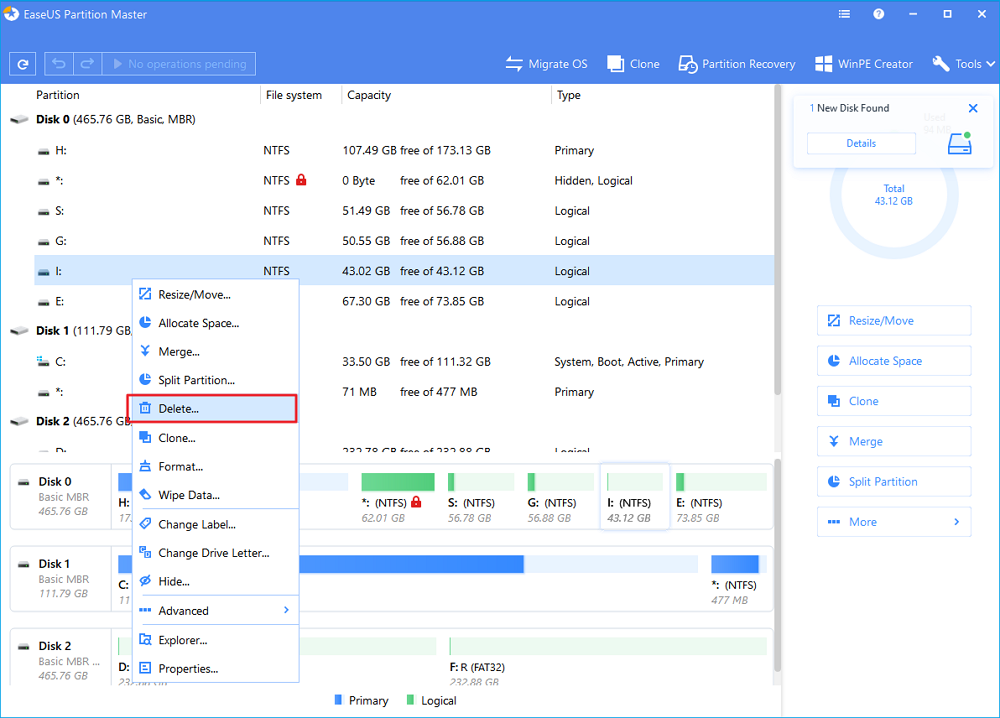 Step 2: Confirm the deletion
Step 3: Execute to delete the partition
Except for OEM Healthy Partition, there also may be a recovery partition on your computer created by Windows when installing the system. You can check it out in Disk Management. The recovery partition is a special partition on system hard drive and is used to restore the system to factory settings in case of any system issue. It occupies about 500 MB. You can delete it with the two solutions above for freeing space without any negative effect.
100% of people found this article helpful.
Frequently Asked Questions
Why Choose EaseUS Partition Master?

"I've used Partition Master Professional many times to create, delete, format, move, rename, and resize partitions." —PCWorld

"Partitioning tools have come a very long since the days of complicated command line utilities and EASEUS Partition Master is one of the most advanced programs available." —TECH ADVISOR

"I love that the changes you make with EaseUS Partition Master Free aren't immediately applied to the disks. It makes it way easier to play out what will happen after you've made all the changes." —Lifewire
Will the "Migrate OS" feature transfer the Windows system files only or the whole C drive?

To ensure that the migrated system will boot normally, the Migrate OS feature will transfer all the files in the system and the boot partitions. Generally, the boot partition is the C drive so the transfer will include all the files in C.
Does EaseUS Partition Master license apply to multiple computers?

The license of Partition Master Professional and Server editions can be used on 1 computer only, while that for for the Technician and Unlimited editions can be used on multiple machines.
What is the difference between EaseUS Partition Master Trial version and the Free version?

Free is for home users only, with most basic functions available such as partition resize and clone. While trial can help you understand how this product works and test what a full license can do on a business or server OS machine.
Will it cause any data loss after resizing the partition in EaseUS Partition Master?

Generally, it will not cause any data loss or boot issue by resizing a partition. However, in order to protect your data, we suggest that you backup the partition before resizing, in case of any unexpected situations such as power outages, computer hardware failures, etc. You can use EaseUS Todo Backup to backup the partition and its trial version is fully functioned for 30 days.
What should I prepare before resizing the partition?

On the partition that is going to be operated, there might be some files being occupied by other programs. To ensure a successful operation, we suggest that you close all the unnecessary software before resizing that partition. Otherwise, EaseUS Partition Master will detect the partition being locked by the other software and require a reboot to resize the partition under boot mode.
About EaseUS Partition Master
All-round disk & partition management software for personal and commercial use. Let it manage your storage drive: resize, format, delete, clone, convert, etc.