Sometimes, when you are trying to install Windows on your PC, "Windows cannot be installed to this disk. the selected disk has an MBR partition table. On EFI system, Windows can only be installed to GPT disks" error message pops up and interrupts the installing process.
In this case, you are required to convert MBR to GPT to get the problem fixed. But how can you make it during Windows installation? Read on to get the solutions!
Warning

The first two methods will force you to delete all partitions and create partitions to install the Windows OS, so if you have several partitions with data, please make a backup first!
Wipe and Convert MBR Disk to GPT Using Windows Setup
1) Turn off the PC, and insert the Windows installation DVD or USB key.
2) Boot the PC to the DVD or USB key in UEFI mode.
3) Select Custom when you are asked to choose an installation type. It will guide you to the Where do you want to install Windows? Screen.
4) There, select each of the partitions on the drive, and select Delete. The drive will finally show a single area of unallocated space.
5) Select the unallocated space and click Next. Windows detects that the PC was booted into UEFI mode, and reformats the drive using the GPT drive format, and begins the installation.
Convert MBR to GPT during Windows installation using command prompt
1) During installation, press Shift + F10 to open command prompt window
2) Type Diskpart into cmd window.
3) Type list disk. Make note of the disk number you want to delete or convert.
4) Now type select disk DiskNumber. By using this command you select the drive in which you want to any operation.
5) Now type clean.
6) Running the clean command will delete all partitions or volumes on the disk.
7) At the command prompt, type "convert gpt". It will convert the selected drive into GPT.
Convert MBR to GPT during Windows installation using EaseUS free partition software
Thinking it is too difficult to operate with command prompt? Or don't want to do the backup job? You can try EaseUS free partition software to convert MBR to GPT during Windows installation without losing data!
1. Download and launch EaseUS free Partition Master.
2. Right-click the drive that you want to convert and choose "Convert MBR to GPT". The program will analyze the selected partition automatically.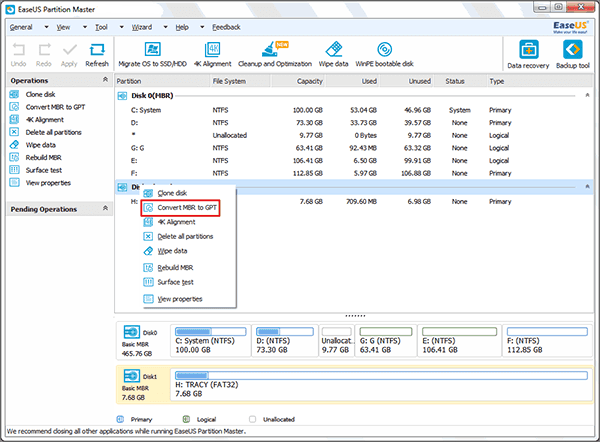 3. Click "Apply" button on the toolbar and confirm your operation by click "Yes" in the popup dialog to commit the changes.
Yes, only three steps, you'll easily convert MBR to GPT without losing data. Then you can install Windows operating system or applications and enjoy the wonderful moments with the drive.