Windows Cannot Be Installed to This Disk
Sometimes, when you are trying to install Windows on your PC, "Windows cannot be installed to this disk. The selected disk has an MBR partition table. On EFI system, Windows can only be installed to GPT disks" error message pops up and interrupts the installing process.
MBR does have its limitations. MBR only works with disks up to 2 TB in size. MBR also only supports up to four primary partitions - if you want more, you have to extend your primary partition and create logical partitions inside it.
GPT doesn't have the same limitation. You can create up to 128 partitions on a single GPT drive, without needing to use the logical partition workaround. In short: MBR can have four primary partitions; GPT can have 128.
In this case, you are required to convert MBR to GPT to get the problem fixed. But how can you make it during Windows installation? Read on to get the solutions!
Three Solutions to Convert MBR Disk to GPT Disk
Before you convert MBR to GPT, you must know the following thing:
1. Does your hardware support have UEFI-support? If not, you will not have access to your operating system.
2. You need to change your firmware to boot to UEFI mode. If you have UEFI boot error, fix it first. After your system restart, press your BIOS/UEFI entry key. Change the boot type to UEFI mode, as opposed to Legacy Mode or other equivalents.
3. Only the 64-bit version of Windows can boot from GPT disk. Not all versions of Windows can boot from a GPT partitioned drive, your Windows must be Windows 7/8/8.1/10. The olde version like Windows XP cannot boot from GPT.
 Important

The first two methods will force you to delete all partitions and create partitions to install the Windows OS, so if you have several partitions with data, please make a backup first!
Solution 1. Wipe and Convert MBR Disk to GPT Using Windows Setup
1) Turn off the PC, and insert the Windows installation DVD or USB key.
2) Boot the PC to the DVD or USB key in UEFI mode.
3) Select "Custom" when you are asked to choose an installation type. It will guide you to the "Where do you want to install Windows?" Screen.
4) There, select each of the partitions on the drive, and select "Delete". The drive will finally show a single area of unallocated space.
5) Select the unallocated space and click "Next". Windows detects that the PC was booted into UEFI mode, and reformats the drive using the GPT drive format, and begins the installation.
Solution 2. Convert MBR to GPT During Windows Installation Using the Command Prompt
1) During installation, press Shift + F10 to open command prompt window
2) Type Diskpart into cmd window.
3) Type list disk. Make a note of the disk number you want to delete or convert.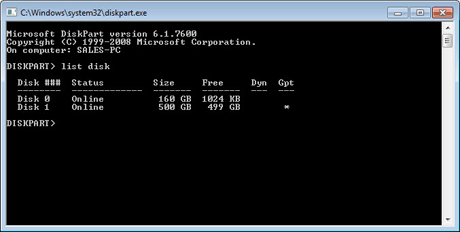 4) Now type select disk DiskNumber. By using this command, you select the drive in which you want to any operation.

5) Now type delete volume.
6) Running the command will delete all partitions or volumes on the disk.
7) At the command prompt, type "convert gpt". It will convert the selected drive into GPT.
Solution 3. Convert MBR to GPT During Windows Installation Using EaseUS Free Partition Software
Thinking it is too difficult to operate with command prompt? Or don't want to do the backup job? It is a better choice to try EaseUS's free partition software to convert MBR to GPT during Windows installation without losing data! You can directly install it on your PC and follow the steps below to see how to convert MBR to GPT easily in Windows 7/8/10.
Step 1: Download and launch EaseUS Partition Master on your Windows computer.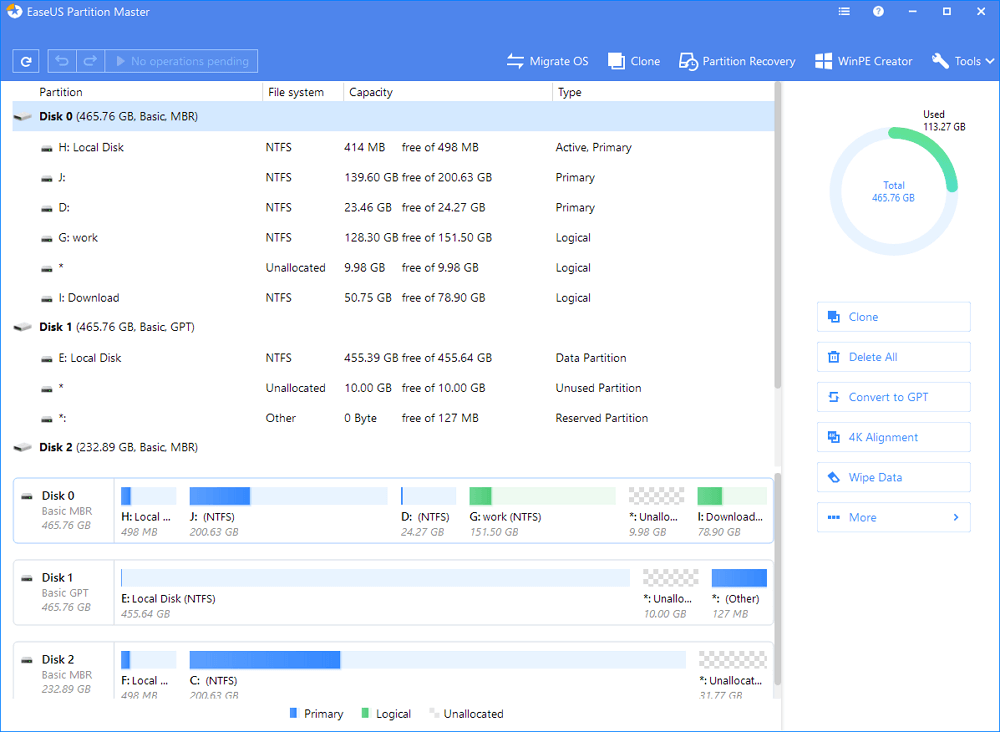 Step 2: Right-click the MBR disk that you want to convert and choose "Convert to GPT".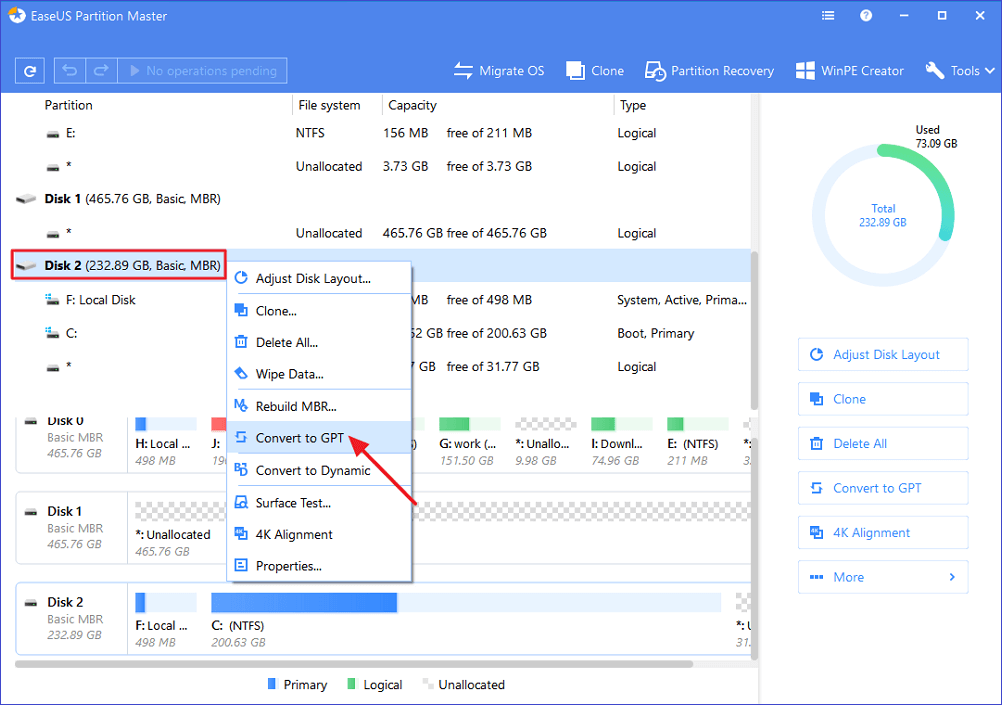 Step 3: After that, find and click the "Execute 1 Operation" button on the toolbar and choose "Apply" to start the conversion. You need to restart your device to enable this change.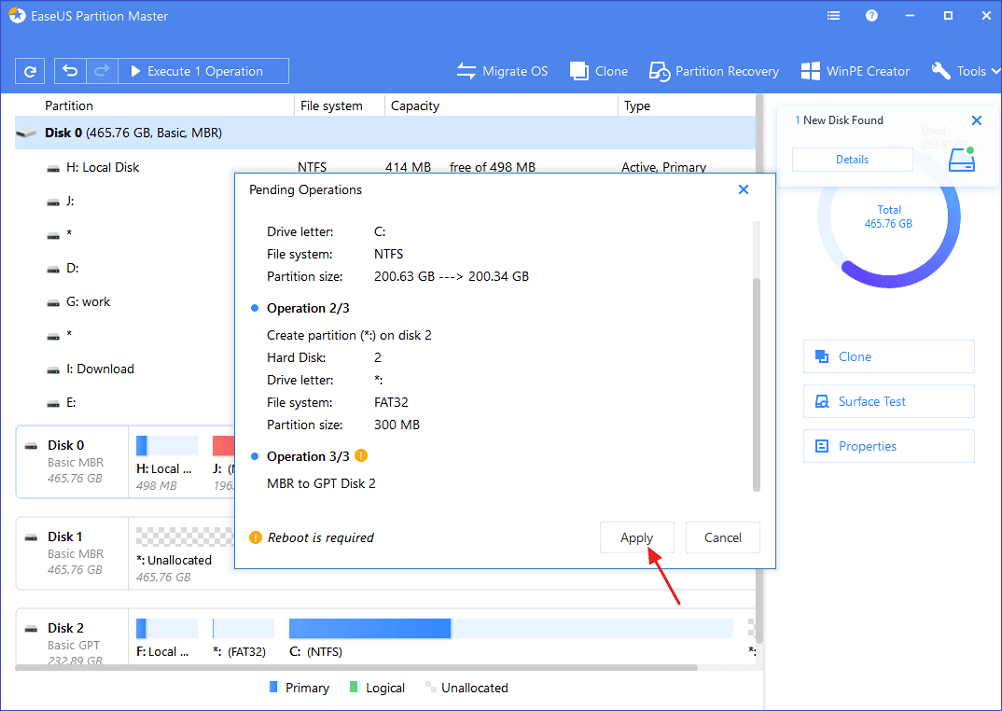 Yes, only three steps, you'll easily convert MBR to GPT without losing data. Then you can install the Windows operating system or applications and enjoy the wonderful moments with the drive.