Q: How can I convert GPT to MBR without an operating system?
"I wiped my Windows 8 and thought I could operate with Windows 7. But when I am trying to install Windows 7, it says, "The Selected Disk is of the GPT Partition Style" and refuses to format the partition. How do I convert GPT to MBR without operating system and data loss?"
For specific reasons, users want to convert GPT to MBR disk. For example, the Windows 32 bit operating system can only boot from MBR disk, so you need to convert GPT to MBR before installing the system. Or when your disk is in GPT, but the computer doesn't support booting in UEFI/EFI mode, you also need to convert from GPT to MBR.
At most times, it is an easy job to convert GPT to MBR in Windows operating system. You can use the built-in Disk Management and command line to make it. But, in some special situations, like when you don't have a Windows system installed on your computer, switching from GPT to MBR is no longer a simple task.
But don't worry, you still have solutions to the problem. On this page, we will show you two ways to convert GPT to MBR without an operating system. You can do it with a partition manager or using the Diskpart command.
Convert GPT to MBR Without Operating System via Bootable USB
EaseUS Partition Master enables you to convert GPT to MBR without Windows OS in two steps. First, create a bootable media (USB disk or CD) on another computer, then boot into BIOS on the target PC to select start from the boot disk. Second, run the EaseUS partition manager to convert GPT to MBR without access to the operating system. No data loss will happen during the process!
Apart from the disk attribute conversion, this powerful partition management program also supports converting FAT to NTFS and converting a logical partition to primary or primary partition to logical.
Step 1. Prepare a disc or drive. To create a bootable disk of EaseUS Partition Master, you should prepare a storage media, like a USB drive, flash drive, or a CD/DVD disc. Correctly connect the drive to your computer. Then, launch EaseUS Partition Master, go to the "WinPE Creator" feature on the top. Click on it.
Step 2. Create EaseUS Partition Master bootable drive. You can choose the USB or CD/DVD when the drive is available. However, if you do not have a storage device at hand, you can also save the ISO file to a local drive, and later burn it to a storage media. Once made the option, click "Proceed".
You have created an EaseUS Partition Master WinPE bootable disk now. You can manage your hard disks and partitions through the bootable drive when the computer does not start properly, or the system is not installed.
If you have RAID drives, load the RAID driver first by clicking "Add Driver" from the menu bar, which can help you add the driver of your device under WinPE environment, as some specific device cannot be recognized under WinPE environment without drivers installed, such as RAID or some specific hard disk.
Step 3. Connect the WinPE bootable disk to the computer. Restart your computer and press F2/Del at the same time to enter BIOS. Set to boot the PC from "Removable Devices" (bootable USB disk) or "CD-ROM Drive" (bootable CD/DVD) beyond Hard Drive. Press "F10" to save and exit.
Step 4. Launch EaseUS Partition Master. Right-click the GPT disk that you want to convert and select "Convert to MBR". Then, you will add a pending operation.
Step 5. Click the "Execute Operation" button at the top-left corner. Next, click "Apply" and begin to convert GPT disk to MBR. All data is safe with EaseUS partition manager software.
Convert GPT to MBR Without Operating System Using Diskpart
If you have some computer skills and don't want to use a third-party partition organizing tool, you can try to convert GPT to MBR without operating system during Windows installation.
1. Plug in a Windows installation CD/DVD, and start to install Windows, meanwhile, press Shift + F10 to open the Command Prompt window.
2. Type Diskpart in the cmd.
3. Type list disk and press "Enter". Note the disk number that you want to convert to MBR.
4. Type select disk X (X refers to the disk number of the disk you need to convert).
5. Type clean and press "Enter". It will delete all partitions and data on the disk. Make sure you have made a backup.
6. Type convert mbr press "Enter". It will convert the empty GPT partition style to MBR.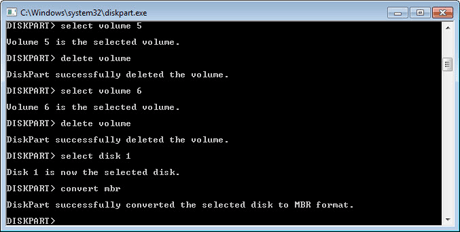 How to Convert MBR to GPT Without Operating System
This tutorial shows how to convert GPT to MBR without Windows OS by using EaseUS WinPE bootable disk and the built-in Diskpart command. And another big requirement, on the contrary, is how to convert a disk from MBT to GPT when attempting to create more than four partitions on your disk, fully using a disk with more than 2TB of space, or installing Windows on an EFI system. To do is, use the same approaches in this article.
Again, converting with Diskpart will require the partition to be removed. To avoid data loss, you either back up ahead of time or use the most secure method by using EaseUS Partition Master, which offers you some advanced features, like lost partition recovery and migrate OS to SSD/HDD.
100% of people found this article helpful.
Frequently Asked Questions
Why Choose EaseUS Partition Master?

"I've used Partition Master Professional many times to create, delete, format, move, rename, and resize partitions." —PCWorld

"Partitioning tools have come a very long since the days of complicated command line utilities and EASEUS Partition Master is one of the most advanced programs available." —TECH ADVISOR

"I love that the changes you make with EaseUS Partition Master Free aren't immediately applied to the disks. It makes it way easier to play out what will happen after you've made all the changes." —Lifewire
Will the "Migrate OS" feature transfer the Windows system files only or the whole C drive?

To ensure that the migrated system will boot normally, the Migrate OS feature will transfer all the files in the system and the boot partitions. Generally, the boot partition is the C drive so the transfer will include all the files in C.
Does EaseUS Partition Master license apply to multiple computers?

The license of Partition Master Professional and Server editions can be used on 1 computer only, while that for for the Technician and Unlimited editions can be used on multiple machines.
What is the difference between EaseUS Partition Master Trial version and the Free version?

Free is for home users only, with most basic functions available such as partition resize and clone. While trial can help you understand how this product works and test what a full license can do on a business or server OS machine.
Will it cause any data loss after resizing the partition in EaseUS Partition Master?

Generally, it will not cause any data loss or boot issue by resizing a partition. However, in order to protect your data, we suggest that you backup the partition before resizing, in case of any unexpected situations such as power outages, computer hardware failures, etc. You can use EaseUS Todo Backup to backup the partition and its trial version is fully functioned for 30 days.
What should I prepare before resizing the partition?

On the partition that is going to be operated, there might be some files being occupied by other programs. To ensure a successful operation, we suggest that you close all the unnecessary software before resizing that partition. Otherwise, EaseUS Partition Master will detect the partition being locked by the other software and require a reboot to resize the partition under boot mode.
About EaseUS Partition Master
All-round disk & partition management software for personal and commercial use. Let it manage your storage drive: resize, format, delete, clone, convert, etc.