Is there a safe way to clone GPT Disk in Windows 10
It is more difficult to clone a GPT disk in Windows 10 than clone the MBR partition disk. Sometimes, you might receive an error message that says the winload.efi was missing from Windows when you try to boot from the disk, even you have done a successful GPT disk clone job. In view of this, on this page, we would like to introduce you to third-party cloning software - EaseUS Todo Backup, which allows you to easily and safely clone GPT disk in Windows 10. It is helpful for users who do not want to invest in expensive cloning software that they'd probably only use one time.
 Tip

Remember to create a WinPE disk. This helps to create a WinPE environment to clone the GPT disk. If you need instructions, please refer to this page: create a WinPE disk.
Clone GPT Disk in Windows 10 with EaseUS Backup Software
EaseUS Todo Backup offers users full backup and clone solutions in different cases. Providing multiple versions, the program can serve different types of users including home users, server users, company users, and business users. You can choose the right version and learn how to use it to clone GPT disk in Windows 10 with simple steps.
Download EaseUS Todo Backup for free trial now!
Bonus Tip: What's the Difference between GPT and MBR
GPT is short for GUID Partition Table. It is the standard layout of the partition table of physical computer storage devices such as HDD/SSD. Due to the limitation of the master boot record (MBR) partition table, it forms part of the Unified Extensible Firmware Interface (UEFI) standard and is also used in some BIOS systems.
The picture below illustrates what a GPT disk contains, which are a primary GPT partition table, normal partitions, and a secondary GPT partition table.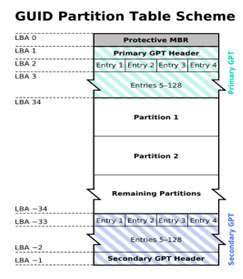 After knowing what is a GPT disk, then we'll tell you the outstanding features of GPT. Compared with the MBR disk, GPT disk has two prominent advantages:
1. GPT with UEFI replaces the clunky old BIOS with MBR partitioning system. 
2. GPT breaks the limits of MBR.
The storage capacity of GPT disks is much larger than that of MBR disks, allowing users to create an unlimited number of partitions. Please note that if it is a GPT system disk, you can create up to 128 partitions.
Give EaseUS Todo Backup A Try Now!
Now you've know the easiest method of how to cloning a GPT disk. Download EaseUS Todo Backup now, you can clone the GPT disk on your own. What's more, it can also help you 
Was this page helpful? Your supoport is truly important to us!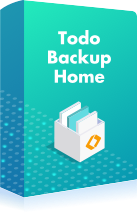 EaseUS Todo Backup
EaseUS Todo Backup is a dependable and professional data backup solution capable of backing up files, folders, drives, APP data and creating a system image. It also makes it easy to clone HDD/SSD, transfer the system to different hardware, and create bootable WinPE bootable disks.
Updated by

Larissa has rich experience in writing technical articles. After joining EaseUS, she frantically learned about data recovery, disk partitioning, data backup, and other related knowledge. Now she is able to master the relevant content proficiently and write effective step-by-step guides on computer issues.…

Read full bio

Written by

Brithny is a technology enthusiast, aiming to make readers' tech lives easy and enjoyable. She loves exploring new technologies and writing technical how-to tips. In her spare time, she loves sharing things about her favorite singer - Taylor Swift on her Facebook or Twitter.…

Read full bio