There are at least two ways to make portable Windows 10 on USB. You can run the portable USB creator software from EaseUS, or download the ISO files to your USB. 
What Is A Windows 11/10/8/7 Portable Drive?
According to Google's search results, it can be identified that a portable Windows USB drive is a pen drive that is installed Windows system with Windows ISO and system files. It allows users to boot their computers or other PCs from the USB portable drive.
What is this for? Here is a list of advantages of a portable Windows USB drive:
| Take Your System Anywhere | Prevent System Error |
| --- | --- |
| When your computer or laptop suddenly crashes due to system failure or internal error, you can no longer boot from the PC. A portable Windows USB drive can help you reboot the PC from the USB drive, and then you can continue your work and find a solution to repair the corrupted Windows system. | Windows portable USB drive allows you to take your own Windows system anywhere you need, and you can even directly boot your Windows from a USB drive on other computers. This will save your time and energy to take a laptop wherever you go on business. |
Tip 1. How to Make Portable Windows 10 on USB Drive (with Software)
So how to effectively create such a portable Windows USB drive? For example, how to create a portable Windows USB drive for Windows 10 users? How to install and clone a Windows system to a USB drive without complex methods?
Fortunately, powerful system clone software EaseUS Todo Backup can do the job. It allows you to effectively clone and install Windows 10, 8, or 7, etc. systems to a USB drive with simple clicks. All ordinary users can do the job. You may download this software and learn how to make your Windows system bootable from a tiny USB drive now.
1 - Preparations
An external hard drive
The external hard drive cable
EaseUS Todo Backup
2 - Notes
Check the unallocated space (enough unallocated space on the left)
Check the partition style (the same with the system drive)
3 - Steps
Here is a detailed step-by-step guide to help you effectively create a portable USB system boot drive for Windows 10:
USB requirements:
1. Check how much disk space is used for the system C drive. Let's assume 40GB. Then prepare a qualified USB drive, of which the disk capacity must be larger than 40GB.
2. Do you use an empty new USB drive or an old one? Make sure that all the important data has been safely transferred because the system clone will overwrite data on it completely.
3. Correctly connect the USB drive to your machine and make sure that Windows has detected it and assigned a drive letter to it.
Follow the overall process to create a portable Windows USB drive and boot from it:
Step 1. Launch EaseUS Todo Backup. Expand the Tools menu and click "System Clone".
Step 2. On the "System clone" window, the software will choose the system partition and boot partition by default. Just Choose the USB drive as the destination disk. Click on "Advanced options" and then "Create a portable windows USB Drive". Click "OK" and then "Next".
Step 3. You can preview or adjust the disk layout on the destination drive. If there is no problem, click "Proceed" and the software will start immediately cloning the default system partitions of your desktop/laptop to the USB drive. After the cloning process is over, you can safely plug the USB drive out.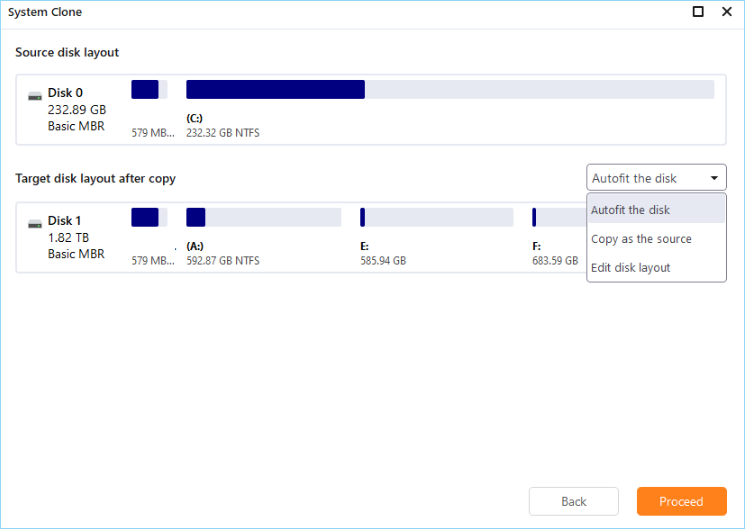 Step 4. Boot from the USB drive.
Connect your portable USB to the computer
Restart the computer and press "Del" to enter BIOS
Set the PC to boot from the portable USB by changing the boot order in BIOS under the "Boot" tab
Save changes and you'll see your system booting up from the USB drive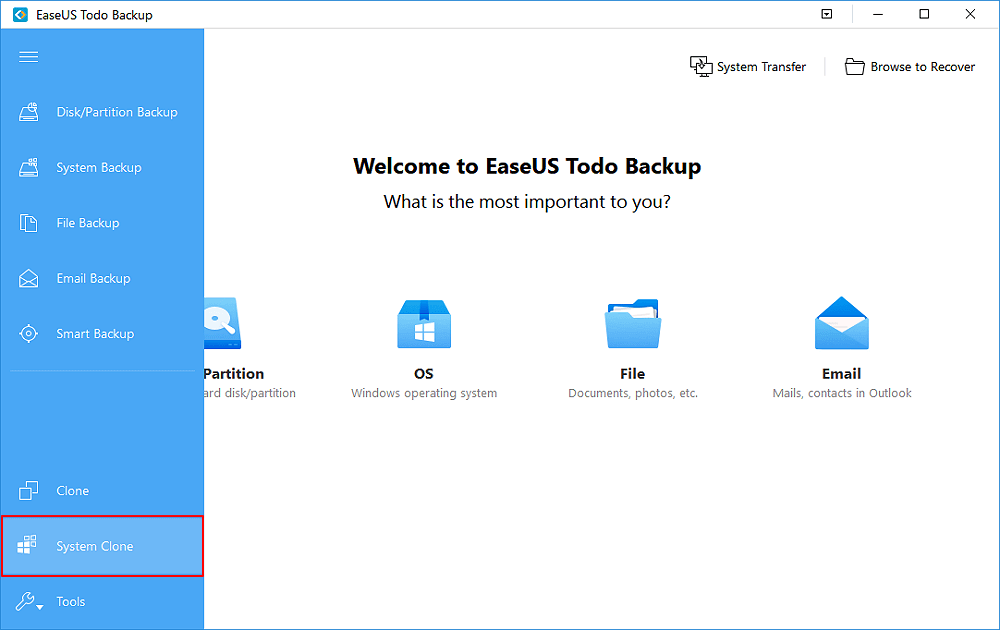 Tip 2. How to Make a Windows 10 To Go USB Drive (with ISO File)
If you don't want to use the software, you can download Windows 10 ISO file to make a portable Windows USB. To make it, you need to create Windows 10 installation media and then burn the ISO to DVD. Here are the details.
1 - Preparations
A copy of Rufus (https://rufus.ie/) or WinToUSB
A USB 3.0 flash drive with at least 32 GB of storage space
A Windows ISO file
A valid license for your portable copy of Windows
2 - Steps
Step 1. You need to download and run the media creation tool.
As creating Windows 10 installation media will delete the content on USB or blank DVD, you'd better use a blank USB or blank DVD.
Step 2. On the "What do you want to do?" interface, select "Create installation media for another PC", and then select "Next".
Step 3. Choose the language, edition, and architecture (64-bit or 32-bit) for Windows 10. Select media tool you want to use: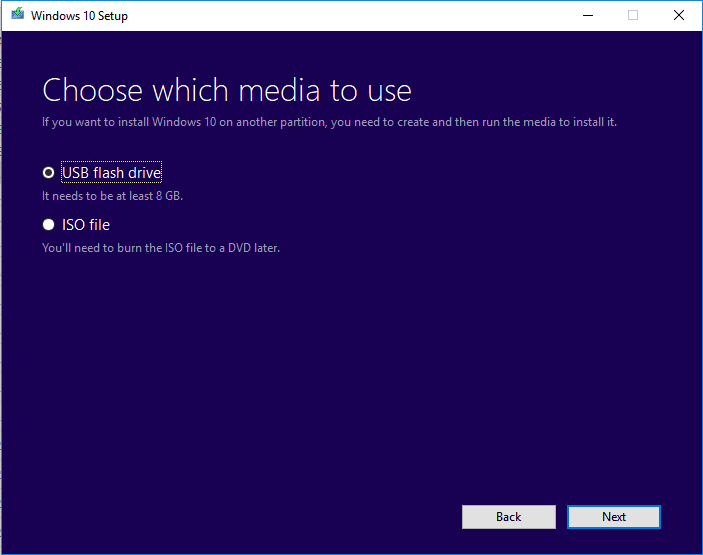 To Burn ISO to USB in Windows 10:
Go to Rufus and download the latest version. After that, double-click the .exe file to launch Rufus and connect your USB to your computer. Then burn ISO to USB.
Step 1. Choose the USB device you want to burn the ISO file to. From the Boot selection drop-down menu, choose "Disk or ISO image (Please select)", then click "SELECT" and choose the ISO file stored on your computer.
Step 2. To ensure you can boot from the USB on both UEFI and BIOS computer, choose "MBR" under the Partition scheme, 
Step 3. Leave the other options unchanged and click "Start" to begin burning the Windows 10 ISO file to the USB drive.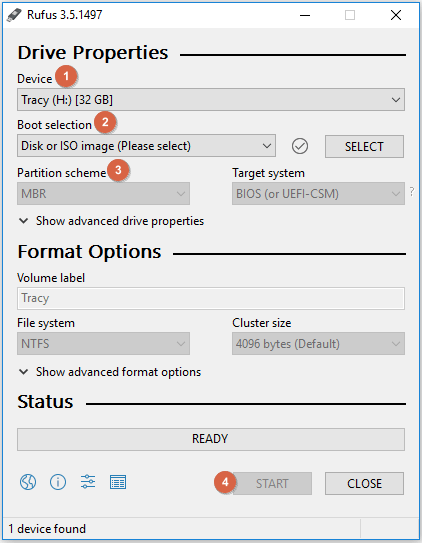 How to Run Windows 10 from a USB Drive
When you want to launch Windows 10 on a different computer, insert your USB drive into that PC. Then, follow these steps to run Windows 10 from a USB drive.
Step 1. Press the appropriate key (F2, F12, Delete, or Esc) to launch your Boot menu and choose boot from the USB drive.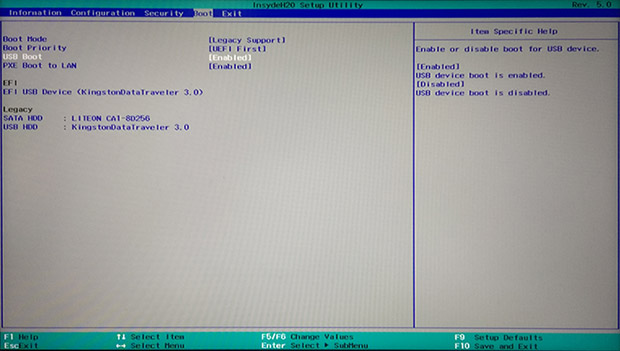 Step 2. The first time you run Windows 10 off the USB drive, you'll need to go through the normal Windows setup process. Then, activate Windows 10 with your license code. 
Conclusion
Both of the solutions can help you create a portable USB drive. No matter which method you choose, plan accordingly. Make sure the hardware is available wherever you're going.
2

Author Jean has been writing tech articles since she was graduated from university. She has been part of the EaseUS team for over 5 years. Her special focuses are data recovery, disk partitioning, data space optimization, data backup and Mac OS. By the way, she's an aviation fan!
Written by Tracy King 
Tracy joined in EaseUS in 2013 and has been working with EaseUS content team for over 7 years. Being enthusiastic in computing and technology, she writes tech how-to articles and share technical solutions about Windows & Mac data recovery, file/system backup and recovery, partition management and iOS/Android data recovery.