How to Migrate Windows 10 from HDD to SSD
PAGE QUICK NAVIGATION:
"Should I upgrade my computer now?", when asked by some of the friends who underwent a slow hard drive, my answer is "not really". Instead, upgrade your HDD to SSD, or replace the smaller SSD with a bigger SSD. You will definitely see a tremendous change in the Windows 10 startup speed after swapping to a lighter, more compact, and more durable Solid-State Drive. Nevertheless, you don't need to put all Windows stuff in the new SSD. The best bet is installing the operating system on the high-performance SSD while leaving the other programs and personal archives on the old HDD, with much more capacious storage.
Next, you're going to benefit a lot from downloading the capable SSD cloning software - EaseUS Todo Backup. It'll bring you out of trouble of not knowing how to clean install Windows 10 on SSD, or saving the budget on a computer maintenance shop. Seeing that it's a mature piece of automated Windows OS migration software, everyone with a desktop or laptop can cope with the task: Migrate Windows 10 to SSD by means of cloning the Windows system drive partition from HDD/SSD to the new SSD.
What Does Clone Windows 10 to SSD Mean?
If you're tired of waiting for your computer to boot up or your programs to load, then you want a solid-state drive (SSD) in your machine. Now that SSD is more affordable than ever, you should consider getting one for your desktop machine, but it may not quite familiar for you to fresh install Windows 10 on a newly established storage drive. So, here comes the term CLONE.
To clone Windows 10 to SSD means that you make an exact copy of the source drive content and disk layout. It doesn't sound like a simple copy and paste but aims to create an identical hard drive image, along with all Windows installation files, file system, configuration, program components and every bit of data.
What's the Best SSD Cloning Software for Windows 10?
Applies to: Windows 10, and Windows 8.1, 8, 7, XP, Vista as well.
In case Windows 10 is installed on a regular hard disk, users can install an SSD without reinstalling Windows by cloning the system drive with the help of disk imaging software. If you are looking for a reliable method to completely migrate Windows 10 from HDD to SSD or clone Windows 10 to SSD, EaseUS Todo Backup can be the best choice for you, though it's not the only solution.
Here we strongly recommend you take EaseUS SSD cloning software to process the whole cloning task based on the facts in the following:
The capacity of SSD doesn't match the HDD, no matter it's smaller or bigger, EaseUS Todo Backup can take it.
It supports SSD 4K alignment, which is critical to make sure that the SSD performance won't be affected.
Functions not limited to "Clone". It's a versatile Windows software featured with other practical functions, such as backup and recovery.
It allows you to clone to removable hard drives, which means you can put your SSD into a removable hard drive case and start to clone.
With both UEFI and BIOS supported.
The user interface is simple and user-friendly.
How to Migrate Windows 10 to SSD with Easeus Todo Backup
EaseUS Todo Backup is a secure and effective system backup and disk clone software that is fully compatible with the latest Windows systems, and its disk clone feature enables users to clone and migrate whole computer data including the system to a new SSD without losing any data. Follow the step-by-step tutorial to move Windows 10 from HDD to SSD by cloning the system disk with EaseUS Todo Backup.
Guide: How to Clone Windows 10 to SSD
 Notice:

If you are trying to clone Windows 10 to a new HDD or SSD disk, please do remember to empty the disk in advance. 
One more thing that you can do is to convert your HDD/SSD disk to MBR or GPT - exact the same as your current system disk, which will allow you to effortlessly boot system after cloning Windows system.
Let's see how to clone your Windows 10 OS to a new HDD/SSD without reinstallation Windows OS now:
Step 1. Connect the new HDD/SSD to your PC.
Step 2. Run EaseUS Todo Backup for Windows 10 Clone.
Select "System Clone" on the left tool panel by clicking the icon at the left top corner.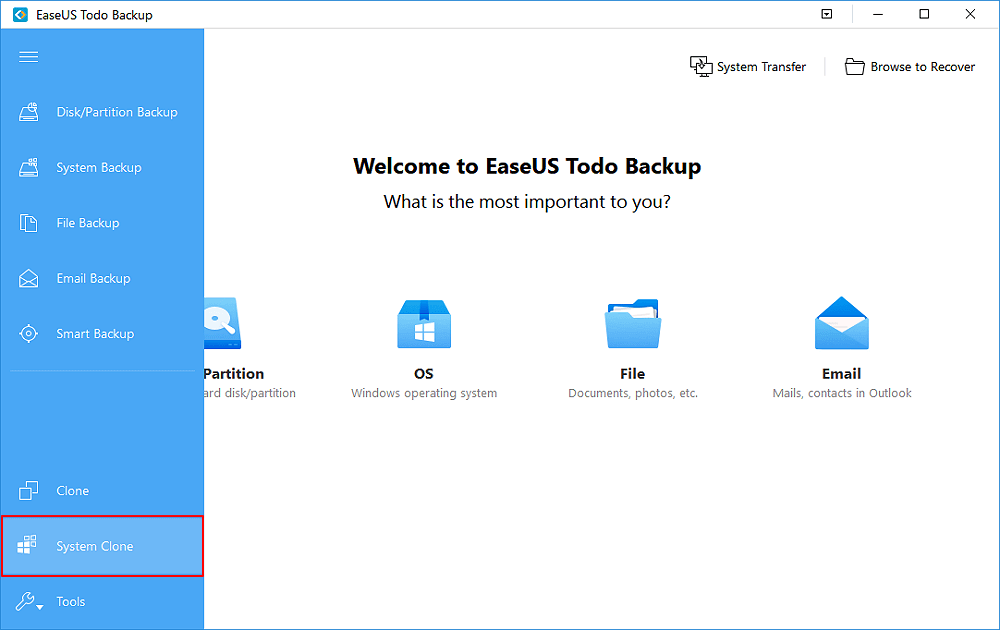 Step 3. Choose the destination disk - HDD/SSD to save Windows 10 system
Choose the new HDD or SSD as your target disk for saving the cloned Windows 10 system. 
Then click "Proceed" to start cloning Windows 10 to HDD/SSD now.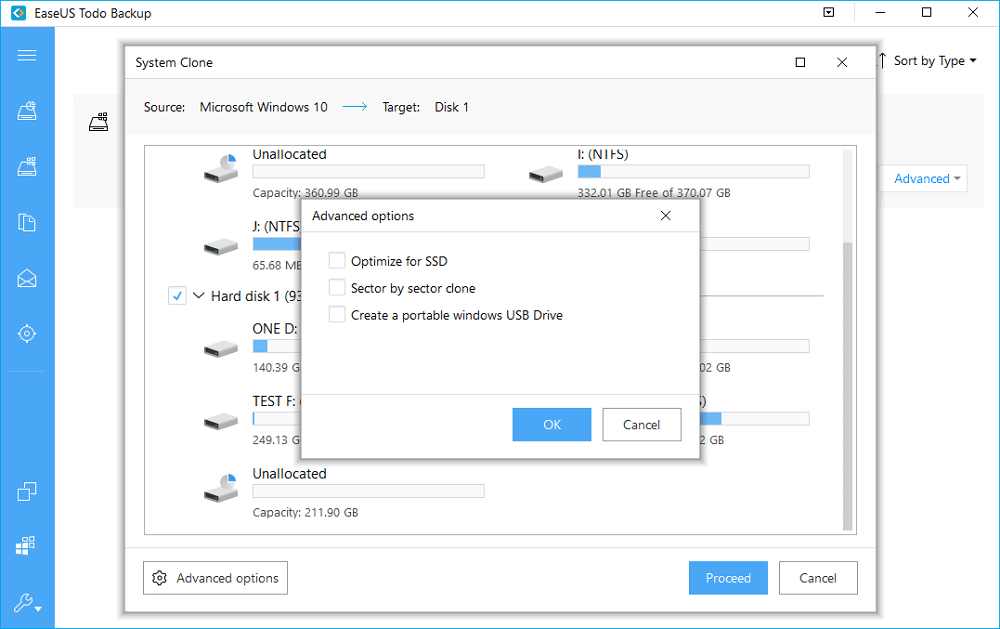 After this, insert your new HDD or SSD into your computer and reboot PC, change the boot order to set computer boot from new HDD/SSD with cloned Windows 10 system:
Restart PC and press F2 or F8 to enter BIOS settings.
In the Boot option, select new HDD/SSD as the new boot drive and save all the changes.
Exit BIOS and restart the computer, you should be able to see Windows 10 running on your new disk without any problems.
Follow these simple steps, you can migrate Windows 10 OS from HDD to new SSD easily. Besides, EaseUS Todo Backup can also backup and restore the Windows 10 disk/partition and data on HDD/SSD.
How to Migrate Only Windows 10 to SSD
What if you want to exclude everything (installed programs, applications, personal files) except the Windows 10 system-oriented files on the cloned SSD? Is there any way to keep only the Windows 10 system files on the destination SSD? The truth is that none of the existing disk cloning software on the market can make it in one step. Nevertheless, by asking help from the other EaseUS product - EaseUS Todo PCTrans, you can achieve that goal perfectly.
Once the HDD to SSD cloning completes, you should migrate the system drive to the SSD with success. For the other data files that were brought along during the cloning process, you can take one more step to transfer selected files from one hard drive to the other. Refer to the detailed guide:
Daisy is the Senior editor of the writing team for EaseUS. She has been working in EaseUS for over ten years, starting from a technical writer to a team leader of the content group. As a professional author for over 10 years, she writes a lot to help people overcome their tech troubles.
Written by Tracy King 
Tracy joined in EaseUS in 2013 and has been working with EaseUS content team for over 7 years. Being enthusiastic in computing and technology, she writes tech how-to articles and share technical solutions about Windows & Mac data recovery, file/system backup and recovery, partition management and iOS/Android data recovery.
Taking everything into consideration, we can say that EaseUS Todo Backup Home can offer you a little extra sense of security with a set of advanced tools. The interface provides quick adaptation, every process guiding you all the way through so you don't get stuck or further damage your system rather than keeping it safe.

 Read More

EaseUS Todo Backup Free lets you create backups of your important files or your entire computer through its streamlined interface. Just choose the backup type you'd like to get started, and let the program do the reset.

 Read More

EaseUS includes all the features I expect from backup software like versioning, incremental backups, and scheduling. For more advanced users, EaseUS allows you to install a pre-boot environment onto your hard drive so you can use it to restore files without burning a CD or putting it on an external USB drive.

 Read More

EaseUS Todo Backup
Smart backup tool for your files and entire computer in Windows 10/8/7.