QUICK NAVIGATION:
The terms UEFI and BIOS need to be addressed when it comes to changing a boot priority or deciding a GPT or MBR disk to install OS. But what is UEFI/BIOS, do you know the main difference between UEFI and BIOS? This article will hopefully help you understand UEFI vs. BIOS, which motherboard firmware you should use, and how to check if your computer uses UEFI or BIOS.
What's the Difference Between UEFI and BIOS
There are noticeable differences between the two, undoubtedly. But as a practical matter, they're the same thing. UEFI (i.e. UEFI BIOS) and BIOS (i.e. Legacy BIOS or traditional BIOS), are two types of a computer's motherboard firmware, which defines how a PC turns on, which drive it boots from, what peripherals it recognizes and even the frequency at which it runs the CPU. Both UEFI and BIOS are low-level software that starts when you boot your PC before booting your operating system.
The difference is, they're using their exclusive ways to wake up the operating system, and that's going to explain which firmware setup utility is prevalent and why you should choose the UEFI over the BIOS nowadays. You may take a glance at the primary comparison image and then read further for details.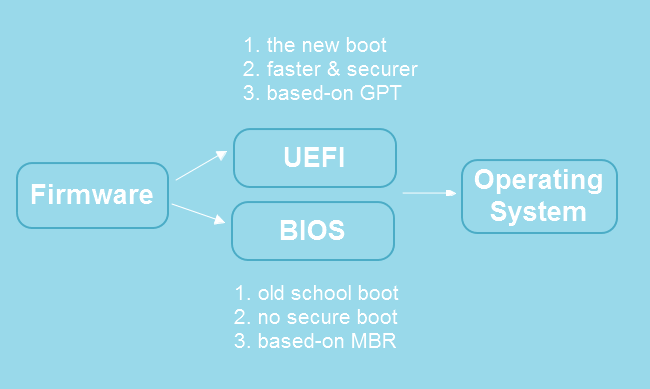 What's UEFI
UEFI stands for Unified Extensible Firmware Interface. It's a modern solution to be gradually replacing the legacy BIOS on PCs since the introducing to Windows with Windows Vista Service Pack 1 and Windows 7 in 2007. Most recent years of computer manufacturers are shipping desktops and laptops with UEFI support, be it a refinement of the traditional BIOS, and a successor that aims to dominate the future firmware mode.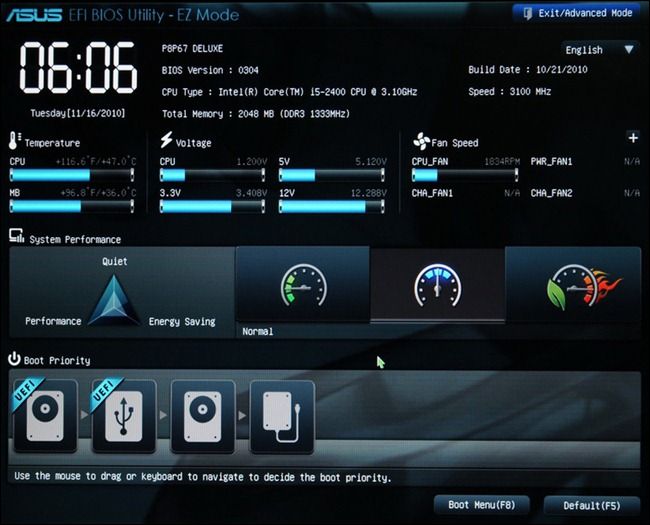 So, what does make it an overwhelming success? First of all, it's a perfect alternative featured with great enhancements.
1. Graphic and slicker interface
2. Support over 2.2 TB hard drives
3. Improved speed of startup and shutdown
PCs with UEFI are supposed to provide a setup screen with a graphic interface and enable a mouse cursor on it, to let users easily navigate to different sections/boot options. And because the big advantage of GUID Partition Table (GPT) it uses to launch EFI executables, it has no trouble in detecting and reading hard drives of large sizes. Meanwhile, UEFI runs in 32-bit or 64-bit mode, and the addressable address space is increased based upon BIOS, the boot process is much faster.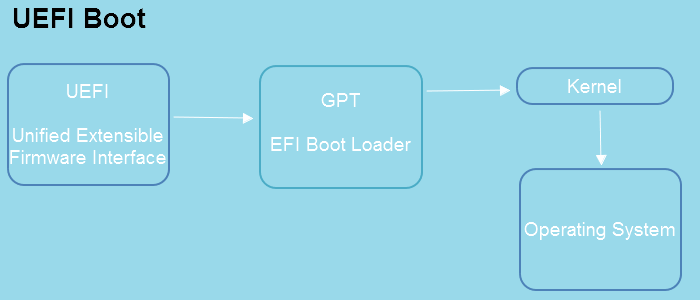 Furthermore, it has developed with unique highlights you cannot find in the BIOS.
1. Support secure boot
2. Support networking features
UEFI has "Secure Boot" enabled, which provides a real security advantage to prevent malware from hijacking your boot process, and the networking function is useful to remote troubleshooting and configuration. These features are not included in the BIOS, however.
What's BIOS
BIOS is abbreviated from Basic Input-Output System. It was born in the 1980s. Though it has evolved and improved over time, it's outdated as the vast majority of the computers you can buy now using UEFI rather than BIOS.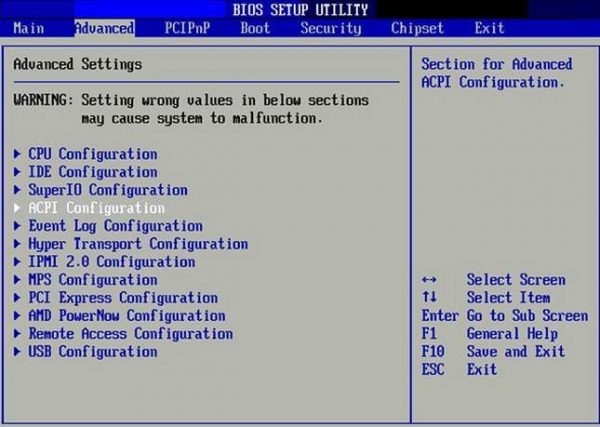 See, the BIOS must run in 16-bit processor mode and has 1 MB of space to execute it. Besides, it has difficulty in initializing hardware devices at once. Those truths will undeniably result in a slower boot process, making it hardly satisfy the fast-growing society that requires a tremendous storage capacity and a fast data processing. In the end, lag behind the UEFI. In addition, there is one more uncomfortable limitation - It cannot boot from drives over 2.1 TB, and present computers are commonly using 3 TB hard drives.
The BIOS goes through a POST (Power-On Self Test) to check if your hardware configuration is ready for normal work, and after that, the BIOS looks for a Master Boot Record (MBR) to launch the bootloader to eventually launch Windows. It's how the MBR works that constraints the BIOS cannot recognize the hard drives larger than 2.1 TB.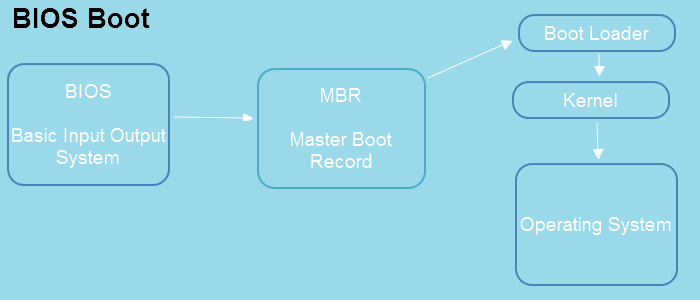 Do I Use UEFI or BIOS
According to the comprehensive comparison between the two motherboard firmware types, you may wonder what mode your computer uses, and how to access the UEFI or BIOS environment.
Nowadays computers are basically shipped with pure UEFI or a mix of UEFI and BIOS. Unless your computers were bought many many years ago before the UEFI gaining its popularity, it's likely that you're using BIOS.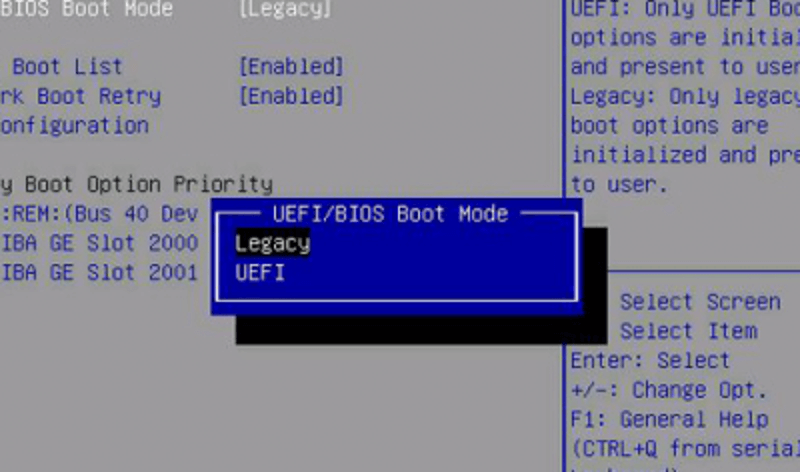 The other way to differentiate the two is according to the setup screen, is the mouse cursor showing up or are the menus all in text? The fact is, trying not to confuse people who're much more familiar with BIOS, some manufacturers decide not to distinguish the two modes in appearance. Therefore, we need other more proven ways to check whether the computer uses UEFI or BIOS.
How to Check If Your Computer Uses UEFI or BIOS
Step 1. Press Windows + R keys simultaneously to open the Run box. Type MSInfo32 and hit Enter. You will open the system information window.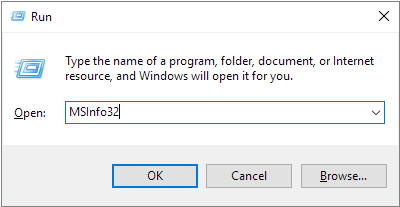 Step 2. On the right pane, find the "BIOS Mode". If your PC uses BIOS, it will display Legacy. If it is using UEFI so it will display UEFI.
How to Convert MBR to GPT Disk to Support UEFI Firmware
There is no way to switch Legacy BIOS to UEFI directly if your computer hardware doesn't support UEFI firmware. You must buy new hardware to upgrade to the UEFI to achieve a faster startup or better networking support. As a matter of fact, since most computers are drawbacks-compatible with both UEFT and BIOS, you don't need to change the hardware as long as it supports the UEFI. You can change Legacy to UEFI by changing it here:
That's not the end. By changing the BIOS to UEFI, to avoid system boot issue, you have to convert MBR disk to GPT disk, as we addressed in the beginning: UEFI → GPT, BIOS → MBR.
To convert MBR to GPT to support the UEFI firmware, we will show a simple way to do it without losing data. EaseUS Partition Master is a professional partition manager trusted by millions of worldwide users. It's designed to help you take full control over your computer hard drive and partitions with ease. Among all brilliant features, you can try the MBR to GPT feature for the first time and then install Windows OS on the GPT partition.
Step 1: Download and launch EaseUS Partition Master on your Windows computer.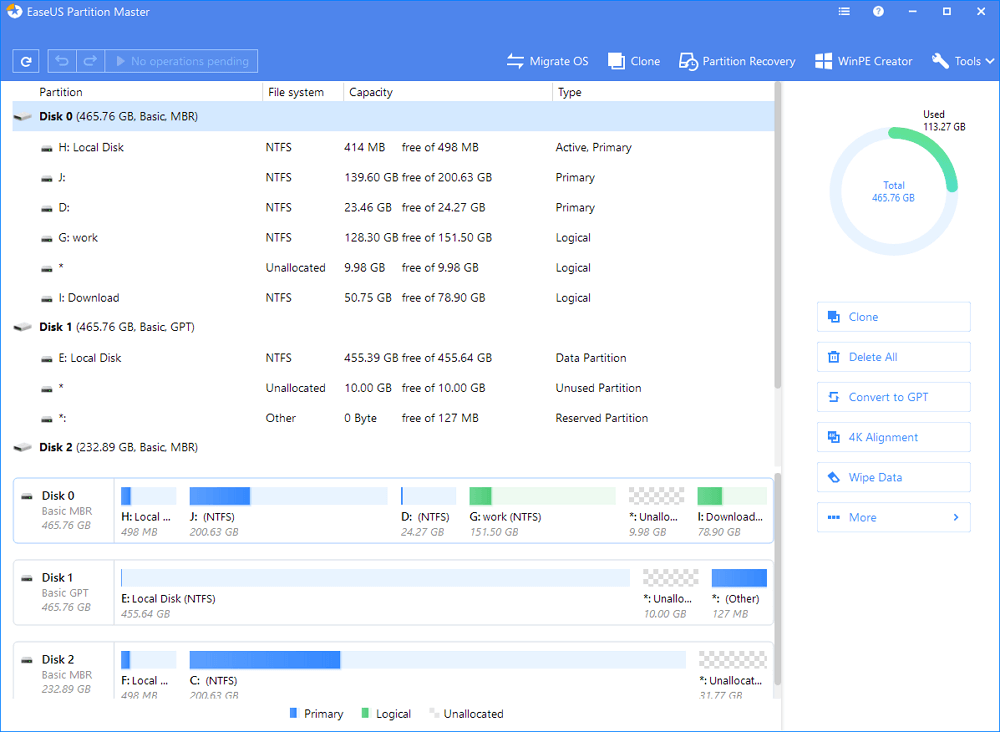 Step 2: Right-click the MBR disk that you want to convert and choose "Convert to GPT".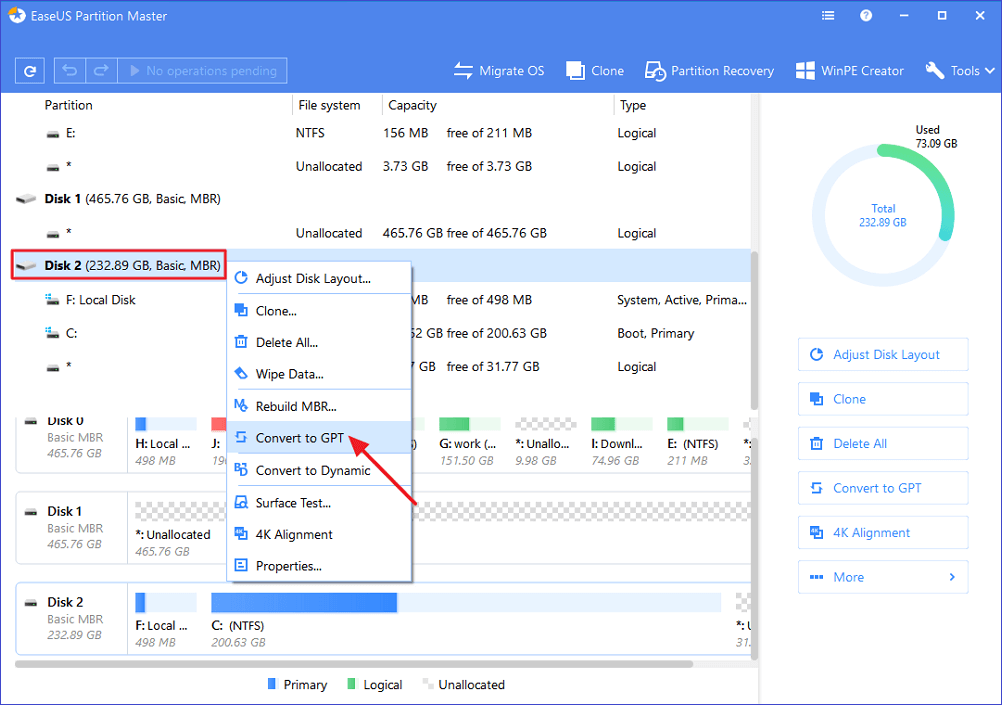 Step 3: After that, find and click the "Execute 1 Operation" button on the toolbar and choose "Apply" to start the conversion. You need to restart your device to enable this change.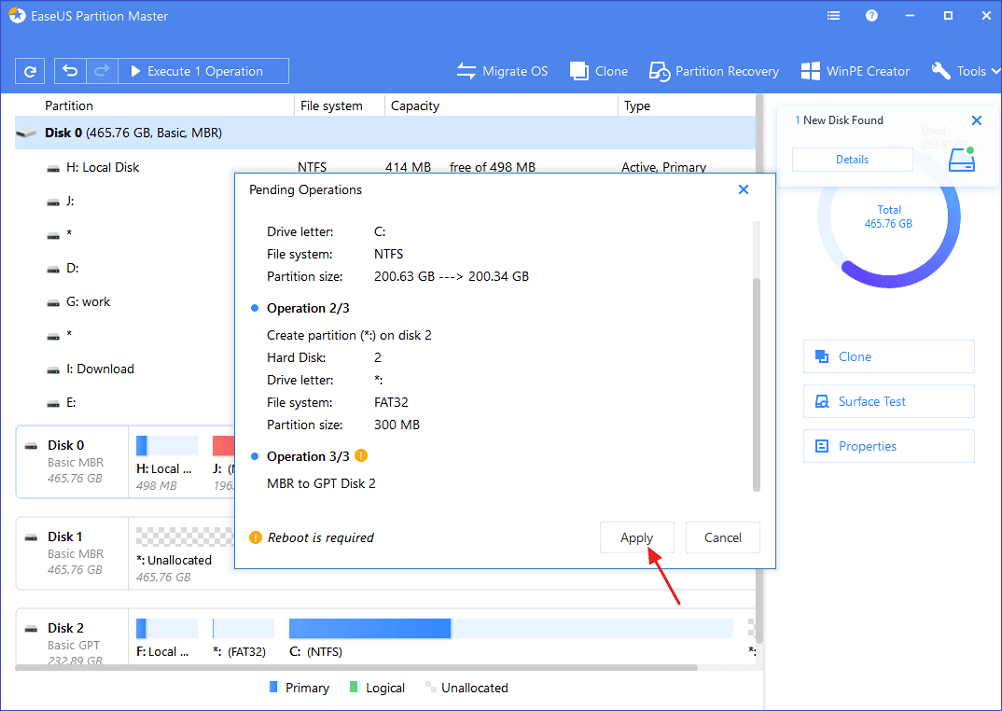 100% of people found this article helpful.
Frequently Asked Questions
Why Choose EaseUS Partition Master?

"I've used Partition Master Professional many times to create, delete, format, move, rename, and resize partitions." —PCWorld

"Partitioning tools have come a very long since the days of complicated command line utilities and EASEUS Partition Master is one of the most advanced programs available." —TECH ADVISOR

"I love that the changes you make with EaseUS Partition Master Free aren't immediately applied to the disks. It makes it way easier to play out what will happen after you've made all the changes." —Lifewire
Will the "Migrate OS" feature transfer the Windows system files only or the whole C drive?

To ensure that the migrated system will boot normally, the Migrate OS feature will transfer all the files in the system and the boot partitions. Generally, the boot partition is the C drive so the transfer will include all the files in C.
Does EaseUS Partition Master license apply to multiple computers?

The license of Partition Master Professional and Server editions can be used on 1 computer only, while that for for the Technician and Unlimited editions can be used on multiple machines.
What is the difference between EaseUS Partition Master Trial version and the Free version?

Free is for home users only, with most basic functions available such as partition resize and clone. While trial can help you understand how this product works and test what a full license can do on a business or server OS machine.
Will it cause any data loss after resizing the partition in EaseUS Partition Master?

Generally, it will not cause any data loss or boot issue by resizing a partition. However, in order to protect your data, we suggest that you backup the partition before resizing, in case of any unexpected situations such as power outages, computer hardware failures, etc. You can use EaseUS Todo Backup to backup the partition and its trial version is fully functioned for 30 days.
What should I prepare before resizing the partition?

On the partition that is going to be operated, there might be some files being occupied by other programs. To ensure a successful operation, we suggest that you close all the unnecessary software before resizing that partition. Otherwise, EaseUS Partition Master will detect the partition being locked by the other software and require a reboot to resize the partition under boot mode.
About EaseUS Partition Master
All-round disk & partition management software for personal and commercial use. Let it manage your storage drive: resize, format, delete, clone, convert, etc.