This page mainly introduces a simple but effective way to clone UEFI disk to SSD on Windows 10, 8 or 7 using a professional disk clone software. It is suitable for all professional or ordinary Windows users to follow. Check the quick navigation, find what you are interested in quickly and help you clone UEFI disk in Windows 10.
Don't miss: How to migrate OS to SSD Windows 10 and migrate OS to smaller SSD 
Can I Clone UEFI Disk to SSD Disk
"Hi there, do you know how to clone UEFI hard drive disk to SSD drive? My friend told me that SSD works faster and more stable than an ordinary old HDD. I want to upgrade my laptop configuration, so I bought an SSD drive last week.
I want to replace the UEFI boot drive on my Windows 10 laptop to an SSD drive without any boot errors. The problem is that I don't want to waste my time reinstalling a new Windows System on the SSD disk and moving files to the disk by copy-and-past one by one. I think that maybe I can clone UEFI disk to SSD together with the OS, right? And how?"
Here is a list of major reasons why people are pronto choosing to clone UEFI disk:
Upgrade UEFI disk to a bigger hard drive
The UEFI boot drive is not working properly
The UEFI boot disk is failing
Clone UEFI disk to SSD and optimize Windows/PC's performance
...
If you are one of them, who want to clone UEFI disk to SSD without any boot errors effortlessly, a simple and specialized disk clone tool is what you need.
You may also want to know: MBR VS GPT | What's the Difference and Which Is Better
Best Way to Clone UEFI Disk to SSD Easily in Windows 10/8/7 
how to clone UEFI hard drive without effort? Here we suggest using the best disk cloning software - EaseUS Disk Copy Pro for help. It is fully compatible with Windows XP, Vista, 7, 8, 8.1, and 10 and supports Disk Clone, Partition Clone, Sector Level Clone, etc. on a GPT disk, MBR disk, and WinPE bootable disk.
EaseUS disk cloning software has the following stunning features.
It is simple to use that helps you make a full copy of contents on a disk and move your data, system, or apps to another hard drive.
It supports one-click OS migration to helps you avoid reinstalling the operating system and personal applications.
It clones your disk sector by sector, and nothing is left behind in only three easy steps.
It can auto-fit the disk layout or allows you to edit the disk layout after cloning.
Now, use the detailed guides below to clone UEFI/GPT disk to SSD drive.
Clone UEFI Disk to SSD in Windows 10/8/7 Step-by-Step 
 Important

To ensure that you can smoothly clone Windows UEFI boot disk to SSD without any boot issues, please convert SSD to GPT in advance.
And to ensure you an easy disk cloning procedure, we'd also suggest you activating EaseUS Disk Copy with an activation key in advance. You may directly click below button to instantly gain an official activation key to activate it into a Pro version now:
Don't worry if you can't clone UEFI boot disk to an SSD. A strong 24* 7 online support team of EaseUS software will be available to help.
Video Tutorial: How to Clone A Hard Drive
Before reading the following detailed steps of clone UEFI disk to SSD, you can also learn the cloning process by watching the video first.
1. Clone UEFI Disk to SSD Windows 10
Step 1: In "Disk Mode", select the HDD that you want to clone.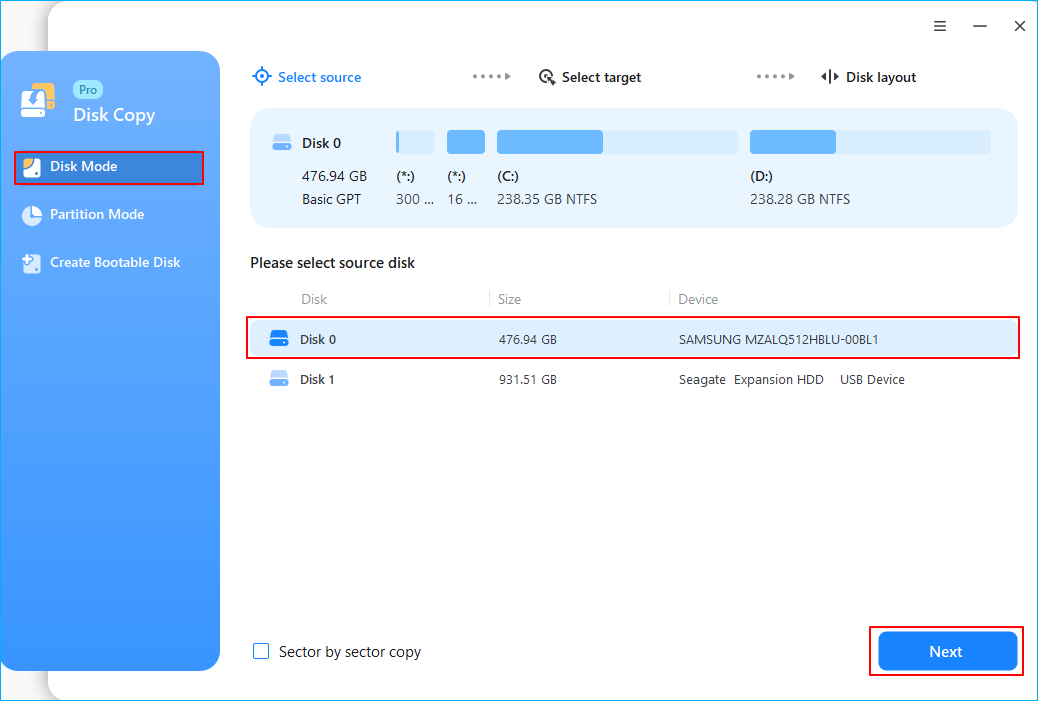 Step 2: Select the SSD as your destination.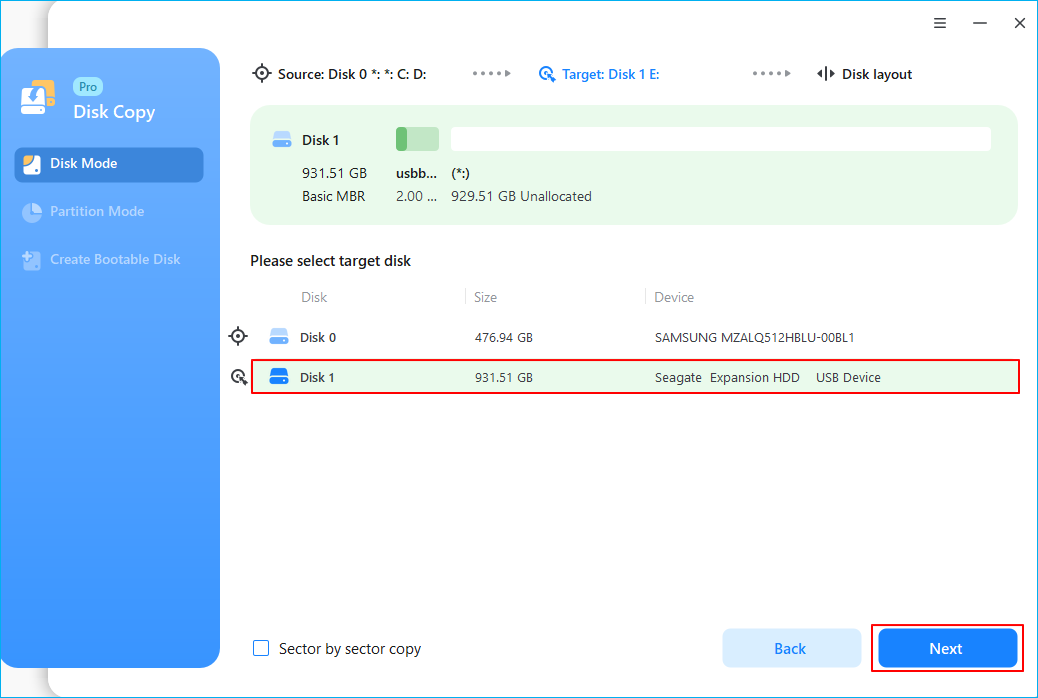 A warning message tells you that the data on the SSD will be erased. Click "OK" to continue if you do not have important data on the destination disk.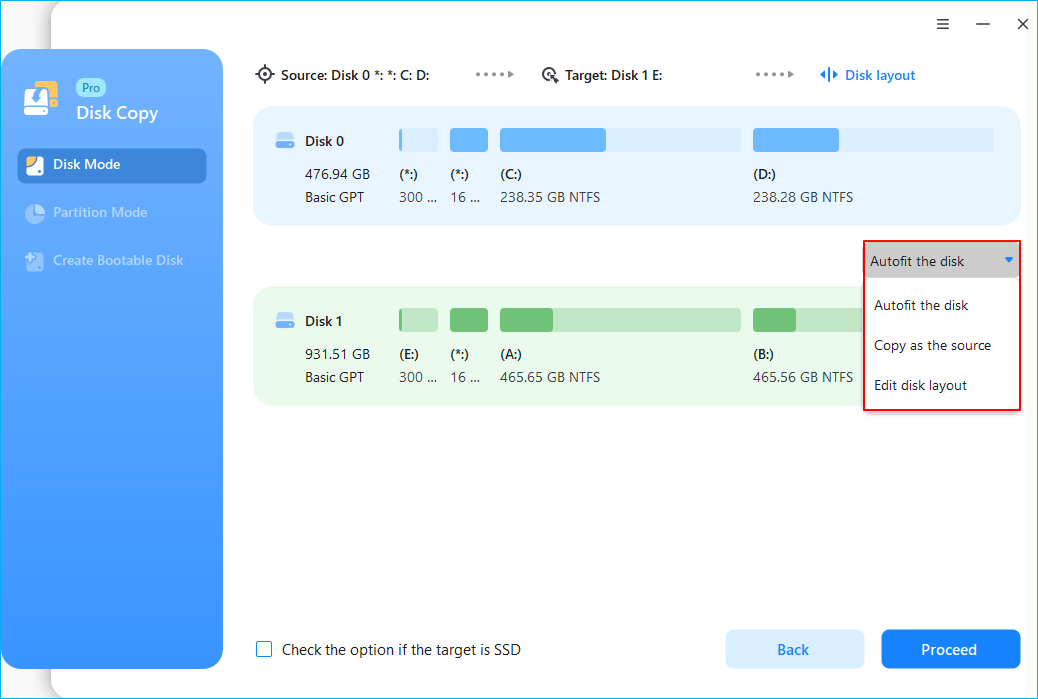 Step 3: Edit the disk layout and then click "Proceed" to continue.
As the destination is an SSD, you are suggested to tick "Check the option if the target is SSD".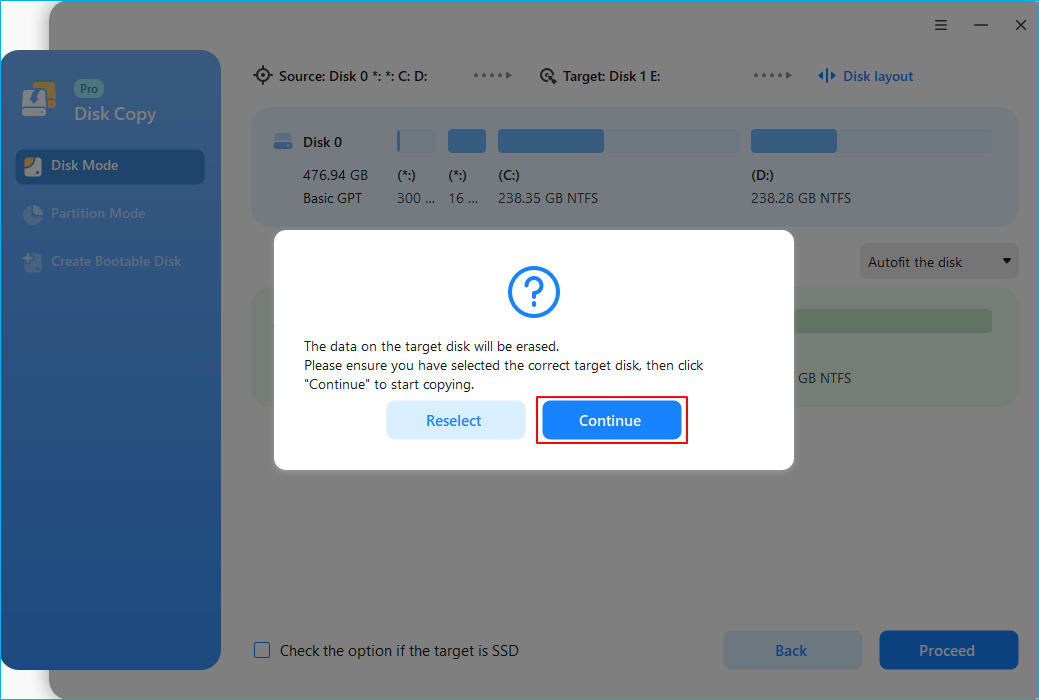 Step 4: Wait for the process to complete.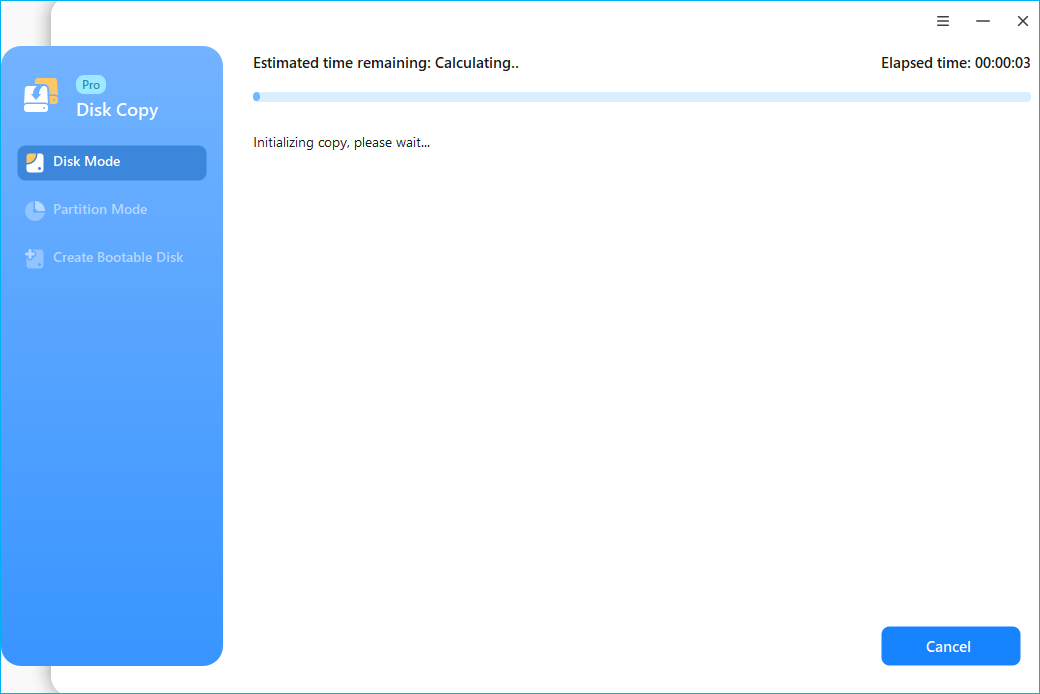 2. Make Cloned UEFI Disk Bootable on SSD Disk 
After cloning the UEFI boot disk to the SSD disk, another one more thing that you need is to enable UEFI boot on your new disk:
Insert your new SSD with UEFI boot disk content to your laptop.
Restart PC, and you should be able to run the Windows system on your new SSD from UEFI mode now.
If you have a problem with switching boot modes between UEFI and BIOS, you can follow boot to UEFI mode or legacy BIOS mode provided by Microsoft as a guide.
Clone UEFI Disk to SSD FAQs
1. How do I clone a UEFI hard drive?
Step-by-step to Clone UEFI disk to SSD in Windows 7/8/10.
Step 1. Execute the best cloning software after installing; choose Disk Mode in turn on the main window.
Step 2. Pitch on the UEFI disk as the source disk, and click Next.
Step 3. Choose the SSD as the destination disk at the next window, and press Next. 
2. Can you clone a GPT disk?
You can use EaseUS Disk Copy to clone a GPT disk. Note: If the source disk - the GPT disk doesn't have a system on it, then you can clone the data on the GPT disk successfully. If it has, your destination must also be a GPT disk, and then it can boot successfully. If your destination disk is an MBR disk, you may fail to boot after cloning the GPT disk.
3. How do I boot from a cloned SSD?
Step 1. After cloning, restart your computer. During the process of computer restarting, long press "F2" key (perhaps other keys like DEL) and access to the BIOS environment.
Step 2. Change the boot order and set the cloned SSD as the boot drive in BIOS.
Step 3. Press "Enter". Now you should boot the computer from the SSD successfully.
4. Can I clone MBR to GPT?
Yes, you can use EaseUS Disk Copy to clone MBR data disk to GPT disk, and the cloned disk is GPT, the data disk does not need to consider the boot problem. If you want to clone the MBR system disk to GPT disk, do it with steps blow.
Step 1. Convert GPT to MBR disk using a partition manager program at first.
Step 2. Use the Disk Mode feature to clone the MBR disk.
Step 3. Use the partition master tool again to convert MBR to GPT disk.
To ensure the system normally starts, make sure your operating system is 64bit GPT boot-up, the BIOS support EFI boot mode and change the boot mode in the BIOS after conversion. 
EaseUS Disk Copy
Clone an old disk to a new one
Clone a small disk to a large one
Clone HDD to SSD
TRY IT NOW
Video Tutorial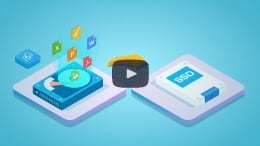 How to Clone HDD to SSD on Windows 10/8/7