Quick Navigation:
| Workable Solutions | Step-by-step Troubleshooting |
| --- | --- |
| 1. Using EaseUS Disk Copy  | Try every USB port available; Determine you\'re...Full steps |
| 2. Using dd Command | # init 0;ok boot;# dd if=/dev/rdsk/c0t0d0s2 of...Full steps |
Is There A Reliable Way to Clone Linux HDD to SSD?
Now there are millions of users who still use Linux OS or dual system. However, compared with Windows users, applications for Linux are de-facto much less. For example, when a Linux user wants to clone Linux HDD to SSD, it's hard to find the compatible or exclusive Linux disk cloning software. 
You may ask how do I clone Linux drive to SSD? For saving your precious time, we will let you know two reliable ways - EaseUS Disk Copy and dd Command. 
| Comparison | EaseUS Disk Copy | dd Command |
| --- | --- | --- |
| Suitable users | Average and Professional | Professional |
| Cloning success rate | 100% | Not Sure (Improper use will erase data on the disk.) |
| Free or Paid  | Paid | Free |
In most times, experienced Linux users will suggest you clone Linux HDD to SSD or clone Linux hard drive to a smaller/larger Solid State Drive by using 'dd' command. But for average users like us, can you understand what each command is for?
Though not Linux-based, EaseUS Disk Copy is Linux hard drive supported, and it can easily replace the dd command with an automatic way to clone Linux hard drive. It's easy, fast, and straightforward in transferring one hard drive content to the other, like several clicks.
Method 1 for Linux Clone Hard Drive to SSD - EaseUS Disk Copy 
EaseUS Disk Copy is a prominent disk cloning utility based on Windows operating system, and it fully supports HDD to SSD cloning so you can achieve the purposes in the following.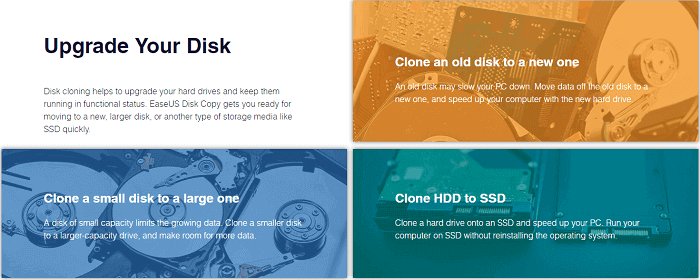 Easily copy operating from HDD to SSD without reinstalling.
Upgrade a Linux hard drive to a bigger one or from an old to a new one.
Replace a failing hard drive with a new functional one.
Thanks to the sector-by-sector function, you can copy the entire HDD to SSD to keep the two drives identical in use.
Undoubtedly, EaseUS Disk Copy should rank on the top choice if you're looking for a Linux HDD to SSD cloning method. On this page, you will learn the detailed guide to clone HDD to SSD, copy all the Linux installation to the new SSD step by step.
How to Clone HDD to SSD for Linux with EaseUS Disk Copy
The Linux clone hard drive to SSD takes no more than four procedures:
#1. The source hard drive cleanup (optional)
#2. Connect the source hard drive and target SSD in desktop or laptop
#3. Initialize SSD (optional)
#4. Start Linux hard drive cloning with EaseUS Disk Copy
The hard drive cleanup is necessary to reduce the disk space consumption on the new SSD because after cloning your SSD will surely keep identical with the old hard drive. By removing junk files and useless large files beforehand, you can keep the cloned drive clean. Next, you should use the proper connection way to connect both of your drives to a Windows computer. The desktop computer allows you to connect two hard drives by installing in the tower case or through a SATA-to-USB cable, while the laptop will only let you use the cable or external hard drive enclosure for connection. By the way, if your SSD is newly bought and not initialized at the moment, before heading to the disk cloning process, try to initialize the SSD so that your computer can recognize it with no problem.
At last, let's begin to do Linux clone hard drive to SSD:
Video Tutorial - HDD to SSD Clone
This tutorial is also available on clone HDD to SSD for Linux with EaseUS Disk Copy.
Step-by-Step Guide
Step 1. Take out the hard drive from your Linux computer and connect it to the other Windows computer where EaseUS Disk Copy is installed, as well as the target SSD.
Step 2. On EaseUS Disk Copy, click Disk Mode and select the source Linux hard drive. Here, at the bottom-left corner, you must tick the box in front of Sector by sector copy, which lets you clone the Linux EXT hard drive to SSD in Windows with the same disk layout. Click Next to continue.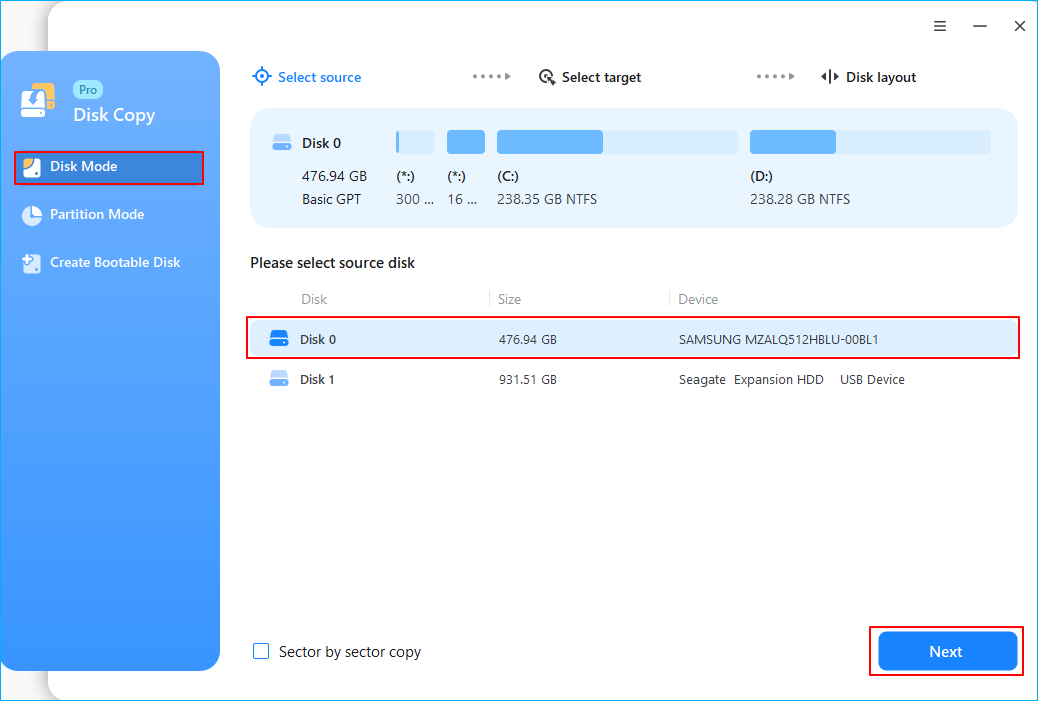 Step 3. Select the destination SSD where you want to clone/copy the old disk and click Next to continue. Click OK to confirm if the program asks to erase data on the destination disk.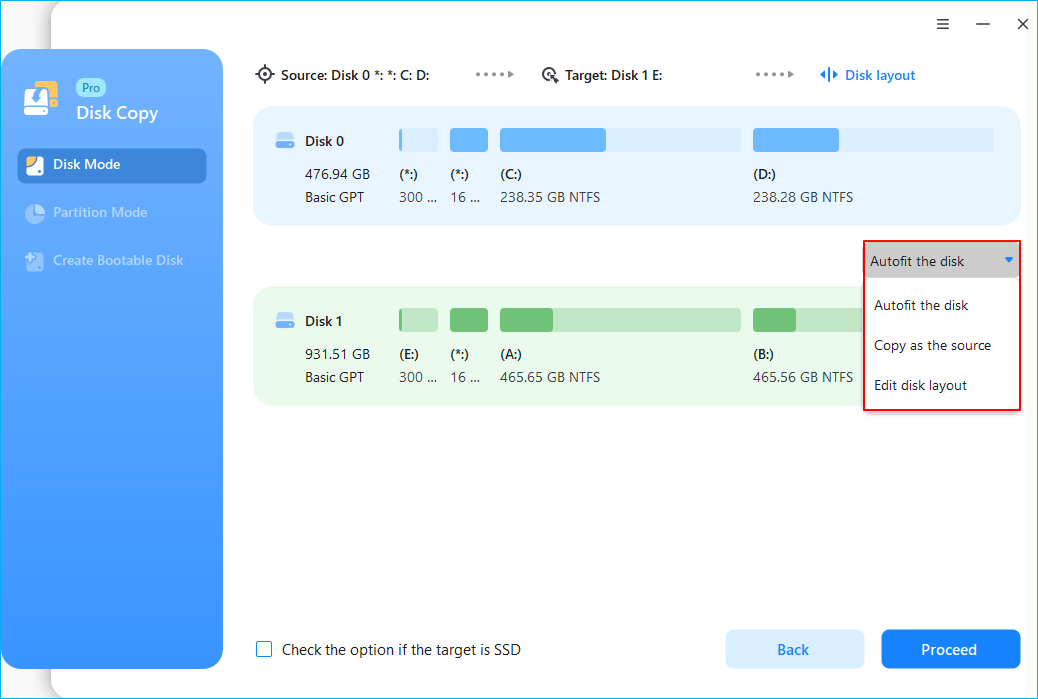 Step 4. Check and edit the disk layout as Autofit the disk, Copy as the source or Edit disk layout. Autofit the disk is recommended.
Copy as the source option will copy/clone the same layout of partitions on your source disk to the destination disk.
Edit disk layout allows you to resize or move partition layout on the destination disk manually.
If your destination disk is an SSD drive, do remember to tick Check the option if the target is SSD.
Click "Proceed" to start the Linux hard drive cloning process right away.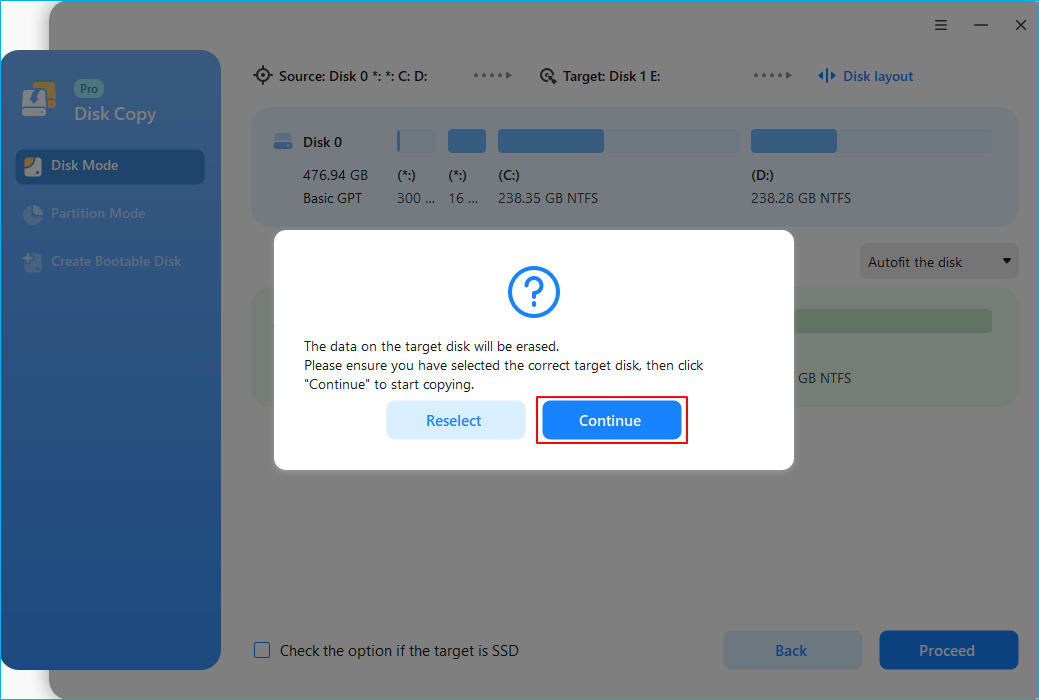 Read also:
Method 2 For Linux Clone Hard Drive to SSD - Using dd Command 
What's 'dd' command in Linux? In simple words, 'dd' is a command-line utility for Unix and Unix-like operating systems whose primary purpose is to convert and copy files. On Unix, device drivers for hardware (such as hard disk drives) and special device files (such as /dev/zero and /dev/random) appear in the file system just like normal files. As long as you grasp each essential dd command concept and have a clear mind for the whole process, you can spend twenty steps more or less with Linux OS and programs migration from one drive to the other.
Steps to clone a Linux hard drive:
# init 0
ok boot
# dd if=/dev/rdsk/c0t0d0s2 of=/dev/rdsk/c0t2d0s2 bs=128k
# fsck /dev/rdsk/c0t2d0s2
# mount /dev/dsk/c0t2d0s2 /mnt 
# cd /mnt/etc
# vi vfstab
(Modify entries for the new disk)
# cd /
# umount /mnt
# init 0
# boot disk2 -s
# sys-unconfig
# boot disk2
Clone HDD to SSD Linux? Here it is!
In this article, we have listed two solutions for you to do Linux clone hard drive. The second method about the dd command is a little bit complex but works. If you are a computer beginner, we think the disk cloning software is better for easy steps and an intuitive interface.
EaseUS Disk Copy
Clone an old disk to a new one
Clone a small disk to a large one
Clone HDD to SSD
TRY IT NOW
Video Tutorial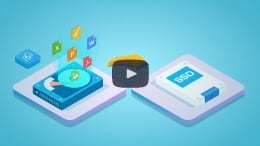 How to Clone HDD to SSD on Windows 10/8/7