How to Initialize SSD in Windows 10/8/7, How to Initialize a Hard Drive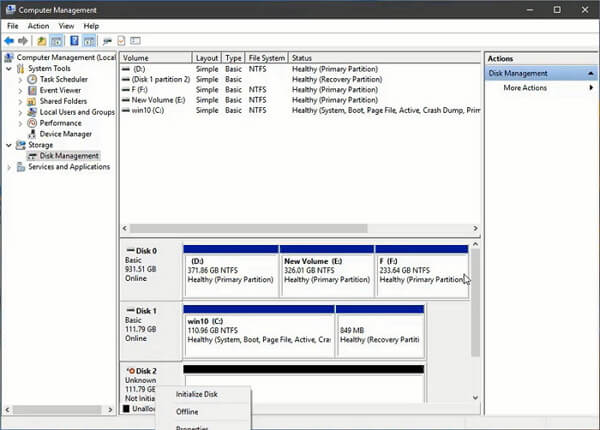 A quick guide on how to initialize SSD Windows 10 with Disk Management: 
Move your mouse to the lower-left corner of your desktop and right-click on the Start icon, then select "Disk Management". When Disk Management opens, a pop-up will appear and prompt you to initialize SSD. Select MBR (Master Boot Record) or GUID partition table (GPT) and click "OK". Right-click in the area that says Unallocated and begin to create a new volume with the on-screen wizard. In the Format Partition screen, decide on a drive letter and click "Next". Thus, you can set up a new SSD.
How to Initialize SSD Windows 10/8/7 in 3 Ways
This article shows you how to initialize a hard drive or how to initialize SSD in Windows 10/8/7 by using a third-party free partition tool, Disk Management or Diskpart commands respectively.
Method 1. Using EaseUS Partition Master - a Free Disk Management Tool
If you are a computer novice, the best way to manage your disk is by using an easy-to-use disk management software. In this way, you can avoid any harm to your computer due to misoperations, such as wrong command lines in Command Prompt.
EaseUS Partition Master Free enables you to initialize an SSD or HDD with a click. It's that simple. What's more, this partition management program provides other one-stop partition and disk management solutions for your Windows computer as listed below. 
Resize/move partitions to optimize disk (the Pro version allows to directly transfer free space from other drives to the target drive without deleting or formatting, like move space from D drive to C drive)
Create, format, delete, and merge partitions without data loss
Copy and clone an entire disk to another even the target partition is smaller than the source
Convert a logical partition to primary or primary partition to logical, convert FAT32 to NTFS partition, MBR disk to GPT, or GPT disk to MBR
Completely wipe out all the data on the hard disk to prevent information from being leaked or recovered
Now, download this free partition manager and follow the steps below to initialize SSD in Windows 10, 8, and 7. As for initializing SSD to GPT or MBR, you can read the next part. 
Step 1. Open EaseUS Partition Master. Connect the hard drive or SSD to PC.
Right-click the target HDD or SSD and select "Initialize to MBR" or "Initialize to GPT" accordingly.
Step 2. A pending operation of initializing disk to MBR or GPT disk will be added. Execute the operation and click "Apply".
0:00-0:22 Initialize to MBR; 0:23-0:49 Initialize to GPT;
After the initialization, all the disk space remains unallocated and so still impossible to be used for program installation or file storage. To use the MBR or GPT disk, you can continue using EaseUS free partition software to create partitions and set the file system. Check the video tutorial below.
Method 2. Using Disk Management to Initialize SSD
Step 1. In Windows 10/8, press the "Windows + R" key, type "diskmgmt.msc" and click OK to launch Disk Management. In Windows 7, right-click Computer and then select Manage option to run Disk Management.
Step 2. Find and right-click the hard drive or SSD you want to initialize, and then click "Initialize Disk". If the disk is listed as Offline, first right-click it and select Online.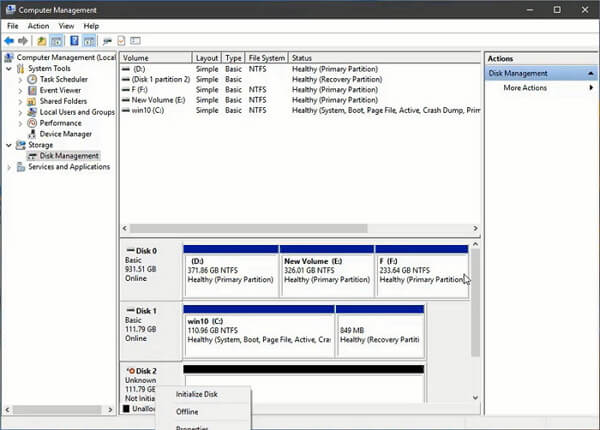 Step 3. In the Initialize Disk dialog box, select the correct disk to initialize. And then click OK to accept the default partition style, or you can change the partition style (GPT or MBR) as you want.
Method 3. Using Diskpart Commands to Initialize Hard Drive
Step 1. Open the Start Menu, type diskpart, press Enter.
Step 2. Type these commands if you want to initialize the disk to MBR/GPT, and press Enter after each command.
list disk >  select disk # > convert MBR/GPT
Step 3. If you would like to continue to create the primary partition on the MBR disk directly, you can run the following commands.
list disk > select disk # > clean > create partition primary > format quick fs=ntfs > assign > exit
Step 4. If you need to create the primary partition on the GPT disk, please use the commands below.
list disk > select disk # > clean > convert gpt > create partition primary > format quick fs=ntfs > assign > exit
MBR and GPT are two popular partitions styles on Windows-based computers. MBR is short for Master Boot Record and GPT stands for GUID Partition Table. The advantage of GPT (GUID Partition Table) is that it's more stable and supports 4K alignment, which is good for SSD.
MBR (Master Boot Record) only supports up to 2 TB partition size and create only four primary partitions. But a GPT disk can support larger than 2 TB volumes and create unlimited partitions. Windows 7 can only be partitioned with MBR, and Windows 8 and Windows 10 are recommended to use GPT. 
Which partition style you choose has a lot to do with whether your computer is BIOS booted or UEFI booted. The BIOS+MBR mode or UEFI+GPT mode is commonly used nowadays.
If you want to learn more about MBR and GPT, click on the link and read the full guides.
How to Convert MBR to GPT or GPT to MBR Without Data Loss
You can choose to initialize a hard drive to MBR or GPT depending on the size of your disk, the boot mode of your system, and the number of partitions you want.
But sometimes you need to convert disk styles, for example: when you install Windows operating system on your computer and run into "Windows cannot be installed to this disk. "The selected disk has an MBR partition table" or "Windows Cannot be Installed to This Disk. The Selected Disk is of the GPT Partition Style". In this case, converting the initialized SSD from MBR to GPT, or from GPT to MBR can help solve this problem.
The following steps show you how to use EaseUS Partition Master to convert MBR to GPT. To convert GPT to MBR in the vice versa, the operations are the same.
Read More: When Do You Need to Initialize SSD/HDD
1. Got a brand new hard drive or SSD, but it is not showing up in File Explorer.
When you plug a new blank hard disk drive (HDD) or solid-state disk (SSD) to your PC running Windows 10/8/7 but don't see it in File Explorer, you might need to add a drive letter or initialize it before using it. 
2. Get error "Disk Unknown Not Initialized".
Sometimes, you may get "Disk 1 is unknown, not initialized, unallocated" when you are trying to access a hard drive or SSD. When this issue occurs in Windows 10/8/7, you may need to find a way to initialize the disk for proper use. 
3. Get error "You must initialize a disk before Logical Disk Manager can access it".
When you connect the HDD/SSD to your computer but find it doesn't show in My Computer/This PC, you may see this error message when going into Disk Management to check what's up. To fix this matter, you need to initialize a disk and format it with a file system to start using it.
 Warning

Initializing a disk that has already got files on it will result in the loss of all the data stored. If you have to proceed with the initialization, you can try EaseUS Todo Backup Free to back up the HDD/SSD at a fast speed and recover the backup to anywhere secure.
Summary on How to Initialize a Hard Drive 
We believe that you must know how to initialize SSD after reading this article. In general, you can initialize a hard drive in three ways: using EaseUS Partition Master - the free ultimate Windows partition management software, Disk Management, or Command Prompt. For ease of use and security, we highly recommend you use EaseUS Partition Master. It is suitable for beginners as well as experts to manage disk or drives easily.
FAQs on How to Initialize SSD Windows 10
The following are the top four highly relevant questions on how to initialize a hard drive. If you also have any of these problems, you can find the methods here.
How do I initialize an SSD in Windows 10?
How to initialize SSD? The simplest way to initialize SSD is using EaseUS Partition Master Free:
Step 1. Connect your SD to PC. Run EaseUS Partition Master.
Step 2. Right-click the SSD and select "Initialize to MBR" or "Initialize to GPT" as you want.
Step 3. Execute the operation and wait for the process to complete.
Do I need to initialize SSD before cloning?
Should I initialize SSD before cloning? It is unnecessary to initialize SSD if you are performing a clean installation of your operating system, or cloning HDD to SSD, both of which will initialize and format the new SSD during the process.
Should I initialize my SSD as MBR or GPT?
MBR and GPT work with different interfaces. MBR only supports up to 2 TB partition size and create only four primary partitions. But a GPT disk can support larger than 2 TB volumes and create theoretically unlimited partitions. Moreover, GPT disks have better performance on security. You can read more about MBR VS GPT on what's the difference and which is better.
Besides, you can convert MBR to GPT with EaseUS Partition Master without formatting.
Why won't my SSD show up?
Is your SSD not showing up in Windows File Explorer or Disk Management? The causes of SSD won't show up can be:
The drive letter of SSD is missing or conflicting.
SSD is not initialized.
The file system of SSD is not supported.
There are disk driver issues.
For these four reasons, there are four solutions. You can fix SSD not showing up problem by re-assigning the drive letter, initializing SSD, changing the file system, or upgrading or reinstalling the SSD drive. 
How do I get my computer to recognize a new SSD?
If SSD not showing up in Windows 10, you can try to get your computer to recognize the new SSD with the methods below:
Assign a new drive letter for the SSD 
Initialize SSD on Windows 10
Format the SSD with a proper file system
Update SSD divers

Roxanne is one of the main contributors to EaseUS and has created multiple posts on digital devices like PCs, Mobile phones, tablets, Mac, etc. She loves to share ideas with people of the same interest.
I love that the changes you make with EaseUS Partition Master Free aren't immediately applied to the disks. It makes it way easier to play out what will happen after you've made all the changes. I also think the overall look and feel of EaseUS Partition Master Free makes whatever you're doing with your computer's partitions easy.

 Read More

Partition Master Free can Resize, Move, Merge, Migrate, and Copy disks or partitions; convert to local, change label, defragment, check and explore partition; and much more. A premium upgrade adds free tech support and the ability to resize dynamic volumes.

 Read More

It won't hot image your drives or align them, but since it's coupled with a partition manager, it allows you do perform many tasks at once, instead of just cloning drives. You can move partitions around, resize them, defragment, and more, along with the other tools you'd expect from a cloning tool.

 Read More
About EaseUS Partition Master
All-round disk & partition management software for personal and commercial use. Let it manage your storage drive: resize, format, delete, clone, convert, etc.
Video Tutorial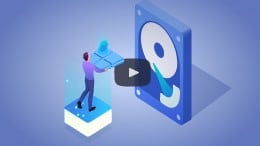 How to Partititon a Hard Drive on Windows 10/8/7
Was This Page Helpful
How Can We Help You
Find answers to common questions below.