
About the Author
Hot Topics in 2022
How to Solve Windows 10/7 C Drive Red Bar (Low Disk Space) Problem
Why is my hard drive capacity meter red?
Why is my C drive showing red?
The local disk (C:) indicates red in the File Explorer, how to solve the C drive red problem?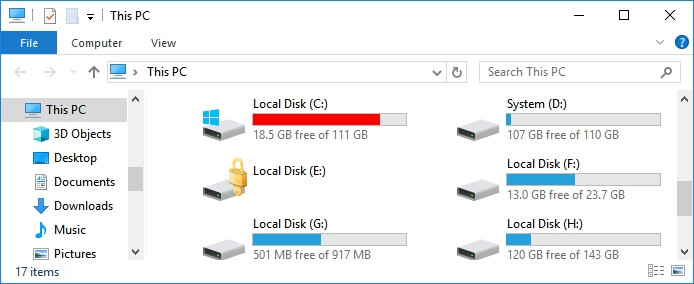 C Drive Red Bar on Windows 10/Windows 7
When your system C drive is nearly full and running out of space, you will find that C drive's capacity meter becomes red like the screenshot above. When the C drive or D drive has low disk space, you'll receive a low disk space error message.
When your system C drive is full and shows red bard, there is no free space to save new files and install Windows updates or applications. And you are likely to encounter Windows 10 slow, stuck, or even crash problem.
How to solve the C drive red bar problem and increase the C drive space to improve computer performance? You will learn how to disable the low disk space red bar on Windows 10/8/7 with several simple and effective fixes on this page.
How to Resolve C Drive Red Bar on Windows 10 or Windows 7
In the following, we will explain the most practical methods to solve the C drive red bar and low disk space problem. Read on to get details. 
Fix 1. Increase C Drive to Solve C Drive Red Bar Issue
As you know, when you see C drive shows red bar on Windows 10, it indicates low free space. So the first thing you need to do is extending the C drive to fix the low disk space error.
EaseUS Partition Master, a world-famous disk management tool, provides the "Smart Space Adjustment" option to help you adjust and increase C drive with 1-click. No data loss, no partition deletion.
If there is unallocated space on your disk, EaseUS partition manager will extend the C drive with the unallocated space. While if there is no unallocated space, the software will automatically allocate free space from another partition to the C partition.
Your Reliable Partition Manager Software - EaseUS Partition Master
Resize/move partitions (e.g., move space from D drive to C drive), create, format, delete, and merge partitions
FAT to NTFS partition, MBR disk to GPT, or GPT disk to MBR, etc.
Migrate OS to SSD to speed up Windows to upgrade hard disk and speed up Windows 10
Now, download EaseUS Partition Master and follow the steps below to add space to the C drive with simple clicks.
Step 1. Click "Adjust with 1-Click" to extend C drive.
When your C drive is out of space, hover your mouse over the C drive, you will see the Low Disk Space alert on EaseUS Partition Master. Click "Adjust with 1-Click" to extend it.
Step 2. Click "OK" to extend C drive automatically.
By clicking "OK", EaseUS Partition Master will automatically allocate space to your C drive to solve the low space issue.
Extra Option: You can also click "Manual Adjustment" to extend the C drive manually.
When turning to Manual Adjustment, select the C drive, and drag dots rightward to add more space to C drive. Click "OK" to confirm.
Step 3. Confirm to resolve low disk space in C drive
Click the "Execute Task" button at the top corner and start all pending operations by clicking "Apply".
Fix 2. Run System Cleanup to Free Up C Drive Space
Junk files produced by Windows systems or applications can eat up much space on C drive. Use a free tool to run system cleanup to delete junk files to save disk space. In this way, there will be more free space on the C drive, and then it won't show red bar.
Step 1. Download and install EaseUS Partition Master Suite.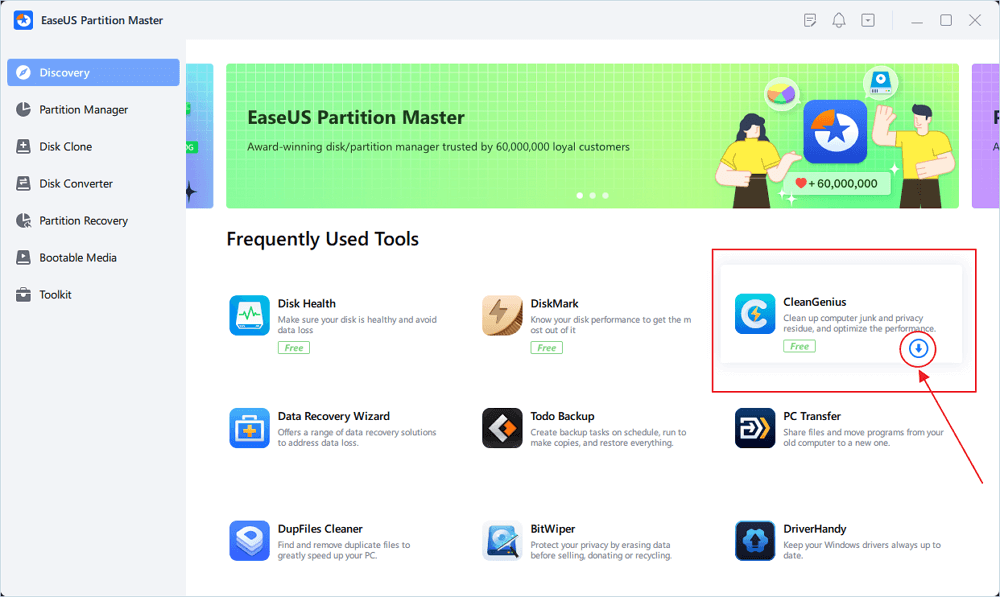 Step 2. Click PC Cleaner and install EaseUS CleanGinus. Then, click "Cleanup" and click "Scan" to start cleaning up the system and make your PC as good as new.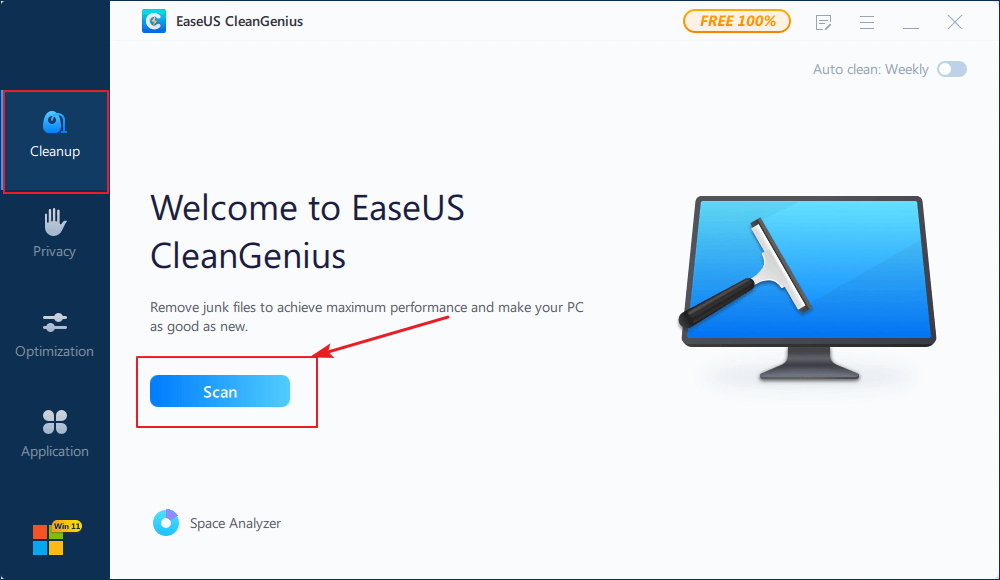 Step 3. The software will scanning all over your computer to find idle data files that take a huge amount of disk space, you can select useless large files, system junk files and Windows invalid entries and click "Clean" to start system cleanup process.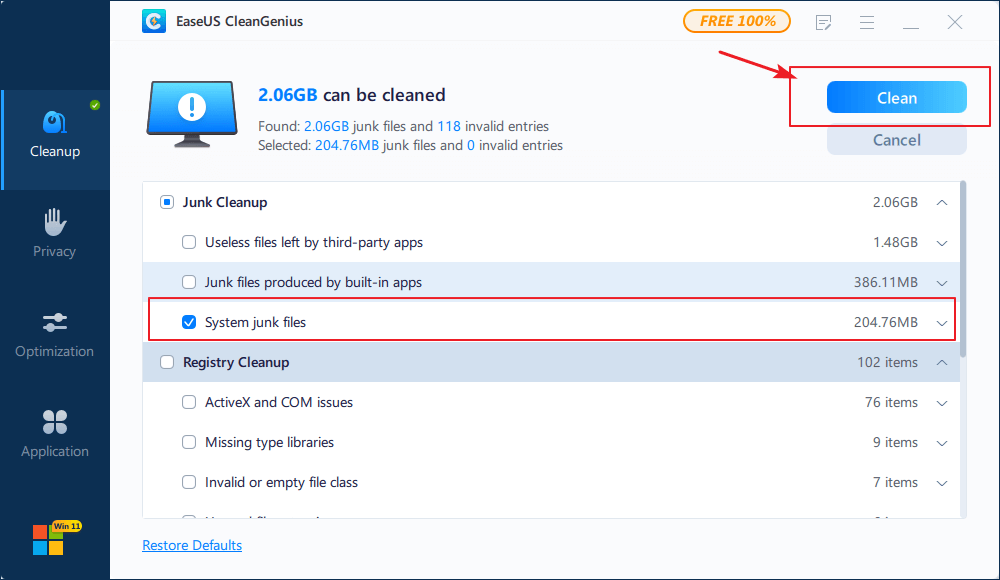 Step 4. When the scan is complete, click "Done" to finish cleaning system junk files.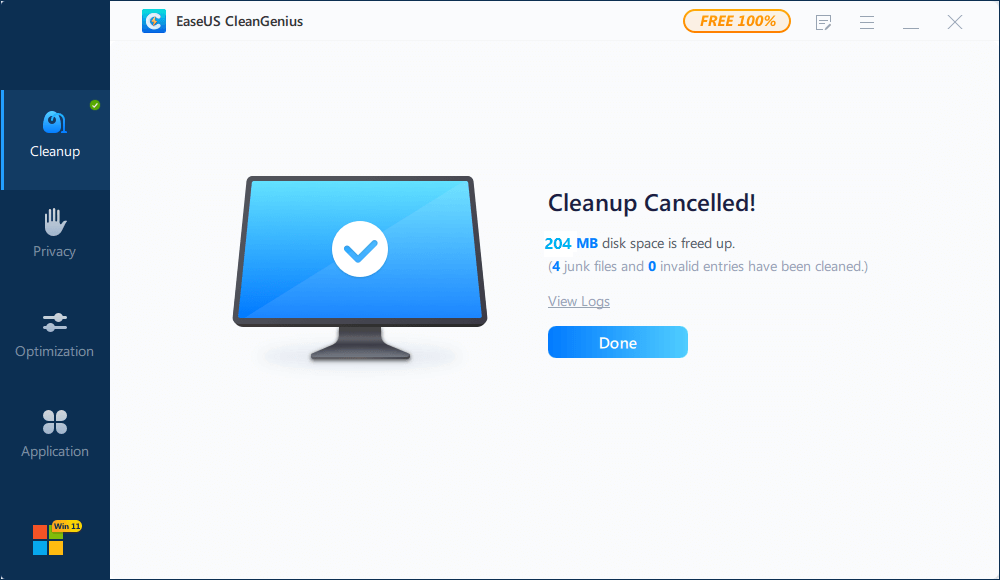 Fix 3. Empty Recycle Bin to Deleted Files
Emptying Recycle Bin is a useful way to free up C drive space and resolve Windows 10 C drive red bar problem. Windows keeps the deleted files in the Recycle Bin for 30 days or even longer.
If you never clean the Recycle Bin, the deleted files will take up a certain space on your system C drive, and your C drive is getting full. So, we recommend you empty the Recycle Bin regularly to free up more space.
Step 1. Right-click the Recycle Bin on the desktop.
Step 2. Choose "Empty Recycle Bin" to remove unwanted files.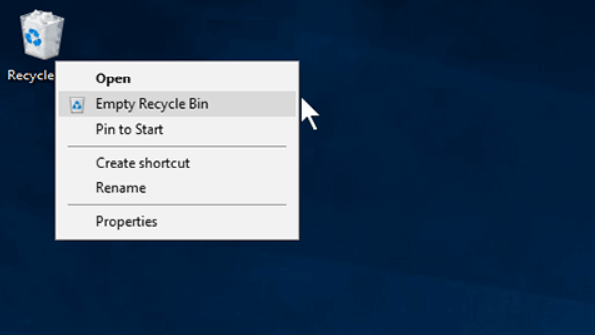 Fix 4. Transfer Programs from C Drive to Another Drive
A lot of software can only be installed on the C drive by default, making your C drive run out of space very soon and show red bar. You can easily move programs from C drive to D drive safely using a PC transfer tool - EaseUS Todo PCTrans.
Note: Manually migrate the software installation files to another partition will probably make the program unusable due to the lack of boot files.
Fix 5. Upgrade to a Larger HDD or SSD
If your system disk is too small that cleaning out your C drive isn't going to help, and you also see the C drive red bar warning signs frequently, you can upgrade the system disk to a larger HDD or SSD.
How to upgrade system disk without reinstalling Windows operating system and applications? EaseUS Partition Master comes to help you with the "Migrate OS" function. The software will clone your C drive and boot drive to the new hard drive automatically. There won't be any boot problem after migration.
Steps to migrate OS to HDD/SSD:
Run EaseUS Partition Master, and select "Clone" from the left menu.
Check "Migrate OS" and click "Next".
Select the SSD or HDD as the destination disk and click "Next".
Check Warning: the data and partitions on the target disk will be deleted. Make sure that you've backed up important data in advance. If not, do it now.
Then click "Yes".
Preview the layout of your target disk. Then click "Start" to start migrating your OS to a new disk.
Note: The operation of migrating OS to SSD or HDD will delete and remove existing partitions and data on your target disk when there is not enough unallocated space on the target disk. If you saved important data there, back up them to an external hard drive in advance.
To Sum Up
This tutorial covered 5 efficient solutions to help you solve Windows 10 C drive red bar problem. You can make it in three aspects:
Extend C drive in 1-click with the Smart Space Adjustment of EaseUS Partition Master
Free up C drive by cleaning up junk files, emptying Recycle Bin, and transferring programs from C drive to another drive
Upgrade the system disk to a larger HDD or SSD with the Migrate OS feature of EaseUS partition manager
If there are any problems in solving the C drive red bar problem, you are welcome to contact our technical support team for help via live chat or email: [email protected].
C Drive Red Bar on Windows 10/8/7 FAQs
The following are the top topics related to Windows 10 C drive red bar issue. Check the brief answers for these problems.
Why is my C drive bar red?
If the C: drive is showing as red in the File Explorer, that means it doesn't have much free space left, and you may not install new Windows updates, programs, or files. In this case, you need to try some ways to free up the C drive space or extend the C drive.  
How to solve the C drive red problem?
You can solve the C drive red problem by:
Increasing C drive and add more space to C drive
Free up space by cleaning up all the junk and temporary files
Upgrade your disk to a larger HDD or SSD
How do I access my C drive on Windows 10?
When This PC is on your desktop, you can double-click to open it. Then, you will see and access your C drive. If it isn't on your desktop, you can type this PC or file explorer into the search box and get to your C drive. Or you can type c: into the search box to access the C drive directly.
My D drive is in red and full. What are the steps to take?
Like resolving the C drive red problem, when your D drive shows red bar and is almost full, you can free up space on the D drive by deleting temporary, junk, and large files.
If cleaning the D drive still doesn't solve the problem, you can expand your D drive with EaseUS Partition Master. You can take the Adjust Disk Layout option of EaseUS partition manager to add more space to the D drive by simply dragging dots of the partition head or tail.
About the Author

Roxanne is one of the main contributors to EaseUS and has created multiple posts on digital devices like PCs, Mobile phones, tablets, Mac, etc. She loves to share ideas with people of the same interest.

Cedric Grantham is one of the senior editors of EaseUS who lives and works in Chengdu, China. He mainly writes articles about data recovery tutorials on PC and Mac and how-to tips for partition management. He always keeps an eye on new releases and likes various electronic products.
Product Reviews
I love that the changes you make with EaseUS Partition Master Free aren't immediately applied to the disks. It makes it way easier to play out what will happen after you've made all the changes. I also think the overall look and feel of EaseUS Partition Master Free makes whatever you're doing with your computer's partitions easy.

 Read More

Partition Master Free can Resize, Move, Merge, Migrate, and Copy disks or partitions; convert to local, change label, defragment, check and explore partition; and much more. A premium upgrade adds free tech support and the ability to resize dynamic volumes.

 Read More

It won't hot image your drives or align them, but since it's coupled with a partition manager, it allows you do perform many tasks at once, instead of just cloning drives. You can move partitions around, resize them, defragment, and more, along with the other tools you'd expect from a cloning tool.

 Read More