How to Reallocate Disk Space Without Losing Data in Windows 11/10/8/7
"I have 2TB of storage divided into two drives, C and D. I continue to get messages that I'm running out of disk space on drive C (currently allocated at 118 GB), so I tried to shrink drive D (with 1.4 TB of available space) to expand drive C. The process of shrinking drive D worked. But when I went to reallocate the freed space to expand drive C, the "expand" command was shadowed out, and I was unable to expand drive C. Am I missing something in the mechanics of reallocating space? Has anyone experienced a similar problem and, if so, can you share how this can be facilitated?"
The Best Software to Reallocated Space Without Formatting
In most cases, you may want to reallocate disk space because there is not enough free space on your system partition in Windows 11/10. This problem often happens if you have lots of data on your C drive, while there's lots of free space on other drives like D drive or E drive. The question is how to change partition size without unallocated space or without losing data. To make it, you need EaseUS Partition Master. 
The software enables you to reallocate disk space in Windows 11/10/8/7 with the "Adjust Disk Layout" function. This feature is used for adjusting the partition size on your disk with one step. You do not need to consider the partition layout and adjust the border of the partition to change it to the desired size.
Part 1. How to Reallocate Disk Space in Windows 11/10/8/7
Download the best disk management tool. Then, follow the steps below to adjust your disk space with EaseUS Partition Master.
Step 1. Select disk to adjust its layout.
On the main screen, right-click the disk and select "Adjust Disk Layout".
Step 2. Reallocate the drive or partition size.
Drag the dots next to the partition head or tail to reallocate the partition size. Then, click "OK".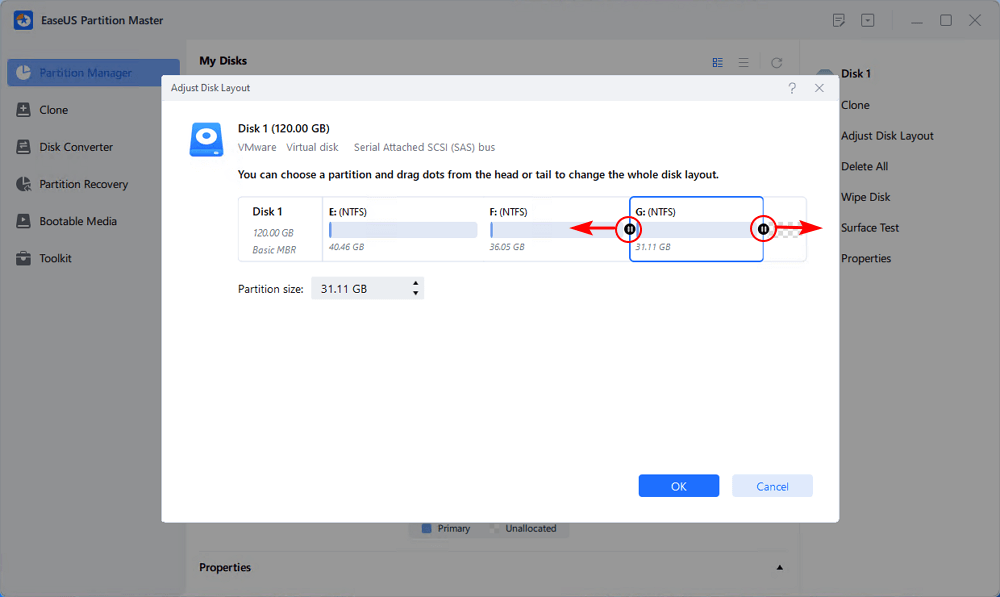 Step 3. Confirm to adjust disk partition size.
Click the "Execute Operation" button and click "Apply" to keep all the changes. 
Part 2. How to Reallocate C Drive Space in Windows 11/10/8/7
If your C drive or other drives get the low disk space warning, you will get the low disk space alert on our product. You can reallocate or adjust the C drive space with EaseUS partition manager. Here are the steps to adjust C drive space without losing data:
Step 1. Click "Adjust with 1-Click" to extend C drive.
When your C drive is out of space, you will see the Low Disk Space alert on EaseUS Partition Master. Click the Adjust button to extend it.
Step 2. Click "OK" to extend C drive automatically.
By clicking "OK", EaseUS Partition Master will automatically allocate space to your C drive to solve the low space issue.
Extra Option: You can also click "Manual Adjustment" to extend the C drive manually.
When turning to Manual Adjustment, select the C drive, and drag dots rightward to add more space to C drive. Click "OK" to confirm.
Step 3. Confirm to resolve low disk space in C drive
Click the "Execute Operation" button at the top corner and start all pending operations by clicking "Apply".
Conclusion
That's all about the way to reallocate disk space from one drive to another one in Windows 11/10/8/7. In addition to partitioning a hard disk flexibly, EaseUS Partition Master also allows you to migrate OS to another drive, resize or move partition space, and allocate unallocated space, and more.
Reallocated Space Without Deleting or Formatting FAQs
If you have related questions, you can read on. You may get additional help here.
Can I reallocate space on the hard drive?
You can open Windows 10 Disk Management to redistribute disk space. With this method, you need to delete or move a partition. 
You can also run EaseUS Partition Master. It allows you to add free space from another partition on the same hard disk to the system partition, which runs on low disk space.
How do I fix low disk space?
Step 1. Open EaseUS Partition Master and click "Adjust with 1-Click" on the right panel.
Step 2. EaseUS Partition Master will adjust the partition size to solve the low space issue intelligently after clicking "Adjust with 1-click", and you only need to click "Proceed" to continue.  
Step 3. Click the "Execute Operation" button at the top corner and keep all changes by clicking "Apply".
Why does my computer keep saying I have low disk space?
If you're getting a Low Disk Space error because of a full Temp folder. If you used Disk Cleanup to free up space on your device and then see a Low Disk Space error, your Temp folder may be quickly filling up with application files used by Microsoft Store.
Why is C drive full Windows 10?
Generally speaking, your hard drive's disk space is not enough to store a large amount of data. Additionally, if you are only bothered by the C drive full issue, there are likely too many applications or files saved.

Roxanne is one of the main contributors to EaseUS and has created multiple posts on digital devices like PCs, Mobile phones, tablets, Mac, etc. She loves to share ideas with people of the same interest.

Brithny is a technology enthusiast, aiming to make readers' tech life easy and enjoyable. She loves exploring new technologies and writing technical how-to tips. On her spare time, she loves sharing things about her favorite singer - Taylor Swift on her Facebook or Twitter.
I love that the changes you make with EaseUS Partition Master Free aren't immediately applied to the disks. It makes it way easier to play out what will happen after you've made all the changes. I also think the overall look and feel of EaseUS Partition Master Free makes whatever you're doing with your computer's partitions easy.

 Read More

Partition Master Free can Resize, Move, Merge, Migrate, and Copy disks or partitions; convert to local, change label, defragment, check and explore partition; and much more. A premium upgrade adds free tech support and the ability to resize dynamic volumes.

 Read More

It won't hot image your drives or align them, but since it's coupled with a partition manager, it allows you do perform many tasks at once, instead of just cloning drives. You can move partitions around, resize them, defragment, and more, along with the other tools you'd expect from a cloning tool.

 Read More
About EaseUS Partition Master
All-round disk & partition management software for personal and commercial use. Let it manage your storage drive: resize, format, delete, clone, convert, etc.
Video Tutorial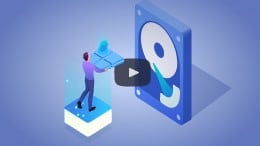 How to Partititon a Hard Drive on Windows 10/8/7
Was This Page Helpful
How Can We Help You
Find answers to common questions below.