Computers or laptops are becoming slower with notice popping up frequently, warning you that disk is 100% used? How to fix the "disk 100% used" issue and optimize computer performance? Don't let these problems bother you anymore. Here below you'll find effective solutions to fix "Disk is 100% used" issue in Windows 10/8/7 with ease.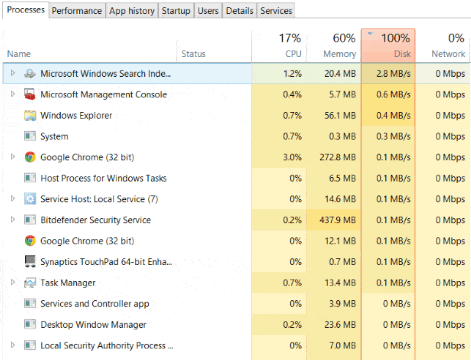 Quick Fix: Check the disk usage situation and end useless programs
It's highly necessary to check the disk usage situation before you find out the reasons why Disk fully used. Follow and check the disk usage situation now:
Press CTRL+ALT+DEL > Right-click Taskbar > Select Task Manager > Tap Processes
If some useless programs are taking space in Windows disk, select it and click End Task to stop it running right away.
You can check Disk column so to find out what is taking the most space in your disk. And then you can figure out how to fix the "disk 100% used" issue. Here below are some recommended methods for you to fix and solve disk 100% used issue in Windows 10/8/7.
Method 1. Run anti-virus software to clean up all virus or malware
In order to avoid virus attack or malware taking too much space in disk and affect your personal data in PC or attack Windows system, it's highly necessary for you to run anti-virus software to clean up all virus or malware in PC. This will also help to wipe out some junk fines in PC.
Tip: Do remember to create system and data backup for your PC in Windows. Professional Windows backup software - EaseUS Todo Backup will make it simple for you to backup system and data.
Method 2. Check system errors and clean up disk junk files
Sometimes, disk 100% used issue may be caused by unknown system error. Therefore, check and fix system error in Windows may help solve disk is 100% used issue. Professional partition manager software - EaseUS Partition Master Free will help with the job. It also allows you to clean up all junk files or useless large files in PC so to free up disk space.
1. Check and fix system error
Step 1: Open EaseUS Partition Master on your computer. Then locate the disk, right-click the partition you want to check, and choose "Check File System".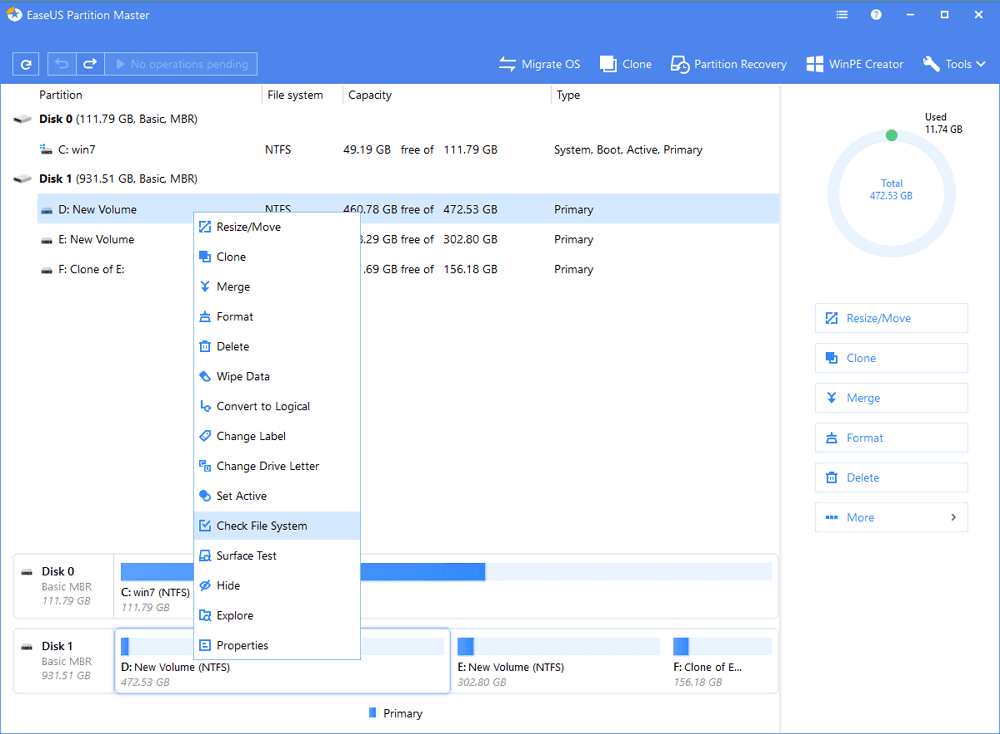 Step 2: In the Check File System window, keep the "Try to fix errors if found" option selected and click "Start".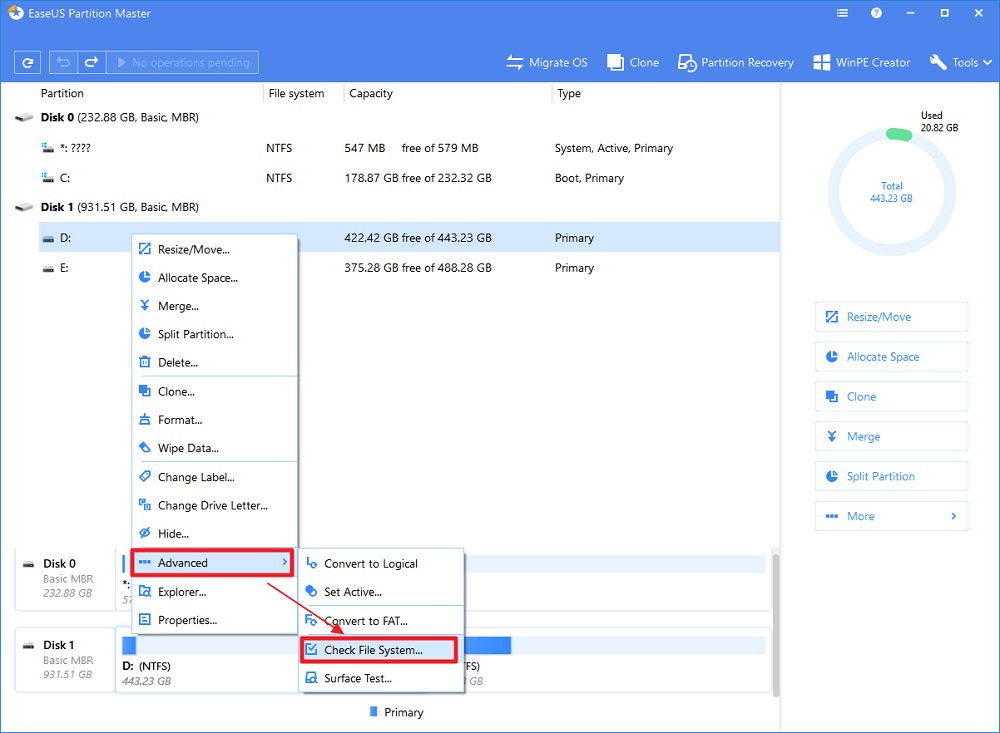 Step 3: The software will begin checking your partition file system on your disk. When it has completed, click "Finish".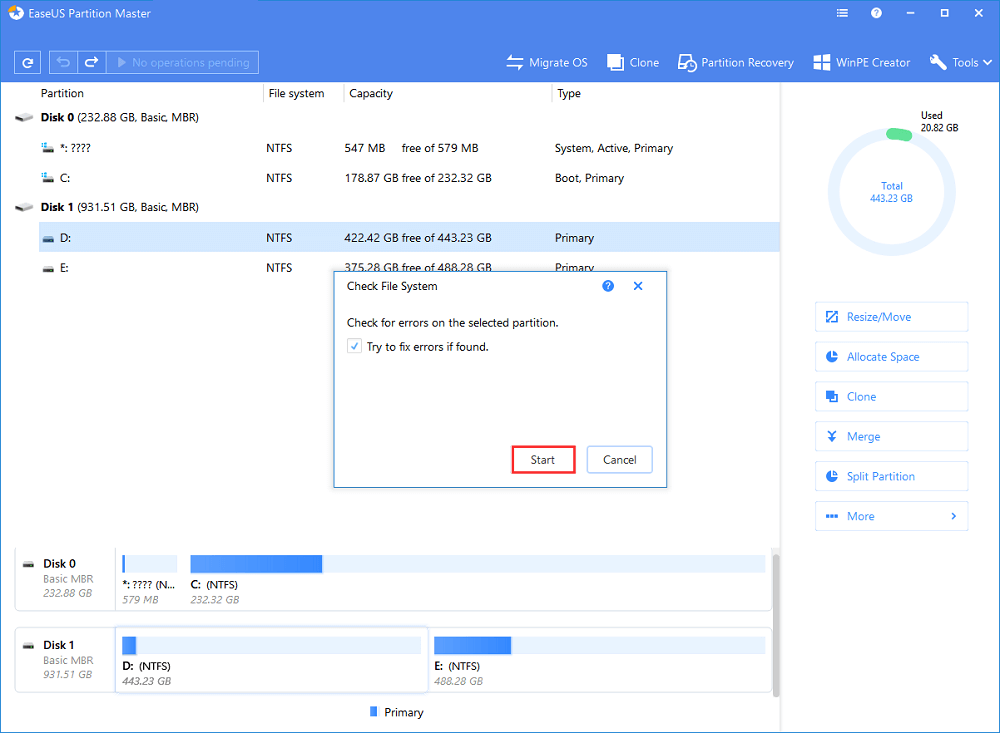 2. Clean up junk files and optimize Windows
Step 1: Launch EaseUS Partition Master. Select "Tools" and click "System Optimization".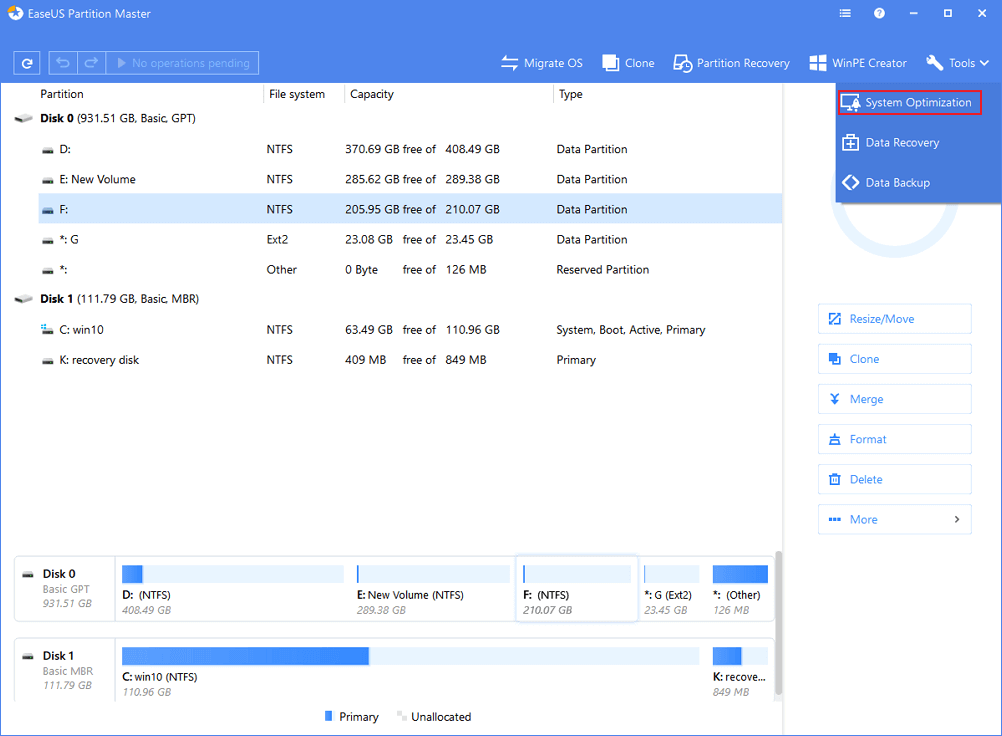 Step 2: Click "Junk File Cleanup". Then you can click "Analyze" to let EaseUS Partition Master find junk files on your PC.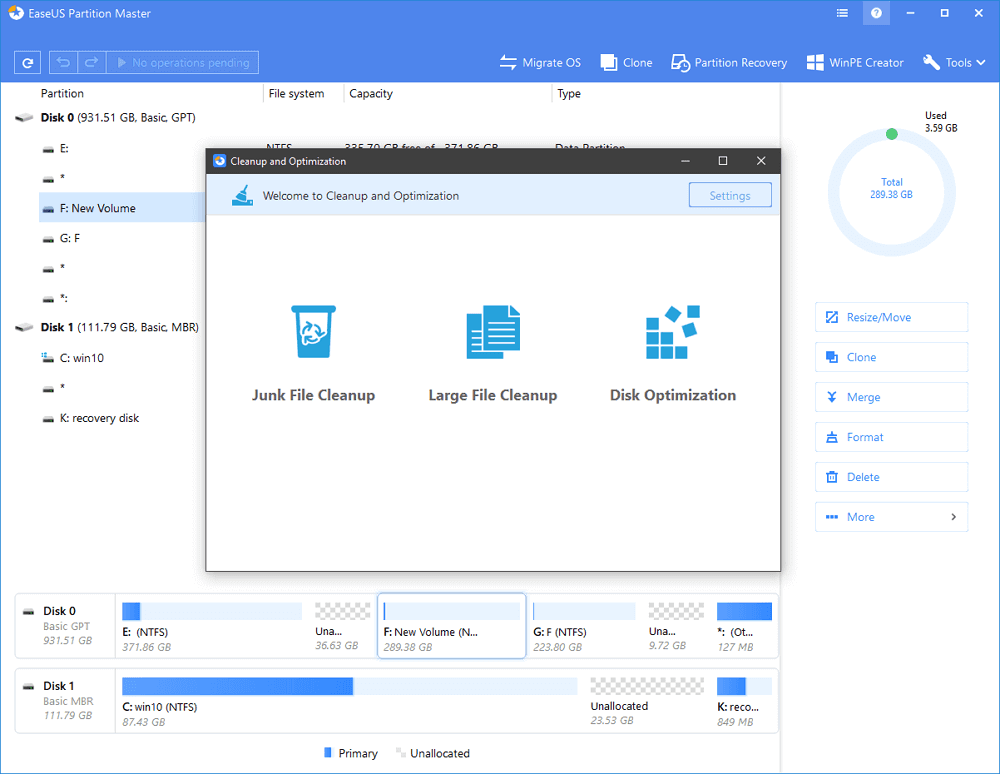 Step 3: You can check and choose junk files and click Clean up. All of the selected junk files will be cleaned and deleted from your PC. Click "Yes" to clean up junk files.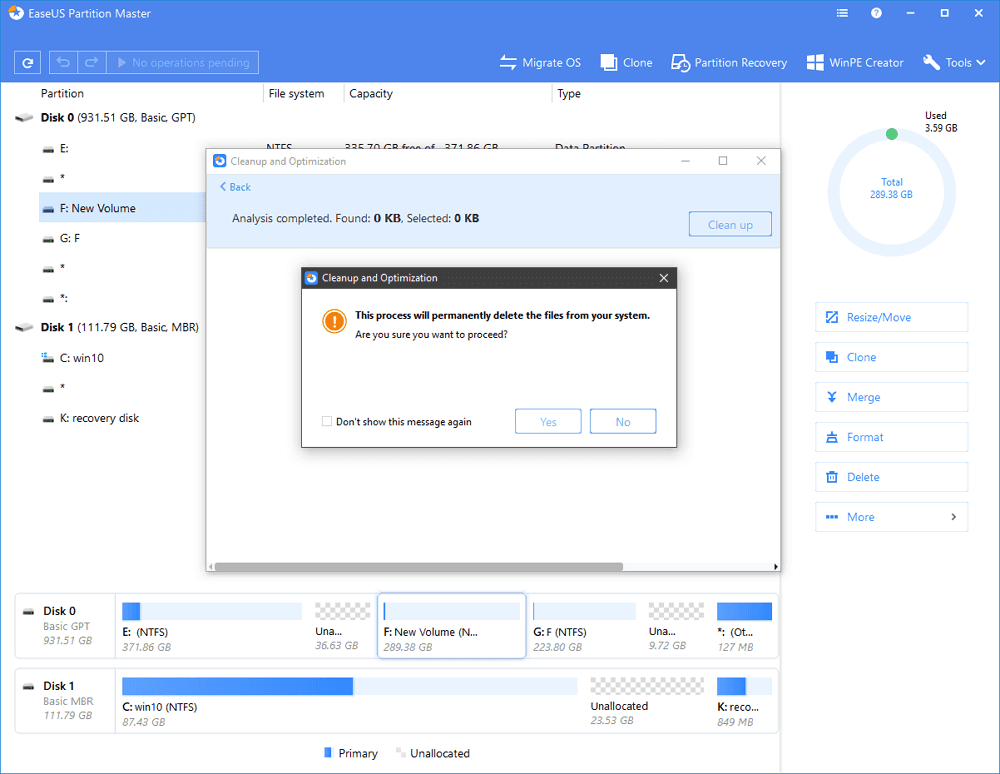 You may also directly apply this software to find and delete all useless large files in your PC so to free up more useful space in your PC with the Large File Cleanup feature.
Method 3. Stop/disable Superfetch service
Superfetch service may sometimes cause disk performance issue due to disk full usage in Windows 10/8/7. Therefore, to stop Supertech service will help fix the Windows disk 100% used issue:
Open Command Prompt > Enter net.exe stop the Superfetch and hit "Enter".
Run Check Disk and type chkdsk.exe /f /r to see whether the problem has been solved or not.
After all this, you can close all applications and then reboot the PC again.
Then you'll get improved PC performance with more available disk space.
Method 4. Change browser and App settings
Windows app like Skype or browsers such as Google Chrome may cause 100% disk usage issue. Change browser and App settings may work to fix 100% used of disk problem:
1. Change Chrome settings to fix 100% disk usage problem
Open Google Chrome, go to Settings;
Show Advanced Settings > Privacy > untick Prefetch resources to load pages more quickly.
2. Change Skype settings to solve 100% disk usage issue
Make sure that the Skype in your PC is not running.
Open Windows Explorer and go to: C:\Program Files (x86)\Skype\Phone\;
Right-click Skype.exe and click Properties, open Security and click Edit;
Highlight All APPLICATION PACKAGES and Tick Write;
Click Apply and click OK twice.
After all these steps, your computer with disk 100% used problem will be solved then. You will enjoy an optimized computer with big available space to store more useful data then.