Q: Something is eating my hard drive space in Windows 10, help!
"About three weeks ago, my 500GB hard drive suddenly became extremely slow and had only 50GB left. Now the hard drive only has just 100MB left, and I can't even open the drive to use a file quickly. It looks like something is eating my hard drive space, but I don't know what it could be. 
How can I find out what's taking up space on my hard drive and resolve this issue? Can anyone help? I'm using Windows 10."
Your hard drive may get full suddenly without a specific reason. If the hard drive is a system disk and is nearly full, the Windows will be affected and slow down. If you are experiencing disk space is used up, follow along to figure out what's taking up space on your hard drive and then address the problem and free up your disk space.
How to See What Is Taking Up Space on Hard Drive in Windows 10/8/7
There are two steps you can do to find out what is taking up space on your hard drive:
Step 1. Show hidden files on the hard drive
We have provided a complete guide with three methods to display hidden files on the hard drive. You can refer to this page for a guide: How to Show Hidden Files on computer hard drive.
Step 2. Analyze hard drive and find what's eating up hard drive space
Here we'll use Windows 10 as an example to show you how to see what's taking up space on the hard drive. This method can also be applied to Windows 8.1/8/7:
1. Right-click on the Windows icon and select "Settings".
2. Click "System", then click "Storage" on the left-side panel.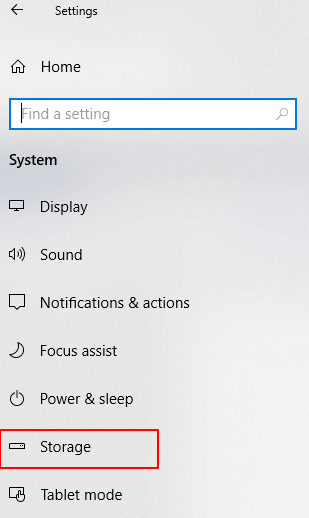 3. In the Storage window, you'll get a view of the space usage situations on all your hard drive partitions as shown in the image below: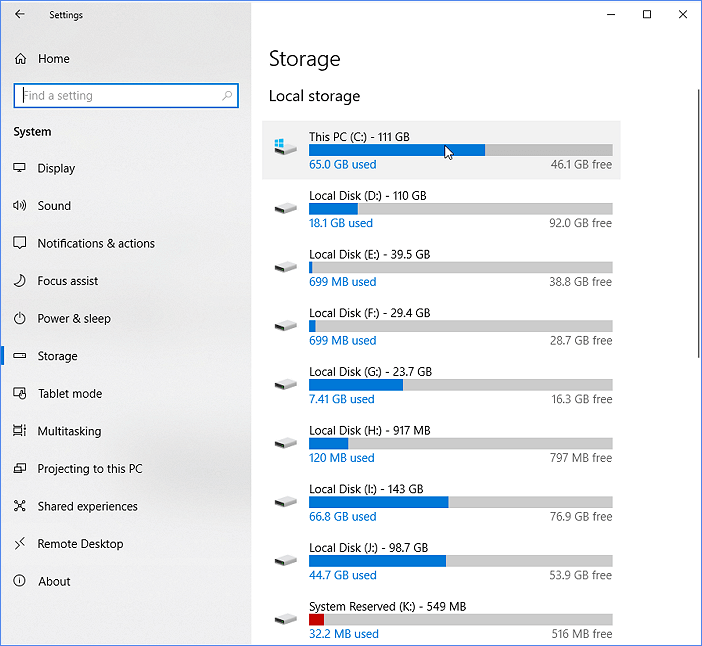 4. Then click on a nearly full hard drive partition. You'll be able to see what's taking up the most space on PC, including apps and features taking up storage.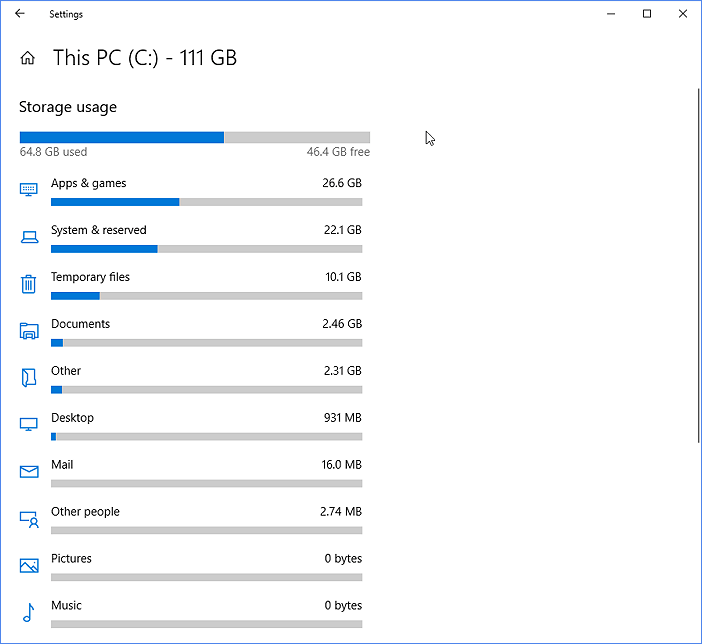 Now that you've known that what apps and features are taking up storage on your PC, you can manually clean up your hard drive by removing temporary files, useless apps, etc.
Click each hard drive partition, figure out what's taking up space. Click each category and remove useless apps, files, etc..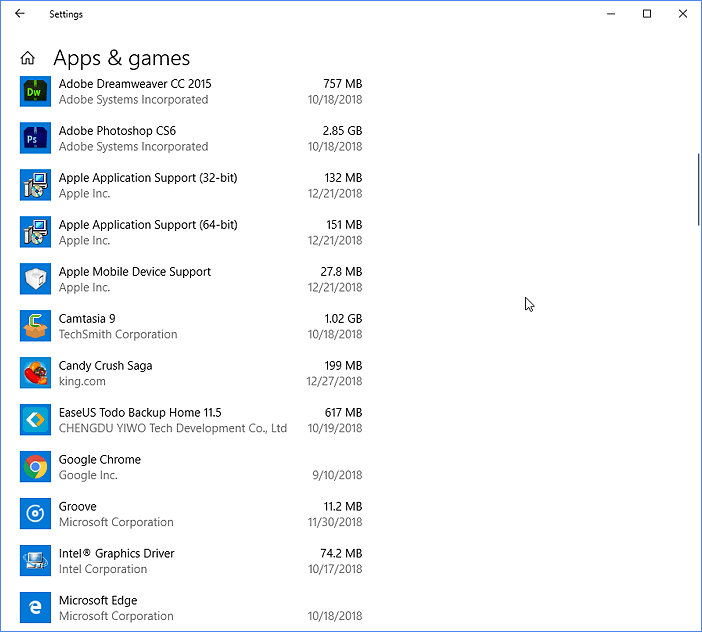 If you don't like to remove files manually, how to thoroughly and automatically free up disk space and make the computer fast? Read on, and you'll learn all the practical methods to free up disk and speed up Windows 10.
7 Effective Ways to Free Up Disk Space on Windows 10/8/7
After checking out what's is taking the most space on your hard drive in Windows 7, Windows 8, or Windows 10, you can follow the provided approaches here to free up space for important files, programs, and improve the computer's performance.
1. Remove Junk Files/Useless Large Files 
If you've found that the hard drive space is taken up by many temporary files or useless large files, EaseUS CleanGenius is an ideal tool. It's a free and light program to solve many tough problems, including remove write protection on USB, SD, the internal, and external hard drive in Windows 10/8/7. 
It also supports cleaning up all hard drive partitions with its System Optimize Tool by cleaning up junk files and large files. Install it on your PC now to quickly clear up space on your hard drive and improve the computer performance. 
Step 1. Download and install EaseUS Partition Master Suite.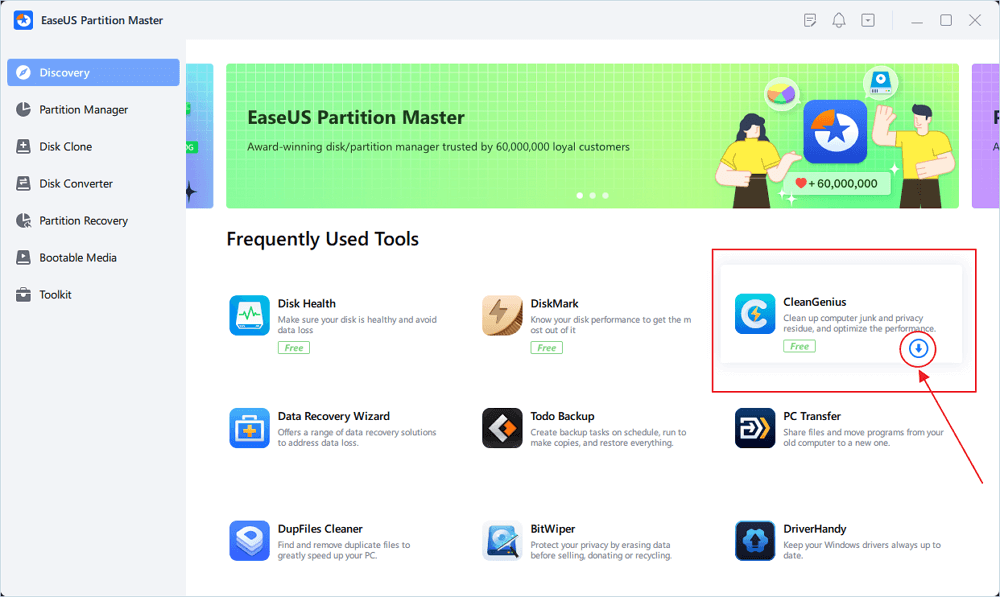 Step 2. Click PC Cleaner and install EaseUS CleanGinus. Then, click "Cleanup" and click "Scan" to start cleaning up the system and make your PC as good as new.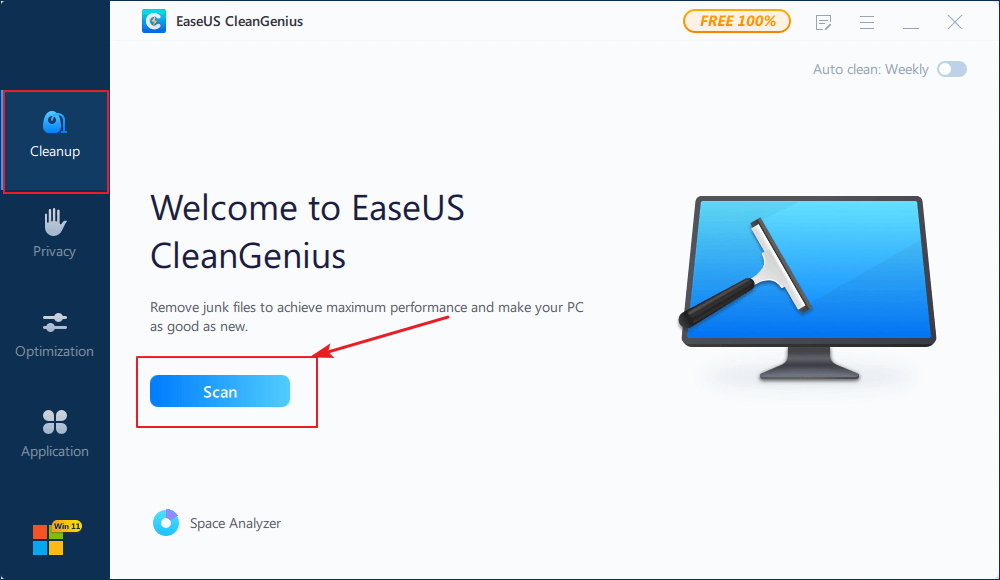 Step 3. The software will scanning all over your computer to find idle data files that take a huge amount of disk space, you can select useless large files, system junk files and Windows invalid entries and click "Clean" to start system cleanup process.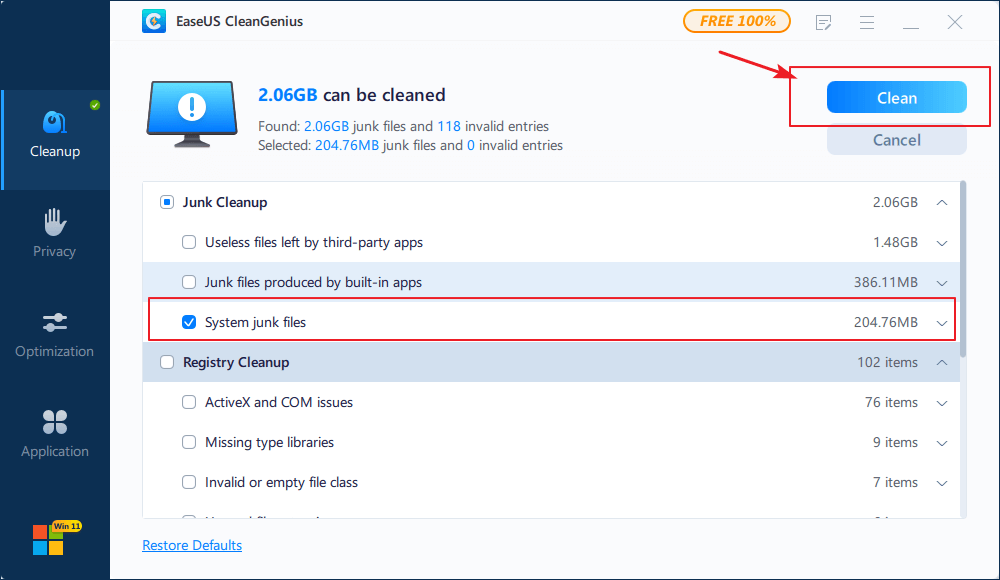 Step 4. When the scan is complete, click "Done" to finish cleaning system junk files.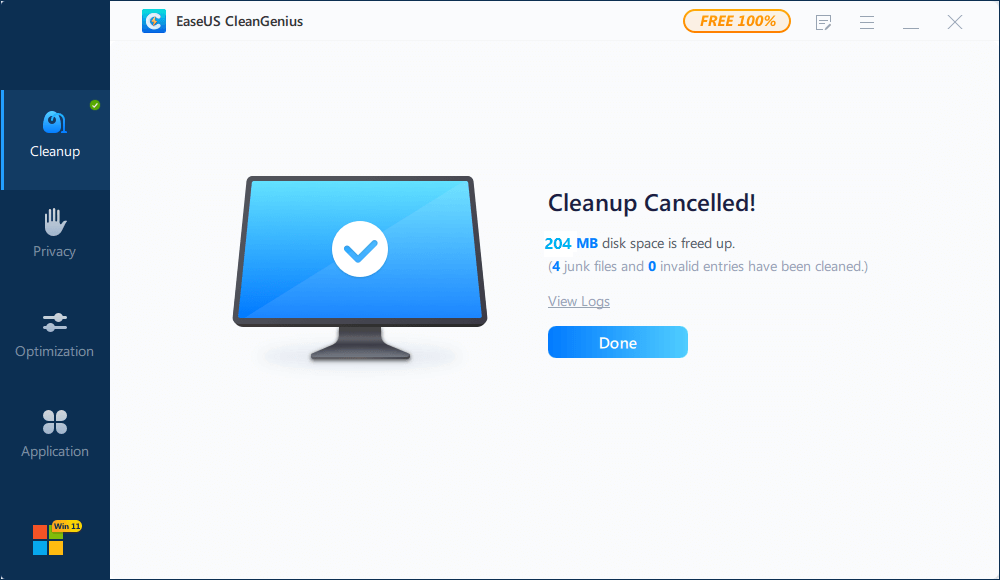 You may also choose "Clean Large Files" to remove useless large files, which is also useful to clears out a lot of free space.
2. Run Disk Cleanup to Clean Temporary Files
Unlike disk defragmentation, which rearranges the files, Disk Cleanup works to remove temporary files and other unimportant data on the hard drive and help to reclaim your disk space.
Step 1. Open This PC, right-click on your system drive and choose "Properties".
Step 2. Click "Disk Cleanup" under the "General" tab, and the utility will start scanning your drive and calculating how much space you can free.
Step 3. When it is done, choose "Clean up system files" in the window to let the tool scan your disk again.
Step 4. After the scan completes, click "OK" in the new window. Then you will see a notification asking you, "Are you sure you want to permanently delete these files?". Click Delete Files. Since these operations just remove unnecessary files in your system, you don't need to worry about losing important files.
If disk cleanup is not working in Windows 10, learn how to fix it first here.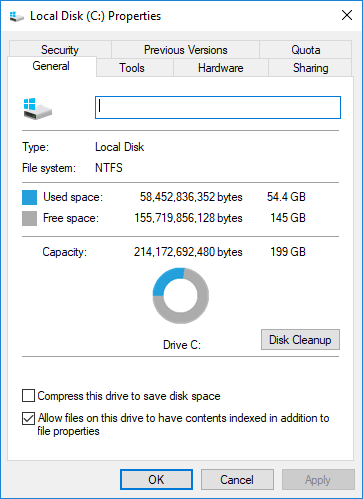 3. Uninstall Unused Bloatware Software
Many PCs come with multiple pre-installed programs you don't want or need, which are in large size and cause your computer in low disk space. To free up space on your hard drive and make your Windows 10 run faster, you can uninstall the bloatware.
Right-click the Start menu, choose "Control Panel" > "Programs" > click "Uninstall a program". Select the programs you no longer need and click "Uninstall" at the top of the list.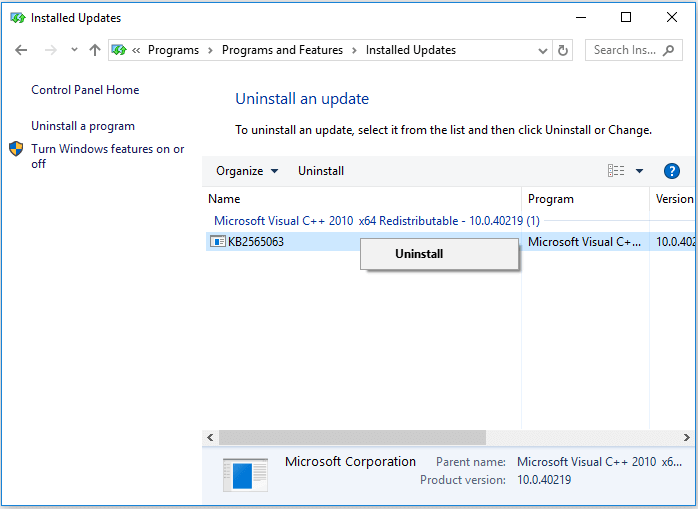 4. Free Up Space by Storing Files on Another Hard Drive or the Cloud
If you have some important large files that are occupying big space on a hard drive, you can try one of the tips below:
Tip 1. Add a new disk to your PC, move and store files to the new disk.
Tip 2. Store files to an external storage device.
Tip 3. Store files to a cloud account, such as OneDrive.
Tip 4. Back up big files into an image with a compressed format, which will save almost a half-space on your disk.
5. Transfer Programs, Apps, and Games to External Hard Drive
If your internal hard drive on Windows is full of installed programs, applications, and games, you can change the install location of these programs. You can free up space on your hard drive by moving programs to an external hard drive and make sure that you can run the program on any other computer. How to do that? Use EaseUS PCTrans to accomplish app migration with a few clicks. 
Step 1. Connect your external hard drive to your computer. Open EaseUS Todo PCTrans and select "App Migration > Start".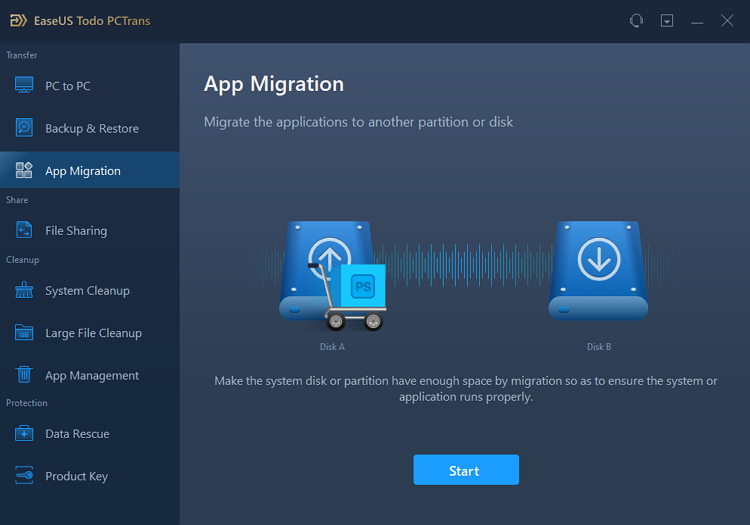 Step 2. Find and choose the applications (marked as "Yes") that you want to transfer. You can select multiple apps. 
Click the triangle icon and select your external hard drive as the destination to store the apps. 
Step 3. Then, click "Transfer" to move your programs to an external hard drive.
6. Disable Hibernate
When you hibernate your system, it saves the contents of its RAM to your hard drive. This allows it to save its system state without any power usage – the next time you boot your computer, you'll be back where you left off. Windows saves the contents of your RAM in the C:\hiberfil.sys file. To save hard drive space, you can disable Hibernate entirely, which removes the file.  
If you are using this feature and it's useful for you, don't turn it off. It's up to you.
Step 1. Click on Start, and open Control Panel then click on "Power Options". On the left side, click on "Change when the computer sleeps".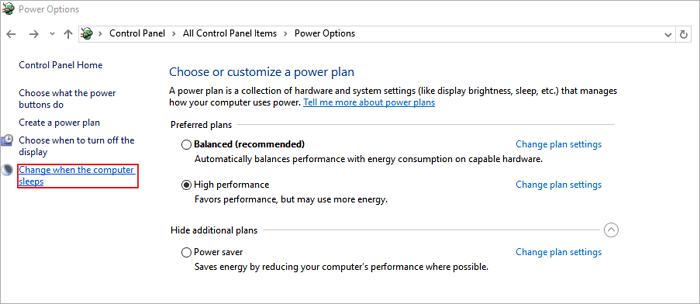 Step 2. Now click on Change advanced power settings. In the Advanced Power Options window, expand the "Sleep". Then expand "Hibernate after" and change the minutes to 0 to turn it off. 
Step 3. Or you can specify the amount of minutes you want to pass before it goes into hibernation. Click "Apply" and "OK" then close out of the remaining screens.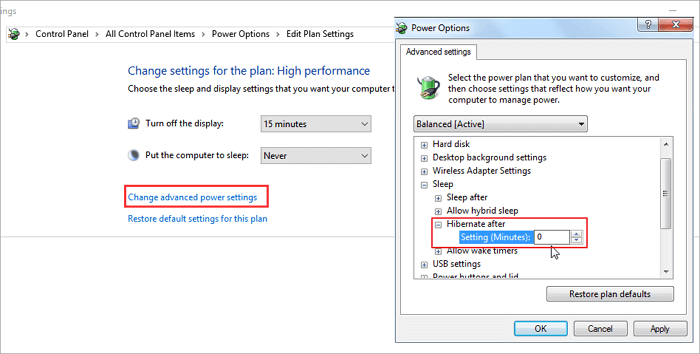 7. Upgrade to a Larger HDD/SSD
If none of the above options will free up enough free space on your hard drive on Windows 10 or Windows 7, the most thorough solution is to replace the old hard drive with a larger new hard drive. Cloning is the best way to replace a hard disk drive, because cloning can migrate your old disk to the new one exactly, without any data loss, and it's very convenient.
EaseUS Partition Master, an ultimate partition management tool, enables you to clone an entire disk to another even the destination partition is smaller than the source, which means you can clone larger HDD to smaller HDD.  
Download this easy-to-use disk management program to clone hard drive to HDD or SSD with simple guides.
Step 1. Select the source disk.
Click the "Clone" from the left menu. Select the "Clone OS Disk" or "Clone Data Disk"  and click "Next".
Choose the source disk and click "Next".
Step 2. Select the target disk.
Choose the wanted HDD/SSD as your destination and click "Next" to continue.
Read Warning message and confirm "Yes" button.
Step 3. View the disk layout and edit the target disk partition size. 
Then click "Continue" when the program warns it will wipe out all data on the target disk. (If you have valuable data on the target disk, back up it in advance.)
You can select "Autofit the disk", "Clone as the source" or "Edit disk layout" to customize your disk layout. (Select the last one if you want to leave more space for C drive.)
Step 4. Click "Start" to start the disk cloning process.

Except for disk cloning, EaseUS Partition Master provides more one-stop disk partition features, such as resize/move partitions to solve low disk space issue, merge partitions, create/delete/format partition, wipe partition data, and disk/partition conversion.
Final Verdict
Now you've learned how to see 'what is taking up space on my hard drive Windows 7/8/710' and how to free up space on the hard drive with seven feasible fixes. However, there is no one-for-all solution. High disk space usage frequently occurs, even if you've upgraded to a larger hard drive.  So remember to use these disk space cleanup methods to clear up your disk regularly.
EaseUS Data Recovery Services
EaseUS data recovery experts have uneaqualed expertise to repair disks/systems and salvage data from all devices like RAID, HDD, SSD, USB, etc.