PAGE CONTENT:
Windows 10/8/7 Found Errors on This Drive
3 Ways to Check and Repair Disk Errors

Method 1. Run CHKDSK
Method 2. Use CHKDSK Alternative
Method 3. Run EaseUS Partition Tool
Windows 10/8/7 Found Errors on This Drive
Disk errors caused by bad sectors, improper shutdowns, specific software, file system corruption, or virus attack can do harm to computer performance. And sometimes, it comes with the error message: "Repair this drive. Windows found errors on this drive that needs to be repaired. Close this dialog box, and then repair the drive." or "Restart to repair drive errors". When you have hard drive errors - Check Disk can be a lifesaver.
The Check Disk utility is known as CHKDSK. It scans through your entire hard drive to find and fix problems. Its basic function is to scan the integrity of the file system and file system metadata on a disk volume and fix any logical file system errors that it finds. If used without parameters, CHKDSK displays only the status of the volume and does not fix any errors. If used with the /f, /r, /x, or /b parameters, it fixes errors on the volume. What do the parameters ( /f /r /x... ) mean? Here are some common parameters and their meanings:
| Parameters | Details of the Parameters |
| --- | --- |
| /f | Fixes errors on the disk. The disk must be locked. If CHKDSK cannot lock the drive, a message appears that asks you if you want to check the drive the next time you restart the computer. |
| /r | Locates bad sectors and recovers readable information. The disk must be locked. It includes the functionality of /f, with the additional analysis of physical disk errors. |
| /x | Forces the volume to dismount first, if necessary. All open handles to the drive are invalidated. It also includes the functionality of /f. |
| /b | NTFS only. It clears the list of bad clusters on the volume and rescans all allocated and free clusters for errors. It includes the functionality of /r. Use this parameter after imaging a volume to a new hard disk drive. |
| /v | Displays the name of each file in every directory as the disk is checked. |
| /scan | NTFS only. It runs an online scan on the volume. |
| /i | NTFS only. It performs a less vigorous check of index entries, which reduces the amount of time required to run CHKDSK. |
| /c | NTFS only. It does not check cycles within the folder structure, which reduces the amount of time required to run CHKDSK. |
How to Check and Repair Disk Errors in Windows 10/8/7 (3 Ways)
Do you know how to check and repair the drive for errors? If you are bothered by repairing disk errors, you can follow the three ways to manage this job in Windows 10/8/7 easily.
Method 1. Run CHKDSK to Check and Repair Disk in Windows 10
Running the Check Disk tool in Windows 10 is easy. Whenever you find your hard drive performs poorly or Windows asks you to repair drive errors, you can first try to run CHKDSK to do the job. Here's how to run CHKDSK /f in Windows 10.
Step 1. Press the Windows key and type cmd.
Step 2. Right-click "Command Prompt" and choose "Run as administrator".
Step 3. Enter the following command:
"E" means the drive letter of the partition you want to repair.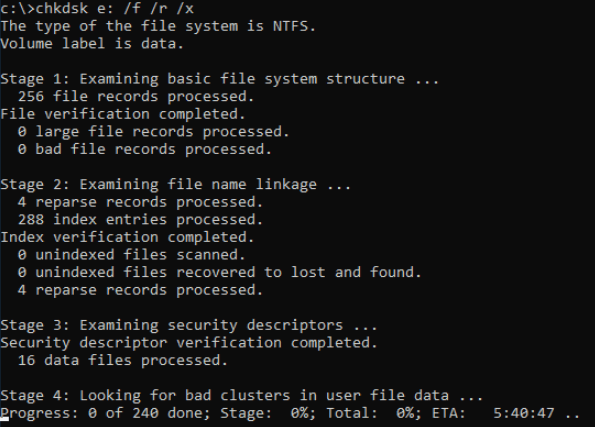 This option will run CHKDSK to check and repair disk errors in Windows 10. The "/f" parameter tells CHKDSK to fix any errors it finds; "/r" tells it to locate the bad sectors on the drive and recover readable information; "/x" forces the drive to dismount before the process starts. If you are not familiar with command lines, you can also try Method 2.
Method 2. Check and Repair Disk Using CHKDSK Alternative
If you don't have any technical know-how and want to minimize data risks, using third-party software could be a better choice. The Command line is suitable for computer professionals since wrong commands can cause severe problems. Therefore, we strongly recommend you to try an automatic command line alternative.
EaseUS Tools M is a practical computer fixing tool that is safe and light-weighted. It's a perfect alternative to CHKDSK command. Use this one-click tool to solve your computer issues.
To fix file system error or disk error:
Step 1:  DOWNLOAD EaseUS Tools M for Free and install it.
Step 2: Open the software and select "File Fixing" on the left pane.
On the right pane, choose the drive and check off the box at the bottom - "Check and fix file system error". Then, click "Fix" to start repairing the error.
Step 3: Wait until the operation completes. Wait until the operation completes. After the operation completes, click the "View" button to check the drive.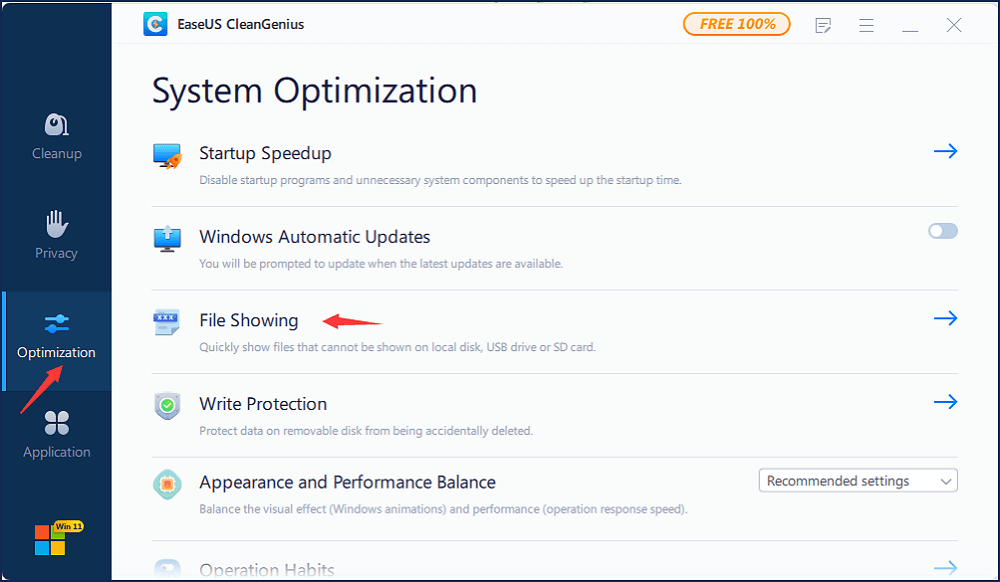 Method 3. Run EaseUS Partition Tool to Scan and Repair Errors in Windows 10/8/7
If CHKDSK stuck or failed during the hard disk repair process, you may need to try EaseUS Partition Master. It is a full-featured partition manager utility that enables you to operate primary and advanced partition functions and maximize disk capacity usage. With it, you can organize your hard drive and empty disk space to enhance system performance easily. Besides, it is also called:
Dynamic/Basic Disk Converter
Primary/Logical Partition Converter
EaseUS partition tool makes it effortless to partition hard drives, take full advantage of your disk space and repair disk errors. Follow the steps to check your file system error:
Step 1: Open EaseUS Partition Master on your computer. Then locate the disk, right-click the partition you want to check, and choose "Check File System".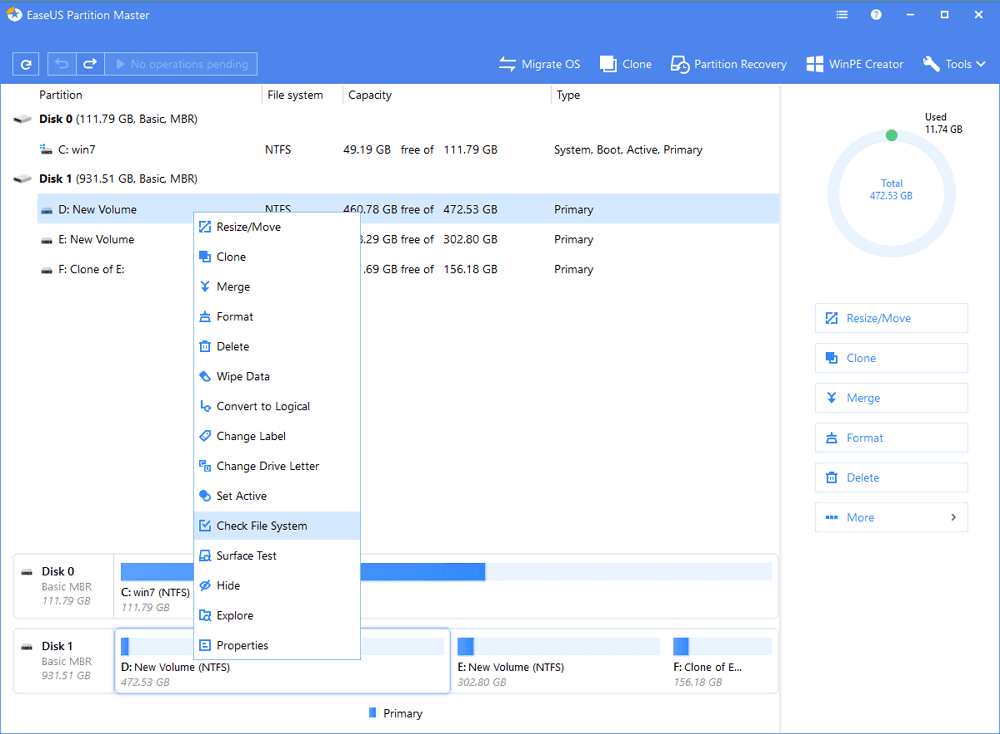 Step 2: In the Check File System window, keep the "Try to fix errors if found" option selected and click "Start".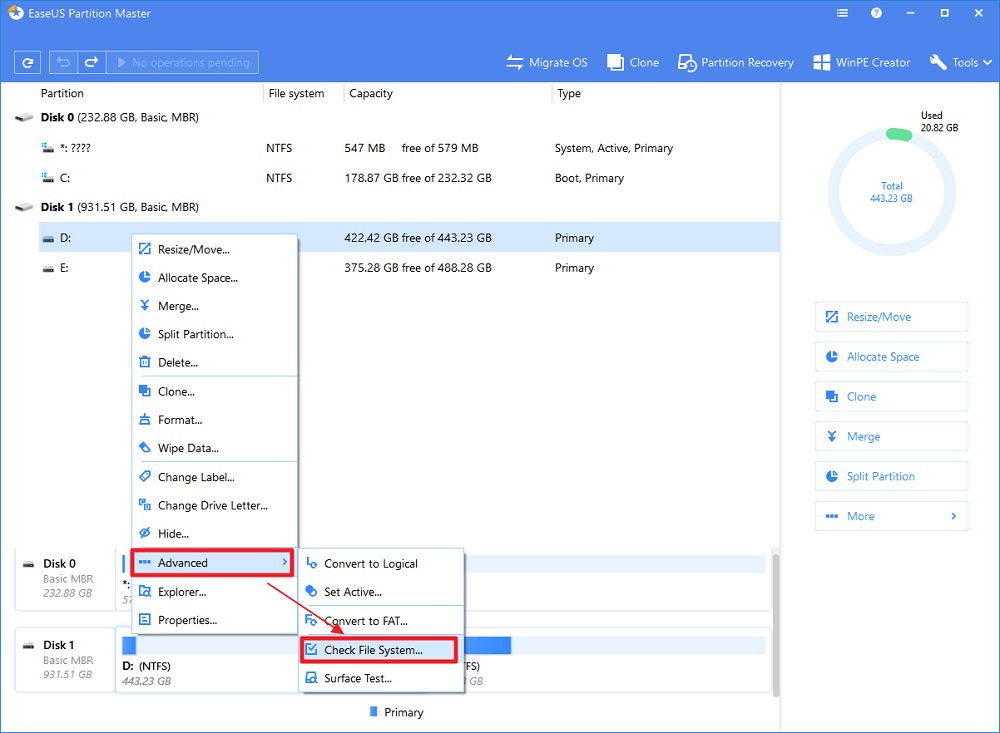 Step 3: The software will begin checking your partition file system on your disk. When it has completed, click "Finish".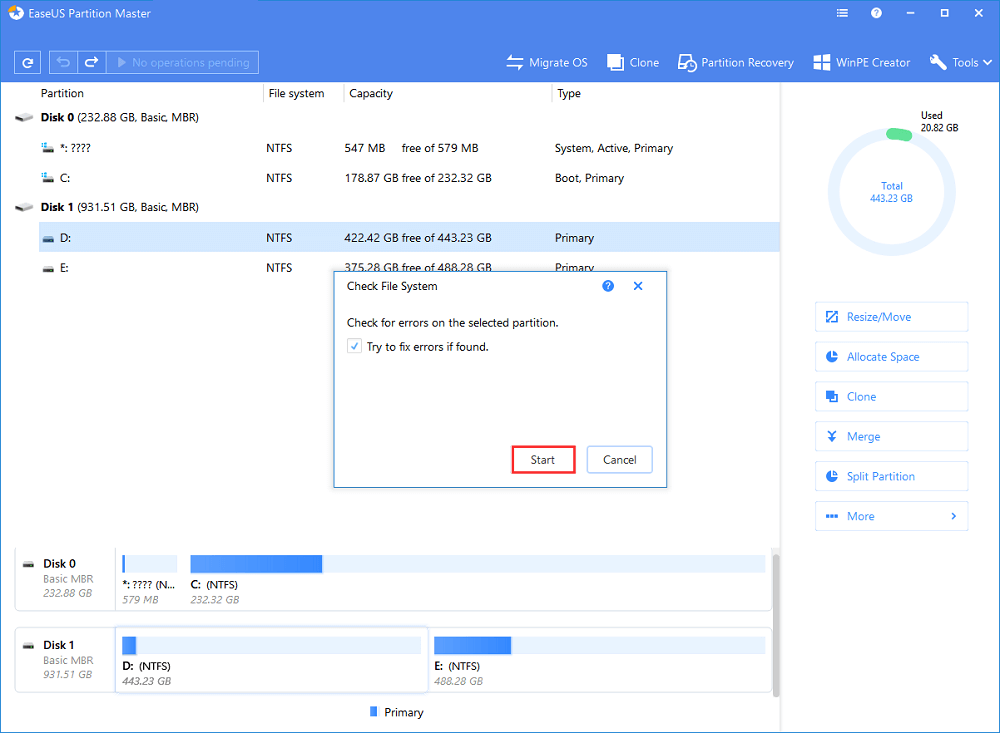 The three methods above can do you a favor effectively. You can choose the suitable one according to your needs. By the way, the professional Windows 10 disk management tool has a range of features are available to improve disk management and performance. You can not only try it to check disk errors but also use other features to improve your computer performance.
100% of people found this article helpful.
Frequently Asked Questions
Why Choose EaseUS Partition Master?

"I've used Partition Master Professional many times to create, delete, format, move, rename, and resize partitions." —PCWorld

"Partitioning tools have come a very long since the days of complicated command line utilities and EASEUS Partition Master is one of the most advanced programs available." —TECH ADVISOR

"I love that the changes you make with EaseUS Partition Master Free aren't immediately applied to the disks. It makes it way easier to play out what will happen after you've made all the changes." —Lifewire
Will the "Migrate OS" feature transfer the Windows system files only or the whole C drive?

To ensure that the migrated system will boot normally, the Migrate OS feature will transfer all the files in the system and the boot partitions. Generally, the boot partition is the C drive so the transfer will include all the files in C.
Does EaseUS Partition Master license apply to multiple computers?

The license of Partition Master Professional and Server editions can be used on 1 computer only, while that for for the Technician and Unlimited editions can be used on multiple machines.
What is the difference between EaseUS Partition Master Trial version and the Free version?

Free is for home users only, with most basic functions available such as partition resize and clone. While trial can help you understand how this product works and test what a full license can do on a business or server OS machine.
Will it cause any data loss after resizing the partition in EaseUS Partition Master?

Generally, it will not cause any data loss or boot issue by resizing a partition. However, in order to protect your data, we suggest that you backup the partition before resizing, in case of any unexpected situations such as power outages, computer hardware failures, etc. You can use EaseUS Todo Backup to backup the partition and its trial version is fully functioned for 30 days.
What should I prepare before resizing the partition?

On the partition that is going to be operated, there might be some files being occupied by other programs. To ensure a successful operation, we suggest that you close all the unnecessary software before resizing that partition. Otherwise, EaseUS Partition Master will detect the partition being locked by the other software and require a reboot to resize the partition under boot mode.
About EaseUS Partition Master
All-round disk & partition management software for personal and commercial use. Let it manage your storage drive: resize, format, delete, clone, convert, etc.