Available: Learn the easy options of checking disk usage or disk space on your Windows PC. Through this article to understand how to check it in detail. Additionally, for Mac and Linux OS users, go to the latter part of this guide.
Workable Solutions
Step-by-step Troubleshooting
How to View Disk Space Use in Windows 10/11

For Windows 10...Full steps

For Windows 11...Full steps

Linux Check Disk Space
Check Linux commands...Full steps
How to View Disk Space on Mac
Go to Get Info or About This Mac...Full steps
How to Free Up Space with EaseUS Partition Master
Run the "Allocate Space" function...Full steps
What is Taking Up Space on My Hard Drive?
Many things can take up space on your hard drive. The most common are probably files you have downloaded from the internet or received as attachments to emails. These can include photos, videos, music files, and documents. Another common source of large files is applications that you have installed on your computer. These can consist of programs like Photoshop, Microsoft Office, and games. Finally, your hard drive may also take up space with temporary files created when you use specific programs or visit certain websites. These files are generally not necessary and can be safely deleted.
How to View Disk Space Use in Windows 10/11
Go through to check used and free space of disk.
Check Hard Drive Usage On Windows 10:
Step 1. Right-click the Windows icon and choose Settings from the list.
Step 2. Click on the System and choose the Storage tab.
Step 3. Then you can see the default C drive's space.
Step 4. Also, you can click the "Show more categories" to check more.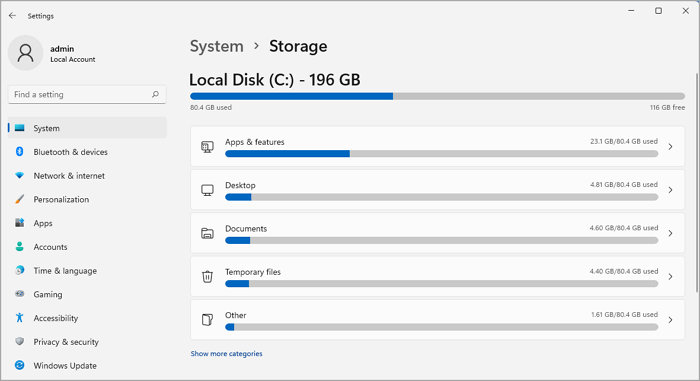 Step 1. Type Command Prompt in the search box.
Step 2. Click on the "Run as administrator."
Step 3. Type wmic diskdrive get size, and press Enter.
Then you can see the total disk size in number mode instead of GB.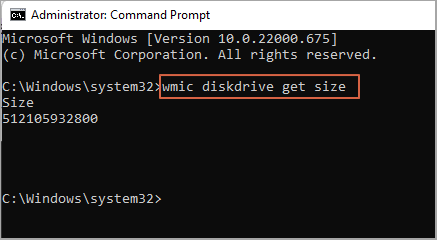 Note: To calculate disk number in GB: 1GB=1000MB, 120,000MB. You can check it and alter it to GB.
More Info: Linux Check Disk Space
Viewing disk space on Linux can be helpful for some reasons. For one, it can help you see how much space is available on your system and ensure you have enough room for your files. Additionally, viewing disk space can help you find and delete any unwanted files that are taking up space on your system. Finally, if you notice that your system's disk space is regularly getting low, it could indicate that you need to upgrade your storage capacity. Regardless, knowing how to check disk space on Linux is a valuable skill for any Linux user.
Use Linux Command to Check Disk Space
You can check total disk size with df command or fdisk command.
1. df Command
Equal to disk free, df command enables to show used space on the Linux operating system. Select one of the commands:
df -h: it directly shows disk space. (Recommend)
df -a: it shows the total disk usage. When the available field is 0, it shows as the same.
df -T: it shows the disk usage with the existing file system type.
df -i: it offers free and used incodes. 
We recommend using df -h.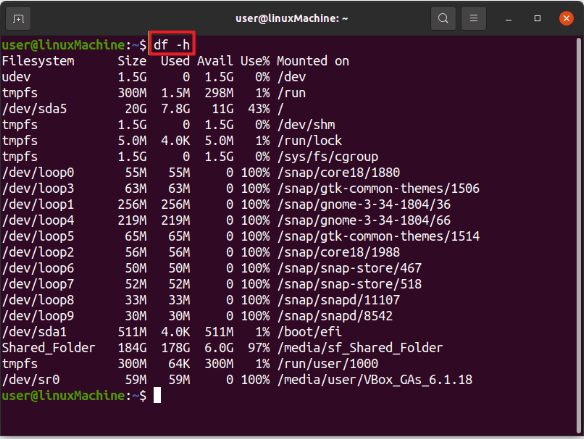 2. Fdisk -I Command
Type fdisk -I, and you can see disk size and other partition information.

3. Linux du command 
du -a: it lists disk usage of all files.
du -h: it displays disk usage of all directories.
du -s: it enables to check disk usage of a particular file or directory.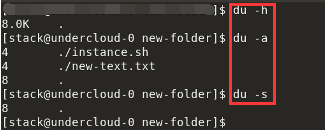 Other Commands:
Stat : it shows the size of file/directory
Is -al command: It displays a particular directory's contents and size.
Bonus Tip: How to View Disk Space on Mac
One reason you might want to view disk space on a mac is to check how much available space you have left. This is important because if you ever need to install new software or save new files, you need to ensure that there is enough free space on your computer. Additionally, viewing your disk space can help you identify any old or unused files that are taking up valuable space. If you delete these files, it will give you more room to work with. Another reason to view disk space is to check the health of your hard drive. If your hard drive is getting full, it can start to slow down your computer. By regularly checking your disk space, you can ensure that your hard drive is running smoothly and that there is no risk of it becoming overloaded.
Option 1. Check Used Space via About This Mac
Step 1. Click on the Apple menu (Apple Icon) and choose "About This Mac."
Step 2. Click the Storage tab in the top toolbar to see the disk space.
Option 2. Check How Much Disk Space with Get Info
Get Info is a comfortable way to check the total disk info. 
Step 1. Access Finder - Press Option+Command+Space
Step 2. Locate the targeted hard drive in Finder and select the drive icon.
If your hard drive appears on the sidebar, click it directly.
If your drive is not showing, follow Go > Computer to find the hard drive. 
Step 3. Then click the File menu and choose Get Info.
You can see the total capacity, available space, and used space.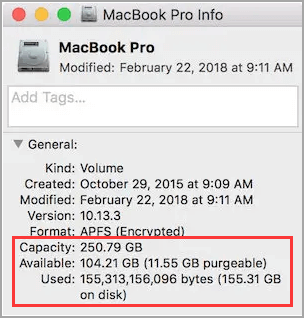 How to Free Up Space with EaseUS Partition Master
When your c drive is full, you can add more space to the partition to free up disk space. To do so, Windows disk manager, EaseUS Partition Master, is one of the reliable software that can help you.
Step 1. Right-click on the D: partition with enough free space and select "Allocate Space".
Step 2. Select the target partition - C: drive and drag the partition panel rightward to add the free space from D: drive to C: drive. Then click "OK" to confirm.
Step 3. Click the "Execute Task" button and click "Apply" to start the process of moving free space from D: drive to C: drive.
Conclusion
There are a few different ways to check disk usage and view disk space on a computer. You can check disk usage on a Windows computer by opening the Settings. You can view disk space on a Mac by opening the Finder and selecting About This Mac from the menu. A variety of programs available can provide more detailed information about disk usage and help you free up space. Whatever method you use, it's essential to keep an eye on your disk usage to ensure that your computer runs smoothly.
Updated by Tracy King 
Tracy joined in EaseUS in 2013 and has been working with EaseUS content team for over 7 years. Being enthusiastic in computing and technology, she writes tech how-to articles and share technical solutions about Windows & Mac data recovery, file/system backup and recovery, partition management and iOS/Android data recovery.

Roxanne is one of the main contributors to EaseUS and has created multiple posts on digital devices like PCs, Mobile phones, tablets, Mac, etc. She loves to share ideas with people of the same interest.