Summary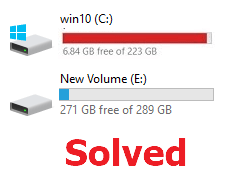 Is your hard drive full for no reason? Is C drive showing full but no files are there? Here are 10 solutions for you to solve the problem of a Windows 10/8/7 disk full but nothing on it. You can try them one by one to solve your problem perfectly.
Quick Navigation :
Overview of a hard drive full for no reason
Why does the hard drive show full when no files taking up space literally? The truth is that many users are experiencing the "full" issue at the moment. Let's see an example from www.bleepingcomputer.com/forums/.
Hard drive nearly full but no files are filling it:
"One of my hard drive partitions shows 424GB used space (It's nearly full) but I can account for 113GB. I can't figure out what's filling up the other 311GB. The whole drive is a 1TB HDD while I've partitioned in two. The G: drive is fine and has plenty of free space. The F: drive is the one with the problem."
10 fixes for a hard drive full but is not in Windows 10/8/7
The below part consists of all possible solutions to the unconsciously filling up disk space in Windows 10, 8, and 7. You can try them one by one until you resolved the issue entirely. Besides, the solutions can apply to some relevant searches. For example, "hard disk full but no files", "external hard drive says it's full but it's not", "my hard drive is full but I don't know why", "c drive showing full but nothing on the computer", etc.
 Tip

The 10 troubleshooting ideas are tied to work together. By taking all the steps, you can optimistically release a considerable amount of free space.
Fix 1. Verify the virus problem
The current used space is not in compliance with the actual size of existing files and folders, then consider that something is stealing the disk space. First of all, you should suspect a virus or some malicious software you unknowingly installed from an email link or somewhere else. Run the anti-virus software on your computer, and start a thorough disk scan for all the suspicious programs. Once found any, uninstall and remove them all clean. For those who don't have a virus protection program, Kaspersky and Malwarebytes are reliable and helpful.
If you prefer using CMD to remove a virus from a hard drive or external storage drive, visit the linked page for a tutorial.
Fix 2. Check disk errors
The CHKDSK utility is easy-to-use and accessible for all-level Windows users. It's developed to check, verify and fix logical file system errors, which might cause a hard drive not functioning well, showing a wrong disk usage.
Step 1. Press Windows + R keys to bring up the Run box. Type cmd and hit Enter.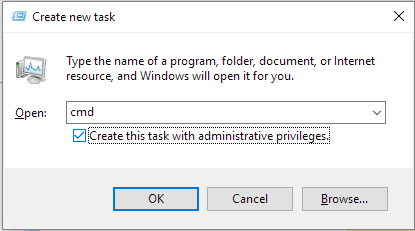 Step 2. In the Windows Command Prompt, type chkdsk [drive letter]: /f /r /x. For example, the Dive F in the beginning scenario is with the problem, so we replace the drive letter parameter with F.
Explanation of each parameter:
"F" means the drive letter of the partition you want to repair
chkdsk /f is running to fix any found errors
chkdsk /r is running to locate for bad sectors and recover any readable information
chkdsk /x is running to force the volume you're about to check to be dismounted before the utility begins a scan
Fix 3. Show hidden files & folders
For the case that hard drive showing full but no files were seen, you can try to unhide files and folders to determine whether the disk space is occupied by hidden items.
How to show hidden files/folders in Windows 10/8/7:
Step 1. Open "Control Panel" -> "File Explorer Options" -> Click "View" tab -> Check the box in front of "Show hidden files, folders and drives".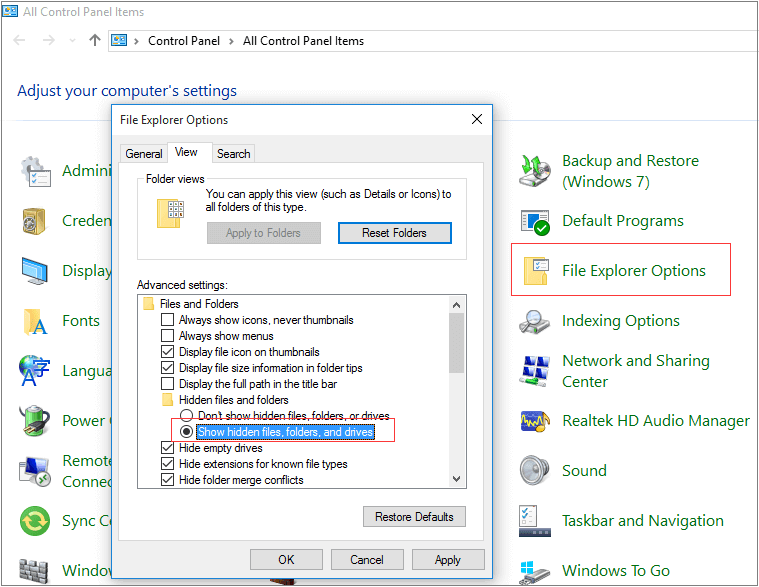 Step 2. Return to the problematic drive and check how much disk space is eaten up by the hidden items. If it's necessary, delete the bloated ones.
Fix 4. Delete System restore points and shrink the disk usage
This is an advanced method you can rely on, which is to watch close to the System Restore function in Windows computer. For someone who turned on the automated Windows backup function and kept creating backups, there is a 99% chance that it's the backup files eating up the disk space without your notice. In this case, you need to tweak the settings in the Windows Backup and Restore program, to reduce the disk space usage used for system protection in the future. Meanwhile, delete the huge backup images that Windows has created for you.
Step 1. Open "Control Panel" -> "System" -> "System Protection" -> click the "Configure" under Protection Settings.
Step 2. System protection is useful and essential for daily protection of a computer from an accidental crash or unexpected data loss. Hence, we don't recommend you disable this feature. When you open this window and find the option "Turn on system protection" is on, it means that you are saving backups all the time. Leave it on and go to the next section.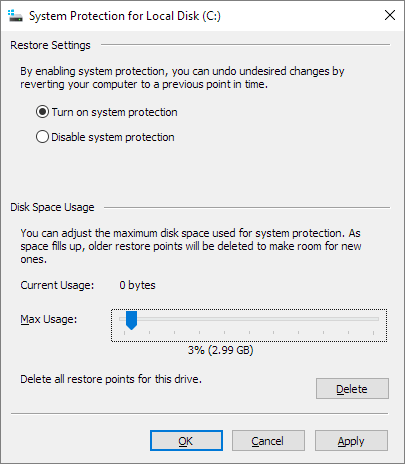 Step 3. Under the "Disk Space Usage" area. As you can see, you can adjust the maximum disk space used for system protection. As space fills up, older restore points will be deleted to make room for new ones. Drag the handle to adjust the percentage, 3%~6% is usually reasonable for this case.
Step 4. Go on with the third option "Delete all restore points for this drive". This includes all system settings and previous versions of files. Click "Delete".
After customizing all the settings in the Windows System Protection, you will start to create new backups that won't exceed the size of defined disks usage. The new backup will overwrite the past restore points, to avoid the drive turning overstuffed now and then.
Fix 5. Hide the recovery partition by removing its drive letter
This is an exclusive method for Windows users who installed the April 2018 Update and didn't update since then. If you see a drive partition in Windows File Explorer and Windows Disk Management showing almost full with a red bar, and didn't remind of where it comes from, it might be the problem of the Windows recovery partition. You open the drive but find nothing on it. Though you can just ignore this event, to leave you a peace of mind, you can try to remove the partition's assigned drive letter, and let it disappear from your sight.
Step 1. Press Windows + R keys to bring up the Run box. Type cmd and hit Enter.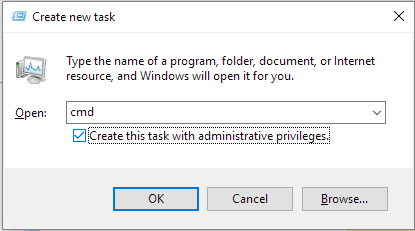 Step 2. In the Windows Command Prompt, type the command line each after and hit Enter. Replace the content in <> by your own volume number and drive letter.
Step 3. Close the Command Prompt window.
Fix 6. Safe cleanup of junk files and large files
Instead of teaching you how to use Disk Cleanup to delete unwanted files and temporary internet files in order to free up some space, it's easier to start out by using a third-party free partition manager software, because all Windows versions are doing the same with it.
The following steps will show you how to clean up junk files on your hard drive. If you want to get rid of the large files from your disk, choose Large File Cleanup in step 2 to do it. Regularly clearing junk files and useless large files would help you reclaim around 500MB disk space, depending on how frequently you use the computer.
Step 1: Launch EaseUS Partition Master. Select "Tools" and click "System Optimization".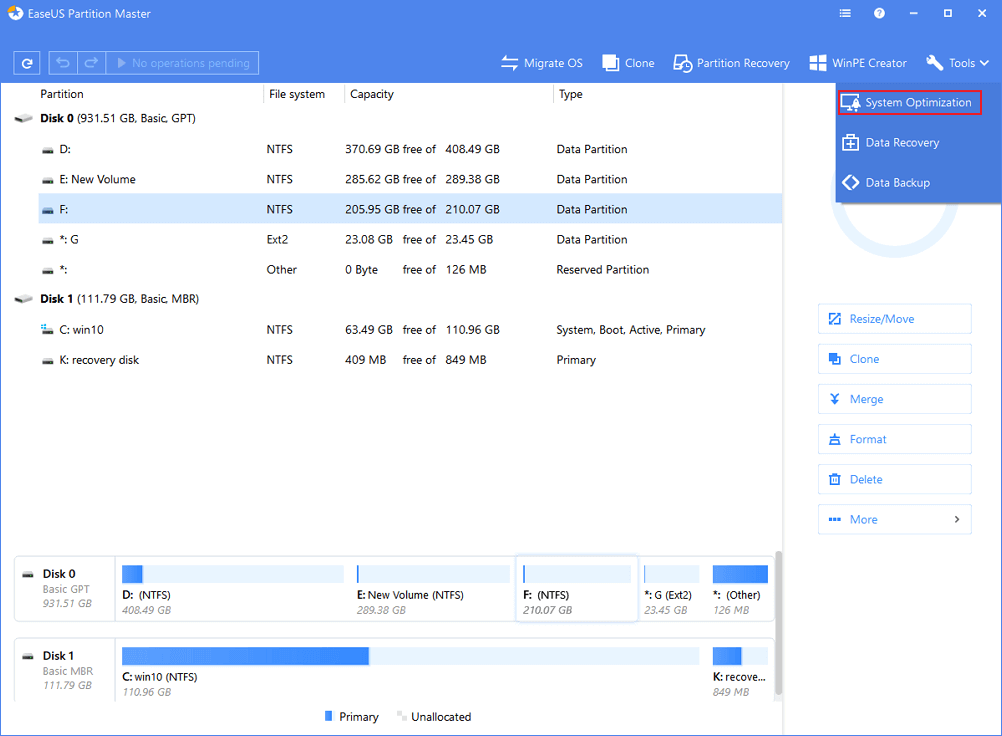 Step 2: Click "Junk File Cleanup". Then you can click "Analyze" to let EaseUS Partition Master find junk files on your PC.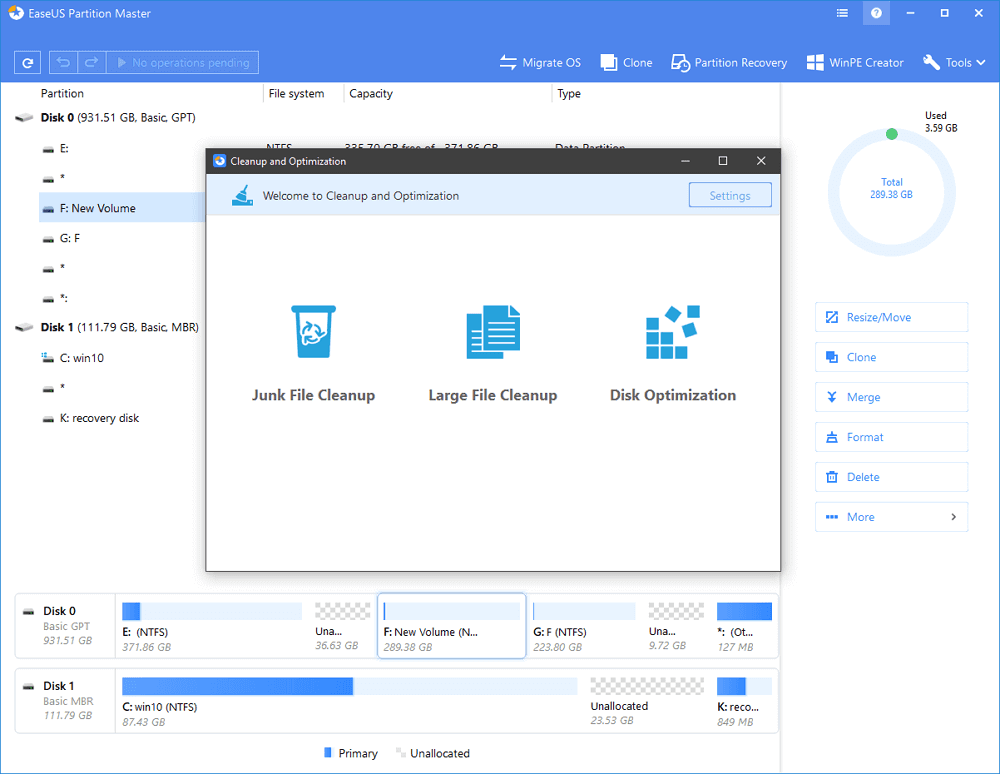 Step 3: You can check and choose junk files and click Clean up. All of the selected junk files will be cleaned and deleted from your PC. Click "Yes" to clean up junk files.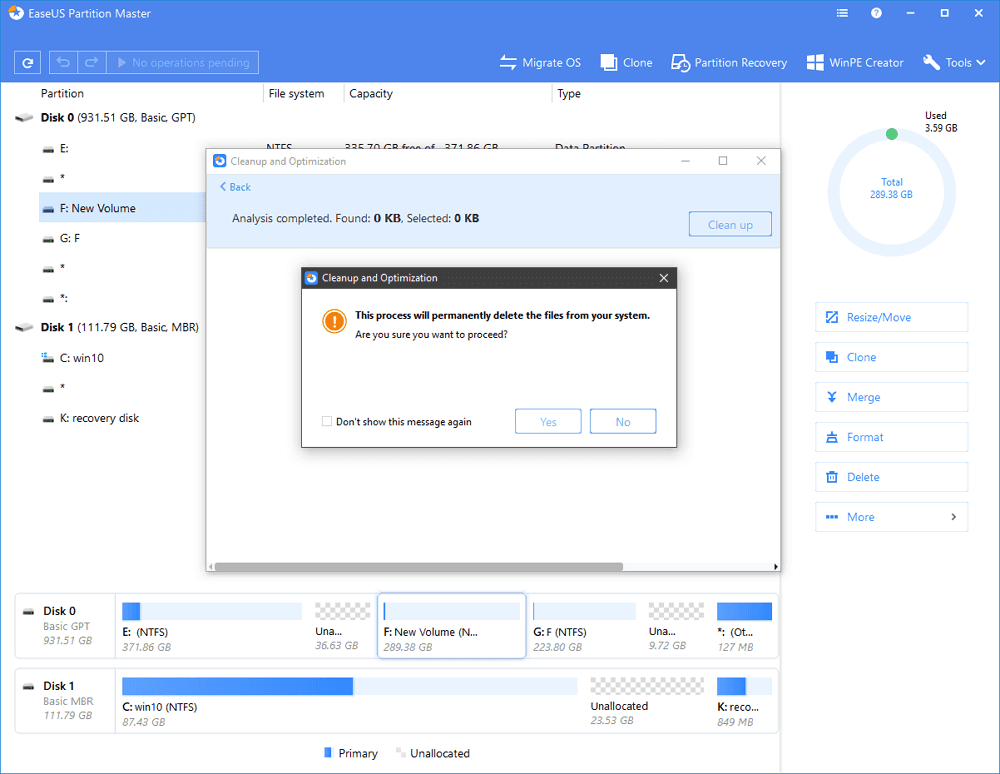 Fix 7. Delete temporary files
My C drive is full without reason. Are you one of the members who is going through the low disk space warning on a system drive? Then it's time to raise attention to the temporary files, which usually refer to leftover files, such as Windows installation files, upgrade logs, browse caches, etc.
Step 1. Press Windows + R keys to bring up the Run box, type prefetch and hit Enter.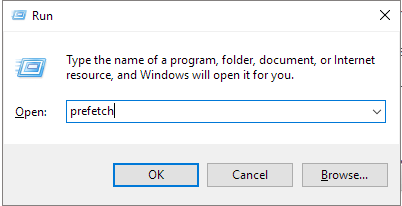 Step 2. Press Ctrl + A to select all and press Delete. Skip the one that is currently using.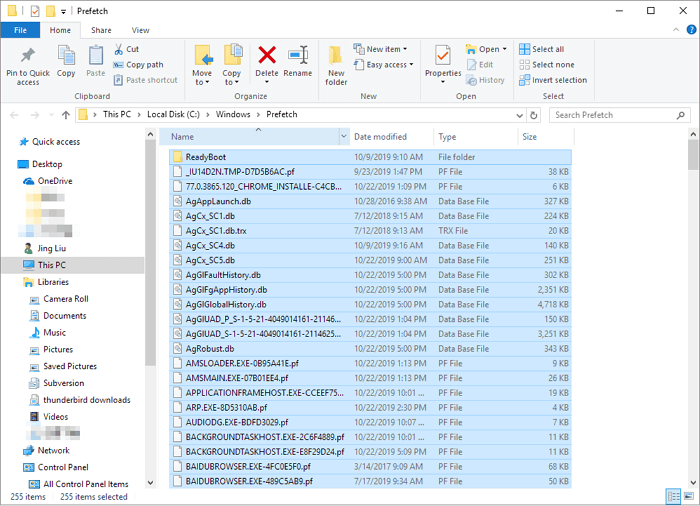 Step 3. Go on typing %temp% in the Run box and hit Enter.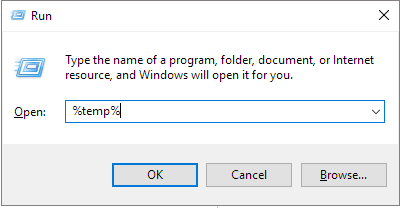 Step 4. Press Ctrl + A to select all and press Delete. Skip the one that is currently using.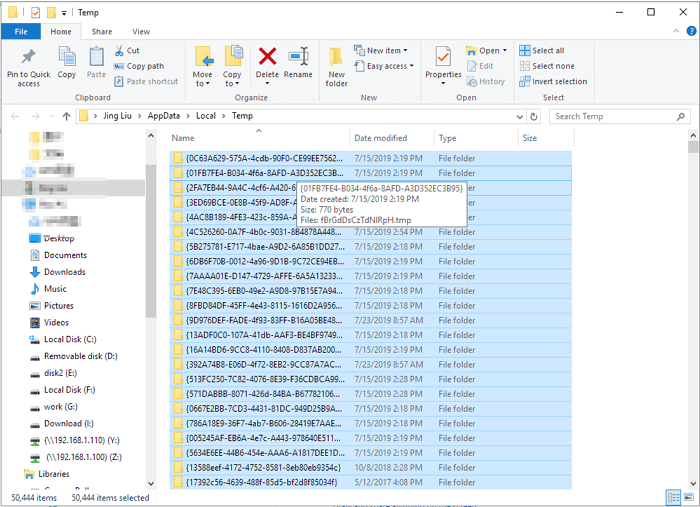 Step 5. Once again type recent in the Run box and hit Enter.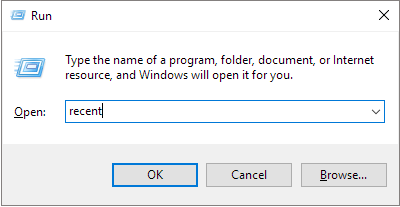 Step 6. Press Ctrl + A to select all files and press Delete. Skip the one that is currently using.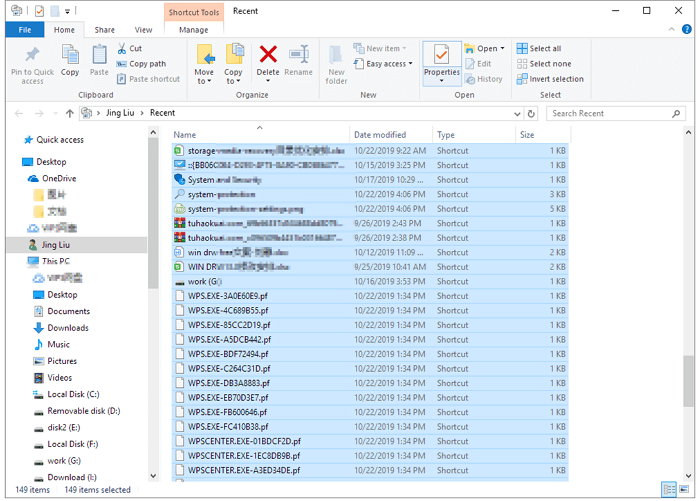 Fix 8. Delete unwanted Windows Update
As the accumulation of Windows update files, the C drive space is easily filling up if you rarely do the cleaning of the past Windows update files.
Step 1. Right-click on the C drive and then select the folder software distribution and then Download.
Step 2. Choose all files and delete all from the folder.
Fix 9. Empty Windows recycle bin
Don't neglect the recycle bin which holds quite a lot of abandoned files. A crowded recycle bin is accused of taking up some disk space until you empty it.
Step 1. Locate the recycle bin icon, right-click on it and choose "Open".
Step 2. Press Ctrl + F1 to expand the ribbon of Recycle Bin Tools, and choose the first option "Empty Recycle Bin".
In my case, I cleared the recycle bin and spared about 13GB disk space.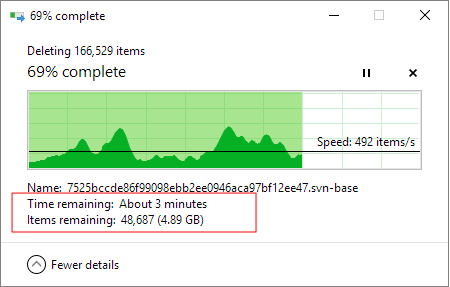 Fix 10. Replace a drive without reinstalling Windows
I hope you've seen a satisfying result after going through this page. Except there is a real hard disk problem that is draining the disk space abnormally, you should have requested the free space back, for a little or plenty. If nothing helps in the end, it's time for you to consider a hard drive replacement. It can be simple to swap an old hard drive to a new one, without meeting the same problem, as long as you find the right method. EaseUS Partition Master, as a versatile disk & partition management software, can help you not only clean up an overused hard disk but also let you seamlessly switch to a new drive without reinstalling Windows OS or programs.
Step 1: Select the source disk.
Open EaseUS Partition Master. Right-click the disk that you want to copy or clone. Then, select "Clone".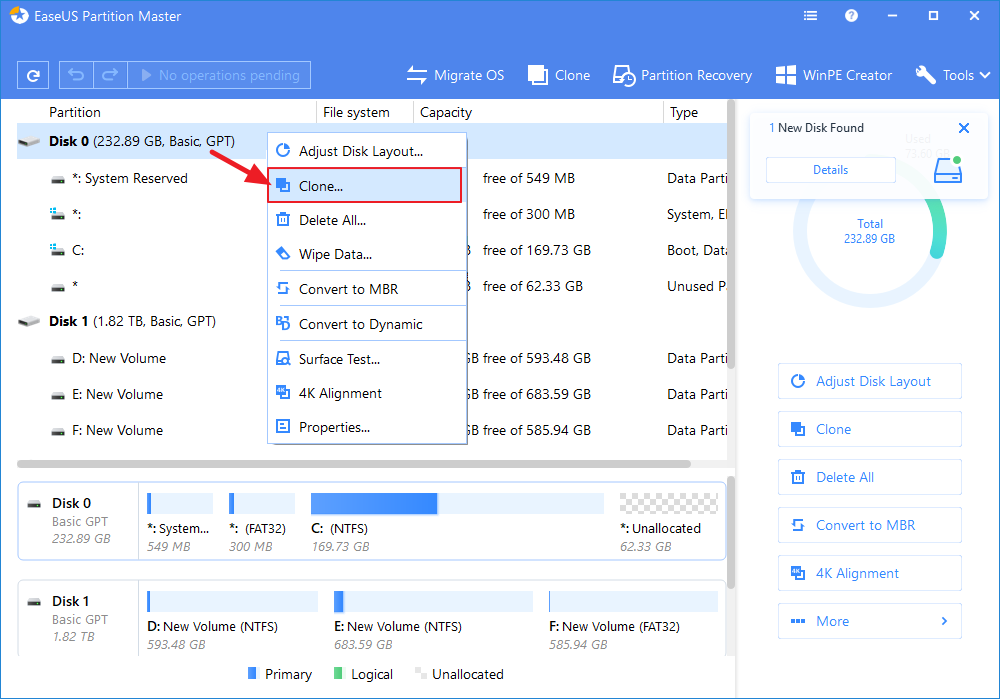 Step 2: Select the target disk.
Step 3: View the disk layout and edit the target disk partition size.
Then click "Continue" when the program warns it will wipe out all data on the target disk. (If you have valuable data on the target disk, back up it in advance.)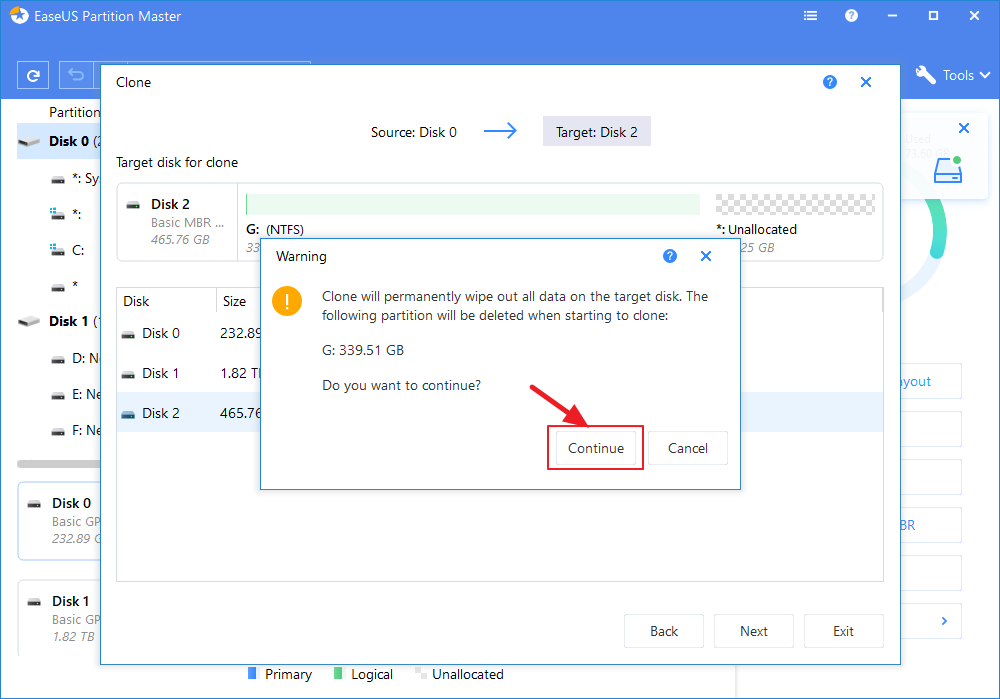 You can select "Autofit the disk", "Clone as the source" or "Edit disk layout" to customize your disk layout. (Select the last one if you want to leave more space for C drive.)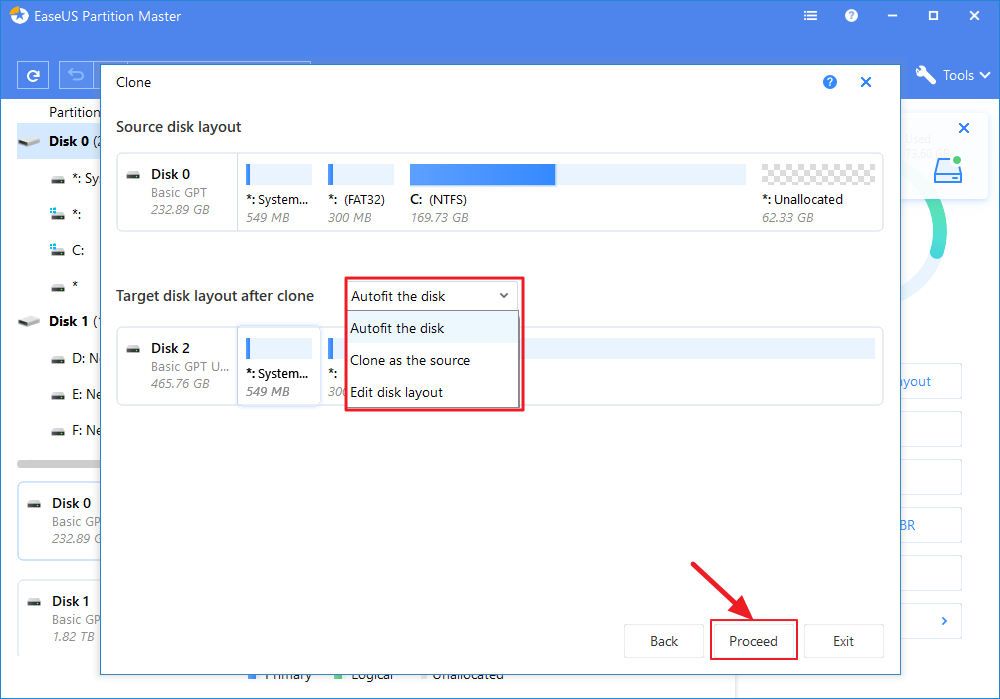 Step 4: Execute the operation.
Click the "Execute the operation" option and click "Apply" to start the disk cloning process.
Conclusion
In a nutshell, we presented Windows users with 10 ideas on solving a hard drive full problem, though the actual files and folders didn't take that much space on it.
Each solution is workable to apply in Windows 10/8/8.1/7, and the disk cleaning part (Fix 6~9) can be a part of a regular computer cleanup. This is a cost-effective way to protect your hard drive, especially the system C drive from filing up, to result in the slow boot or poor performance issues. And it's kind to mention that, EaseUS Partition Master is a worth trying program for all Windows home or business users, for it's designed to solve most of the daily computer problems. For instance, extend/shrink a drive partition, format a drive, wipe a partition, migrate OS from one hard drive to another, check disk errors, and more features you can find in this video.
100% of people found this article helpful.
Frequently Asked Questions
Why Choose EaseUS Partition Master?

"I've used Partition Master Professional many times to create, delete, format, move, rename, and resize partitions." —PCWorld

"Partitioning tools have come a very long since the days of complicated command line utilities and EASEUS Partition Master is one of the most advanced programs available." —TECH ADVISOR

"I love that the changes you make with EaseUS Partition Master Free aren't immediately applied to the disks. It makes it way easier to play out what will happen after you've made all the changes." —Lifewire
Will the "Migrate OS" feature transfer the Windows system files only or the whole C drive?

To ensure that the migrated system will boot normally, the Migrate OS feature will transfer all the files in the system and the boot partitions. Generally, the boot partition is the C drive so the transfer will include all the files in C.
Does EaseUS Partition Master license apply to multiple computers?

The license of Partition Master Professional and Server editions can be used on 1 computer only, while that for for the Technician and Unlimited editions can be used on multiple machines.
What is the difference between EaseUS Partition Master Trial version and the Free version?

Free is for home users only, with most basic functions available such as partition resize and clone. While trial can help you understand how this product works and test what a full license can do on a business or server OS machine.
Will it cause any data loss after resizing the partition in EaseUS Partition Master?

Generally, it will not cause any data loss or boot issue by resizing a partition. However, in order to protect your data, we suggest that you backup the partition before resizing, in case of any unexpected situations such as power outages, computer hardware failures, etc. You can use EaseUS Todo Backup to backup the partition and its trial version is fully functioned for 30 days.
What should I prepare before resizing the partition?

On the partition that is going to be operated, there might be some files being occupied by other programs. To ensure a successful operation, we suggest that you close all the unnecessary software before resizing that partition. Otherwise, EaseUS Partition Master will detect the partition being locked by the other software and require a reboot to resize the partition under boot mode.
About EaseUS Partition Master
All-round disk & partition management software for personal and commercial use. Let it manage your storage drive: resize, format, delete, clone, convert, etc.