What is the "low disk space" warning?
"Low Disk Space" is a warning message in the Windows operating system, after which follows a complementary error message like "You are running out of disk space on Local Disk (X:)", and it offers a link to where you can see if you can free space on this drive.
When such a low disk space warning shows up, how much free space should you have so far? It depends on how frequently you received the notification. In general, there are three degrees of warnings for the same error message. Refer to the following table.
| Frequency | How much free space left |
| --- | --- |
| Shows up once, for 10 seconds | 200MB |
| Shows up every four hours, each for 30 seconds | 80MB |
| Shows up every five minutes, each for 30 seconds | 50MB |
As you can tell from the exact size of free space when Windows prompts low disk space, you can hardly save new data, download apps, play games or install a recent Windows update. What's worse, PC performance may be affected. You must free up a significant amount of disk space to get rid of the constantly popping up notification.
How to Fix Low Disk Space in Windows 10/8/7
Sometimes, you might think it easy to ignore the popup warning or find a way to disable it for permanent. Indeed, modifying the registry value can stop the notification showing up again, but that's not the thing we talk about here. In this article, we introduce an all-round partition manager software for personal users, to let them thoroughly solve low disk space in Windows operating systems in 5 ways, including [1] junk file cleanup, [2]large file cleanup, [3]disk optimization, [4]partition resize, and [5]partition combination.
In the beginning, download the all-purpose free partition manager you need - EaseUS Partition Master. This is a third-party Windows disk management tool that manages Windows users' computers in every way, with dozens of practical features embedded. The worldwide users are so accustomed to having this handy software installed that they can easily and safely extend/shrink a partition, format a partition, convert a file system, migrate Windows OS, clone a hard drive, etc.
Next, follow the 5 tips to make full use of the EaseUS Partition Master to solve the 'low disk space' problem.
Method 1: Clean up junk files
Method 2: Clean large files
Method 3: Extend the drive that's running low on free space
Method 4: Combine the low-space drive with a neighboring drive
Method 5: Merge the drive with a non-adjacent drive
Tip 1. Clean junk files to free up the system drive space
Junk files include systems junk files (temporary files, Windows system logs...), and browser data, Windows applications data and all the unknown and unuseful data that takes up space. Once a Quora user said, for average computer users who use a computer 8 hours a day, if you didn't do a junk files clean up like in a year, you'll free up around 15GB of space. Where to find abandoned files by OS and users themselves? Run EaseUS partition manager software and look for yourself.
Step 1: Launch EaseUS Partition Master. Select "Tools" and click "System Optimization".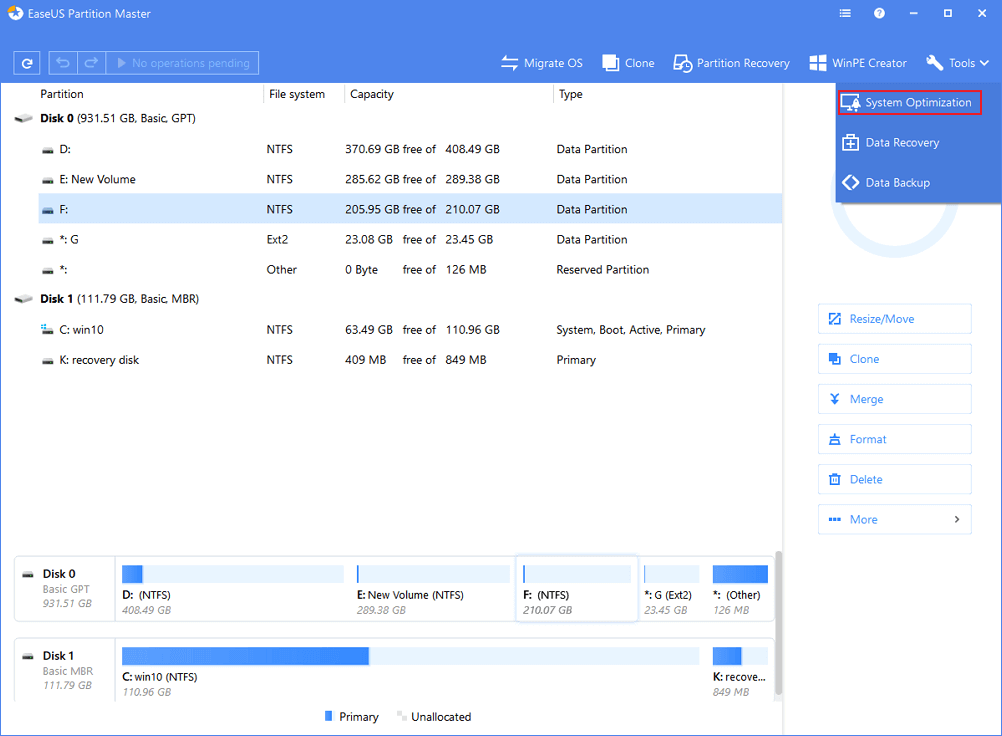 Step 2: Click "Junk File Cleanup". Then you can click "Analyze" to let EaseUS Partition Master find junk files on your PC.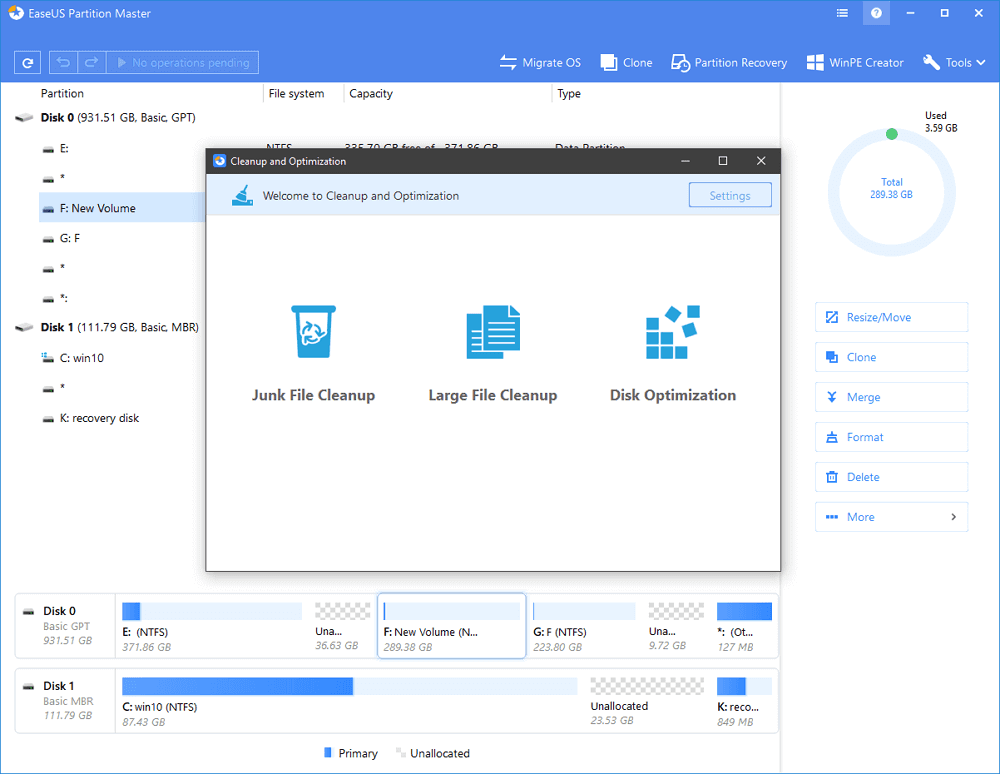 Step 3: You can check and choose junk files and click Clean up. All of the selected junk files will be cleaned and deleted from your PC. Click "Yes" to clean up junk files.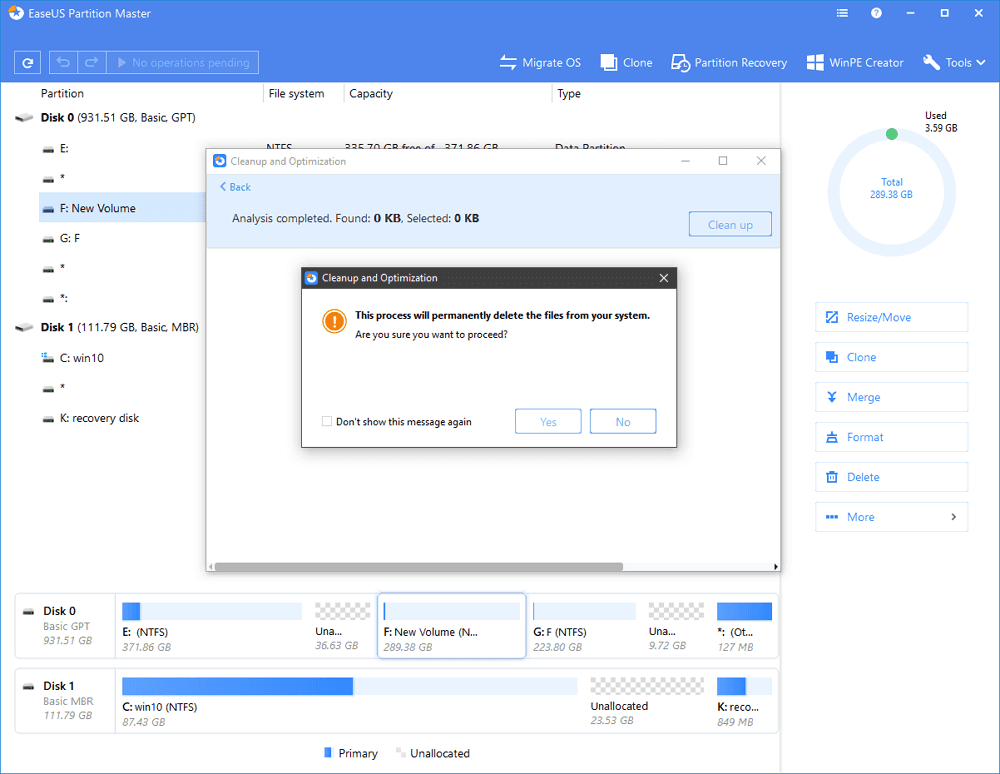 Tip 2. Clean large files
Some professions, such as designers or photographers, corporate with extremely large files. A pile of 100MB~10GB documents, pictures, zip files, ebooks or movies are account for most of the low disk space problem on a computer. You don't need to delete all the large files, but an efficient way to scan all existing large files with the exact file size information for reference. Use EaseUS Partition Master's large file cleanup feature, after a complete disk scan, it will return a result of files, with information of name, size, date created and file location, so you can choose which you will no longer use. Just delete the ones and free up some disk space.
Open System Optimization as Step 1 taught, this time choose Large File Cleanup and then follow the wizard to delete unwanted large files.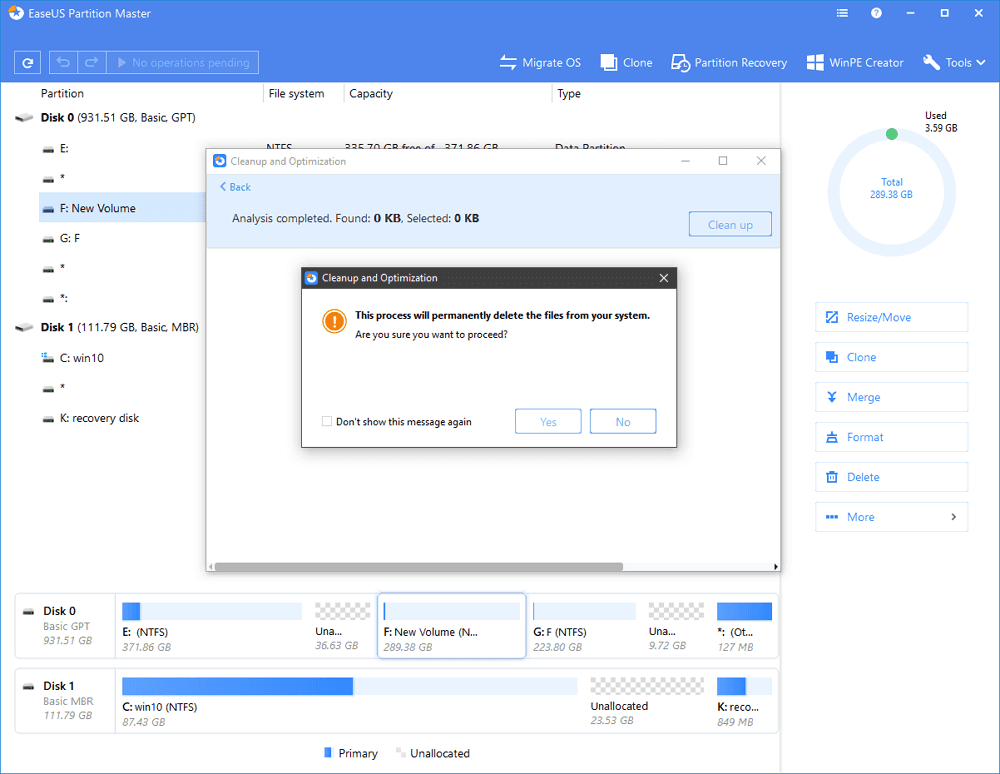 Tip 3. Extend the drive that's running low on free space
Freeing up disk space by deleting junk files and large files are typically basic operations to deal with low disk space. When a drive partition like system drive C or data partition D is filled with a rad bar, try to look at the other partitions. Is there much free space available? If yes, you can try to extend the currently running low disk space drive as instructed. For example, the C drive space is out, and you are going to extend the C drive.
Step 1: Right-click on a partition next to the C: drive and select "Resize/Move". Drag the end of the partition that is next to the C: drive and shrink it, leaving unallocated space next to the system C: drive, and click "OK". Now right-click on the System C: drive and select "Resize/Move".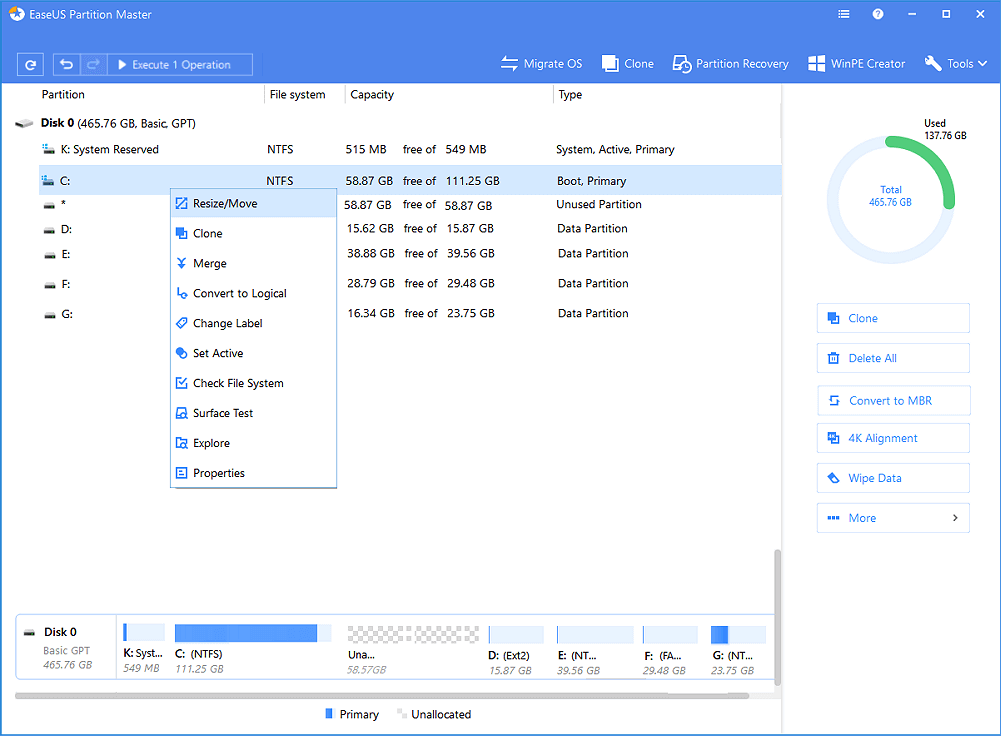 Step 2: To add space to the C: drive, drag the system partition end into the unallocated space.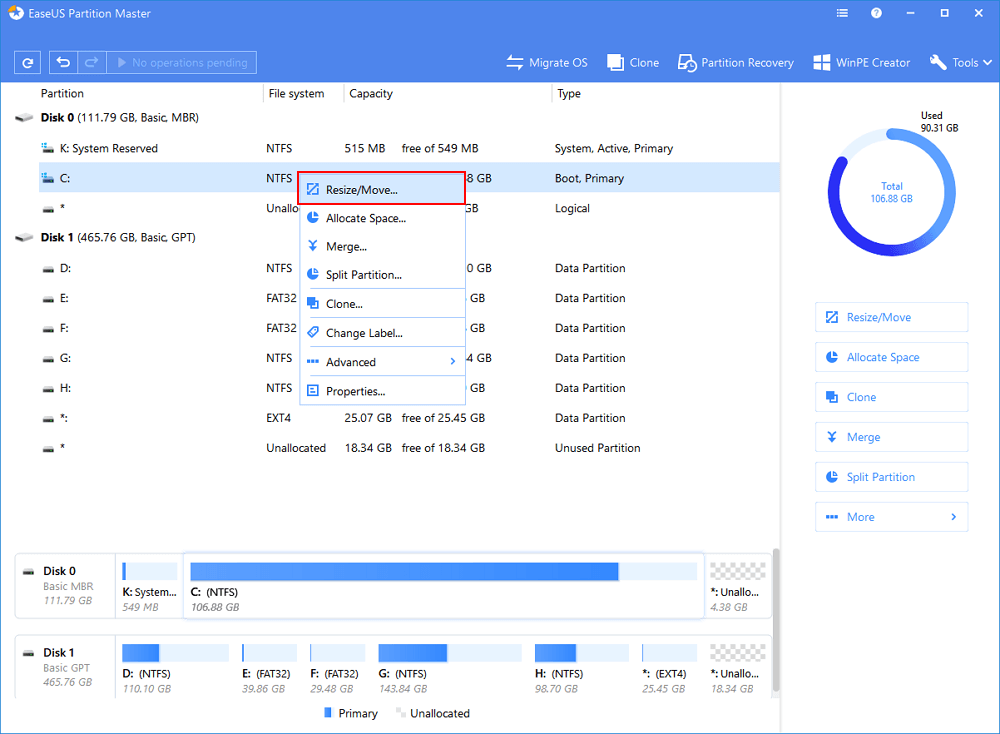 Step 3: Click the "Execute Operation" button, it will list the pending operations, and click "Apply" to execute the changes and extend the C drive.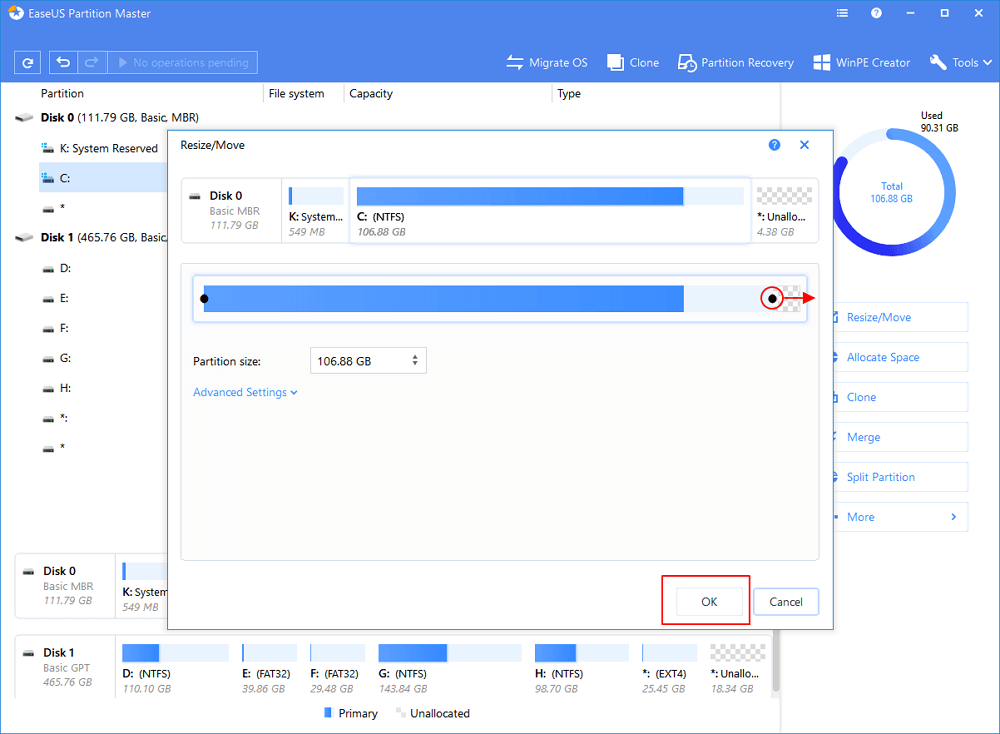 Tip 4. Combine the low-space drive with a neighboring drive
Extend partition requires unallocated space from the other drive. You can try to merge two adjacent partitions into one to solve the low disk space on one drive to achieve the same effect. For example, E drive is running out of space, and you're going to merge E and F into one to get rid of the low disk space warning.
Step 1: Install and launch EaseUS Partition Master on your PC
Right-click on the partition which you want to add space to and keep on the hard drive, and select "Merge".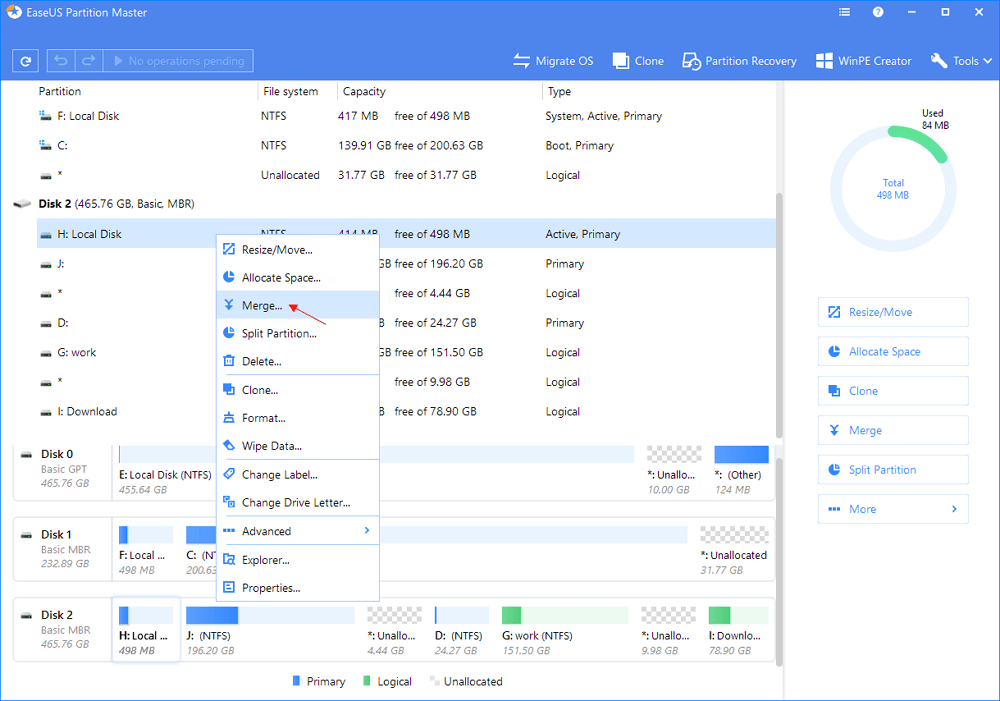 Step 2: Select partitions to merge
Step 3: Merge partitions
Tip 5. Merge the drive with a non-adjacent drive
It's also possible for EaseUS Partition Master to merge two non-adjacent partitions. To greatly ease the worry of users who don't see much free space on drive F, but drive G.
Step 1. Locate the Target Partition on EaseUS Partition Master
To start extending partition, you should first launch EaseUS Partition Master and locate the target partition which you would like to extend.
Step 2. Extend the Target Partition
If there is unallocated space left on your disk, use the Resize/Move feature to extend partition with the following tips:
1. Right-click on the target partition which you would like to extend and select "Resize/Move".
2. Drag the partition panel rightward or leftward to add unallocated space into your current partition and click "OK" to confirm.
You may also use the Partition size option to adjust and extend the target partition.
If there is no unallocated space on your disk, use the Allocate Space feature to extend the desired partition with the below tips:
1. Right-click on a partition with enough free space and select "Allocate Space" so as to allocate the free space to the target partition.
2. Select the target partition that you need to extend. And drag the partition panel rightward or leftward so as to add space allocated from the source partition to the target one. Then click "OK" to confirm.
Step 3. Execute Operations to Extend Partition
Click the Execute Operation button and click "Apply" to keep all the changes.
 Important

Buggy software or a virus can destroy your system files, draining hard drive space. If you see a hard drive like C drive is filling up rapidly, it's an unusual factor of low disk space as described in the coming part. In this case, use an antivirus program to run a virus scan and cleanup. If this doesn't fix the problem, you might need to reset Windows to an earlier point/factory settings.
How to Effectively Manage Hard Drive Space for Future
I hope that EaseUS Partition Master has released a considerable amount of disk space for at least a short-term use. It always works by cleaning unwanted files and uninstalling unnecessary programs, but you may need to learn some basics to prevent future low disk space associated warnings. Here are some tips that are useful in managing your computer hard drive in a logical and clean way. Always bear in mind, good habits are important to prolong a computer's life.
The following are 5 tips of developing a good habit of smartly using local hard drive space and solve low disk space issue.
Tip 1. Prepare a removable disk for important large files
Personal files such as videos, music, photos, and documents can take up a lot of disk space on your computer. They are important, and usually for long-term preservation.
Important files like those are seldom for use, so it's a good idea to prepare a micro SD card or a USB flash drive to keep them. To reduce the heavy load of local hard drives.
Tip 2. Turn on cloud storage service
Cloud is also a good place to save large files, to reduce the disk usage, at the same time, a very good backup location for your valuable data files.
Tip 3. Install programs on another drive instead of the default
C drive, as we know, is for system installation, and it's closely related to system performance. Low C drive space would affect OS performance, making OS crash all the time. So, when installing programs, customize another location instead of choosing the default C drive.
Tip 4. Empty recycle bin on a regular basis
Windows recycle bin is for holding deleted files and folders for the long term, in case you will need to recover deleted files someday after deletion. But recycle bin folder with too many files there also takes up a plenty of disk space. Regularly cleaning up the recycle bin will help prevent the drive from filling up and running out of free space.
Tip 5. Delete duplicate files
It's inevitable to produce duplicate files. Do not let many copies of the same file eats up your valuable hard drive space.
100% of people found this article helpful.
Frequently Asked Questions
Why Choose EaseUS Partition Master?

"I've used Partition Master Professional many times to create, delete, format, move, rename, and resize partitions." —PCWorld

"Partitioning tools have come a very long since the days of complicated command line utilities and EASEUS Partition Master is one of the most advanced programs available." —TECH ADVISOR

"I love that the changes you make with EaseUS Partition Master Free aren't immediately applied to the disks. It makes it way easier to play out what will happen after you've made all the changes." —Lifewire
Will the "Migrate OS" feature transfer the Windows system files only or the whole C drive?

To ensure that the migrated system will boot normally, the Migrate OS feature will transfer all the files in the system and the boot partitions. Generally, the boot partition is the C drive so the transfer will include all the files in C.
Does EaseUS Partition Master license apply to multiple computers?

The license of Partition Master Professional and Server editions can be used on 1 computer only, while that for for the Technician and Unlimited editions can be used on multiple machines.
What is the difference between EaseUS Partition Master Trial version and the Free version?

Free is for home users only, with most basic functions available such as partition resize and clone. While trial can help you understand how this product works and test what a full license can do on a business or server OS machine.
Will it cause any data loss after resizing the partition in EaseUS Partition Master?

Generally, it will not cause any data loss or boot issue by resizing a partition. However, in order to protect your data, we suggest that you backup the partition before resizing, in case of any unexpected situations such as power outages, computer hardware failures, etc. You can use EaseUS Todo Backup to backup the partition and its trial version is fully functioned for 30 days.
What should I prepare before resizing the partition?

On the partition that is going to be operated, there might be some files being occupied by other programs. To ensure a successful operation, we suggest that you close all the unnecessary software before resizing that partition. Otherwise, EaseUS Partition Master will detect the partition being locked by the other software and require a reboot to resize the partition under boot mode.
About EaseUS Partition Master
All-round disk & partition management software for personal and commercial use. Let it manage your storage drive: resize, format, delete, clone, convert, etc.