Format External Hard Drive with Multiple Partitions
"How do I reformat a multi-partition external hard drive in Windows 10? I have an existing HD for backup. Currently, it has 3 partitions. Can someone please advise how to format the external hard drive with multiple partitions into a single NTFS partition?"
Two Ways to Format External Hard Drive with Multiple Partitions
Most times, Windows desktop or laptop computer users tend to partition a hard drive into many volumes on purpose. With several independent disk partitions, users can easily and clearly manage various kinds of data in classification. However, not all people are used to build many chunks on a hard disk. There is a group of users asking our help to combine partitions into one, while the other group even wants to format an external hard drive with multiple partitions, leaving only one partition on the disk for special use.
No matter how many times you've tried to format an entire disk for once in Windows, you'll certainly fail. The inbuilt Windows programs, including Windows Explorer and Windows Disk Management, only allow users to format a single partition to an available file system. In order to format a multi-partition external hard drive, you'll need further hard work. In general, there are two accesses to achieve their goal.
#1. Delete all existing partitions and create a new simple volume (Erase data)
#2. Merge all partitions in the external hard drive into one (Keep data)
For your notice, both are attainable options to format all partitions on an external hard drive. As for capable tools that you can utilize, Windows Disk Management can do #1 well in deleting partitions and creating a new one. Whereas the third-party partition manager - EaseUS Partition Master can do both  #1 and #2, actually in a more efficient way.
#1. Format External Hard Drive with Multiple Partitions Using Disk Management
If you prefer adopting an inbuilt program, at the same time, with no vital data to be protected, Windows Disk Management can help you format the external hard drive by deleting each partition as well as data first, and then let you create a new one on the unallocated space.
Step 1. Connect the external hard drive to a Windows PC.
Step 2. Press "Windows+R" to open Run, type diskmgmt.msc in the empty box and tap "OK" to open disk management tool.
Step 3. Locate the external hard disk, right-click on every partition and click "Delete Volume".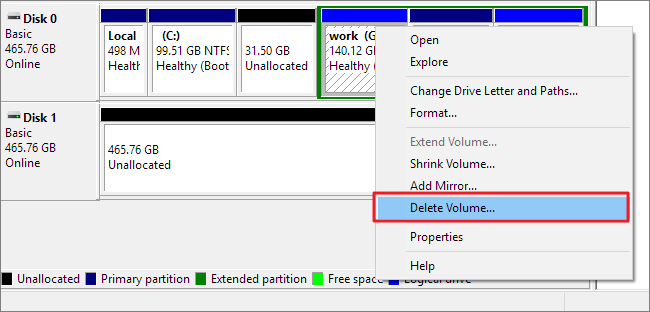 Step 4.  Once you have deleted all partitions, right-click the external drive again and select "New Simple Volume". Follow the instruction to finish the process. 
As you can see, this manner will erase all your data from the external hard drive. So, you'd better not try this way if you have a large number of important data to be saved. And as an alternative, we recommend you to try a third-party partition software to merge multiple partitions into a single partition.
#2. Format External Hard Drive with Multiple Partitions Using EaseUS Format Tool
EaseUS Partition Master is a comprehensive disk & partition magic tool that can fully replace the Windows Disk Management in basic functions, including format a disk partition, delete a partition, create a new partition and everything you can find in the Windows program. That is to say, when you need to format an external hard drive with multiple partitions, you can also use EaseUS Partition Master to make the job done in the same way!
Option 1. Delete All Partitions and Create A New Partition
One exciting experience with EaseUS software is that you don't have to necessarily repeat the deletion process on every partition in Disk Management because there is a feature called 'Delete All', which allows you to remove all the existing 2 or 3 or more partitions on a hard drive or external hard disk for one time!
To format all partitions on the external hard drive with EaseUS Partition Master, only two steps are required:
Step 1. Delete all partitions on the external hard drive in one click.
Step 2. Create a new partition of NTFS, FAT32, etc.
Option 2. Merge Partitions in External Hard Disk into One
As you've learned, EaseUS partition magic software is an excellent tool that works well to partition an external hard drive. It can help you reformat multi-partition external hard drive into one partition by combining partitions. What's the most important, no data loss problem will occur during the process!
Step 1: Select the target partition
Right-click on the partition which you want to add space to and keep, and select "Merge".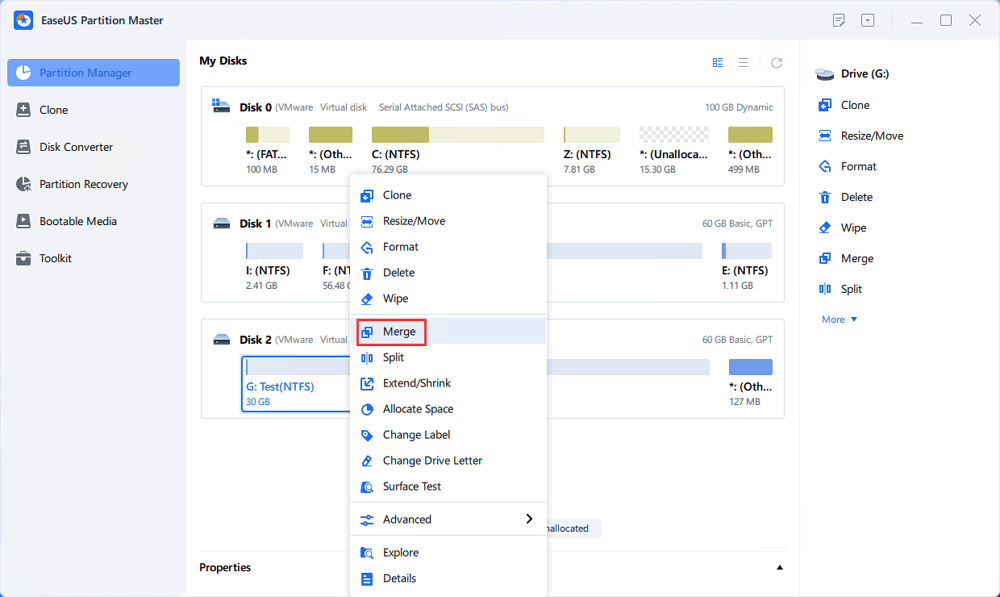 Step 2: Select a neighbor partition to merge
Select one partition next to the former selected partition and click "OK" to continue.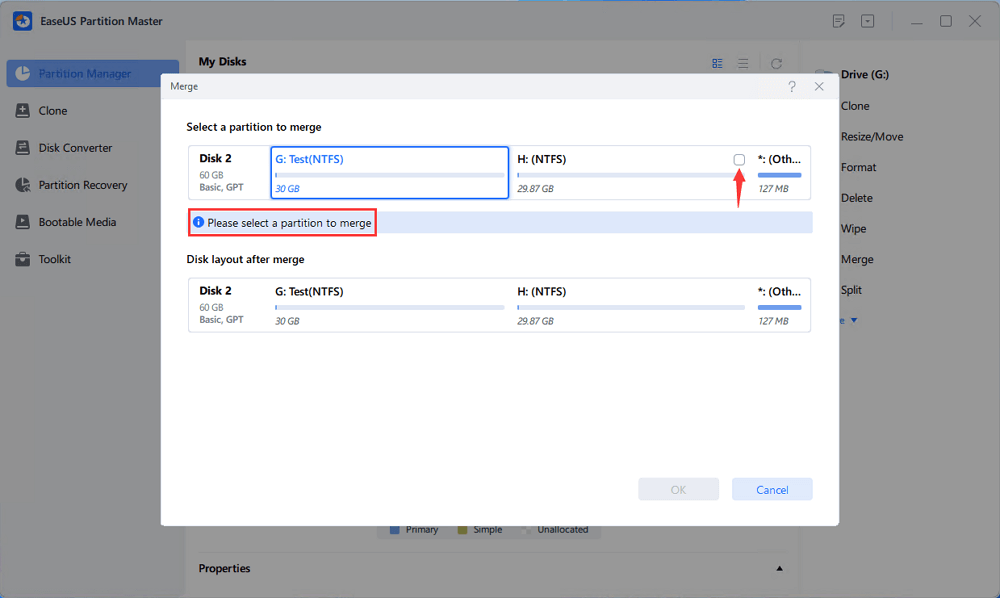 Step 3: Execute operation to merge partitions
1. Click the "Execute Operation" button at the top and then click "Apply".
2. The program will merge space and add files from the second partition to the first partition.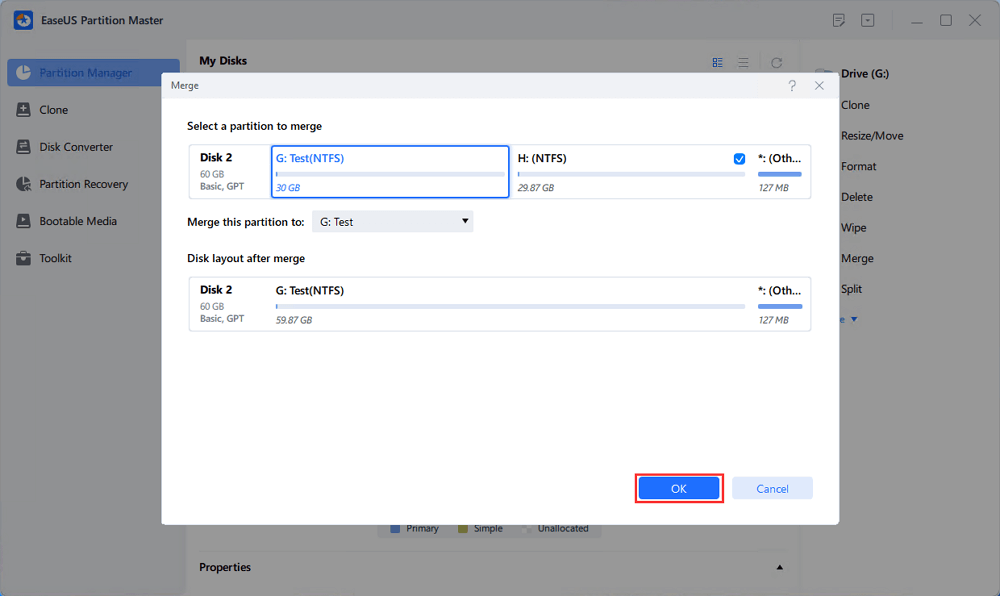 One time "Merge" will enable to combine two partitions into one, if you have three or more partitions on the external disk, continue following the same guide to merge all the partitions into a final one.
Updated by Tracy King 
Tracy joined in EaseUS in 2013 and has been working with EaseUS content team for over 7 years. Being enthusiastic in computing and technology, she writes tech how-to articles and share technical solutions about Windows & Mac data recovery, file/system backup and recovery, partition management and iOS/Android data recovery.

Brithny is a technology enthusiast, aiming to make readers' tech life easy and enjoyable. She loves exploring new technologies and writing technical how-to tips. On her spare time, she loves sharing things about her favorite singer - Taylor Swift on her Facebook or Twitter.
I love that the changes you make with EaseUS Partition Master Free aren't immediately applied to the disks. It makes it way easier to play out what will happen after you've made all the changes. I also think the overall look and feel of EaseUS Partition Master Free makes whatever you're doing with your computer's partitions easy.

 Read More

Partition Master Free can Resize, Move, Merge, Migrate, and Copy disks or partitions; convert to local, change label, defragment, check and explore partition; and much more. A premium upgrade adds free tech support and the ability to resize dynamic volumes.

 Read More

It won't hot image your drives or align them, but since it's coupled with a partition manager, it allows you do perform many tasks at once, instead of just cloning drives. You can move partitions around, resize them, defragment, and more, along with the other tools you'd expect from a cloning tool.

 Read More
About EaseUS Partition Master
All-round disk & partition management software for personal and commercial use. Let it manage your storage drive: resize, format, delete, clone, convert, etc.
Video Tutorial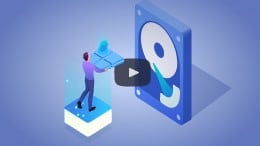 How to Partititon a Hard Drive on Windows 10/8/7
Was This Page Helpful
How Can We Help You
Find answers to common questions below.