
About the Author
Hot Topics in 2022
2022 Solved: Unable to Format SD Card, SD Card Won't Format on PC/Android
Unable to Format SD Card That Needs Formatting
"I need help with my SanDisk 64GB SD card, which I use in my Samsung phone for music and pictures. The card seems to be corrupted or perhaps infected with viruses, or somehow when I connected it to a computer, Windows says the card needs to be formatted. I tried so, but failed due to the error message Windows was unable to complete the format."
SD card won't format, SD card not formatted error or let it be Windows was unable to complete the format SD card, are becoming more and more popularly discussed these years. We are all looking for a response for a reason why we can't format an SD card and an answer to how to format a memory card that cannot be formatted.
The most efficient way that helps to format an SD card that won't format in Windows is to turn to reliable formatted tool like EaseUS Partition Master Free. It helps to check and fix file system errors and makes your SD card usable by formatting in simple clicks.
General Causes for SD Card Won't Format
When a memory card runs into problems and needs to be formatted to function again, to a large extent, something goes wrong with the file system.
For example, only the FAT32 SD card can be used on some specified devices; the SD card file system suddenly turns raw, and Windows cannot recognize it; the SD card does not show up as a mass storage device but unallocated space, etc.
However, it says formatting SD card will fix problems like these, but why did we fail to format the SD card eventually? We arrived at some simple conclusions that may cause the issue of SD card won't format.
SD card is write-protected so that Windows is not allowed to make changes to it;
SD card is with bad sectors on it, so it becomes corrupted. Windows can't format a corrupted SD card.
Using the portable SD card storage media across multiple computers or card readers can be easily infected with a virus, it makes Windows hardly be able to format the card to eradicate the virus.
How to Fix SD Card Won't Format Error on Windows 10/8/7 Computer (6 Methods)
So, what are the solutions to unable to format an SD card? How to format an SD card that won't format? Altogether, we introduce six quick fixes that are supposed to solve the problem. When you're facing a similar case that a memory card won't format on a Windows PC or an Android phone device, feel no hesitate to troubleshoot the error using the suggested methods.
Method 1. Format SD card Using Third-party SD Card Formatter [Easiest]
Free partition manager - EaseUS Partition Master is a reputable third-party SD card formatter that works flawlessly in formatting a memory card that is corrupted, damaged, inaccessible, and won't format in all Windows platforms.
Right-click the external drive or USB you intend to format and choose "Format".
Set the Partition label, File system (NTFS/FAT32/EXT2/EXT3/EXT4/exFAT), and Cluster size, then click "OK".
Click "OK" to continue.
Click the "Execute Operation" button and click "Apply" to format the hard drive partition.
Method 2. Format SD Card in Windows Disk Management
For many of us who are unable to format the SD card for the first time is using the Windows File Explorer. It's a quick access for us to perform a quick format of a removable hard disk and a hard drive partition, however, with chances of Windows was unable to complete the format. At this moment, you need to turn to a more advanced disk formatting method. Here, try to format your SD card in Windows Disk Management, the other Windows default program that is able to format a disk.
Step 1. Open Disk Management in Windows 10/8/7 by going to This PC/My Computer > Manage > Disk Management.
Step 2. locate and right-click on the SD card, and choose Format.
Step 3. Choose a proper file system like FAT32, NTFS, exFAT, and perform a quick format. Click "OK".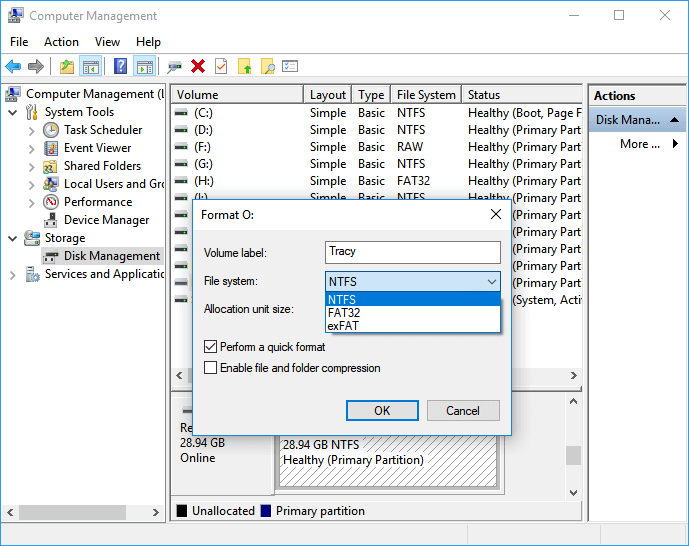 Method 3. Run Diskpart to Clean SD Card That Won't Format
Step 1. Press Windows key + R keys at the same time, type cmd in the Run box, hit Enter to open the command prompt(cmd.exe).
Step 2. Type diskpart to run Diskpart Utility.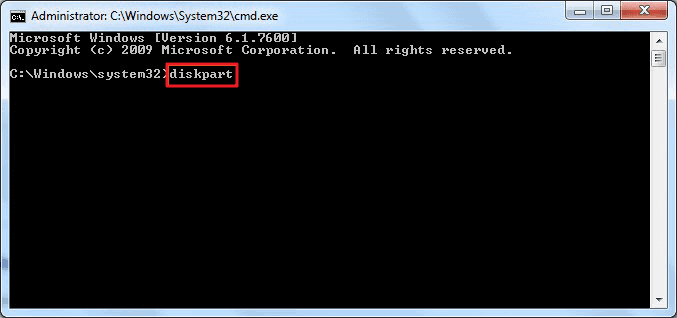 Step 3. Type list disk to list the drives on the computer.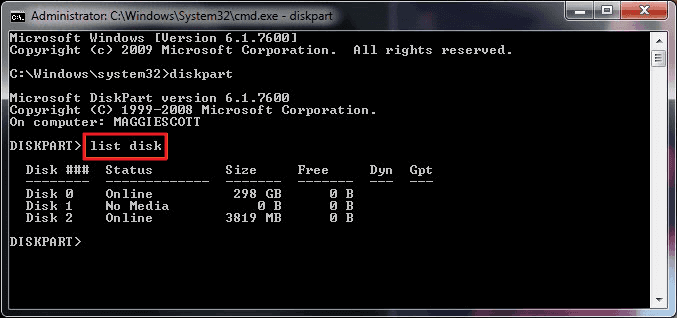 Step 4. Type select disk 2 (The number should be replaced by the exact drive number of your SD card).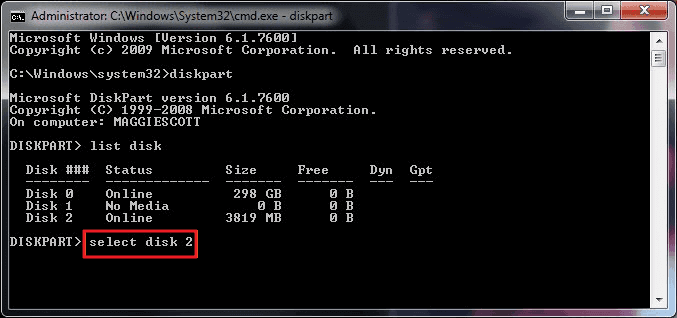 Step 5. Type clean to run the clean utility (this will wipe all data on the SD card so make sure you saved a copy or backup of the card data).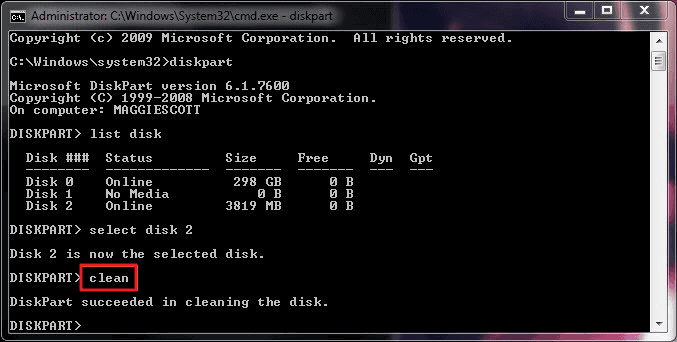 Step 6. Type create partition primary to create a new partition on the SD card.
Step 7. Type format fs=ntfs (or format fs=fat32)to format the partition to the desired file system.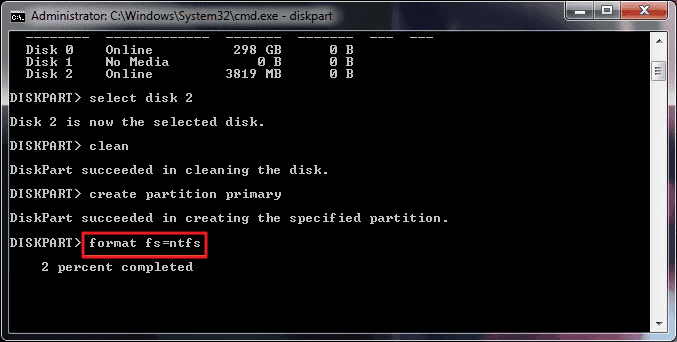 Compared with the Diskpart utility and Disk Management, EaseUS Partition Master is more like an intuitive, wizard-based, simple, and straightforward SD card formatting software that makes every ordinary user with little computer knowledge troubleshoot the SD card won't format errors without much effort.
Method 4. Change Drive Letter and Paths to Detect The SD Card
Sometimes, we are unable to initiate the format due to SD card is not showing up at all. To resolve such kind of SD card won't format issues, we need to make it recognizable at first. To do this, here is the procedure:
Step 1. Connect the won't format SD card to PC.
Step 2. Right-click on This PC/My Computer> Manage > Disk Management.
Step 3. Locate and right-click on SD card, select Change drive letter, and paths.
Step 4. Re-select a new drive letter for your SD card and click OK to confirm.
Method 5. Remove Write Protection from Not Formatted SD Card
Once a hard drive, memory card, or USB flash drive is write-protected, it means that you can no longer use the storage devices like before nor formatted it. Write protection is responsible for most of the SD card won't format error in Windows PC and mobile devices. If this is the case you're faced with, try to remove write protection from the SD card using cmd, or the easiest method recommended here.
If you don't consider yourself a pro-computer user and you're not familiar with command-lines, don't worry. There are graphical-based solutions to help you remove write-protection from your hard drives, USB drives, and even SD cards.
EaseUS CleanGenius is one of these tools that helps you fix aforementioned issues on your drives without knowing a thing about command-line.
Here's an easy-to-follow guide on how to use this tool to get your issues sorted:
Step 1: DOWNLOAD and install EaseUS CleanGenius (free) on your computer.
Step 2: Run EaseUS CleanGenius on your PC, select Optimization and choose the Write Protection mode.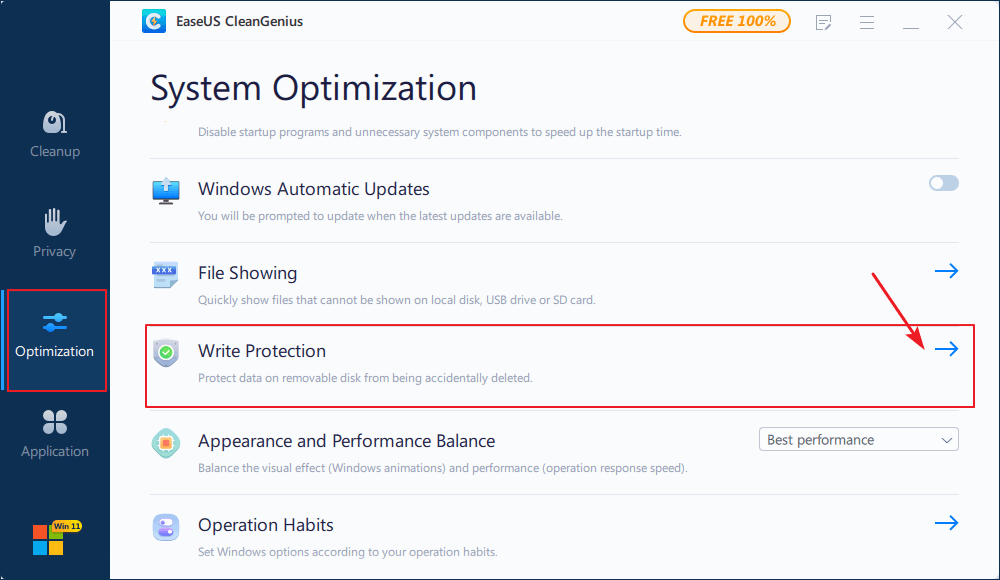 Step 3: Select the device that is write-protected and click Disable to remove the protection.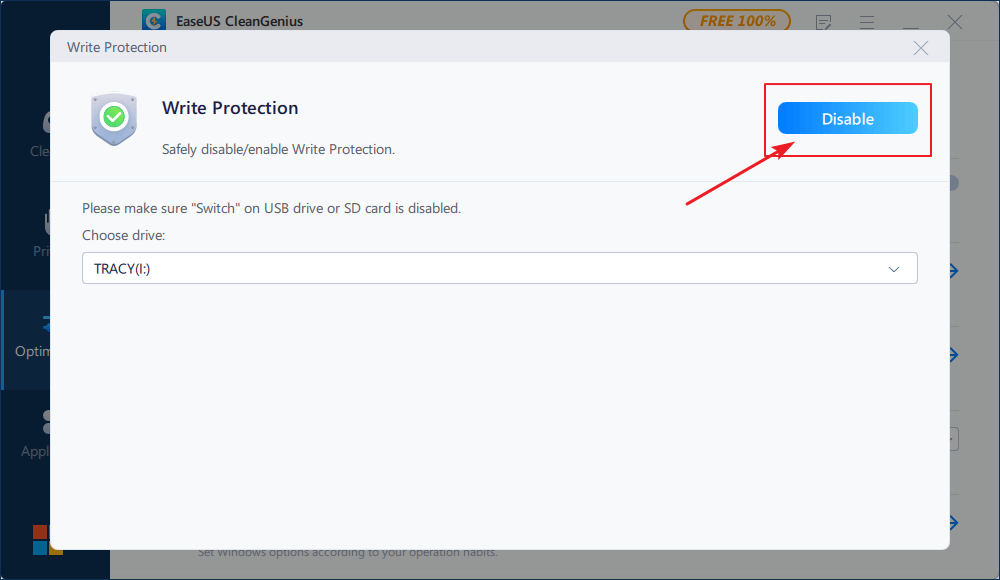 Method 6. Check and Repair Bad Sectors
Bad sectors on your storage media are invisible, but they will prevent you from smoothly accessing your device and using the files. One of the common troubleshooting to fix bad sectors is to format the disk. What if you cannot directly format the SD card with bad sectors in Windows? You need to run command lines to check how many bad sectors are there, and then repair them all. After removing bad sectors from the SD card, you can easily format it by any means.
Step 1. Press Windows key + R keys at the same time, type cmd in the Run box, hit Enter to open the command prompt(cmd.exe).
Step 2. In Command Prompt, enter the command: chkdsk E: /f /r /x. Replace E with your SD card's drive letter.
The Other 3 Cases for You Can't Format SD Card
#1. How to Fix The RAW SD Card Won't Format
When you checked the SD card showing as RAW in Disk Management, you must convert the RAW file system to a usable file system like NTFS or FAT32 for normal use. To convert a RAW SD card to NTFS or FAT32, you need to perform a disk format. You can easily troubleshoot the RAW SD card won't format error in Disk Management by using the other recommended ways: 
Format RAW SD card using Diskpart cmd
Format RAW SD card using EaseUS Partition Master
#2. How to Repair SD Card Won't Format on Android/Cannon Camera
First of all, remove the card from the mobile phone or camera, and re-insert it again. 
Still can't format the SD card? This time take out the SD card and connect it to a Windows PC or laptop. choose one of the methods to format the SD Card on Windows 10/8/7 computer:
Format Android SD card using Disk Management
Format an external SD card using cmd
Format a not formatted SD card using EaseUS Partition Master
#3. How to Fix SD Card Won't Format to FAT32
Windows won't allow you to format an SD card over 32GB to FAT32, which is due to the file system limitation. The only approachable and simple way to let you format a 64GB, 128GB or 512GB SD card to FAT32 is using EaseUS Partition Master, which can achieve a successful formatting result, at the same time, won't affect the usable storage on the SD card.
About the Author
Updated by Tracy King 
Tracy joined in EaseUS in 2013 and has been working with EaseUS content team for over 7 years. Being enthusiastic in computing and technology, she writes tech how-to articles and share technical solutions about Windows & Mac data recovery, file/system backup and recovery, partition management and iOS/Android data recovery.

Author Jean has been writing tech articles since she was graduated from university. She has been part of the EaseUS team for over 5 years. Her special focuses are data recovery, disk partitioning, data space optimization, data backup and Mac OS. By the way, she's an aviation fan!
Product Reviews
I love that the changes you make with EaseUS Partition Master Free aren't immediately applied to the disks. It makes it way easier to play out what will happen after you've made all the changes. I also think the overall look and feel of EaseUS Partition Master Free makes whatever you're doing with your computer's partitions easy.

 Read More

Partition Master Free can Resize, Move, Merge, Migrate, and Copy disks or partitions; convert to local, change label, defragment, check and explore partition; and much more. A premium upgrade adds free tech support and the ability to resize dynamic volumes.

 Read More

It won't hot image your drives or align them, but since it's coupled with a partition manager, it allows you do perform many tasks at once, instead of just cloning drives. You can move partitions around, resize them, defragment, and more, along with the other tools you'd expect from a cloning tool.

 Read More