SD card is a popular storage device which is widely used in Mobile phones, digital cameras, and other devices to extend internal memory. But sometimes, it might become unreadable, corrupted, damaged, or has some kind of error. When this happens, you are not allowed to access the card and the files on it. But don't worry! There are two ways for you to fix a corrupted, damaged or unreadable SD card without data loss:
Fix a corrupted or damaged SD card using chkdsk
When your Micro SD card is corrupted or damaged, you should first do a check disk error within an MS Windows chkdsk command prompt. It can help you fix the corrupted SD card file system and make the card accessible. And during the process, all your files will keep intact.
1. Plug in your SD card to your computer with a card reader.
2. Go to the start menu, type in: cmd in a search bar, hit enter and then you can see something named "cmd. exe" under a list of programs.
3. Right-click "cmd. exe" and then you will get the following command windows that allow you to fix your corrupted SD card without format.
4. Type in: chkdsk /X /f sd card letter: or chkdsk sd card letter: /f, for example "chkdsk /X /f G:" or "chkdsk h: /f".
If you don't have any technical know-how and want to minimize data risks, using third-party software could be a better choice. The Command line is suitable for computer professionals since wrong commands can cause severe problems. Therefore, we strongly recommend you to try an automatic command line alternative.
EaseUS Tools M is a practical computer fixing tool that is safe and light-weighted. It's a perfect alternative to CHKDSK command. Use this one-click tool to solve your computer issues.
To fix file system error or disk error:
Step 1:  DOWNLOAD EaseUS Tools M for Free and install it.
Step 2: Open the software and select "File Fixing" on the left pane.
On the right pane, choose the drive and check off the box at the bottom - "Check and fix file system error". Then, click "Fix" to start repairing the error.
Step 3: Wait until the operation completes. Wait until the operation completes. After the operation completes, click the "View" button to check the drive.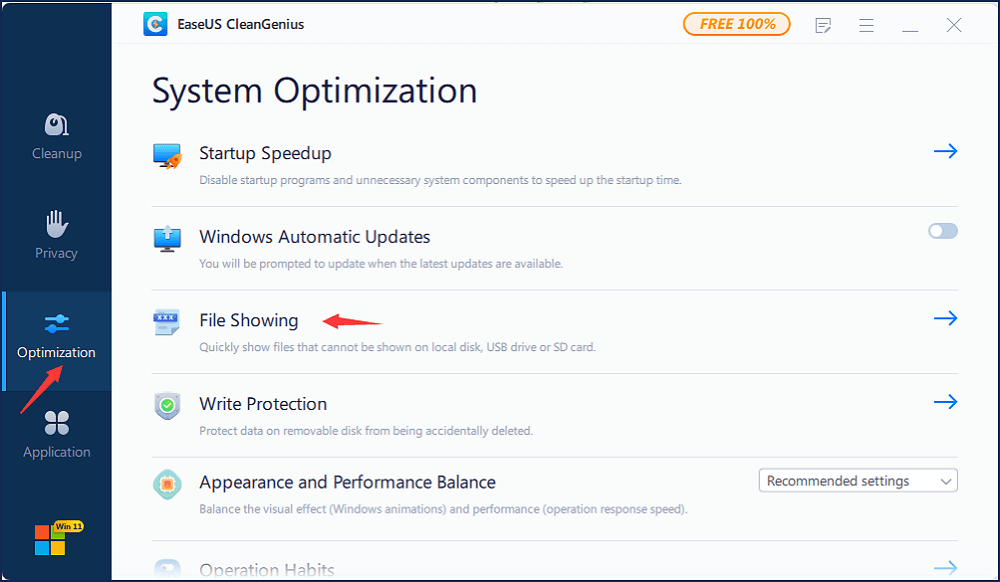 After all the steps, Windows will check and fix the corrupted SD card file system. It usually takes several minutes. After that, if you see "Windows has made corrections to the file system" in the command window, then congratulations!
The damaged SD card is successfully fixed and you can access your data with ease. If you still see no data in the SD card, refer to this tutorial for help: Recover Corrupted SD Card.
Format unreadable/corrupted SD card with third-party software
Usually, a Micro SD card which appears unreadable in the computer may not have a drive letter assigned nor read its contents. This happens because the SD card may use an incompatible file system, such as EXT S, or its file system is probably damaged. So you need to format the card with reliable SD card format software to solve compatibility issues before you can use it again. But, how do you format an unreadable SD card? It can be done easily with EaseUS partition tool as long as Windows detects and connects to it.
 Notice:

Formatting unreadable SD card can make the card accessible but it will also erase all data on the card. You can try EaseUS file data recovery software to recover your data first.
Here's the step-by-step guide.
Step 1: Open EaseUS Partition Master. Find your SD card and right-click the partition you want to format and choose "Format".
Step 2: Set a new partition label, file system (NTFS/FAT32/EXT2/EXT3), and cluster size to the selected partition, then click "OK".
Step 3: Click "OK" on the pop-up window to continue.
Step 4: Click the "Execute Operation" button on the toolbar, then click "Apply" to start formatting your SD card.
100% of people found this article helpful.
Frequently Asked Questions
Why Choose EaseUS Partition Master?

"I've used Partition Master Professional many times to create, delete, format, move, rename, and resize partitions." —PCWorld

"Partitioning tools have come a very long since the days of complicated command line utilities and EASEUS Partition Master is one of the most advanced programs available." —TECH ADVISOR

"I love that the changes you make with EaseUS Partition Master Free aren't immediately applied to the disks. It makes it way easier to play out what will happen after you've made all the changes." —Lifewire
Will the "Migrate OS" feature transfer the Windows system files only or the whole C drive?

To ensure that the migrated system will boot normally, the Migrate OS feature will transfer all the files in the system and the boot partitions. Generally, the boot partition is the C drive so the transfer will include all the files in C.
Does EaseUS Partition Master license apply to multiple computers?

The license of Partition Master Professional and Server editions can be used on 1 computer only, while that for for the Technician and Unlimited editions can be used on multiple machines.
What is the difference between EaseUS Partition Master Trial version and the Free version?

Free is for home users only, with most basic functions available such as partition resize and clone. While trial can help you understand how this product works and test what a full license can do on a business or server OS machine.
Will it cause any data loss after resizing the partition in EaseUS Partition Master?

Generally, it will not cause any data loss or boot issue by resizing a partition. However, in order to protect your data, we suggest that you backup the partition before resizing, in case of any unexpected situations such as power outages, computer hardware failures, etc. You can use EaseUS Todo Backup to backup the partition and its trial version is fully functioned for 30 days.
What should I prepare before resizing the partition?

On the partition that is going to be operated, there might be some files being occupied by other programs. To ensure a successful operation, we suggest that you close all the unnecessary software before resizing that partition. Otherwise, EaseUS Partition Master will detect the partition being locked by the other software and require a reboot to resize the partition under boot mode.
About EaseUS Partition Master
All-round disk & partition management software for personal and commercial use. Let it manage your storage drive: resize, format, delete, clone, convert, etc.