
Table of Contents

About the Author

Reviews and Awards

Best Data Recovery Software for 2021
Overview of Corrupted SD Card
"Corruption" is a broad term and it's hard to tell specifically what refers to a corrupted SD card. Usually, when a Windows PC, Android phone, or digital camera can not read or recognize a memory card, or it starts sending strange error messages that prevent you from accessing data in it, we can determine that this SD card gets corrupted.
If you're seeing the following symptoms on your memory card, it's time to get nervous because your SD card is likely to get in trouble, and most importantly, the data is in danger.
No memory card found in Android or camera
SD card is not showing up in Windows Explorer
SD card shows no media in Disk Management
SD card shows RAW in Disk Management
Cannot open SD card due to access denied
Memory card not formatted, do you want to format it now?
When the SD memory card starts malfunctioning, you must prepare yourself with basic knowledge to take care of it. Unless the SD card is physically dead, broken, or damaged beyond repair, we can fix the most corrupted SD cards with the help of many powerful and free SD card repair tools.
The standard procedure to cope with a corrupted SD card including two processes: 1. corrupted SD card recovery; 2. troubleshooting. Next, let's read on and learn how to recover data from corrupted SD card, and the five best ways to fix the corrupted SD card.
How to Recover Corrupted SD Card Data: Photos, Videos or Documents
We usually check the connected SD card in Windows Explorer (Windows Key + E). While when a memory card gets corrupted, it's 99% not showing up here. Under this condition, you can go and check the SD card in Windows Disk Management (This PC/My Computer > Manage > Disk Management). The SD card may appear as RAW, or unallocated space.
The best chance to recover data from a corrupted SD card is with the help of EaseUS Data Recovery Wizard, the professional hard disk recovery software & file repair software that is able to scan any storage drive that you cannot currently open or access.
Download the EaseUS corrupted SD card recovery software and recover files, photos, videos, and all personal data from the corrupted SD card.
Step 1. Download EaseUS Data Recovery Wizard - the dependable SD card recovery software for Windows on your PC. Connect the SD card to your computer with either a card reader or by attaching the device that contains it. Launch the software so you can see the SD card from the disk list presented on the interface. Select the SD card and click Scan.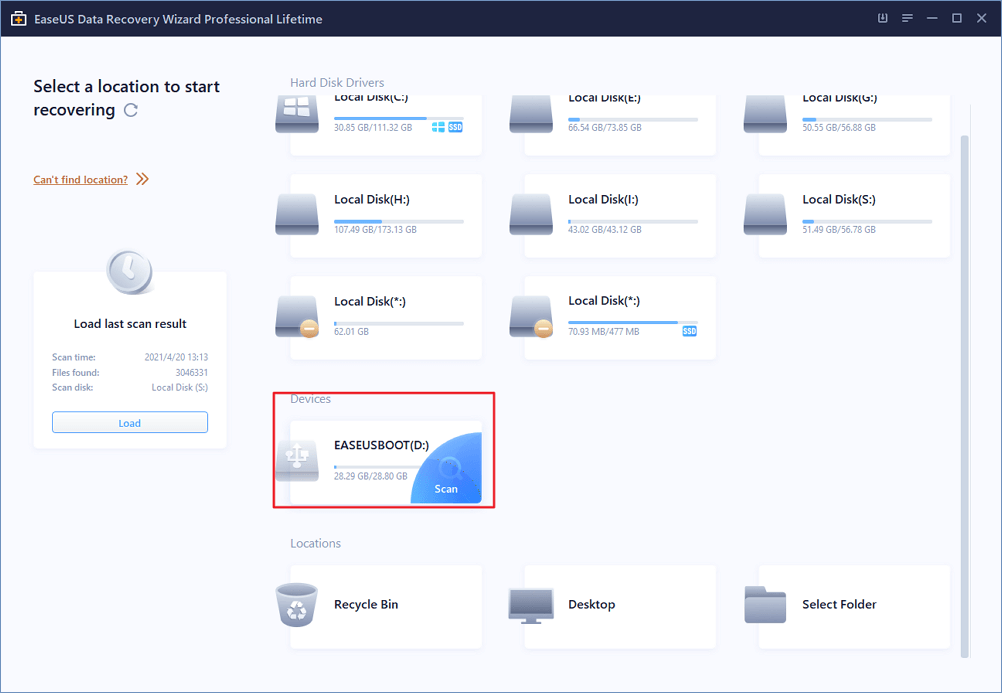 Step 2. The scan process should be running. A quick scan is able to quickly find the files that were recently deleted or items emptied from the recycle bin, and the later deep scan is useful for files that are harder to find, which might lose file names. During the course of scanning the SD card, you can start checking the results from the leftside tree-view pane, or simply use the Filter function to show up only the pictures, doucments, videos, emails and so on.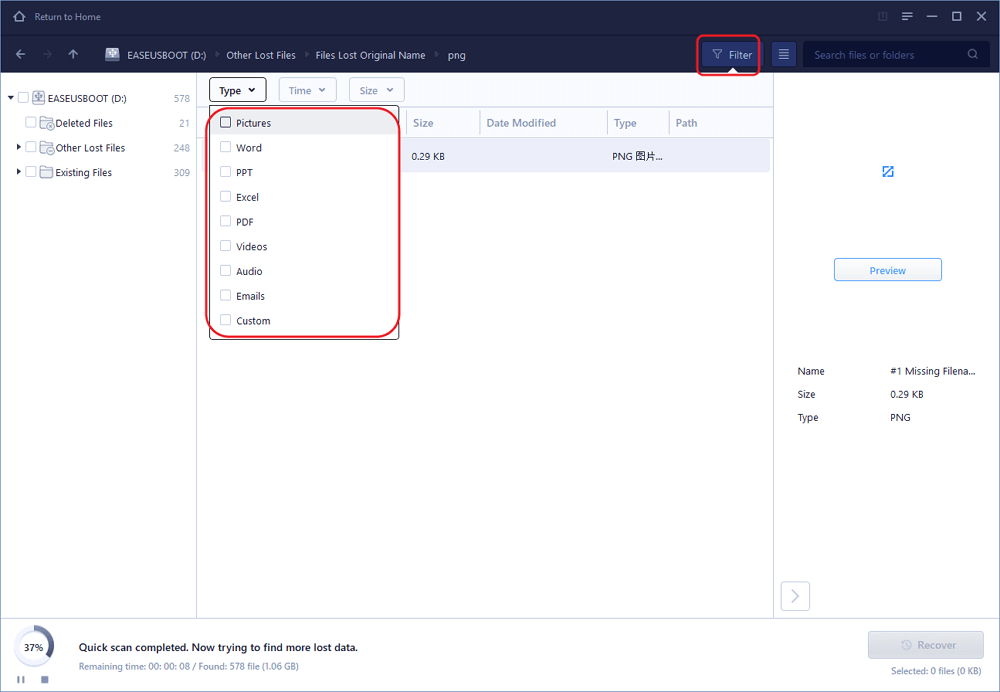 Step 3. Double-click on a file will allow you to preivew its content. At last, select the desired files you wish to recover and click the Recover button to get them all back. When you're asked to choose a location to save the recovered files, do not use the SD card but another drive, to avoid data overwriting.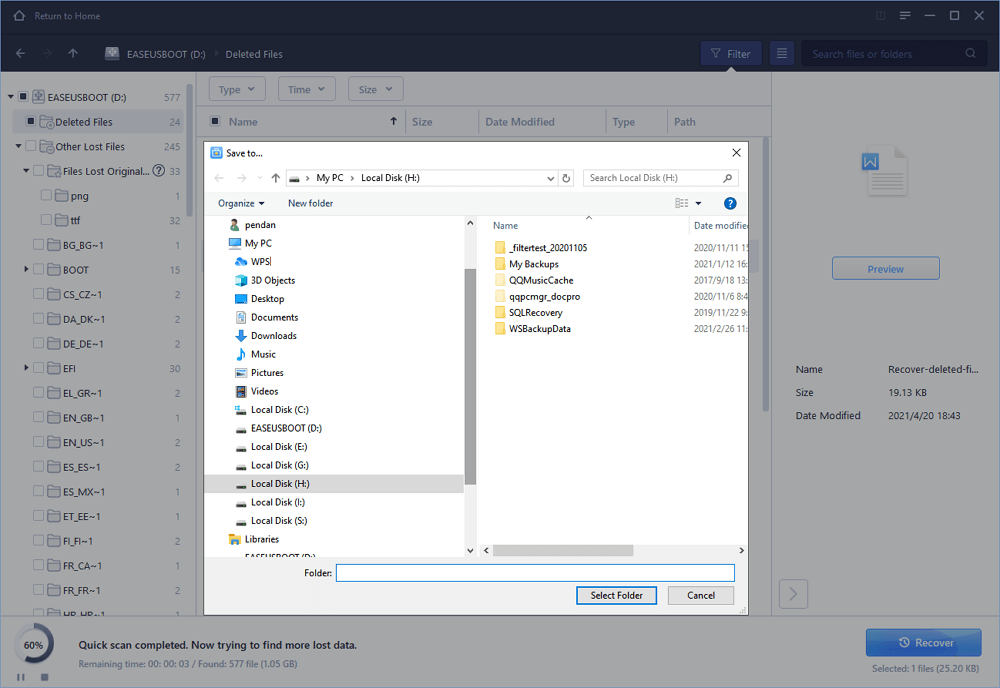 Don't miss: How to fix corrupted files after recovery
How to Fix Corrupted SD Card: With/Without Formatting (5 Solutions)
Since a majority of corrupted SD memory cards are fixable, we provide you with five solutions to help you fully fix a corrupted SD card in Windows 10/8/7.
#1. Change SD Card Drive Letter
The drive letter confliction will cause Windows not recognizing the removable disk that is externally connected to it, making the SD card look like corrupted. So, assigning a new drive letter that is unique to the SD card can help Windows re-recognize it.
Step 1. Insert the SD card to your computer, go to Disk Management.
Step 2. Right-click on the SD card and select "Change drive letter and path...".
Step 3. Set a new drive letter for the card.
When the process finishes, you can check if you can reaccess it.
#2. Repair Corrupted File System on SD Card Using CMD
When the file system of the SD card gets corrupted, let it be NTFS, FAT32, or exFAT, you'll most likely to receive the error messages like "the file system is RAW", "the disk is not formatted", "the drive is not accessible", etc., which makes the memory card unable to work normally. Here, try to fix the corrupted SD card using cmd.
Step 1. Insert the corrupted SD card into your PC using a card reader.
Step 2. Click on "Start" > "Computer" > "Devices with Removable Storage" to search for your SD card and note the assigned drive letter.
Step 3. Click on the "Start" button, in the search box, type "cmd".
Step 4. Right-click "cmd.exe" and then select the "Run as administrator" option.
Step 5. Type the command: chkdsk [sd card drive letter]: /f /r /x and press enter.
Caution: Note that this command will cause a permanent file loss error. So before you execute the operation, make sure that you recover data from your corrupted SD card with reliable file recovery software.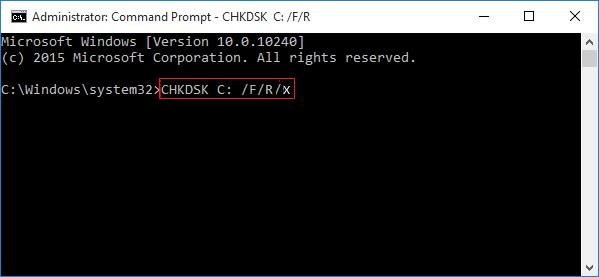 Chkdsk will start to check and fix any possible errors on the corrupted SD card and make it readable again.
#3. Repair Corrupted File System on SD Card Using Software
Step 1. Open EaseUS Partition Master on your computer. Then, locate the disk, right-click the partition you want to check, and choose "Advaned" > "Check File System".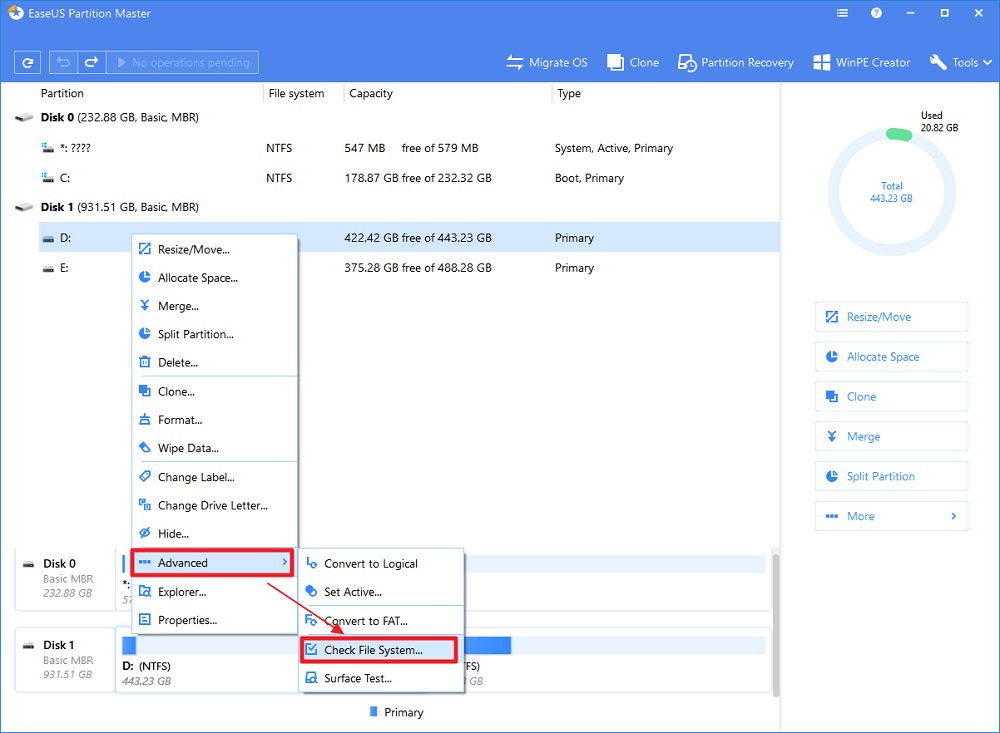 Step 2. In the Check File System window, keep the "Try to fix errors if found" option selected and click "Start".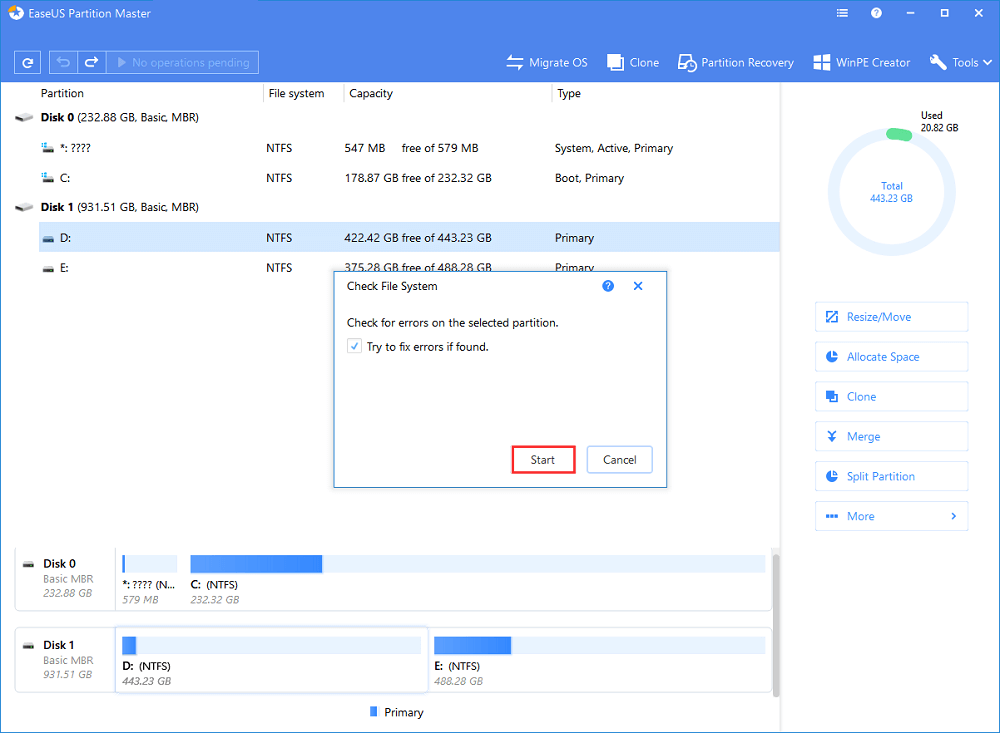 Step 3. The software will begin checking your partition file system on your disk. When it complets, click "Finish".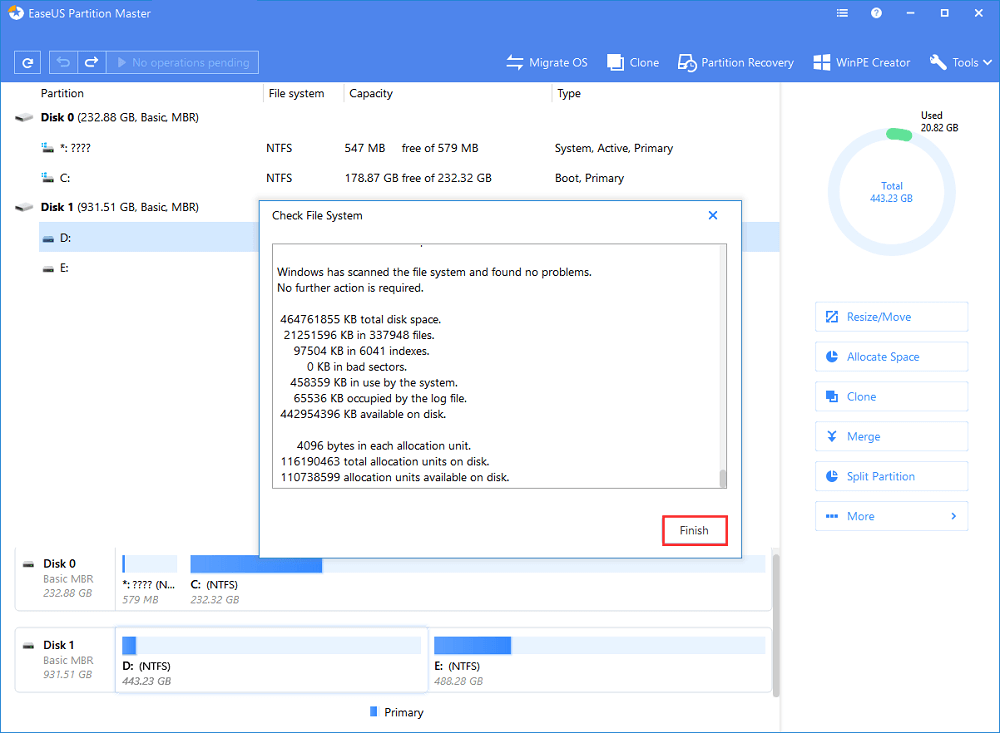 #4. Update SD Card Driver
A worse case is that you cannot even find the SD card in Windows Disk Management. How to troubleshoot an SD card corrupted to this degree? Windows Device Manager, this is where you need to check the driver update information for the SD card. An outdated or corrupted driver will cause your SD card to malfunction as well.
Step 1. Connect the corrupted SD card to PC, right-click on This PC/My Computer, select "Manage".
Step 2. Click "Device Manager" and expand "Disk drivers".
Step 3. Right-click on the SD card, select "Update driver".
Step 4. Click "Automatically search for driver software online" and wait for the process to complete.
Step 5. When you turn on the computer the next time, Windows will automatically install the latest driver for your SD card.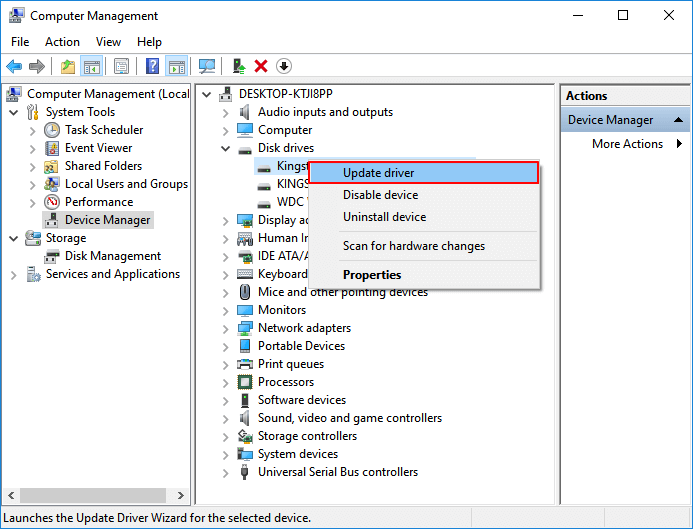 #5. Format Corrupted SD Card
The disk formatting is the most commonly applied yet effective way to fix most memory card issues. Consider that the format behavior will erase data on the SD card, we suggest you put the SD card data recovery step in advance. If you've formatted the corrupted SD card prior to the notice, it doesn't matter, you can still use EaseUS Data Recovery Wizard to recover data from formatted SD card.
Step 1. Keep the SD card connected to your PC. Right-click on This PC/My Computer, select "Manage".
Step 2. Click "Disk Management", locate and right-click the SD card, then choose "Format".
Step 3. Select FAT32/NTFS/exFAT as the file system for the SD card and click "OK" to confirm.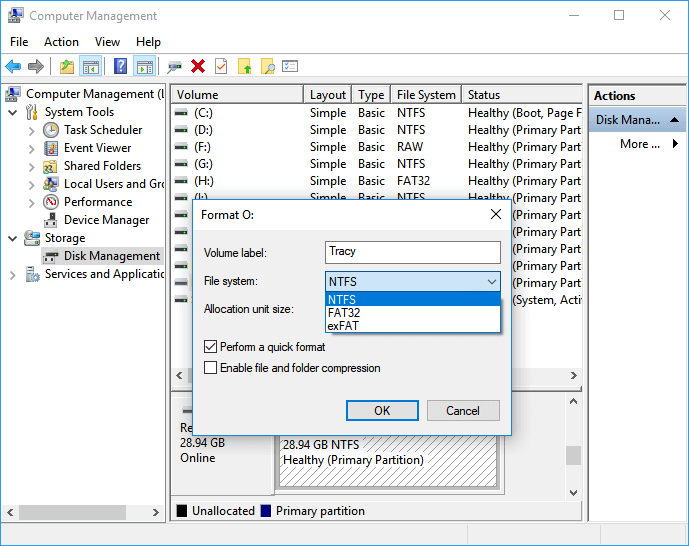 Bonus Tip: How to Repair Corrupted Files on SD Card
In the former part of the article, we introduced the efficient corrupted SD card recovery software for you to recover all kinds of data files from the corrupted SD card, meanwhile, five universally applied solutions to repair the corrupted SD card, including change a new drive letter, fix corrupted file system, update driver, and SD card format.
Data security is always the top concern when a memory card gets corrupted or inaccessible. Fortunately, third-party data recovery software could help us retrieve the largest portion of data, in this case, however, the other mishap is that files are not open after data recovery.
In case that a corrupted SD card damages your files as well, it's necessary to download the best corrupt file repair software to repair the corrupted files on the SD card.
EaseUS CleanGenius is a user-friendly computer fixing tool that is both safe and lightweight. It's a perfect alternative to CHKDSK command. Use this one-click tool to fix the damaged file system easily.
Step 1.  DOWNLOAD EaseUS CleanGenius on your computer and complete the installation. 
Step 2. Run the software. Click "Optimization", and then choose "File Showing" .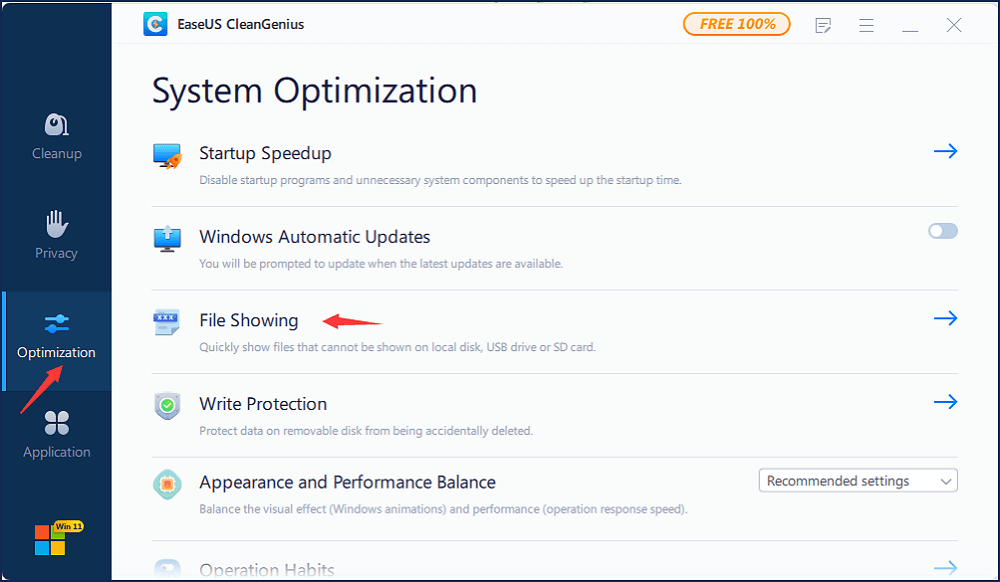 Step 3. Select the drive with a corrupted file system. Tick the "Check and fix file system error" option and click "Execute".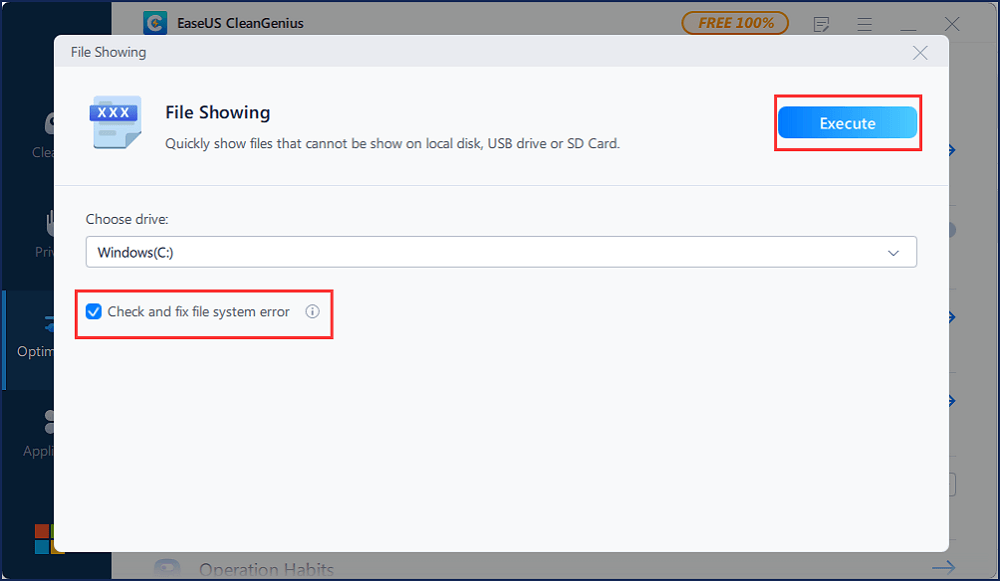 Step 4. Wait the tool performs the repairing task. After that, click the "View" button to check the drive.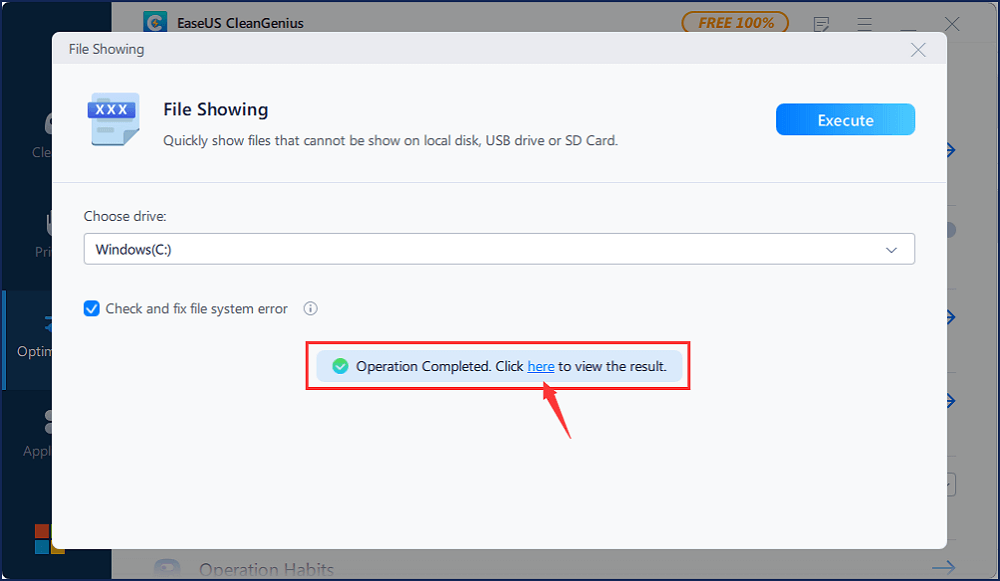 Gemma is member of EaseUS team and has been committed to creating valuable content in fields about file recovery, partition management, and data backup etc for many years. She loves to help users solve various types of computer related issues.

Roxanne is one of the main contributors to EaseUS and has created multiple posts on digital devices like PCs, Mobile phones, tablets, Mac, etc. She loves to share ideas with people of the same interest.
EaseUS Data Recovery Wizard is a powerful system recovery software, designed to enable you to recover files you've deleted accidentally, potentially lost to malware or an entire hard drive partition.

 Read More

EaseUS Data Recovery Wizard is the best we have seen. It's far from perfect, partly because today's advanced disk technology makes data-recovery more difficult than it was with the simpler technology of the past.

 Read More

EaseUS Data Recovery Wizard Pro has a reputation as one of the best data recovery software programs on the market. It comes with a selection of advanced features, including partition recovery, formatted drive restoration, and corrupted file repair.

 Read More