Does your SD card gets corrupted or inaccessible? To fix or repair your device, you have lots of solutions available. However, I suggest you analyze the symptoms of your memory SD card/USB/HDD/SSD and the find the right fixes to the problems. This article will be divided into two parts to analyze and solve your SD card problems.
PAGE CONTENT:
Part 1. Simple Steps to Repair the SD Card
Part 2. Advanced Solutions to Repair Corrupted SD Card
Part 1: Simple Steps to Repair the SD Card
This user runs into the situation, in which SD card is not accessible but reports access is denied error message. The Device Manager can recognize it and its capacity.
Symptoms:
The SD card shows warning information access is denied.
Your Device Manager can recognize the SD card's capacity, but you still can't access it.
When PC pops up the Windows containing alert that device is inaccessible, you can follow the two steps to fix the problem, namely recovering data and repair the corrupted sd card. Remember to retrieve data first and then format it to avoid data loss.
Method 1: Recover Data from the Inaccessible SD Card
An inaccessible micro SD card makes almost everybody upset, especially when the card contains lots of critical data. The best SD card recovery software can help resolve the problem because it allows you to get back data from any storage device even if it becomes inaccessible or unreadable.
Step 1: Connect the SD card to your PC
Step 2: Run the EaseUS Data Recovery Wizard. Select the location of the write protected/corrupted device, click "Scan".
Step 3: Preview and restore files and data. You can preview and select found data and click Recover to save found data to a safe spot on your PC or external storage device.
Method 2: Format the Corrupted/Inaccessible SD Card to Repair it
If your Disk Manager can recognize your SD card, you still cannot access the SD card. To restore the card to its normal working state, you have to fix it. Format the SD card with EaseUS Partition Master is an excellent choice.
Compared with the Windows utilities and Diskpart command line, using software, here we say EaseUS Partition Master, is the same free, what's more, comes handy when Windows was unable to complete the format, Diskpart has encountered an error access is denied and however you try you just can't format SD card completely.
Steps to Format your SD card:
Step 1: Open EaseUS Partition Master. Find your SD card and right-click the partition you want to format and choose "Format".
Step 2: Set a new partition label, file system (NTFS/FAT32/EXT2/EXT3), and cluster size to the selected partition, then click "OK".
Step 3: Click "OK" on the pop-up window to continue.
Step 4: Click the "Execute Operation" button on the toolbar, then click "Apply" to start formatting your SD card.
Part 2: Advanced Solutions to Repair Corrupted SD Card
What if your SD card shows other error messages? What if your SD card is write-protected or the Disk Manager fails to recognize the SD card's capacity?
Symptoms:
The SD card is locked or write protected
The memory card is not recognized by the computer
You are unable to open, read, write, copy, delete or modify any file or folder on the SD card.
OS shows reading errors doesn't respond when you try to connect your SD card to the computer
Possible Reasons:
Micro SD card is virus infected
There are bad sectors on the micro SD card
Your computer is unable to assign drive letters (like C, D, E) to your storage media
Micro SD card is physically damaged due to improper operation or other reasons
More other unknown reasons
According to the reasons above, you can try these methods below to repair the corrupted SD card.
Method 1: Run Antivirus Software
Connect your SD card or USB drive to your computer and let the antivirus software scan your external device and repair it.
Method 2: Change the Drive Letter
Here are the simple steps to fix the corrupted pen drive or memory card by assigning a correct drive letter:
Step 1: Connect your storage media to your computer.
Step 2: Open "Disk Management" (You can search it or right-click "This PC")
Step 3: Right-click on your storage media and click "Change Drive Letter and Paths".
Step 4: Select the drive letter from the drop-down list. Click "Ok".
Method 3: Try Another USB Port or Computer
It sounds strange, but you're wasting your time if you repeatedly try to connect your SD card or flash drive to a single USB port on your computer. Try another USB port.
Maybe the issue only occurs on your PC, and that's why you find trouble in running the USB flash drive. Try connecting your SD card or pen drive to another computer. Hope it works, and you'll be able to back up your data from it.
Method 4: Fix/Repair the SD Card by Using CMD
Step 1: In Windows 10, for example, type cmd in the search box, you can get the best match called Command Prompt. Right-click on it and choose "Run as administrator".
Step 2: On the Command Prompt window, type diskpart and press "Enter".
Step 3: Type list disk and press "Enter". According to the list disk information, check which disk is your SD card.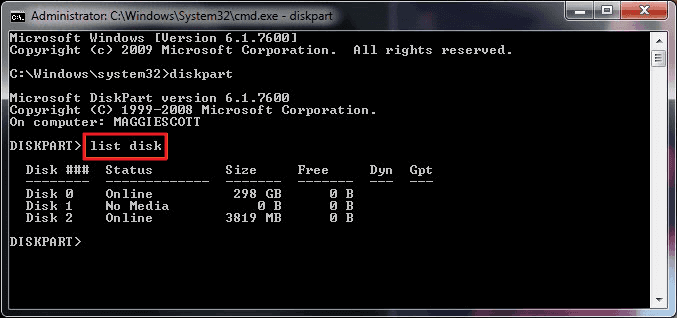 Step 4: Now type select disk (the number of your disk) for example, disk 2 and press Enter.
Step 5: Type clean. Wait some time for disk erasing.
Step 6: Type create partition primary and press "Enter".
Step 7: After Diskpart successfully created the specified partition, type format fs=ntfs, and press "Enter". If you prefer other file system formats, change the command ntfs to the desired one such as fat32, exfat, etc.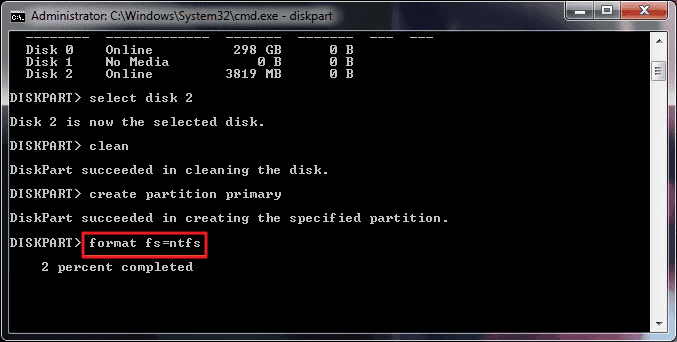 Method 5: Ask Professional Repair Tool for Help
If your SD card has the I/O device error, you may have a rare chance to repair the corrupted SD card. But you can still try the USB production tool to repair the corrupted memory card. You can search the internet and find one to try.
Last Advice: There are chances that the warranty of your corrupted USB drive or SD card is still valid. So, if your storage device is giving you problems, again and again, it's advisable to invest some effort and go for a refund or replacement. I'am agree with this as it's not worth putting your faith in a USB drive that's showing signs of unreliability again and again.
100% of people found this article helpful.
Frequently Asked Questions
Why Choose EaseUS Partition Master?

"I've used Partition Master Professional many times to create, delete, format, move, rename, and resize partitions." —PCWorld

"Partitioning tools have come a very long since the days of complicated command line utilities and EASEUS Partition Master is one of the most advanced programs available." —TECH ADVISOR

"I love that the changes you make with EaseUS Partition Master Free aren't immediately applied to the disks. It makes it way easier to play out what will happen after you've made all the changes." —Lifewire
Will the "Migrate OS" feature transfer the Windows system files only or the whole C drive?

To ensure that the migrated system will boot normally, the Migrate OS feature will transfer all the files in the system and the boot partitions. Generally, the boot partition is the C drive so the transfer will include all the files in C.
Does EaseUS Partition Master license apply to multiple computers?

The license of Partition Master Professional and Server editions can be used on 1 computer only, while that for for the Technician and Unlimited editions can be used on multiple machines.
What is the difference between EaseUS Partition Master Trial version and the Free version?

Free is for home users only, with most basic functions available such as partition resize and clone. While trial can help you understand how this product works and test what a full license can do on a business or server OS machine.
Will it cause any data loss after resizing the partition in EaseUS Partition Master?

Generally, it will not cause any data loss or boot issue by resizing a partition. However, in order to protect your data, we suggest that you backup the partition before resizing, in case of any unexpected situations such as power outages, computer hardware failures, etc. You can use EaseUS Todo Backup to backup the partition and its trial version is fully functioned for 30 days.
What should I prepare before resizing the partition?

On the partition that is going to be operated, there might be some files being occupied by other programs. To ensure a successful operation, we suggest that you close all the unnecessary software before resizing that partition. Otherwise, EaseUS Partition Master will detect the partition being locked by the other software and require a reboot to resize the partition under boot mode.
About EaseUS Partition Master
All-round disk & partition management software for personal and commercial use. Let it manage your storage drive: resize, format, delete, clone, convert, etc.