2021 Best Two Useful Disk Utilities in Windows (10/8/7/Vista/XP)
This page offers two best free disk utility for Windows 10/8/7/Vista, etc. With the program, you can put your partitions in proper order, speed up the system with better performance:
#1. Windows Disk Utility - Disk Management
1. Extend, Shrink, Delete, Create Volume
2. Defrag Partition
3. Convert Disk to Dynamic
#2. EaseUS Disk Utility - Partition Master
1. Extend, Shrink, Delete, Create Volume
2. Convert Disk to Dynamic or Basic, GPT or MBR
3. Clone Partition, Clone Hard Drive
More...
Have you received this warning-- "Sorry, you are running out of space"? When you want to install (run) your long-awaited games or other system programs, this little blue frame may make you confused. This article will introduce two useful and simple disk utilities-- Windows built-in tool and EaseUS Partition Master in Windows to you.
Disk Utility is a system utility for performing disk and disk volume-related tasks on the operating system. EaseUS Partition Master is a free Windows partition software which can help you create, resize, clone, move, merge, and format partitions, and much more. If you prefer any function we have, please get ready with me!
Contents
1. Disk Utility in Windows - Disk Management
Your computer already has a Windows disk utility - Disk Management. It enables you to perform advanced storage tasks, including initializing a new disk, shrink essential volume, extend a primary size, format a volume, delete a basic volume, and change drive letter and paths.
How to Use Disk Management
Step 1. Open Disk Management
On Windows 8/10: Right-click on the Windows start button and choose "Disk Management".
You also try the shortcut Win+X combination on your keyboard, then click "Disk Management" to open it.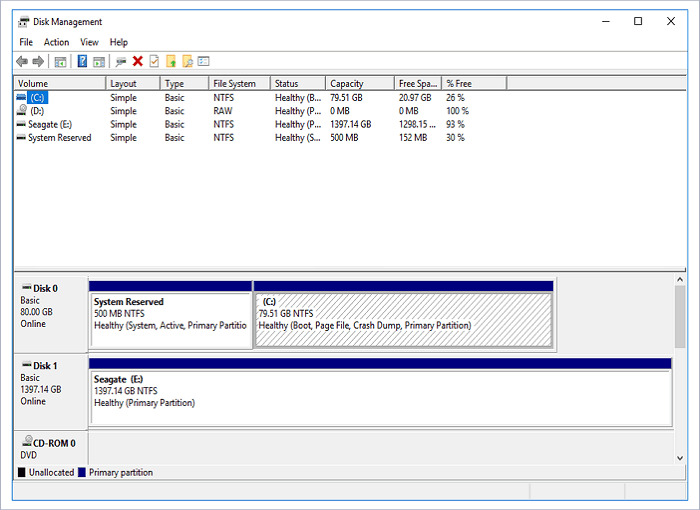 On Windows Vista/7: Just right-click on Computer and choose "Manage", then click "Disk Management".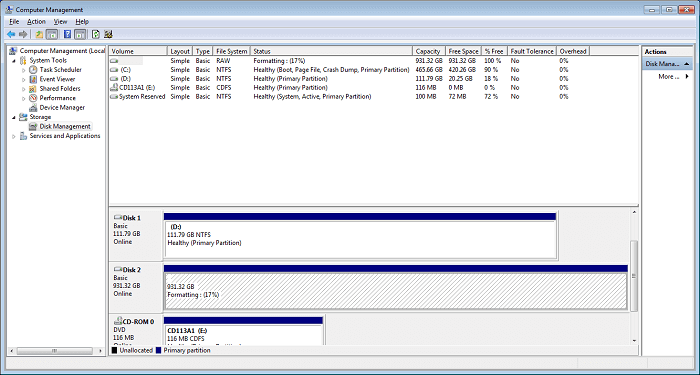 Step 2. Manage Hard Drive Disk in Disk Management
Create New Partition: Right-click unallocated space and select "New Simple Volume". And complete the process.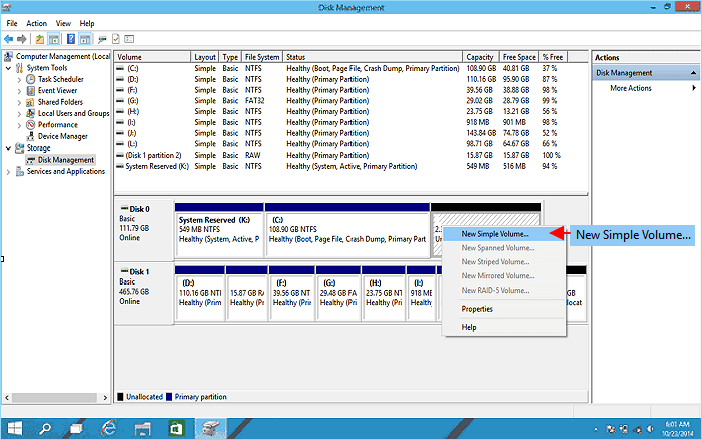 Shrink Volume: Right-click target volume and select "Shrink Volume". Adjust the size you want to shrink.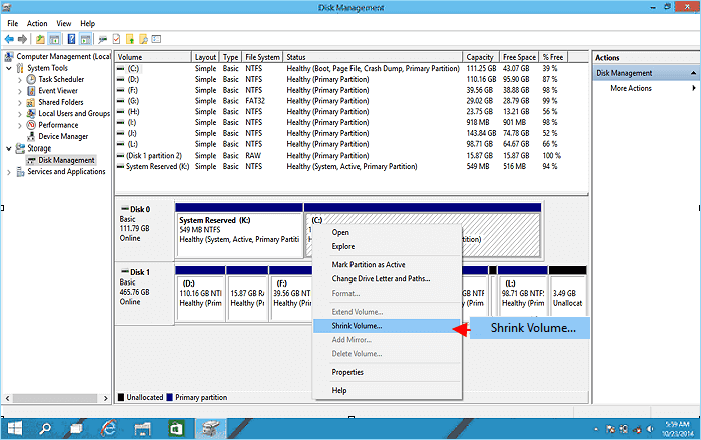 Extend Volume: With unallocated space next to the target partition, right-click target volume and select "Extend Volume".
Format Volume: Right-click target partition and select "Format". Set a new file system and drive letter, click "OK" to confirm.
Initialize New Disk: Right-click on disk, select "Initialize Disk". Set the partition style as "MBR" or "GPT" and click "OK".
Convert Disk to MBR/GPT: Right-click to delete all volumes. Right-click disk and select "Initalize Disk". Select "MBR" or "GPT".
Disk Management has limited functions and cannot be optimized and upgraded. Here is a better partition tool for you.
2. EaseUS Disk Utility in Windows - EaseUS Partition Master
EaseUS is easy for beginners without data loss, increasing your computer speed. It has more features that Disk Management doesn't have. Its function is more effective than the former. Cleanup and optimization may give you a surprise.
Besides basic disk management features, EaseUS Partition Master even offers some advanced features to help you manage disk, such as migrate OS, clone disk, etc.
How to Use EaseUS Disk Utility - Partition Master:
Step 1. Create unallocated space.
Install and launch EaseUS Partition Master. Right-click on a partition and select "Resize/Move" to get unallocated space. Drag the end of the partition to leave unallocated space.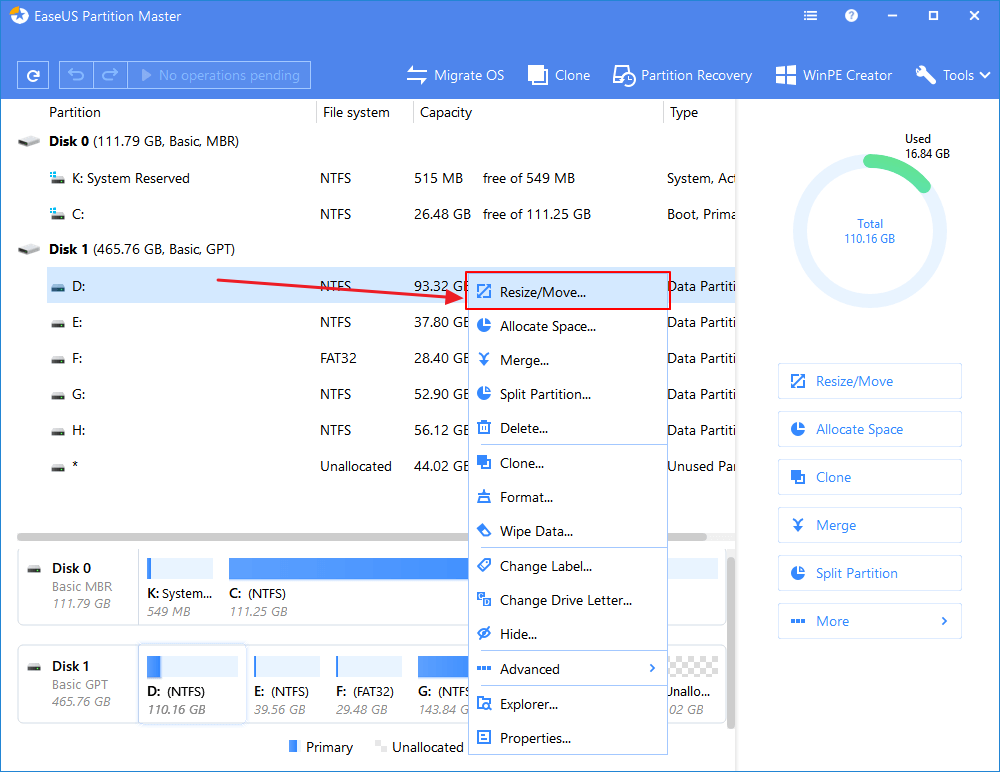 Step 2. Create a partition.
Once you have got unallocated space, you can create a partition. On the main window, right-click on the unallocated space on your hard drive, SSD or external storage device and select "Create". Set the partition size, partition label, drive letter, file system, etc. for the new partition and click "OK" to continue.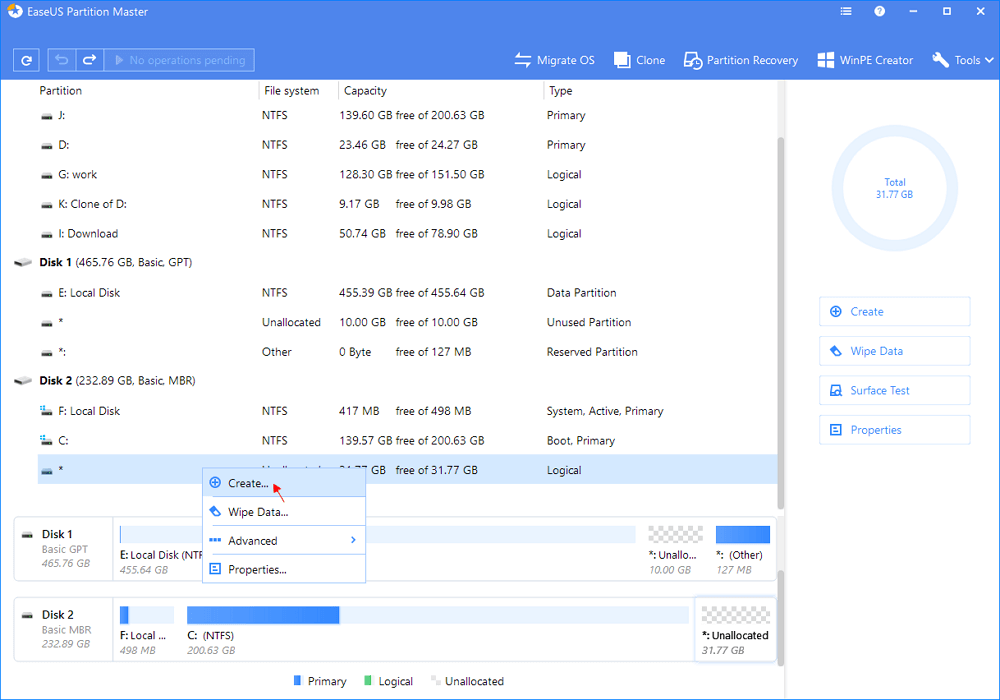 Step 3. Execute operations.
Click the "Execute Operation" button at the top corner and keep all changes by clicking "Apply".
Many users find it particularly annoying to re-install the operating system and hard drive. This software is a right hand to migrate OS and copy disk/partition.
No data loss and Windows reinstallation is needed. Follow to learn how to transfer Windows 10 to a new hard drive(HDD/SSD) and how to migrate Windows 7/10 to SSD.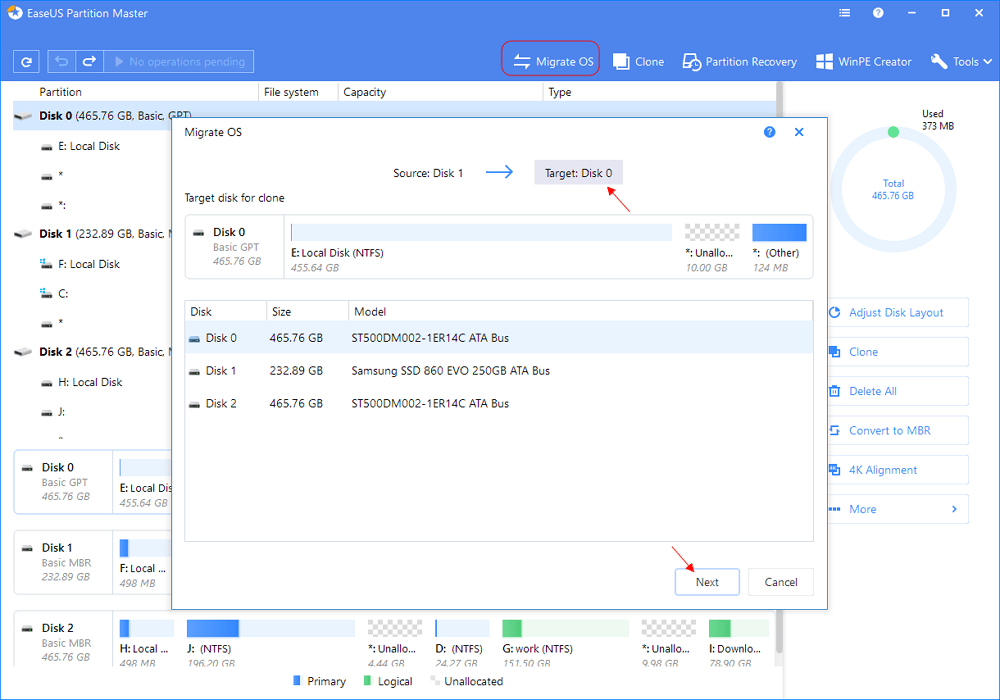 Clone HDD to SSD - Upgrade Hard Drive
When your hard drive is too small, it is easy for you to apply the disk/partition copy feature for upgrading disk.
You may follow clone 1TB HDD/SSD to 512GB SSD as a guide. You can also apply this feature to clone SD card in Windows 10.
It brings huge convenience to help you immediately restore the partition and data when you accidentally deleted a volume.
Other Disk Utilities in Windows
Free application for Windows, designed to defragment files and folders on a hard drive, consolidate free space, and optimize file placement. Large contrast in interface color. If you intend to get more info, please click links.
Disk Space Fan 4 is a disk space analyzer and duplicate file remover software. It takes 1 minute to scan and show space with a pie chart. You can free up disk space and delete big files.
This software contains disk management, defragmentation at system boot time and game optimization. The last feature optimizes game experience, saving long load time.
WinDirStat is a disk usage statistics viewer and cleanup tool for various versions of Microsoft Windows. The main window is the same as the built-in computer tool. But one difference is each file represented by a colored rectangle, which is proportional to the file size.
UltraDefrag is a disk fragmentation for Windows, which can defrag locked system files at the beginning of the PC boot process.
Extra Subst is a virtual disk management tool that allows users to more easily access commonly used folders in the computer, and can create, edit, and delete virtual drives on the PC, and may also create virtual drives based on the selected folders.
FAQ
1. How to wipe the disk with EaseUS Partition Master?
You can use the Wipe feature to wipe out a disk with EaseUS Partition Master, which alternatively overwrites the disk. In most cases, the data cleaned with this feature are not able to be retrieved.
2. What does disk utility do?
Disk Utility is used to erase, format, or manage internal disks and external storage devices. Disk Utility can also be used to add and control volumes, or if you want to organize your data into partitions. Disk Utility can be useful if you are working with RAID sets.
3. How do I know if disk utility is working on Mac?
Open Disk Utility.
Select your device that you are having problems with from the sidebar.
Click on First Aid.
Disk Utility will check the partition maps on the disk and check each volume.
4. Is there a disk utility for Windows?
Disk Management is a system utility in Windows that enables you to perform advanced storage tasks. Here are some of the things Disk Management is suitable for: To set up a new drive, see Initializing a new drive. To extend a volume into space that's not already part of a volume on the same hard drive, see Extend a primary volume.
Updated by Tracy King 
Tracy is enthusiastic to share technical tips and solutions about computing and technology. Being an EaseUS member since 2013, she also writes instructional content about data recovery, file/disk partition/system backup and recovery, partition management and iOS/Android data recovery.
Daisy has been working as a technical writer for eight years. She specializes in making the complicated easy. She believes that technology should bring users satisfaction, not annoyance, so she writes a lot to help people overcome their tech troubles.
I love that the changes you make with EaseUS Partition Master Free aren't immediately applied to the disks. It makes it way easier to play out what will happen after you've made all the changes. I also think the overall look and feel of EaseUS Partition Master Free makes whatever you're doing with your computer's partitions easy.

 Read More

Partition Master Free can Resize, Move, Merge, Migrate, and Copy disks or partitions; convert to local, change label, defragment, check and explore partition; and much more. A premium upgrade adds free tech support and the ability to resize dynamic volumes.

 Read More

It won't hot image your drives or align them, but since it's coupled with a partition manager, it allows you do perform many tasks at once, instead of just cloning drives. You can move partitions around, resize them, defragment, and more, along with the other tools you'd expect from a cloning tool.

 Read More
About EaseUS Partition Master
All-round disk & partition management software for personal and commercial use. Let it manage your storage drive: resize, format, delete, clone, convert, etc.
Video Tutorial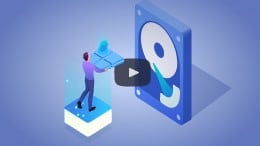 How to Partititon a Hard Drive on Windows 10/8/7
How Can We Help You
Find answers to common questions below.