What Is Windows Disk Management
Disk Management is a Microsoft Windows built-in program that performs to manages your hard drive for better performance, such as extend volume, shrink volume, initialize a new disk and change a drive letter.
How Do I Access Disk Management Disk Management
For Windows 11 users, the ways to access Disk Management have no changes in the operating process. You can take a look at these quick ways and perform resize or other functions right away.
Method 1. Run Disk Management from Command Prompt
Command Prompt is the command utility that most Windows users are familiar with. This command-line interpreter is available to execute the fixed commands to set up your computer in a few seconds. Surely it works to access disk management in a shortcut. If you prefer to take a shortcut without complicated steps, this method is the best one for you.
Enter one word and press Enter. Then you can check disk management.
Step 1. Click the Search icon and type Command Prompt in the search box. Click to open it.
Step 2. Enter the "diskmgmt" command and hit the Enter key.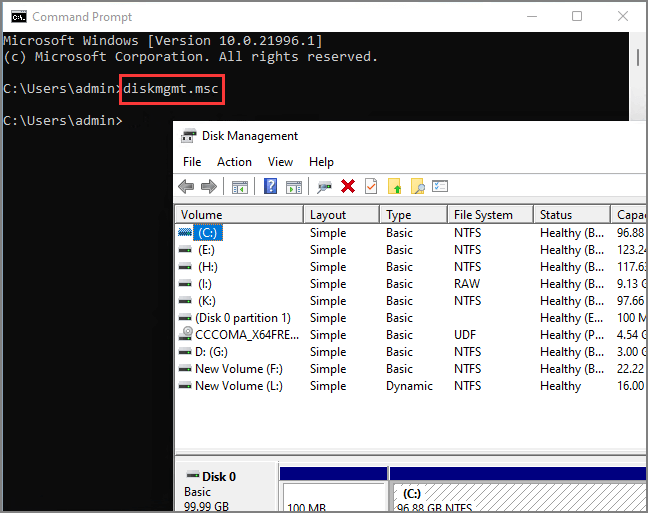 This Disk Management will be awake and you can close the cmd window.
Given command-line utility, the one goes for CMD, the other is Windows Powershell. You can type the same command line to reach Windows built-in disk manager.
Step 1. Click the Search icon and type Windows Powershell in the box. Launch it with a click.
Step 2. Input "diskmgmt" and press Enter key.
Method 2. Launch Quick Access Menu to Open Disk Management
The basic quick access has no changes in Windows 11. That means you can press "Windows + X" to access what you want in Windows 10, the same operations in Windows 11 are accessible to wake the disk management.
Step 1. Right-click the Windows icon and you can see a list of options on the user menu.

Step 2. Click the Disk Management.
Method 3. Using Start Menu Search to Open Disk Management 
Whenever you want to open any app on a Windows computer, you can directly search it on the Start search bar. But one note is that the disk management is not named as "disk management" on the best match. How does it work? Follow the below instructions:
Step 1. Click the search icon and type disk management on the search box.
Step 2. Check the result and click the "Create and format hard disk partitions".
Or you can type "diskmgmt.msc" on the search box and directly click the appearing icon on the best match.
Method 4. Run Dialog to Open Disk Management
The Run Dialog in Windows is used to directly open any applications or files. So you can launch this Run box to access it.
Step 1. Press the Windows + R shortcut to wake the Run dialog.
Step 2. Type "diskmgmt.msc" in the open field and click the OK button.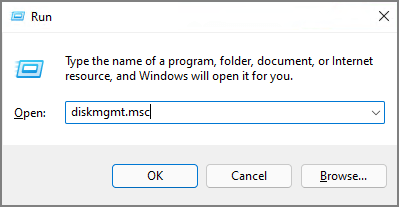 The Disk Management will run instantly.
Method 5. Run Control Panel to Access Disk Management
The Control Panel in Windows lets users check and change hardware and software settings, which also includes the disk manager tool. So you can apply this path to enter manage software.
Step 1. Click the search icon (We've mentioned it a lot), search Control Panel on the search menu. Click the "Open" option to launch Control Panel.
Step 2. If Control Panel directly goes to the All Control Panel Items page, you can click Click "Control Panel" on the path and quit to the main menu.
Step 3. Click the System and Security.
Step 4. Move to Windows Tools and click "Create and format hard disk partitions".
Method 6. Launch Computer Management to Access Disk Management
Computer Management is another useful collection to control PC settings.
Step 1. Click the Search icon and input Computer Management in the search bar.
Step 2. Open the Computer Management. Go to the Storage section and click Disk Management. You can see the interface of the disk manager tool on the right side. Directly manage your disk right away.
Method 7. Wake Disk Management Using Task Manager
Step 1. Right-click the Windows icon and select the Task Manager from the menu.
Step 2. Click the File tab and choose "Run new task".
Step 3. Then the "Create new task" run box will pop up. Type diskmgmt.msc and click the OK button.
Is There Any Disk Management Alternative? Yes!
We know that Disk Management features meet some basic needs for optimizing devices. However, if you want to search for some advanced functions, like clone hard disk to another new drive, migrate OS to SSD, recover damaged partitions, merge non-adjacent partitions, and more, this Windows-owned disk tool can do nothing for you unless. Time to seek help on the third-party software - EaseUS Partition Master.
Read an article about the top 8 disk management tools:

Roxanne is one of the main contributors to EaseUS and has created multiple posts on digital devices like PCs, Mobile phones, tablets, Mac, etc. She loves to share ideas with people of the same interest.