Table of Contents:
What is Simple Volume
Create New Simple Volume with Windows Disk Management
Use EaseUS Partition Master to Create a Simple Volume
Conclusion
What is Simple Volume
Simple volumes are physical drives that operate independently of one another. They give you basic to advanced features on Windows. It is the reason simple volumes are so popularly used nowadays.
For example, you can use simple volume partitions to run Windows on your basic disk. Also, you can manage simple volumes to store data on a dynamic disk.
But what is exactly a simple volume? There are basic definitions of data storage you need to know. Simple volumes are units of data storage you can use on basic disks and dynamic disks.  Each one has different advantages and limitations. It depends on your goals and the type of disk. They were first introduced with Windows 2000, and initially used for dynamic disks.
From Windows Vista to the new versions, the meaning of simple volume was expanded. It is used to define both partitions on basic disks and simple volumes on dynamic disks.
Get more details: click here.
Create New Simple Volume with Windows Disk Management
The Disk Management in Windows is used for creating and managing disk partitions. It allows deleting, formatting, and creating simple volumes.
What Is Simple Volume in Disk Management?
A simple volume is partly like a partition but still contains differences. It does not have the limitations on partition size and volume number. Windows Disk Management is equipped with a new simple volume wizard to help you create a simple volume on a disk.
How to Create A New Volume in Disk Management
To create simple volumes on Windows 10, you will need to open Disk Management with administrative privileges. Follow these steps below.
Step 1. Just right-click on the Start button, then click Disk Management. Alternatively: Press Windows + R, then type diskmgmt. msc in the Run box.
Step 2. Right-click the unallocated space on your hard disk, and then click New Simple Volume. The New Simple Volume Wizard will open.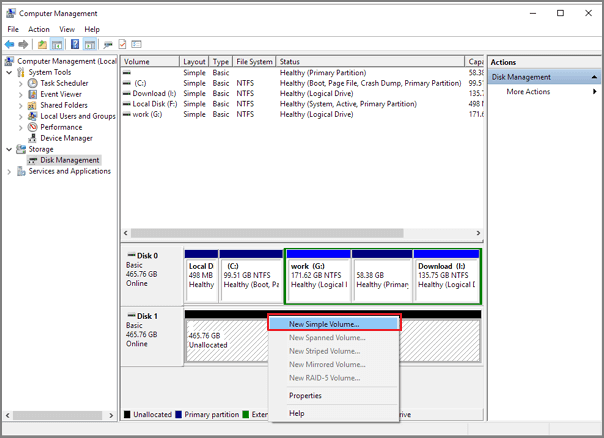 Step 3. With help of the New Simple Volume Wizard, pick the NTFS formatting. Choose the size of the volume you want to create in MB or just accept the maximum default size suggested. Assign a different drive letter to your volume, or accept the default drive letter. You can select the file system, allocate unit size and name a label for the volume.
Click Next. Then review your configurations and, if it's all alright as you desire, click Finish.
Related article: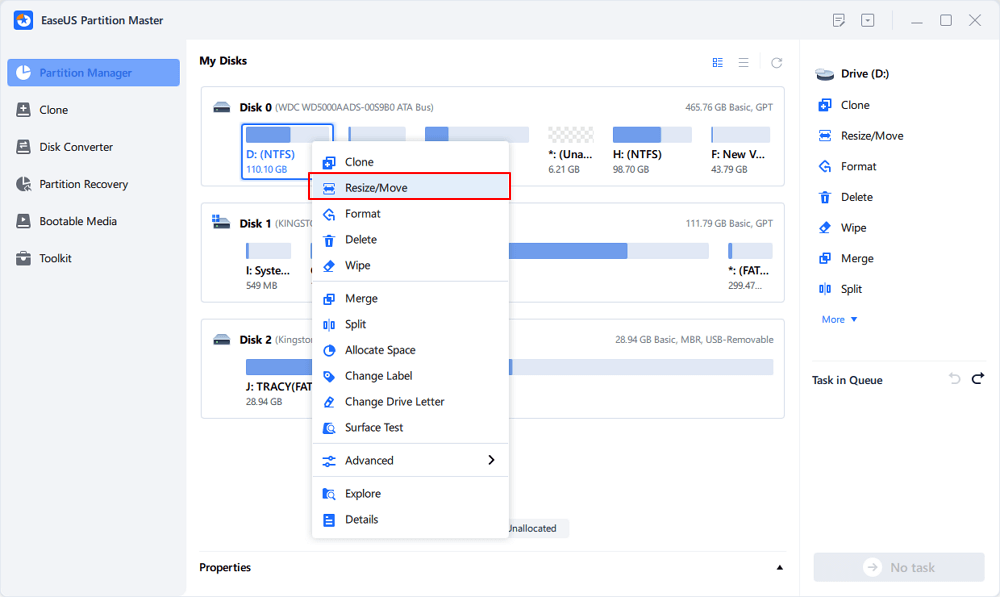 Use EaseUS Partition Master to Create a Simple Volume
Are you frustrated every time you attempt to create a simple volume disk in Windows?
The EaseUS Partition Master creates simple volume disks with ease. From the basic to the advanced tools, it offers you a complete solution for managing your hard disk space. For example, partitioning, resizing, moving, creating, merging, deleting, formatting, copying, wiping,  hiding, and showing volumes. Easy-to-use, handling both basic and dynamic disks.
You can change your partitions without restarting the PC or losing all data. So the hard drive will have space for new simple volumes.
Step 1. Launch EaseUS Partition Master. On the main window, right-click on the unallocated space on your hard drive or external storage device and select "Create".
Step 2. Adjust the partition size, file system (Choose the file system based on your need), label, etc. for the new partition and click "OK" to continue.
Step 3. Click on the "Execute 1 Task(s)" button and create a new partition by clicking "Apply".
Watch the following video tutorial and learn how to create a partition in NTFS, FAT, or EXT file system.
Bonus Tip: How Simple Volumes Work: Size, Flexibility, Booting
So, simple volumes came with the technology of dynamic disks. But nowadays you can use it on basic disks and dynamic disks, too. Simple volumes on basic disks are primary partitions or logical partitions (extended partitions).  
For using only basic features, like booting Windows, use simple volumes on basic disks. For using advanced features you might learn how to use simple volumes with dynamic disks. Simple volumes on dynamic disks are called dynamic volumes.
For example, you can store data with the flexibility you need. Simple volume helps you get all your data into a single, easily accessible location. Dynamic volumes have more flexibility than partitions. But you cannot have multi-boot volumes with them.
Simple volumes on basic disks are not easy to extend. If you are creating simple volumes on dynamic disks, it allows increasing the size easily. The size of these simple volumes can be increased in two ways.
The first is extending the volume to unallocated space on the same disk it was created. Format the volume with NTFS to enable this option. You can "Mirror" the simple volume for it. It will remain a simple volume. The second is creating a spanned volume. You extend it to include unallocated space from multiple dynamic disks.
You cannot delete parts of the spanned volume unless you delete the whole volume. Please note you cannot extend boot volumes.
Simple volumes are not fault-tolerant. It means you cannot interrupt any process related to simple volumes. Otherwise, it will cause the loss of data. For this reason, advanced users learn techniques like mirroring simple volumes. You will have two copies to share data between them.
Conclusion
We learned that simple volume allows for basic to advanced uses. They can be used on basic and dynamic disks. But each case has its qualities and limitations. The best decision varies according to your goals.
Do you want to run partitions with multi-both features for various OS? Just create simple volumes on your basic disk. Do you need to organize a large collection of data into a single location? Use simple volumes on dynamic disks. In this way, you avoid flipping through hundreds of folders if you want to find a file every time you want to access one of them. Also, you don't have to copy and paste multiple files.
Each kind of use is different. Because of this, you may need to convert a simple volume on a dynamic to a partition on a basic disk or vice-versa. It may take time and cause data loss according to the power of your tools.
With EaseUS Partition Master, you can create simple volume disks quickly and easily. You don't need to reformat the disk while resizing, moving, and copying partitions.  If you want to use your existing disk but need more space to create new volumes, this option is a good choice.  Users who have difficulty resizing or moving partitions will appreciate this option.
New Simple Volume FAQs
1. Does Creating A New Simple Volume Erase Data?
Yes, creating a new simple volume will erase data.
2. How Do You Choose New Simple Volume?
Choose new simple volume in disk management:
Run Disk Management and right-click the unallocated space. Then choose "New Simple Volume" from the list. Follow the New Simple Volume Wizard to create volume.

Roxanne is one of the main contributors to EaseUS and has created multiple posts on digital devices like PCs, Mobile phones, tablets, Mac, etc. She loves to share ideas with people of the same interest.