"Hi there, do you know how to fix the problem that Extends Volume option in Disk Management is greyed out? I was planning to expand my system C drive so to speed up the computer with Windows 10. I opened Disk Management tool in Windows 10, deleted a partition to leave unallocated space so to extend C drive? But it won't allow me to do so. Why? The Extend Volume option is greyed out and how can I fix this issue?"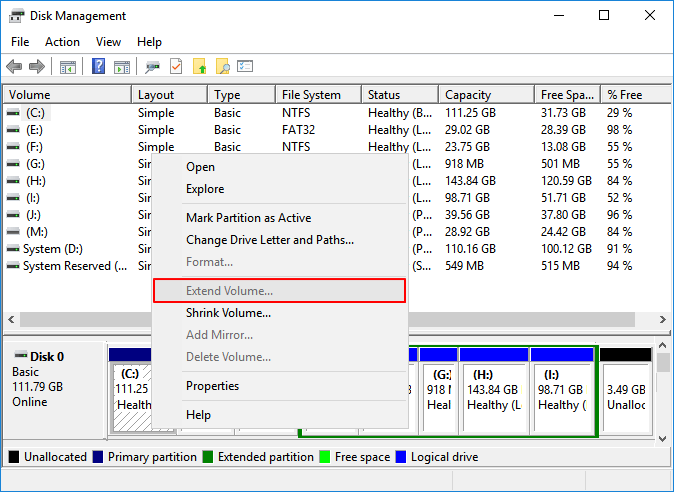 Are you having the same issue on your PC that Disk Management tool won't allow you to extend volume? Relax! Effective solutions are available right here to help you fix this issue for free now. How? Let's see:
Note: It's impossible to extend or add partition space with free space on a second disk. Therefore, please make sure that the free space or unallocated space and the volume which you want to extend are on the same disk.
Method 1. Deleting partition volume and moving free space
In order to extend volume, you must make sure that your computer can meed below two conditions:
1. Free or unallocated space in PC.
If you don't have free space or unallocated space on the computer, you must first delete an empty or useless partition to leave free/unallocated space for extending volume or partition.
2. Leave the free or unallocated space behind the drive or partition that you want to expand.
When the unallocated space is not right behind the volume partition which you need to extend, you'll not be able to extend it then. And the Extend Volume option will be greyed out.
Therefore, if you don't have free space, delete it first. Your best choice is to delete the partition right behind the volume which you need to extend. In this way, you can simply extend it then.
If you have already deleted partition but the unallocated space is not right behind the volume which is supposed to be extended, you can jump to Method 2 to look for a solution and move the free unallocated space now.
Method 2. Fix can't extend volume issue with free partition manager software
Here in this method, we'd like to recommend you to try a free but powerful partition manager software - EaseUS Partition Master Free which supports you to free extend or increase partition size and fixes Extend Volume Greyed Out the issue with ease. All you need is to free download and install it on your PC, then follow below steps to fix this issue with ease now:
Step 1: Locate the drive/partition
Step 2: Resize the partition
You can either shrink the selected partition or extend it.
To shrink the partition, simply use your mouse to drag one of its ends into unallocated space. Expand the "Advanced Settings" list, where you can see the exact disk space for each partition. Once done, click "OK".
Fig. 1 Unallocated space before the drive.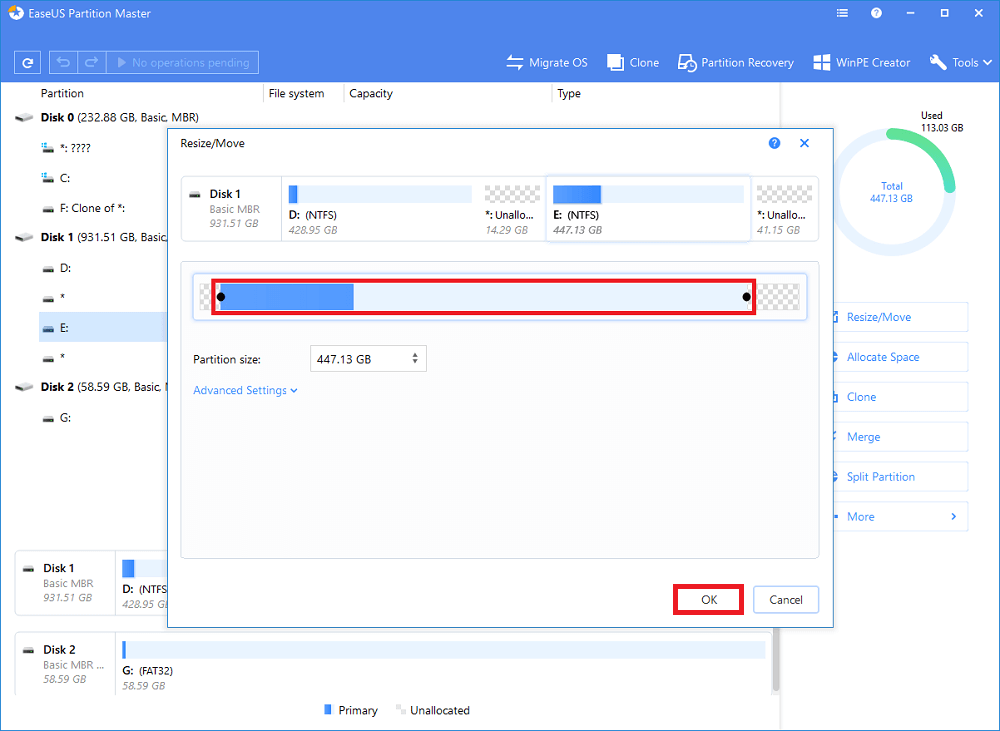 Fig. 2 Unallocated space after the drive.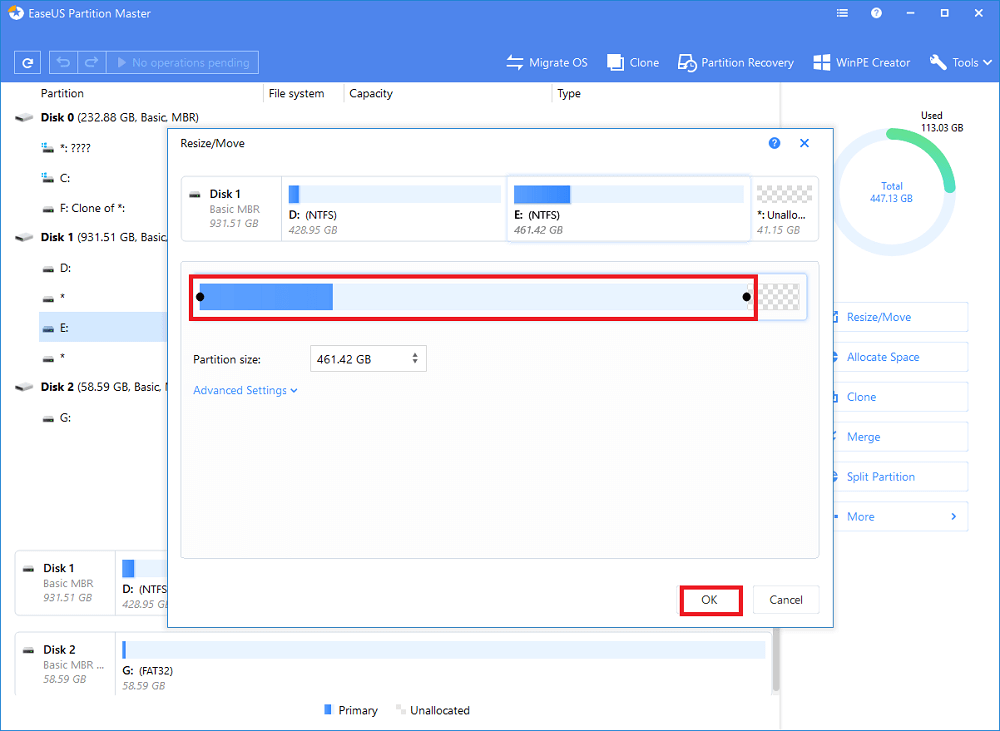 To extend the partition, make sure that there is unallocated space aside (if there isn't, follow the above steps to create some). In the same way, drag your mouse towards the unallocated space. Click "OK".
Fig. 3 Add unallocated space into the partition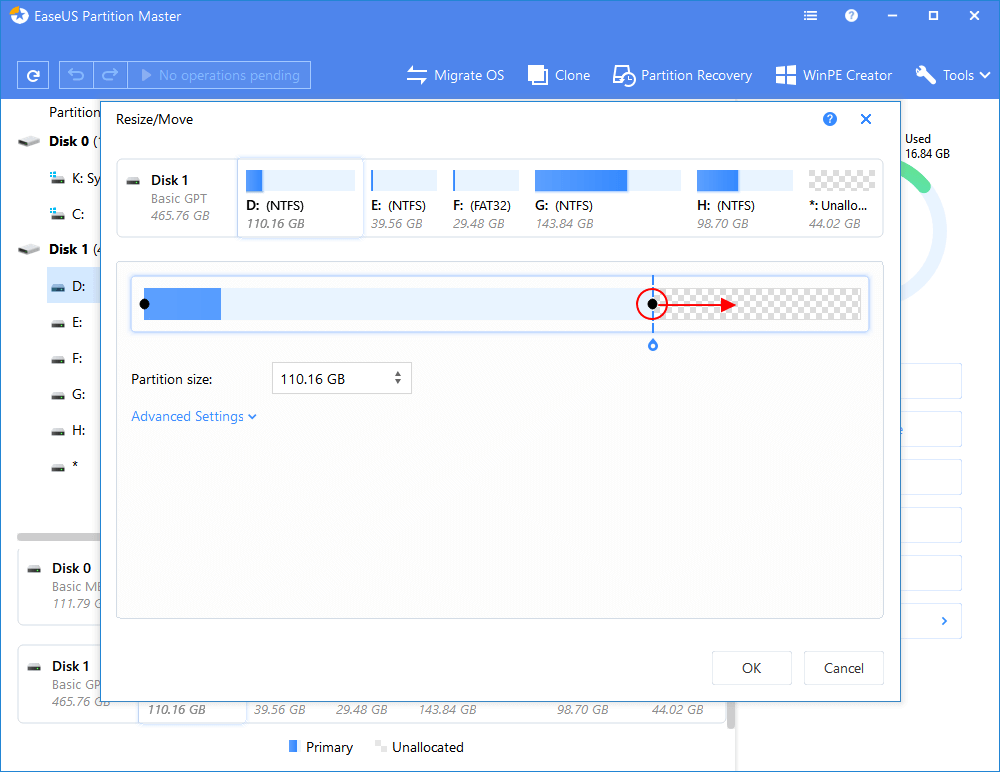 Step 3: Apply changes
100% of people found this article helpful.
Frequently Asked Questions
Why Choose EaseUS Partition Master?

"I've used Partition Master Professional many times to create, delete, format, move, rename, and resize partitions." —PCWorld

"Partitioning tools have come a very long since the days of complicated command line utilities and EASEUS Partition Master is one of the most advanced programs available." —TECH ADVISOR

"I love that the changes you make with EaseUS Partition Master Free aren't immediately applied to the disks. It makes it way easier to play out what will happen after you've made all the changes." —Lifewire
Will the "Migrate OS" feature transfer the Windows system files only or the whole C drive?

To ensure that the migrated system will boot normally, the Migrate OS feature will transfer all the files in the system and the boot partitions. Generally, the boot partition is the C drive so the transfer will include all the files in C.
Does EaseUS Partition Master license apply to multiple computers?

The license of Partition Master Professional and Server editions can be used on 1 computer only, while that for for the Technician and Unlimited editions can be used on multiple machines.
What is the difference between EaseUS Partition Master Trial version and the Free version?

Free is for home users only, with most basic functions available such as partition resize and clone. While trial can help you understand how this product works and test what a full license can do on a business or server OS machine.
Will it cause any data loss after resizing the partition in EaseUS Partition Master?

Generally, it will not cause any data loss or boot issue by resizing a partition. However, in order to protect your data, we suggest that you backup the partition before resizing, in case of any unexpected situations such as power outages, computer hardware failures, etc. You can use EaseUS Todo Backup to backup the partition and its trial version is fully functioned for 30 days.
What should I prepare before resizing the partition?

On the partition that is going to be operated, there might be some files being occupied by other programs. To ensure a successful operation, we suggest that you close all the unnecessary software before resizing that partition. Otherwise, EaseUS Partition Master will detect the partition being locked by the other software and require a reboot to resize the partition under boot mode.
About EaseUS Partition Master
All-round disk & partition management software for personal and commercial use. Let it manage your storage drive: resize, format, delete, clone, convert, etc.