"Hi there, do you know how to fix the problem that Extends Volume option in Disk Management is greyed out? I was planning to expand my system C drive so to speed up the computer with Windows 10. I opened Disk Management tool in Windows 10, deleted a partition to leave unallocated space so to extend C drive? But it won't allow me to do so. Why? The Extend Volume option is greyed out and how can I fix this issue?"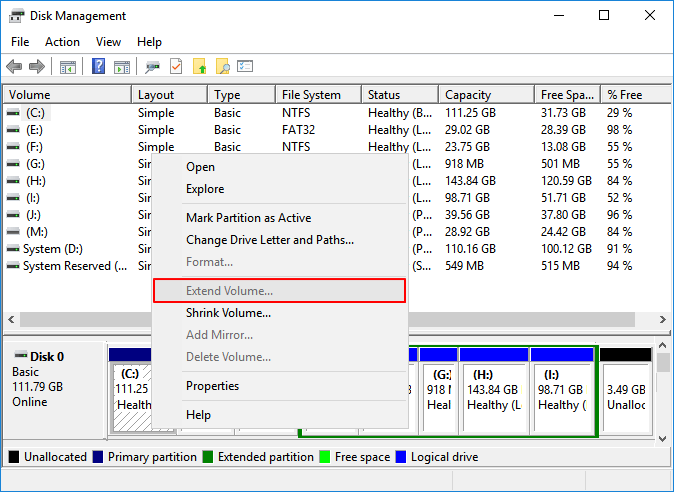 Are you having the same issue on your PC that Disk Management tool won't allow you to extend volume? Relax! Effective solutions are available right here to help you fix this issue for free now. How? Let's see:
Note: It's impossible to extend or add partition space with free space on a second disk. Therefore, please make sure that the free space or unallocated space and the volume which you want to extend are on the same disk.
Method 1. Deleting partition volume and moving free space
In order to extend volume, you must make sure that your computer can meed below two conditions:
1. Free or unallocated space in PC.
If you don't have free space or unallocated space on the computer, you must first delete an empty or useless partition to leave free/unallocated space for extending volume or partition.
2. Leave the free or unallocated space behind the drive or partition that you want to expand.
When the unallocated space is not right behind the volume partition which you need to extend, you'll not be able to extend it then. And the Extend Volume option will be greyed out.
Therefore, if you don't have free space, delete it first. Your best choice is to delete the partition right behind the volume which you need to extend. In this way, you can simply extend it then.
If you have already deleted partition but the unallocated space is not right behind the volume which is supposed to be extended, you can jump to Method 2 to look for a solution and move the free unallocated space now.
Method 2. Fix can't extend volume issue with free partition manager software
Here in this method, we'd like to recommend you to try a free but powerful partition manager software - EaseUS Partition Master Free which supports you to free extend or increase partition size and fixes Extend Volume Greyed Out the issue with ease. All you need is to free download and install it on your PC, then follow below steps to fix this issue with ease now:
Step 1: Locate the drive/partition
Step 2: Resize the partition
You can either shrink the selected partition or extend it.
To shrink the partition, simply use your mouse to drag one of its ends into unallocated space. Expand the "Advanced Settings" list, where you can see the exact disk space for each partition. Once done, click "OK".
Fig. 1 Unallocated space before the drive.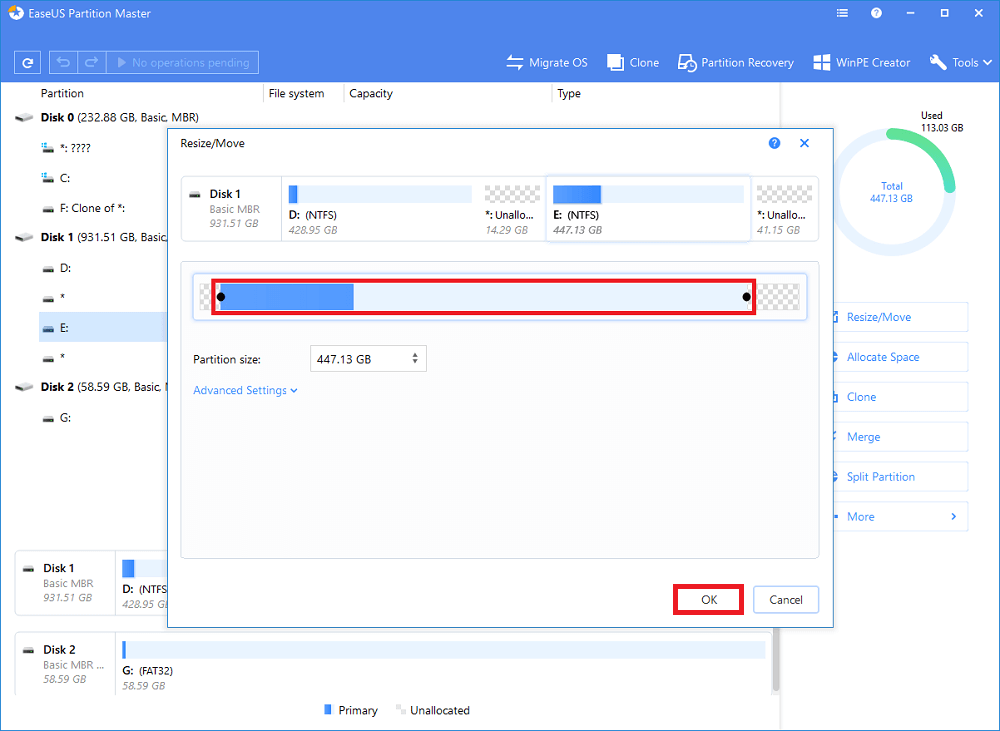 Fig. 2 Unallocated space after the drive.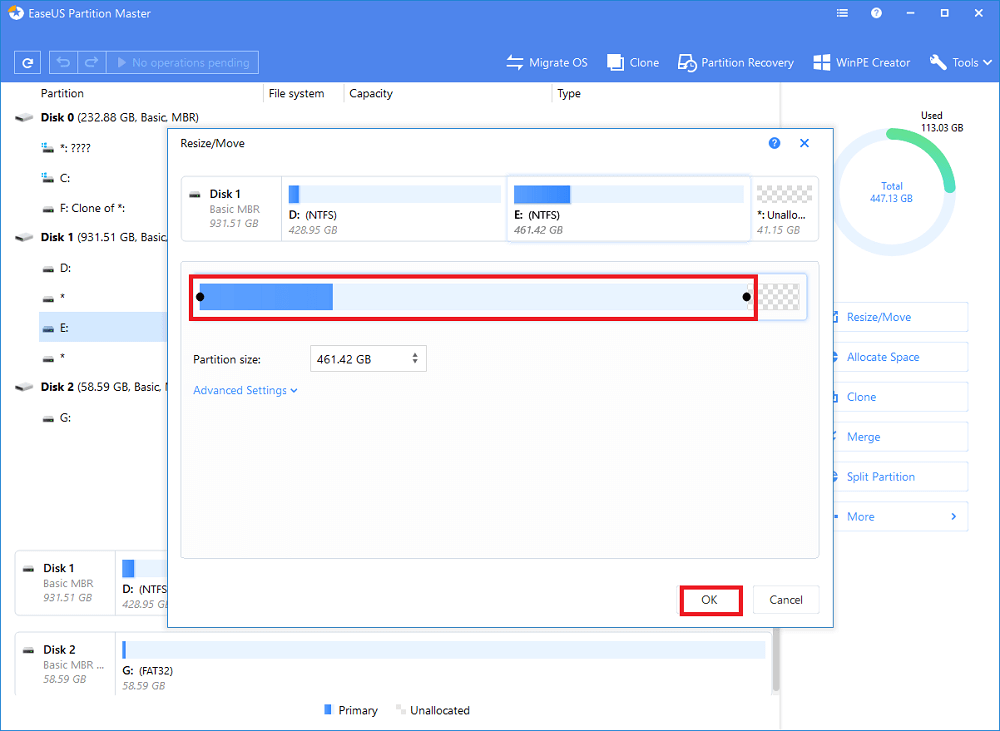 To extend the partition, make sure that there is unallocated space aside (if there isn't, follow the above steps to create some). In the same way, drag your mouse towards the unallocated space. Click "OK".
Fig. 3 Add unallocated space into the partition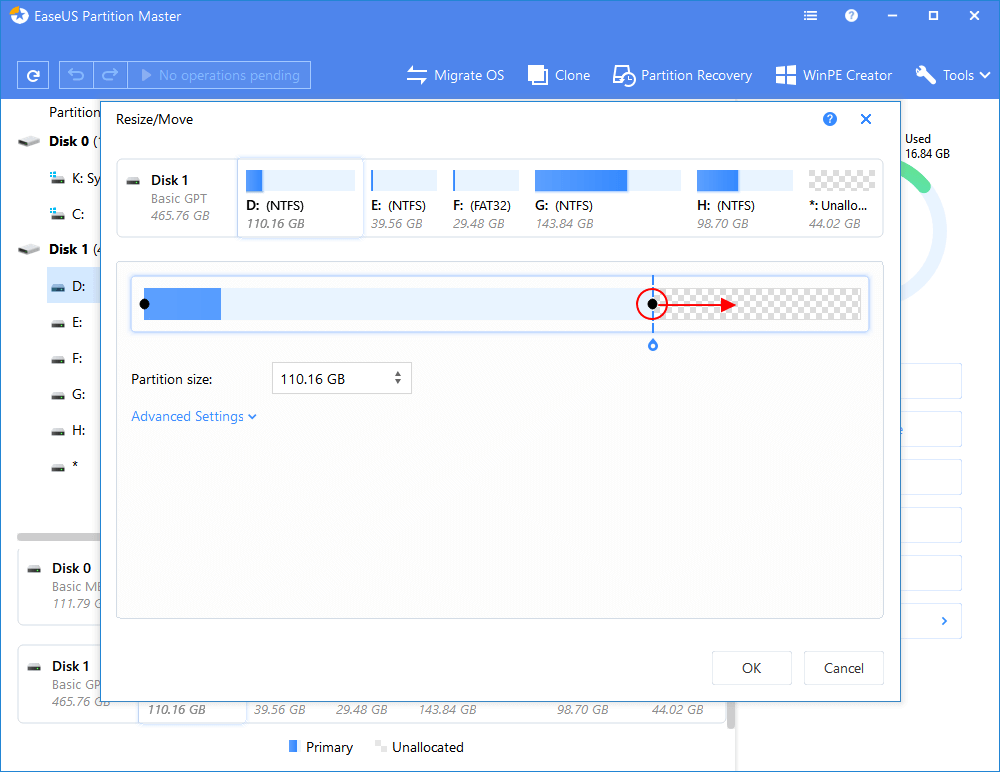 Step 3: Apply changes