PAGE CONTENT:
GPT Protective Partition
How to Clear GPT Protective Partition Error

DiskPart
EaseUS Partition Master
GPT Protective Partition
With a GPT Protective Partition showing up, owners can neither open this specified disk partition or make other operations on it via Disk Management. For example, They are unable to partition, format or simply access data inside. Since Windows couldn't read or support a GPT Protective Partition, how do you get rid of such a partition style and use the drive properly?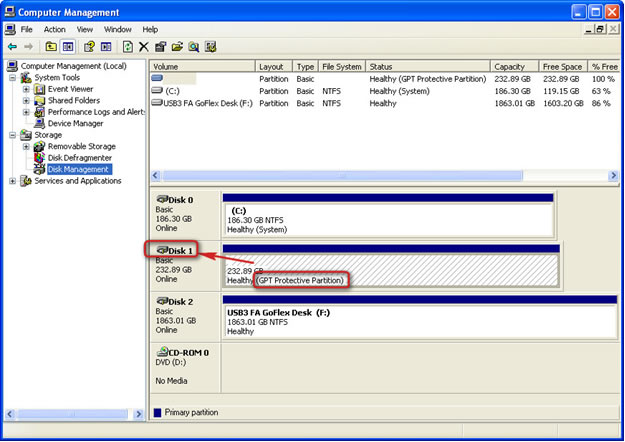 Before working out a way to remove the "protected" partition from your Windows computer, first of all, you must understand what GPT Protective Partition is about. As you know, the GPT is short for GUID Partition Table, comparing with the older MBR (Master Boot Record), it provides a more flexible mechanism for partitioning disks, and is now universally applied on most Windows operating systems, however, only excluding the 32-bit Windows XP and Windows 2003.
So, when you install a GPT internal hard drive or external hard drive on a 32-bit Windows XP & Windows 2003 computer, it may be in a normally "Healthy" state, however, Windows recognizes it as a "GPT Protective Partition", only because it cannot read or boot from it. As a result, data becomes inaccessible.
How to Clear The 'GPT Protective Partition' Error
To resolve the "protective" issue on a GPT partition so as to make it usable again, the following two workarounds would help.
Option 1. Diskpart command line utility
Option 2. Third-party GPT to MBR conversion software
 Important

Solutions on this page are only applicable to Windows XP and Windows 2003. Diskpart command allows you to clean the GPT Protective Partition. You'll then be left with an "Unknown, Not initialize and unallocated' disk, so all you have to do is to initialize the disk to MBR. Of course, all data will be completely erased. By contrast, the recommended third-party software called EaseUS Partition Master assists you in an entire secure way, because you can simply convert GPT to MBR with one click without destroying data.
Method One. Diskpart
Step 1: Press Win + R to open Run dialog > Type cmd and hit Enter to bring up Command Prompt. Run as administrator.
Step 2: In the command prompt, enter the command diskpart.
Step 3: Enter the command list disk.
Step 4: Enter the command select disk x. (x represents the drive letter of the GPT Protective Partition, so replace x with the exact letter)
Step 5: Enter the command clean.
In the end, type exit to close the diskpart.exe and type exit again to close the Command Prompt. Return to Windows Disk Management again, right-click on the originally 'GPT Protective Partition', choose 'Initialize Disk" and choose to initialize the disk to MBR. Since the clean command would wipe all data on the partition, administrators should really take care. Back up files or choose the second way to solve the problem.
Method Two. EaseUS Partition Master
It's good to know a risk-free way to fix GPT Protective Partition on the mentioned Windows operation systems without losing data. Now, download EaseUS partition manager software on your Windows PC, and follow the guide to work the problem out.
Step 1: Install and open EaseUS Partition Master on your Windows computer.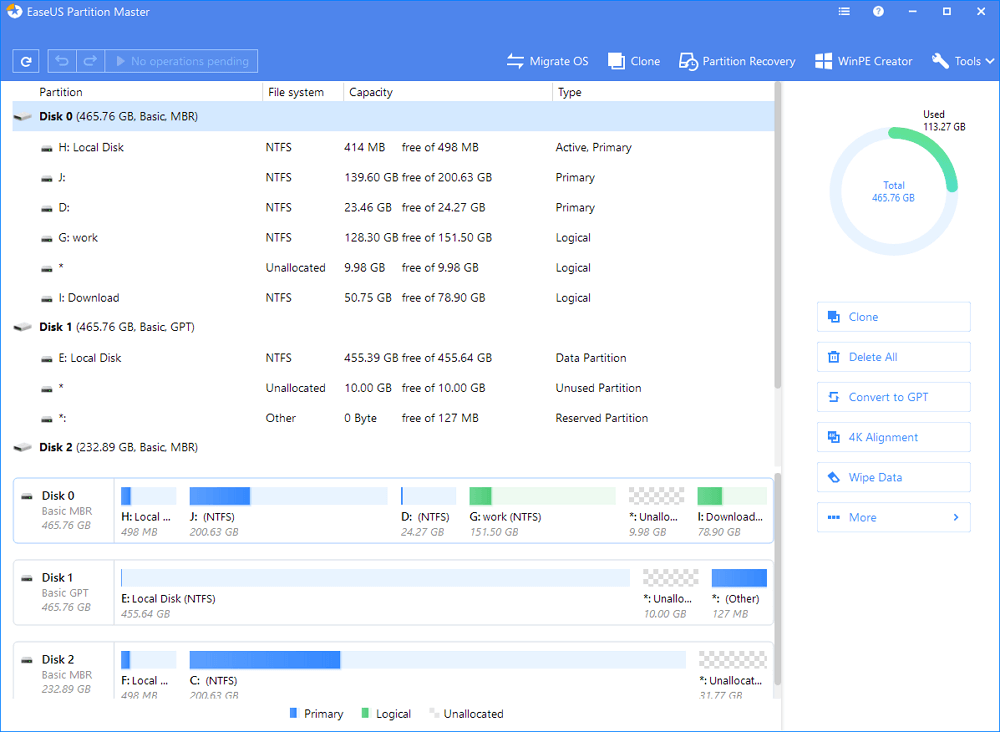 Step 2: Right-click the GPT disk that you want to convert and select "Convert to MBR". Then, you will add a pending operation.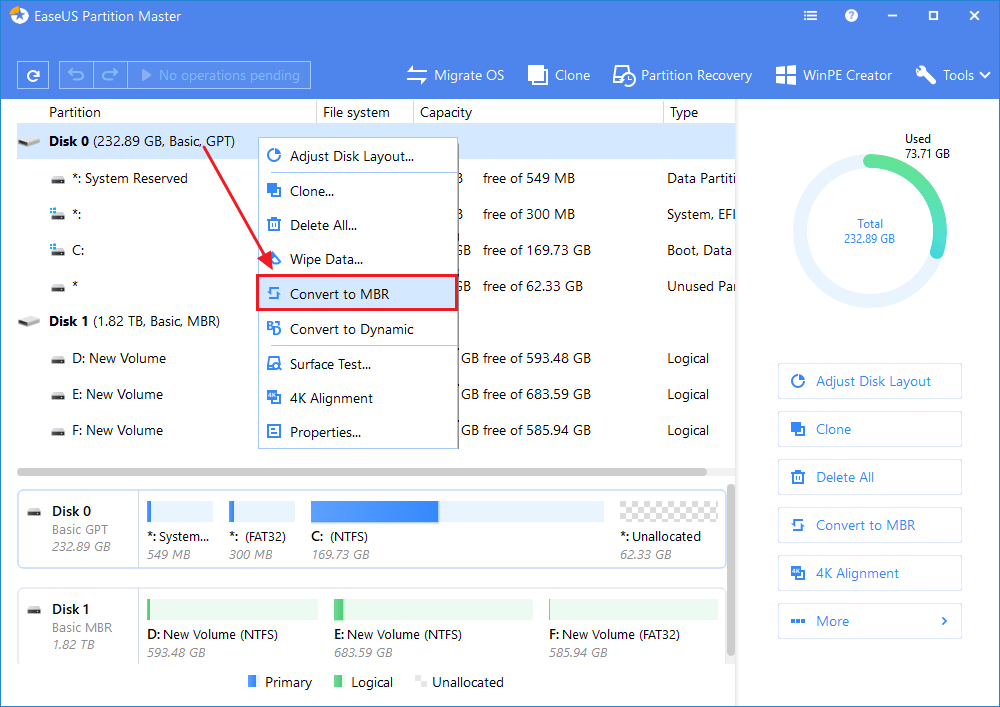 Step 3: Click the "Execute Operation" button at the top-left corner. Next, click "Apply" and begin to convert GPT disk to MBR. All data is safe with EaseUS partition manager software.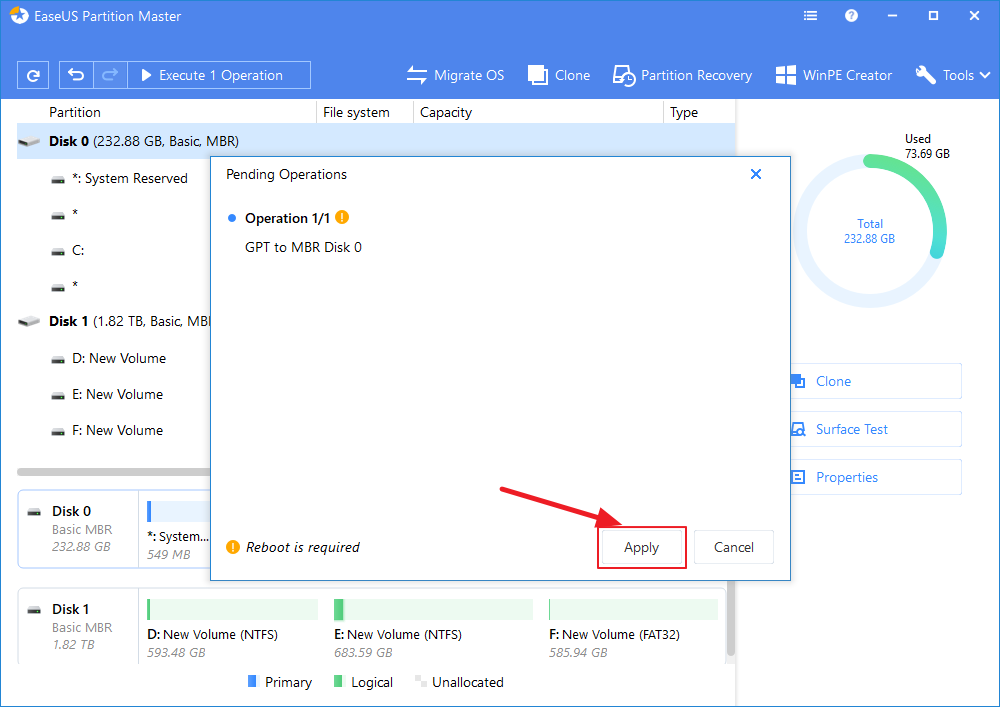 100% of people found this article helpful.
Frequently Asked Questions
Why Choose EaseUS Partition Master?

"I've used Partition Master Professional many times to create, delete, format, move, rename, and resize partitions." —PCWorld

"Partitioning tools have come a very long since the days of complicated command line utilities and EASEUS Partition Master is one of the most advanced programs available." —TECH ADVISOR

"I love that the changes you make with EaseUS Partition Master Free aren't immediately applied to the disks. It makes it way easier to play out what will happen after you've made all the changes." —Lifewire
Will the "Migrate OS" feature transfer the Windows system files only or the whole C drive?

To ensure that the migrated system will boot normally, the Migrate OS feature will transfer all the files in the system and the boot partitions. Generally, the boot partition is the C drive so the transfer will include all the files in C.
Does EaseUS Partition Master license apply to multiple computers?

The license of Partition Master Professional and Server editions can be used on 1 computer only, while that for for the Technician and Unlimited editions can be used on multiple machines.
What is the difference between EaseUS Partition Master Trial version and the Free version?

Free is for home users only, with most basic functions available such as partition resize and clone. While trial can help you understand how this product works and test what a full license can do on a business or server OS machine.
Will it cause any data loss after resizing the partition in EaseUS Partition Master?

Generally, it will not cause any data loss or boot issue by resizing a partition. However, in order to protect your data, we suggest that you backup the partition before resizing, in case of any unexpected situations such as power outages, computer hardware failures, etc. You can use EaseUS Todo Backup to backup the partition and its trial version is fully functioned for 30 days.
What should I prepare before resizing the partition?

On the partition that is going to be operated, there might be some files being occupied by other programs. To ensure a successful operation, we suggest that you close all the unnecessary software before resizing that partition. Otherwise, EaseUS Partition Master will detect the partition being locked by the other software and require a reboot to resize the partition under boot mode.
About EaseUS Partition Master
All-round disk & partition management software for personal and commercial use. Let it manage your storage drive: resize, format, delete, clone, convert, etc.