
About the Author
Hot Topics in 2022
Step-By-Step Guide: How to Install Windows 11 on a GPT Partition
The market for Microsoft software is massive. Over 400 million machines run Windows 10 alone as of 2022. The reason for this is simple - Windows provides robust, well-designed software for PCs and other devices that makes usage simpler.
However, if you're looking to go one step beyond Windows 10, never fear. While the Microsoft launch for the new update is slotted for the 24th of June 2022, the new software has leaked worldwide.
Are you wondering how to install windows 11? While you're waiting for the official version to launch, checking out the software beforehand can be beneficial.
| Workable Solutions | Step-by-step Troubleshooting |
| --- | --- |
| Preparation: Confirm Computer Supports UEFI Boot Mode | Step 1. Restart PC and press F2/F10/F12/Del to enter BIOS...Full steps |
| Prepare GPT Disk for Windows 11 Installation | 1. Open the start menu and search for 'format disk partitions'...Full steps |
| How to Install Windows 11 | 1. Download Windows 11 ISO...Full steps |
In this article, we walk you through Windows 11 installation to know what's coming in the new version of Windows.
Preparation: Confirm Computer Supports UEFI Boot Mode
For anyone who wants to install or upgrade Windows 11, they should check if their computer meets the Windows 11 requirements first,especially if the motherboard of the computer supports UEFI Boot Mode.
Check Windows 11 System Requirements:
Processor: 1 gigahertz (GHz) or faster with 2 or more cores on a compatible 64-bit processor or System on a Chip (SoC)
Memory: 4 GB RAM
Storage: 64 GB or larger storage device
System firmware: UEFI, Secure Boot capable
TPM: Trusted Platform Module (TPM) version 2.0
Graphics card: DirectX 12 compatible graphics / WDDM 2.x
Display: >9" with HD Resolution (720p)
Internet connection: Microsoft account and internet connectivity required for setup for Windows 11 Home
How to Check If Computer Supports UEFI Boot Mode
Step 1. Restart PC and press F2/F10/F12/Del to enter BIOS.
Step 2. Go to the Boot Menu, click the Boot Mode section, see if your computer supports UEFI mode.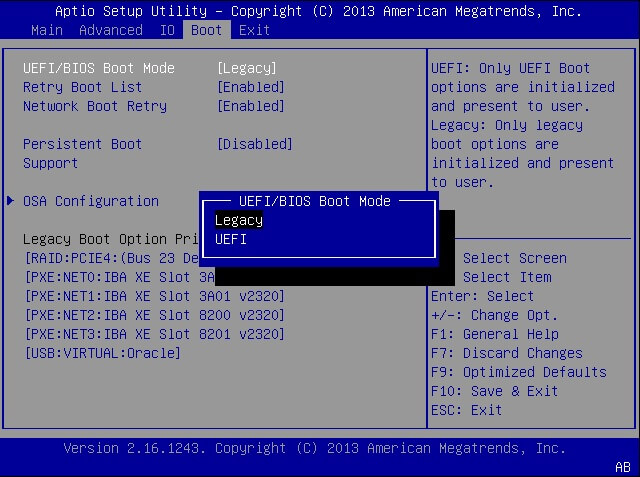 If you see a UEFI mode, it means your computer supports this boot mode.
If it's currently disabled, move to the next guide to enable UEFI and Secure Mode.
Enable UEFI Mode:
Step 1. Restart PC and press F2/F10/F12/Del to enter BIOS.
Step 2. Go to the Boot Menu, click Boot Mode, and switch the mode from Legacy to UEFI.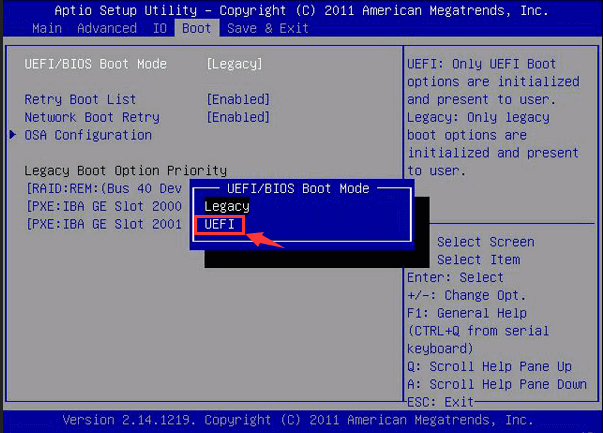 Note that if necessary, you should also go to the boot menu and enable Secure Boot mode for Windows 11 installation.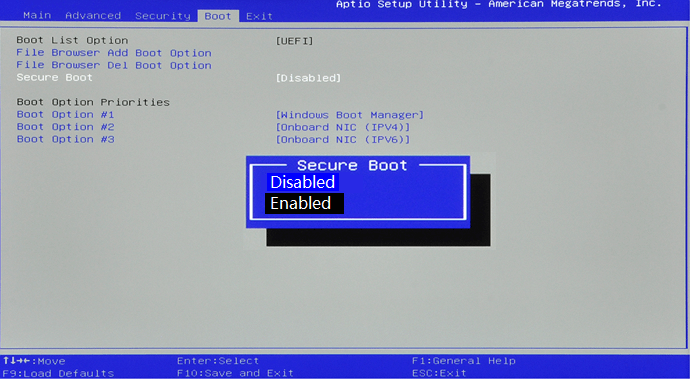 Prepare GPT Disk for Windows 11 Installation
Why Is GPT Partition Style?
It is critical to choose a suitable partition scheme, as the wrong one will not let you install the updated Windows 11 on your device.
The topmost reason is that Windows 11 requires a GPT disk for installation and also GPT is the basic of configuring UEFI and Secure Boot modes. We recommend using the GPT partition over MBR for this reason.
If you're unsure which partition style or size you chose, there is a way to ensure you're on the right track. Utilize the following steps to check your partition style:
1. Open the start menu and search for 'format disk partitions'.
2. Click Disk Management, when you see all your drives, click on the hard drive you plan to install Windows 11.
3. Click on the 'properties' button, then look for 'hardware' and 'properties' under it.
4. Select the 'volumes' button.
5. Click on 'populate,' and you will find your partition scheme.
Convert Disk to GPT If It's With MBR
If the target disk is with MBR disk type, to make sure that you have a GPT disk for Windows 11 installation, it is essential that you find the right way to convert the MBR disk to GPT.
Here EaseUS Partition Master with its disk conversion feature will help. It enables you to fully convert disk from MBR to GPT without losing any data.
Step 1. Download and launch EaseUS Partition Master on your Windows computer.
Step 2. Right-click the MBR disk that you want to convert and choose "Convert to GPT".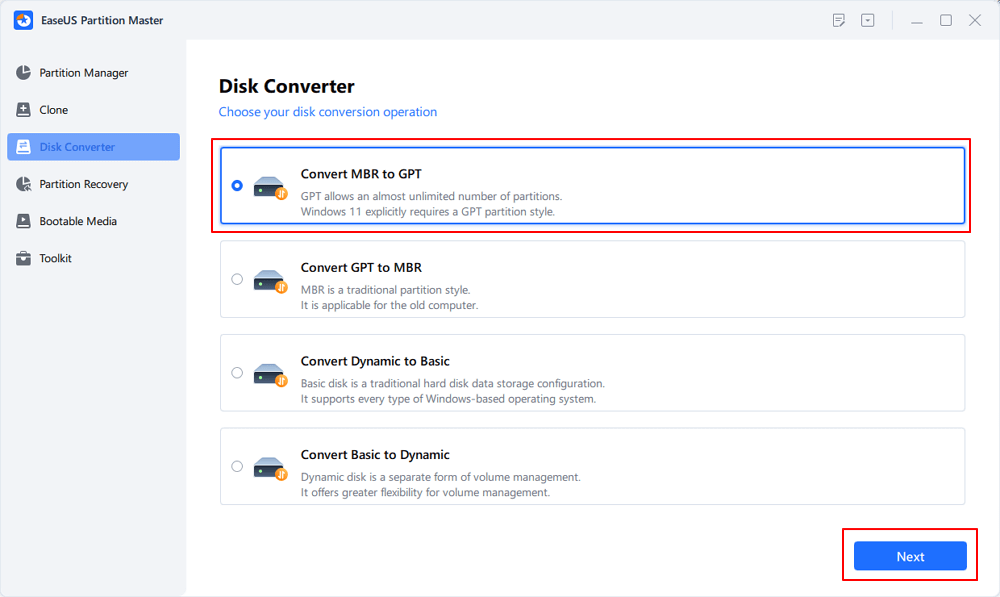 Step 3. After that, find and click the "Execute 1 Operation" button on the toolbar and choose "Apply" to start the conversion.
You will then be ready to continue installing the software to your device!
How to Install Windows 11
The first thing you need to do is download Windows 11. Remember, since this is the leaked version, it can come with bugs and viruses. We recommend installing it on a less-used device in case of any malfunctions or issues.
Ensure that your PC is compatible with Windows 11. You can also install it on an unsupported PC. To do this, follow the steps below:
#1. Download Windows 11
1. Download Windows 11 ISO
2. Set yourself up with an external hard drive with a minimum 8GB storage value.
3. Set up Rufus on your device. 
Easier Access: Download Windows 11 via EaseUS Win11 Builder
The main aim here is to create a bootable USB drive using Windows 10 ISO. 
Step 1. The Win11 builder is integrated with the EaseUS OS2Go software. Click the download button and launch the program after installation.
Step 2. Switch WinToGo Creator to Windows Install Drive Creator. The obtained system information is available on the home screen, and it keeps updating all the time. Apart from Windows 11, Win11 builder also supports you to download Windows 10/8.1.
Step 3. Connect your USB flash drive to the computer. Win11 builder will automatically detect your USB device, so all you need to do is click the Create button.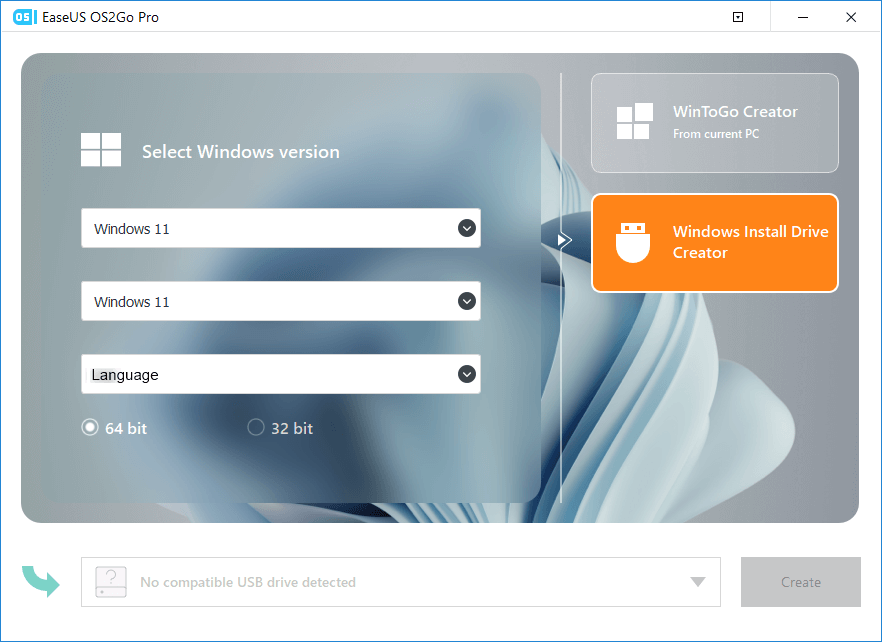 Step 4. The software will empty your USB drive data if it's a used one. Once the downloading process begins, wait there until it finished or leave for a while to do you own job.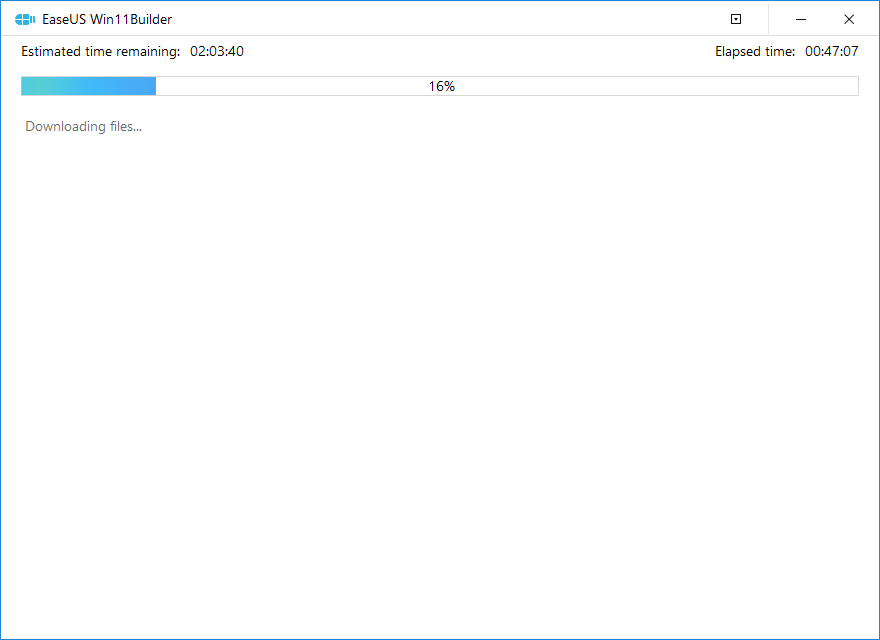 Step 5. After successfully downloading the Windows 11 iso image file on the USB drive, start to install Windows 11 from the bootable USB drive on your computer by following the installation wizard step by step.
Once down, you can follow the next guide to complete Windows 11 installation process on GPT disk partition.
#1. How to Install Windows 11 on GPT Partition
Now you're all set to install and check out Windows 11 on your GPT partition!
Here is the step by step guide to installing the software to your PC:
Step 1. Reboot PC and enter BIOS, setting the USB drive as the boot drive.
Step 2. Once the computer boots on the USB disk, follow the onscreen instructions to install Windows 11.
Step 3. Set Language, Time and currency format, Keyboard or input method, and click Next to move on.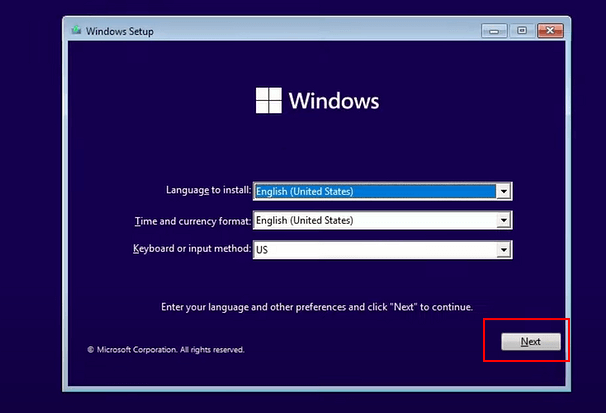 Step 4. Click Install Now to enter the next step.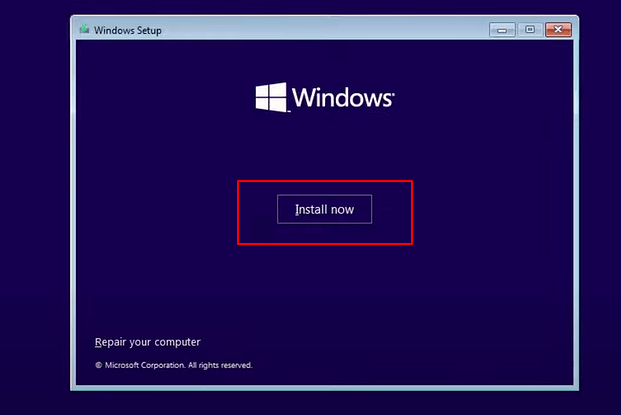 Step 5. Click I don't have a product key to continue.
Step 6. Select Windows 11 edition that you want to install and click Next to continue.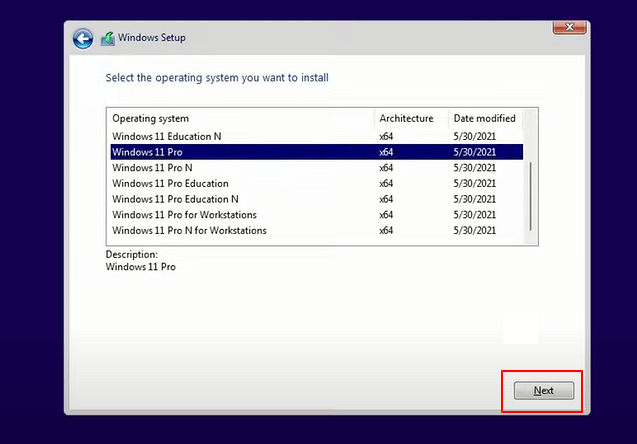 Step 7. Click to accept the Microsoft License Term and click Next.
Step 8. Click Custome: Install Windows only on the new disk.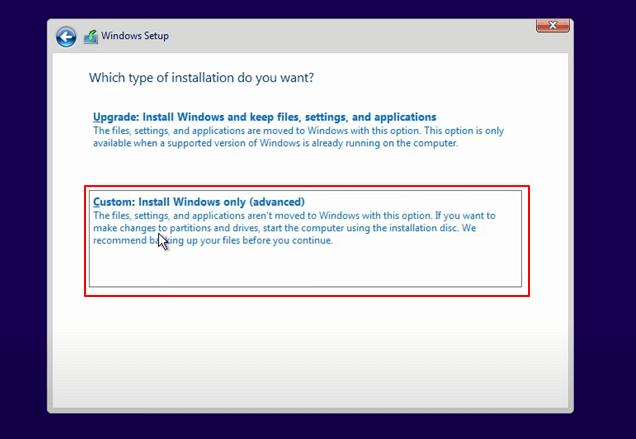 Step 9. Select the GPT drive as the target disk and click Next to continue.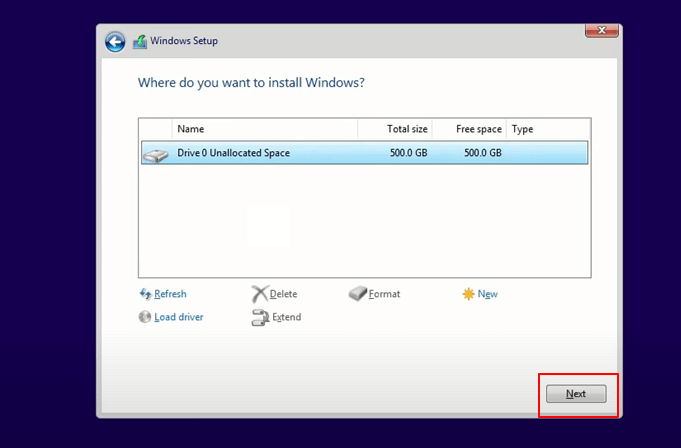 Step 10. Wait for the installing process to complete, the computer will restart automatically.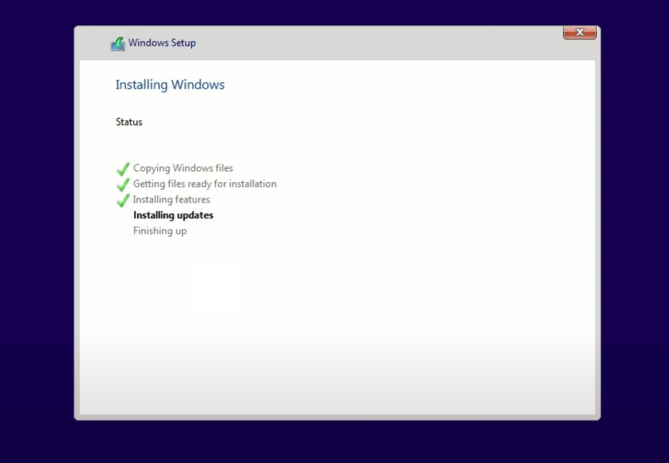 Then follow the on-screen guide to set up the computer. Once complete, you can then login in and boot the computer from Windows 11 now.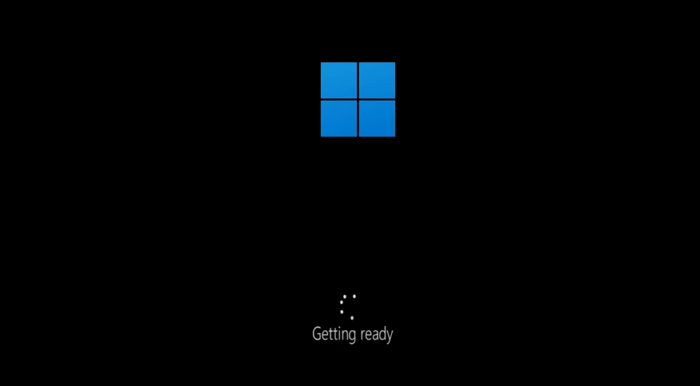 You will then see the Windows 11 startup screen. Congratulations! You just downloaded Windows 11 onto your device! Are you excited to set this software up? We will now walk you through using Windows 11 on your PC device.
#3. Setting up Windows 11
The installation for this software is similar to Windows 10. However, there are added features that make this update more appealing.
Let's go through the primary information you will need to provide to finish making the update:
1. Pick your language, time, currency, and keyboard/input method
2. You will then need to set up your account - either for personal use or work/school
3. Add your existing Microsoft account or make a new one
4. Begin personalizing your account by adding a username and password for your system
5. Create security answers, so your system is well protected
6. You will then have to pick your privacy settings as per your preferences
7. Customize your experience - add gaming, creativity, family, and other features
8. Sync OneDrive or your storage solution of choice
Voila! You're all set up! You now have Windows 11 on your device, ready for use. Use this process to check out the software, rather than for use.
As the OS hasn't yet been launched, using the leaked version for browsing or other activities can lead to a data breach. Therefore, use this installation to understand the ins and outs of Windows 11 rather than for everyday use.
Partitions Are Essential for Windows Software
We hope this guide proved helpful in understanding how to install Windows 11. However, remember the critical element here is the partition style and use. 
If you're looking for the best way to manage your Windows partition, be sure to check out EaseUS. Our effective partition manager software for PCs and other servers has been utilized by happy customers worldwide for their installation needs.
We also offer backup and data transfer software that is 100% safe and secure.
With over 530 million users worldwide, EaseUS is the software solution you've been looking for. Click here for a free trial of our partition master tool today! 
About the Author
Updated by Tracy King 
Tracy joined in EaseUS in 2013 and has been working with EaseUS content team for over 7 years. Being enthusiastic in computing and technology, she writes tech how-to articles and share technical solutions about Windows & Mac data recovery, file/system backup and recovery, partition management and iOS/Android data recovery.
Product Reviews
I love that the changes you make with EaseUS Partition Master Free aren't immediately applied to the disks. It makes it way easier to play out what will happen after you've made all the changes. I also think the overall look and feel of EaseUS Partition Master Free makes whatever you're doing with your computer's partitions easy.

 Read More

Partition Master Free can Resize, Move, Merge, Migrate, and Copy disks or partitions; convert to local, change label, defragment, check and explore partition; and much more. A premium upgrade adds free tech support and the ability to resize dynamic volumes.

 Read More

It won't hot image your drives or align them, but since it's coupled with a partition manager, it allows you do perform many tasks at once, instead of just cloning drives. You can move partitions around, resize them, defragment, and more, along with the other tools you'd expect from a cloning tool.

 Read More