Part 1. How to Install Windows 10 on GPT Partition
Things could be easier if you are looking for ways to upgrade to Windows 10. But if you are looking for ways to installing a new operating system from scratch, or reinstalling a fresh version of Windows 10 on a GPT partition, you are in the right place. You can upgrade/update to Windows 10 on your PC if you already have Windows 7 or 8.1 installed. If you want to install Windows 10 on an empty GPT partition, follow the steps below:
Also read: MBR VS GPT
Step 1. Download the media creation tool, create a Windows 10 installation media on an empty USB (min 8GB).
Step 2. Connect the USB to your PC and boot the PC.
As the firmware starts to run, press the key that opens the boot device menu. For example, press the Esc, F2, F9, F12, or another key to enter the firmware or boot menus.
Step 3. Boot into UEFI mode and locate the boot options menu.
Set Launch CSM to Enabled. If CSM is set to Disabled, you can skip to Step 4 below
Set Boot Device Control to UEFI Only
Set Boot from Storage Devices to UEFI driver first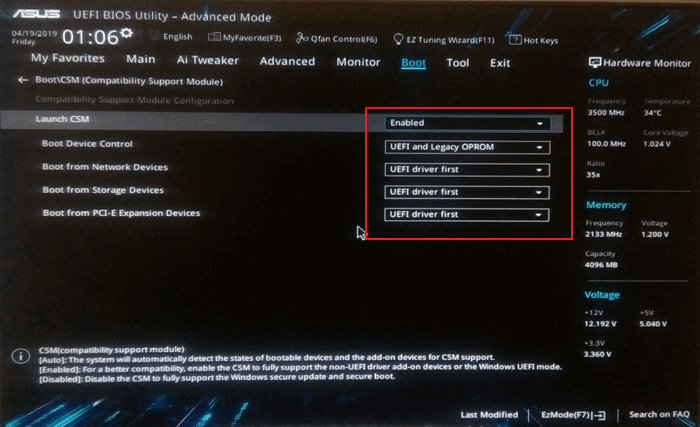 Step 4. Save your changes and restart the system to reenter the interface (for example, using F2 or the Delete key). Confirm in the Boot Priority List that the USB UEFI OS Boot option is at the top of the list.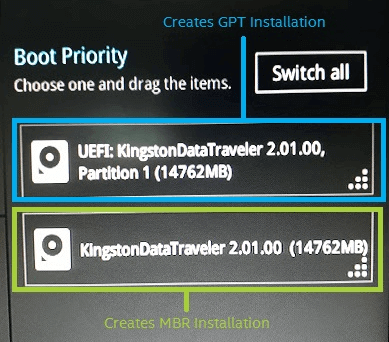 Step 5. Reboot the system and install Windows 10.
1. Choose which media to use.
2. Set language, and other preferences.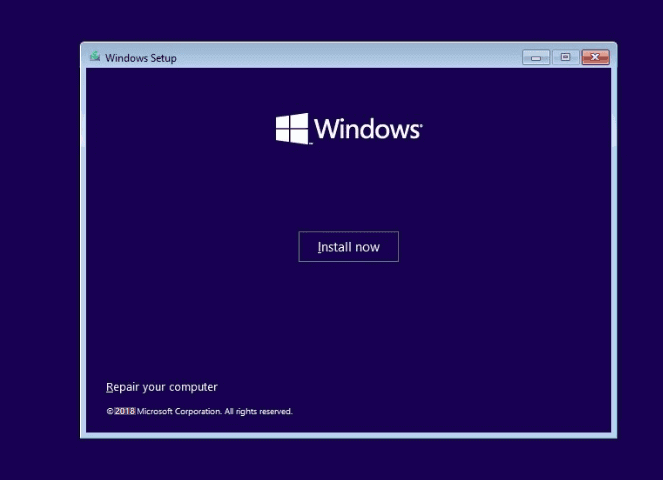 3. Skip entering a product key and select "Install Windows only". Select to install Windows 10 to the GPT partition, wait for the process to complete.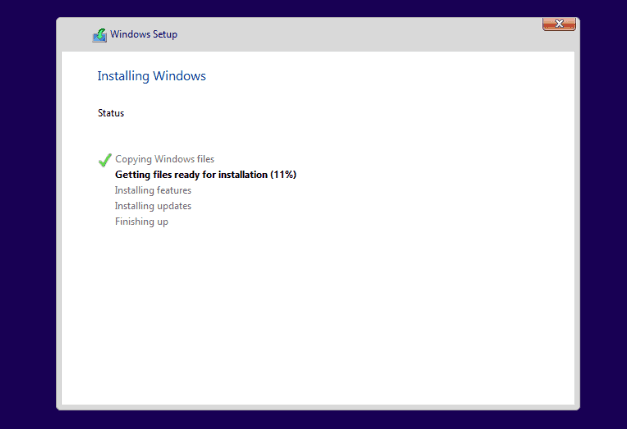 Step 6. Confirm that Windows 10 is installed on a GPT partition.
Boot into Windows > Open "Disk Management".
You see three partitions including the EFI System Partition.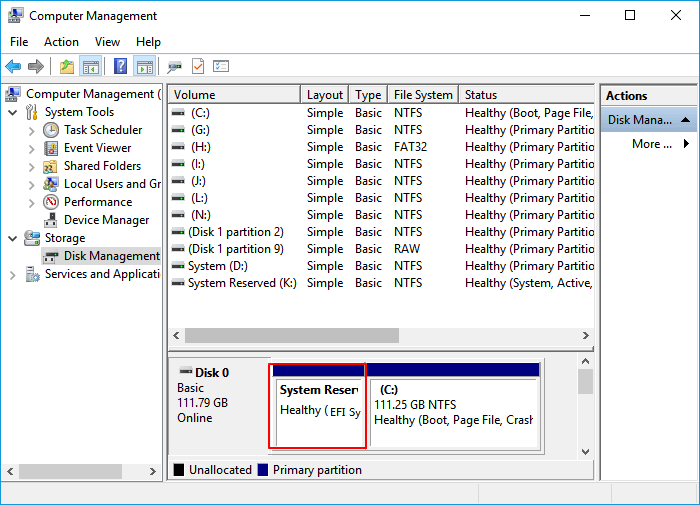 Right-click the disk > select "Properties > "Volumes". Here you can confirm the Partition style: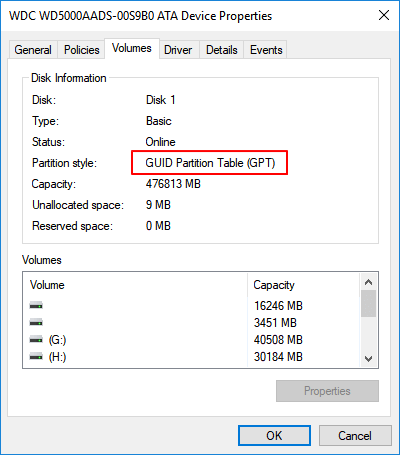 Part 2. GPT Partition Style Preventing Windows 10 Installation
Since the release of Windows 10, the reports can't install Windows 10 on GPT partition with the error message "Windows cannot be installed on this disk. The selected disk is of the GPT partition style" is continuing. Here's a real case:
"I have upgraded from Windows 8.1 to Windows 10, and now I wish to do a clean install. Then I burnt Windows 10 to a disk. When I was trying to do it, I get a problem with an error message "Windows cannot be installed on this disk. The selected disk is of the GPT partition style." Is there any way to fix the issue and install Windows 10 on GPT partition with success?"
This is one of the common errors occur during Windows installation. This error occurs due to two main reasons:
The motherboard of the device doesn't support UEFI, it only supports BIOS.
Your motherboard supports UEFI, but you didn't boot to UEFI mode.
There are two ways you can choose to get your problem solved. Carry out the one best suited to your needs.
Method 1. Convert GPT to MBR
If the motherboard itself doesn't support UEFI, the only way to solve your problem is to convert GPT to MBR. You can use Diskpart to convert GPT to MBR, but it's not recommended for some limitations and disadvantages.
1. It requires users to wipe and reformat the GPT disk for Windows 10 installing. Then you have to do an extra job - back up your files in advance.
2. Diskpart is a command prompt tool with the non-graphic interface, it is difficult for average users to operate.
So, converting GPT to MBR using EaseUS partition software without losing data is our suggestion. EaseUS Partition Master can directly convert GPT disk to MBR disk without any data loss (hard disk with the system installed is also supported). This partition magic software takes the risk and difficulty out of converting GPT to MBR, converting MBR to GPT, and resizing partitions on hard disks. It can be used without any special training. Follow the steps to solve your problem:
After that, you can install Windows 10 again.
Method 2. Boot to UEFI Mode
Things could be easier if your motherboard supports UEFI. If you didn't boot to UEFI mode, you can now boot to UEFI:
Boot the PC and press the key (Esc, F2, F9, F12, or another key) to enter the firmware or boot menus.
On the boot device menu, select "UEFI USB Drive". Save settings and exit BIOS.
Continue to install Windows.
In Part 1 we have mentioned it in detail, you can refer to part 1 to see the details.
Also read: Fix UEFI Boot Errors in Windows 10/8/7
Part 3. How to Protect Your GPT Partition Data (Extra Tips)
If you have data on your GPT partition and you want to install Windows 10 without losing data, this part would do you a great favor. Here's a real case from Microsoft:
"I have a hard disk with a GPT (GUID) partition table. I cannot install Windows 10 on this drive unless I first delete all the data on it why?"
You may encounter data loss if your GPT itself has data on it. The best way to get you out of this problem is to clone your partition to an external device before you take any actions. Then, after the Windows 10 installation, you can restore your data from the external device. EaseUS Partition Master makes it effortless to clone/migrate partition, follow the details to protect your GPT partition data:
After you have installed Windows 10 (Part 1), you can restore the cloned data to your GPT partition.
Conclusion
You can successfully install 10 to a GPT partition if you have followed our instructions. If you are faced with "The selected disk is the GPT partition style" error, you can refer to Part 2. By the way, protect your data to avoid data loss is also of great importance.
100% of people found this article helpful.
Frequently Asked Questions
Why Choose EaseUS Partition Master?

"I've used Partition Master Professional many times to create, delete, format, move, rename, and resize partitions." —PCWorld

"Partitioning tools have come a very long since the days of complicated command line utilities and EASEUS Partition Master is one of the most advanced programs available." —TECH ADVISOR

"I love that the changes you make with EaseUS Partition Master Free aren't immediately applied to the disks. It makes it way easier to play out what will happen after you've made all the changes." —Lifewire
Will the "Migrate OS" feature transfer the Windows system files only or the whole C drive?

To ensure that the migrated system will boot normally, the Migrate OS feature will transfer all the files in the system and the boot partitions. Generally, the boot partition is the C drive so the transfer will include all the files in C.
Does EaseUS Partition Master license apply to multiple computers?

The license of Partition Master Professional and Server editions can be used on 1 computer only, while that for for the Technician and Unlimited editions can be used on multiple machines.
What is the difference between EaseUS Partition Master Trial version and the Free version?

Free is for home users only, with most basic functions available such as partition resize and clone. While trial can help you understand how this product works and test what a full license can do on a business or server OS machine.
Will it cause any data loss after resizing the partition in EaseUS Partition Master?

Generally, it will not cause any data loss or boot issue by resizing a partition. However, in order to protect your data, we suggest that you backup the partition before resizing, in case of any unexpected situations such as power outages, computer hardware failures, etc. You can use EaseUS Todo Backup to backup the partition and its trial version is fully functioned for 30 days.
What should I prepare before resizing the partition?

On the partition that is going to be operated, there might be some files being occupied by other programs. To ensure a successful operation, we suggest that you close all the unnecessary software before resizing that partition. Otherwise, EaseUS Partition Master will detect the partition being locked by the other software and require a reboot to resize the partition under boot mode.
About EaseUS Partition Master
All-round disk & partition management software for personal and commercial use. Let it manage your storage drive: resize, format, delete, clone, convert, etc.