
About the Author
Hot Topics in 2022
How to Format New SSD in Windows 10/11 [100% Working Solutions]
Key Takeaways:
1. You can learn two free guides on how to format new SSD.
2. This article will teach you to format a new SSD step-by-step.
SSDs are now becoming more and more popular. Given this fact, knowing how to format or reformat an SSD is now becoming very important for many Windows users. This article will show you three different guides on how to format new SSD in Windows 10/11. But, first, let's dive into this article.
Do I Need to Format a New SSD Before Use?
Of course, you do! When you buy a new SSD drive, you will need to format it in most cases. This is because the SSD drive can be used on various platforms such as Windows, Mac, Linux, etc. Hence, you must format the new SSD to a different file system, such as NTFS, HFS+, Ext3, Ext4, etc. Only when your SSD is compatible with the corresponding system, can the system recognize, read, and write your new SSD. Therefore, we need to format a new SSD before using it.
Before formatting your new SSD, it is important to determine what you want. Because only the correct file system format can work on your device. However, what is the correct file system format for your new SSD? You can find an answer in the following part.
What Format Should I Use for New SSD?
This depends on the device you want to apply it to. Currently, the common systems and the corresponding file formats are as follows:
macOS: HFS, APFS, HFS+, exFAT, FAT32
Linux: EXT2/3/4, XFS, JFS, Btrfs
According to the list above, you are able to make the correct choice. So if you want to use an SSD as an external drive on Windows and Mac, exFAT and FAT32 are better. On the other hand, if you only need to use it as an internal drive on Windows, then NTFS is a good choice. Which file format to use for SSD largely depends on your requirements. 
Since we know what format to use, it is time to learn how to format a new SSD. Continue to read, and you can get three efficient ways to format your new SSD.
Guide 1. How to Format New SSD - EaseUS Partition Master
First, let's use the third-party free tool, EaseUS Partition Master Professional. It is a professional format tool, and you can feel at ease since it is easy to use. With a clear interface, it can help you format your new SSD with simple clicks. Besides, it supports Windows 11/10/8/7, so you don't need to worry about its compatibility.
If you have already created partitions for your new SSD, you can easily format the SSD directly with EaseUS Partition Master. Now, let's use it to format your new SSD.
Step 1. Right-click the hard drive partition and choose the "Format" option.
Step 2. In the new window, set the Partition label, File system, and Cluster size for the partition, then click "OK".
Step 3. You can see a warning window, click "Yes" to continue.
Step 4. Click the "Execute 1 Task(s)" button, then click "Apply" to start formatting the hard drive partition.
It is easy to use, isn't it? However, is EaseUS Partition Master only a format tool? Of course not! 
What Else Can EaseUS Partition Master Do?
EaseUS Partition Master is far more than a format tool. Its specific features are as follows:
Format external SSD for Mac
Check disk, bad sectors, and file system errors.
Resize, merge, create, delete, and extend partitions.
You see! It is a multifunctional partition manager for you. Hence, if you are facing format problems or want to manage your disks and partitions, don't hesitate to download it to have a try. It will not let you down.
Guide 2. How to Format New SSD - Disk Management
Disk Management is a useful Windows built-in tool that allows users to initialize and format a new SSD without downloading other software. Now, let's see how to format a new SSD via it.
 Notice:

If you have not created a partition for your SSD and have not initialized it, follow these steps to initialize, create partitions, and then format it
Step 1. Click the Search icon and type the command: Create and format a hard disk. Click to open Disk Management.
Step 2. Right-click the new SSD and choose the "Initialize Disk" option.
Step 3. Determine what style you want, MBR or GPT. Then, click "OK."
Step 4. Right-click on the targeted hard drive. Choose the "New Simple Volume" option. Click "Next."
Step 5. You can choose the default volume or change it based on your needs.
Step 6. Assign the drive letter you want and click "Next."
Step 7. Determine the file system and allocation unit size. Then type the name you like in the "Volume label."
Step 8. Choose "Perform a quick format" and select "Next. "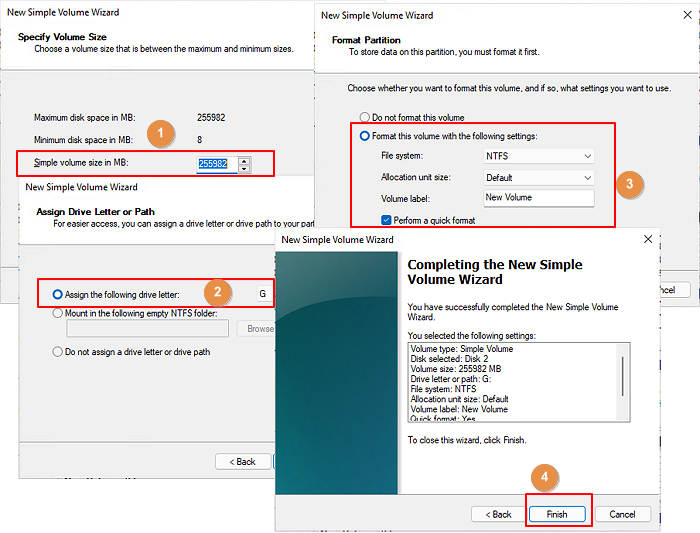 Step 9. Click "Next" and then choose "Finish."
Well, in this way, you can format a new SSD without partitions with Disk Management. However, it is a little complicated, so if you are not a computer expert, EaseUS Partition Master is a better choice.
Conclusion
After learning to format a new SSD with Disk Management and EaseUS Partition Master, you are free to use either method. They are both good formatting tools, but EaseUS is easier to use. I hope this article will help you. Here, we list some links to help you if you have doubts such as:
Please continue reading the next paragraph if you have any other related questions.
FAQs About How to Format New SSD
This part provides three questions and answers about how to format a new SSD. If you are interested, continue to read.
1. Does formatting an SSD damage it?
The high-level format usually doesn't damage your SSD, but it is important to back up your data in advance. Low-level formatting usually damages the lifespan of the disk, so do not perform low-level formatting too often.
2. Do I need to format a new SSD before installing Windows 10?
Yes, you must format the drive or partition before installing the operating system. You can format the SSD now, or you can do it during the Windows installation process. Ensure you have backed up the important files on the SSD before formatting the drive.
3. How do I manually format an SSD?
Step 1. Launch Disk Management and find your SSD.
Step 2. Right-click on the hard drive you have chosen and click "Format."
Step 3. Follow the prompts and set the value label, file system, and allocation unit size for your hard drive.
Step 4. Perform a quick format.
In this way, you can finish formatting an SSD.
About the Author
Updated by Gemma
Gemma is member of EaseUS team and has been committed to creating valuable content in fields about file recovery, partition management, and data backup etc for many years. She loves to help users solve various types of computer related issues.

Written by Sherly
Sherly joined EaseUS in 2022 and she has always loved writing articles and enjoys the fun they bring. She receives professional training here, focusing on product performance and other relative knowledge.
Product Reviews
I love that the changes you make with EaseUS Partition Master Free aren't immediately applied to the disks. It makes it way easier to play out what will happen after you've made all the changes. I also think the overall look and feel of EaseUS Partition Master Free makes whatever you're doing with your computer's partitions easy.

 Read More

Partition Master Free can Resize, Move, Merge, Migrate, and Copy disks or partitions; convert to local, change label, defragment, check and explore partition; and much more. A premium upgrade adds free tech support and the ability to resize dynamic volumes.

 Read More

It won't hot image your drives or align them, but since it's coupled with a partition manager, it allows you do perform many tasks at once, instead of just cloning drives. You can move partitions around, resize them, defragment, and more, along with the other tools you'd expect from a cloning tool.

 Read More