
About the Author
Hot Topics in 2022
How to Format SSD to FAT32 in Windows 10/8/7
Can I Format an SSD to FAT32 in Windows
Question 1. How do I format a 250GB SSD to FAT32?
"I have a Kingston 250GB SSD and I need to format it into FAT32 so that my grandmother can use it as a storage device to save and scan photos using her scanner. I have tried to do it with Windows 10 Disk management, but the FAT32 option did not show up. I only see NTFS and exFAT. Can anyone tell me how to format my SSD to FAT32 in Windows?"
Question 2. How do I format an SSD to FAT32 for both Windows and Mac?
"I bought a 500GB SSD and I want to use it on both Windows and Mac computer. So I want to format it to FAT32, for use on both Windows and Mac computers. When I format it on Windows, it warned me that 'Volume is too big for FAT32/Format failed error'. Any solution? Help me, please."
Don't worry if you are having the same need to format an SSD as FAT32. In the following, you will learn the complete process of formatting SSD to FAT32 without losing any data.
Part 1. Prepare SSD
Applies to Both Old and New SSD
Here are some preparations for you to make the SSD ready before formatting. The ways to prepare old and new SSD are different, therefore, follow the right way to get everything ready on your SSD:
#1. Back-Up Data on Old/Used SSD
If you plan to format an old or used SSD, it is important to check and back up valuable data from the disk to another secure location in advance. You can choose manually copy those files to another location, or use reliable file backup software to back up all files at one time. 
#2. Initialize and Create Partition on New SSD
As for a brand new SSD, if it's not initialized, Windows won't be able to detect it. Without no partition, you cannot format the SSD either. Here are the steps to prepare a new SSD disk on Windows:
Step 1. Initialize SSD:
Connect SSD to Windows PC via a USB to STAT cable > Open Disk Management and right-click the SSD > Select "Initialize Disk" > Set SSD as GPT or MBR.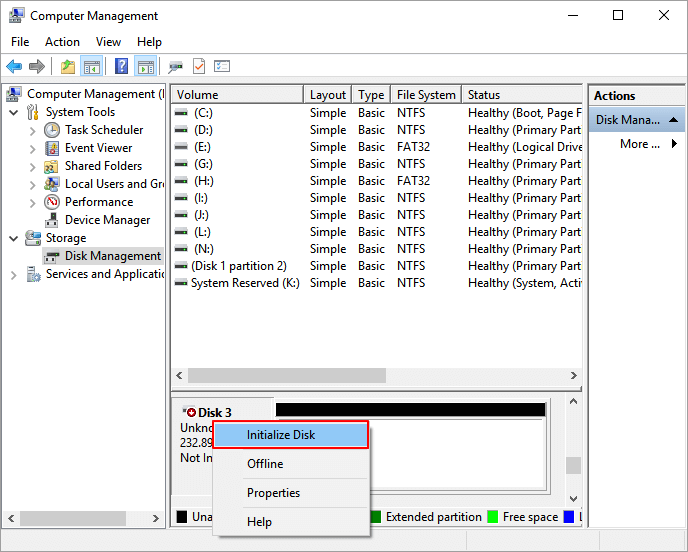 Step 2. Create partition:
On Disk Management, right-click unallocated space and select "New Simple Volume" > Set new volume letter, volume size, and file system (NTFS by default) for SSD > Finish.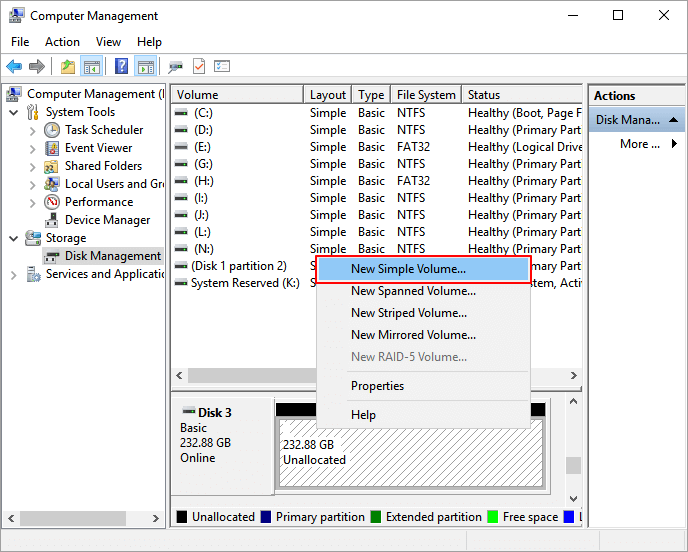 After this, you can follow Part 2 to format SSD to FAT32 with a reliable FAT32 formatting tool with ease.
Part 2. Format SSD to FAT32 with EaseUS FAT32 Formatting Tool 
When it comes to FAT32 formatting tool, many people complain that they cannot use Disk Management, CMD, or Powershell to format SSD to FAT32. Due to the limit of FAT32, Windows only supports to create 32GB maximum single partitions. That is why many people receive this error message "Volume is too big for FAT32" while using Disk Management or DiskPart CMD to format an SSD, HDD or an external hard drive to FAT32. 
Here we would like to recommend you to try EaseUS Partition Master, a popular disk partition tool with a flexible and advanced "Format" feature. This function allows you to format an SSD larger than 32GB to FAT32, NTFS or EXT2/EXT3. It can perfectly bypass the 32GB FAT32 limitation of Disk Management and make your SSD FAT32 in Windows 10/8/7 with ease.
To format an SSD to FAT32, follow these steps:
Step 1. Run EaseUS Partition Master, right-click the hard drive partition you intend to format and choose "Format".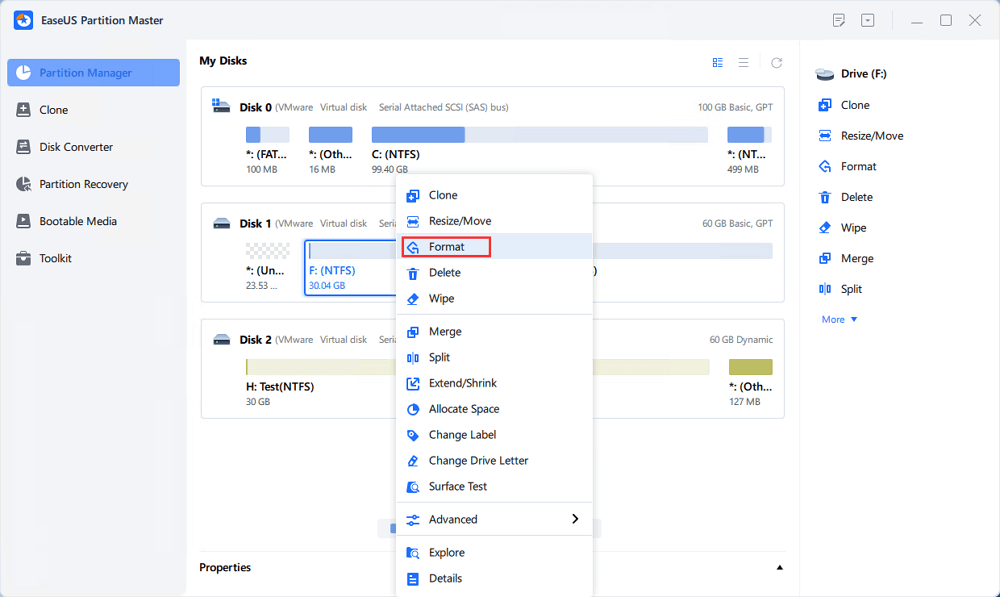 Step 2. In the new window, set the Partition label, File system (NTFS/FAT32/EXT2/EXT3/EXT4/exFAT), and Cluster size for the partition to be formatted, then click "OK".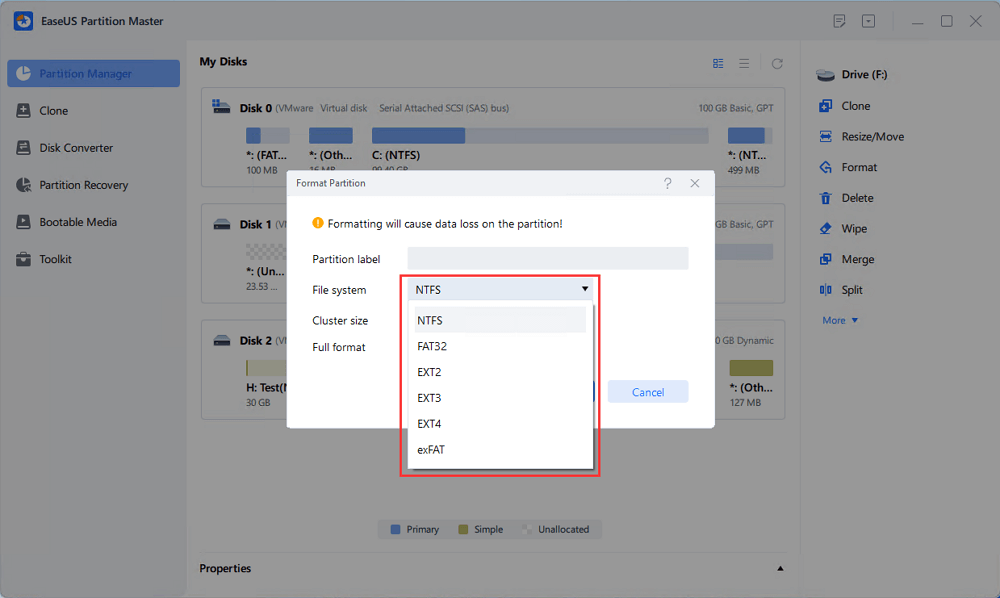 Step 3. Then you will see a warning window, click "OK" in it to continue.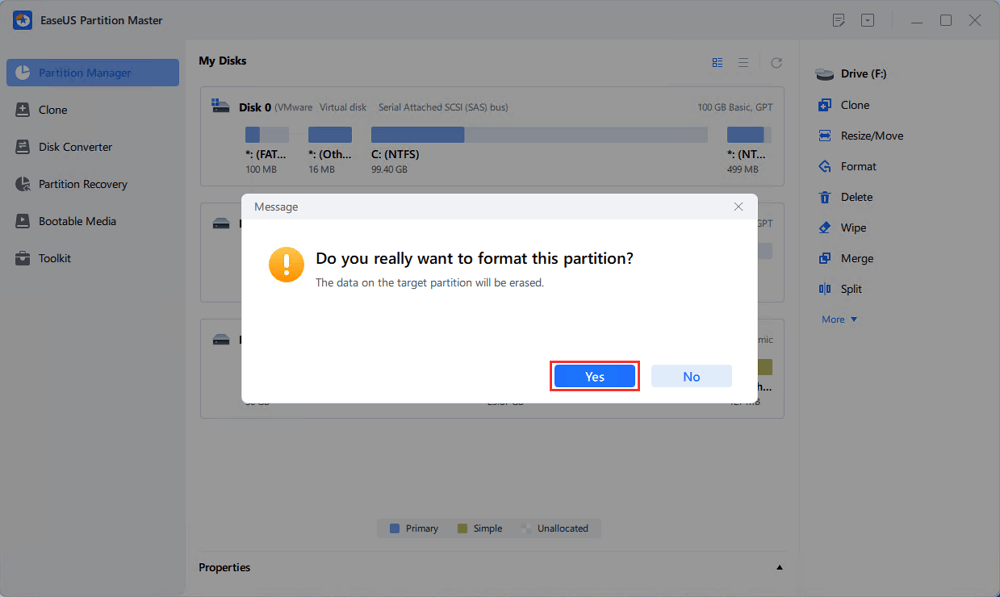 Step 4. Click the "Execute Operation" button in the top-left corner to review the changes, then click "Apply" to start formatting the partition on your hard drive.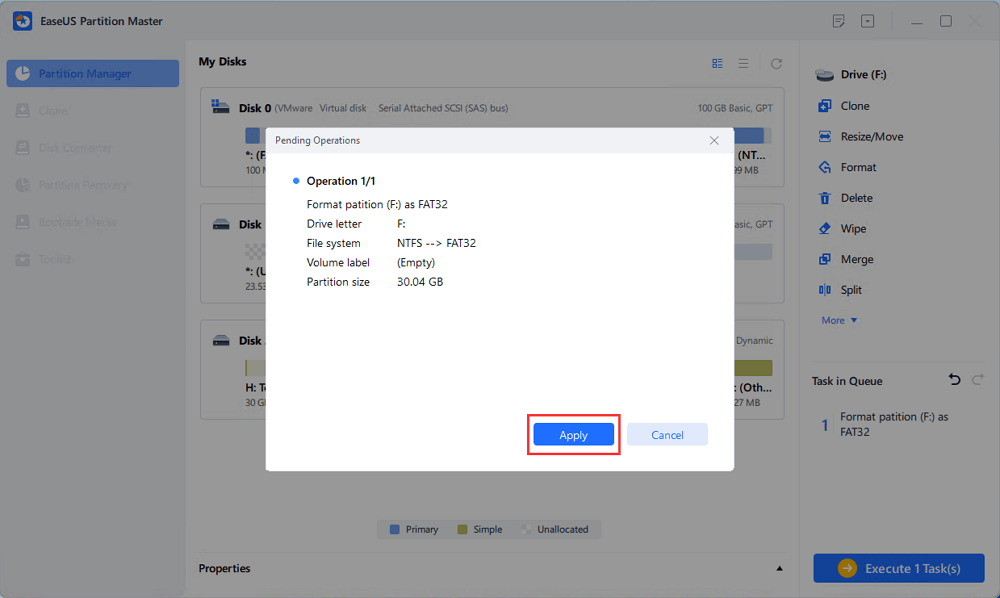 After formatting your SSD to FAT32, you can use it as an external storage device, or a high compatible drive on both Windows and Mac computers. 
Conclusion
On this page, we covered the complete process for all Windows users to format an old or new SSD to FAT32 by using a reliable FAT32 formatting tool - EaseUS Partition Master.
Besides formatting SSD to FAT32, EaseUS Partition Master also helps you to turn to other big storage devices to FAT32, such as format 128GB USB to FAT32, format 64B SD card to FAT32, etc. You can also apply its advanced features, such as 4K alignment SSD, to optimize your SSD disk performance. 
If you have further partition management needs than formatting SSD, EaseUS Partition Master is always ready to help. 
Further Readings about Formatting SSD to FAT32
Besides using formatting SSD to FAT32, some of you may have further more questions about SSD. Here we have collected some top concerned questions and left an answer to each question. If you are having the same doubt, find answers below.
Why Windows cannot format SSD to FAT32 in Windows 10/8/7?
As we know, Windows limits FAT32 partitions to 32GB. But very few people know the reason why FAT32 has a 32GB maximum limit. 
The FAT32 file system is available on Windows 10/8.1/7/7/XP, Windows 2000 and Windows 95. As an old file system, it has some limits in the partition capacity and simple file size:
1). Max single volume capacity: 32GB.
2). Max file size: 4GB
Due to the limits, Windows does not support to format a drive larger than 32GB to FAT32. The only available choices are NTFS (for internal hard drive) or exFAT (for external storage devices). As a result, users cannot format a disk partition, SSD, USB drive or SD card larger than 32 GB to FAT32 in Windows 10/8/7 via Disk Management.
But sometimes, they have to format SSD to FAT32 because of certain reasons. For example, their devices only support the FAT32 file system. To get the desired file system on your device, you just need to use EaseUS Partition Master that allows you to bypass the limitation and use it format SSD to FAT32 effortlessly. 
How do I convert to FAT32? 
The only way to convert a storage device file system to FAT32 is to format the device to FAT32. You can use Disk Management, File Explorer or EaseUS Partition Master as recommend on this page to execute this task.
Here we will show you how to convert the device to FAT32 by formatting using Disk Management:
1. Right-click This PC/Computer and select "Manage".
2. Click Disk Management, right-click your target device and choose "Format".
3. Name the drive and select the file system as "FAT32".
4. Click "OK". 
After this, you can find the format of the target device is FAT32. 
How do I format my external hard drive to FAT32?
There are four ways to format a storage device - using Disk Management, Diskpart CMD, File Explorer Right-click Format, and third-party formatting tool like EaseUS Partition Master.
As mentioned on this page, FAT32 has a max partition limit. Therefore, if your external hard drive is bigger than 32GB, you cannot use the former three methods to format the device to FAT32. You can only use EaseUS Partition Master with steps in Part 2 to format the external hard drive to FAT32.
About the Author

Author Jean has been writing tech articles since she was graduated from university. She has been part of the EaseUS team for over 5 years. Her special focuses are data recovery, disk partitioning, data space optimization, data backup and Mac OS. By the way, she's an aviation fan!
Product Reviews
I love that the changes you make with EaseUS Partition Master Free aren't immediately applied to the disks. It makes it way easier to play out what will happen after you've made all the changes. I also think the overall look and feel of EaseUS Partition Master Free makes whatever you're doing with your computer's partitions easy.

 Read More

Partition Master Free can Resize, Move, Merge, Migrate, and Copy disks or partitions; convert to local, change label, defragment, check and explore partition; and much more. A premium upgrade adds free tech support and the ability to resize dynamic volumes.

 Read More

It won't hot image your drives or align them, but since it's coupled with a partition manager, it allows you do perform many tasks at once, instead of just cloning drives. You can move partitions around, resize them, defragment, and more, along with the other tools you'd expect from a cloning tool.

 Read More