How can I format SSD to NTFS to install Windows 10?
I have bought my Dell laptop which runs Windows 7 for 3 years. Now, I want to upgrade it to Windows 10 and replace the old hard drive disk to a Samsung SSD for a better experience and performance. So I tried to install Windows 10 on the SSD but failed. An error message warning 'Windows can't be installed on drive 0 partition 1. Windows must be installed to a partition formatted as NTFS' always come up. Does anyone know a solution for Windows 10 disk format? I only have the option to delete the partitions but not format. It doesn't ask me if I want to format the SSD anywhere during the process. So I really don't know how to fix this problem. Please help if you know how to format SSD to NTFS for Windows 10 installation.
What partition tool will you need to format SSD in Windows 10?
Users have to partition SSD drive in Windows 10 in different situations. And this job can be difficult or easy, depending on whether you have a reliable partition software. So what program you can trust? Here we recommend you EaseUS partition software. The program is a professional disk partition management tool which is designed to format, resize, copy, convert disk partition. It allows you to format SSD into various formats including NTFS in a quick and safe way. And then you can successfully install Windows 10 on the NTFS formatted SSD drive. Now you can learn the detailed guide about how to do it.
Steps to format SSD in Windows 10 with EaseUS Partition software
Step 1. Launch EaseUS partition tool. Select and right-click the partition you want to format and choose "Format partition" by right-clicking the mouse.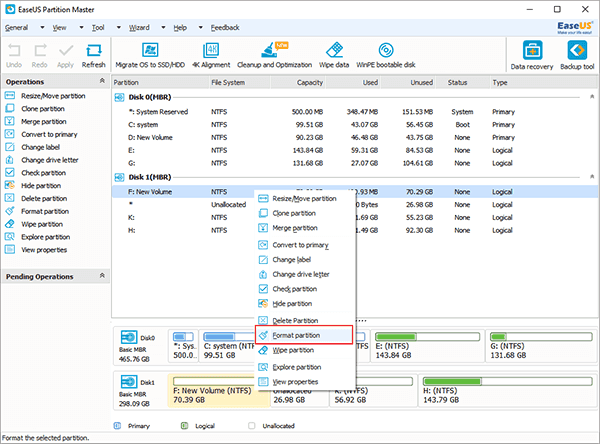 Step 2. Type the label you want in the Partition Label box.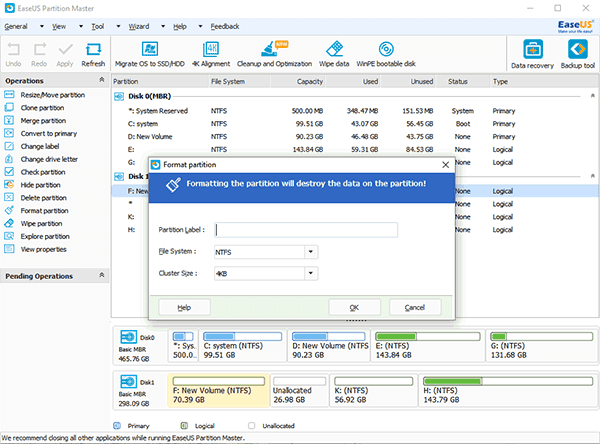 Step 3. Select the file system type to be created from the "File System" drop-down list. (FAT/FAT32, NTFS, EXT2/EXT3). If the partition is larger than 4GB, you can only choose FAT32, NTFS or EXT2/EXT3; and if the partition is smaller than 4GB, you can choose FAT, FAT32, NTFS or EXT2/EXT3.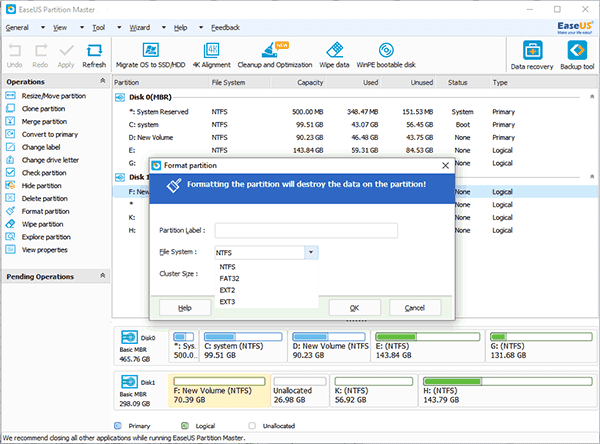 Step 4. Choose the Cluster Size (512 bytes, 1, 2, 4...64KB) from drop-down list and c lick "OK" to apply the format operation.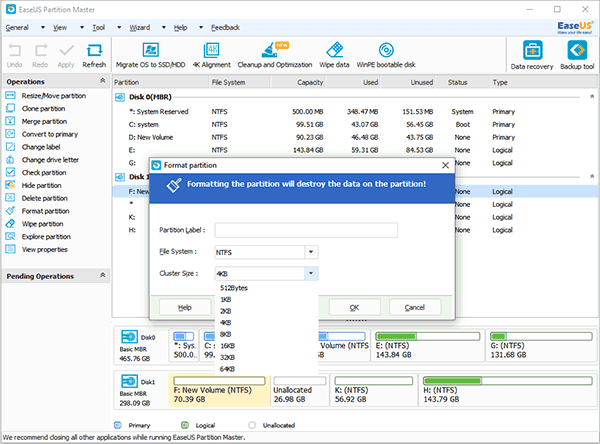 Note: Smaller cluster size makes less wasting of disk space.The smaller cluster size is, the bigger file allocation table (FAT) will be. The bigger the FAT is, the slower the operating system works with the disk.
Step 5. Click "Apply" to confirm all pending operations.