Why Need to Create a WinPE Bootable Disk
WinPE, known as Windows Pre-installation Environment, which is a lightweight version of different Windows OS such as Windows 10/8/7/XP etc. But why do we need to create a WinPE bootable disk? WinPE bootable disk supports to manage hard disk partitions when Operating System crashes, resize primary drive to reinstall other OS and even manage partitions on a computer without Operating System.
Moreover, WinPE bootable disk allows you to recover deleted partition, extend system partition and rebuild MBR etc without losing any data. The most important thing is that the WinPE bootable disk can be used to boot a crashed computer and even boot a computer without OS. How to create a WinPE bootable disk? Any recommended methods?
Create WinPE Bootable Disk for All Windows OS Within Two Steps
If you search "how to create bootable disk" or "create WinPE bootable disk" online, you'll find countless solutions there. But some recommended solutions are too professional for ordinary users to follow. If you are looking for simple but effective methods to help solve this problem, professional partition software can help.
Here you may try EaseUS Partition Master - professional partition manager software which allows users to resize, move, extend partitions, change SSD from MBR to GPT and even migrate OS to HDD/SSD on computers without losing data under different Windows OS such as Windows 10/8/7 etc. Users can use this software to effortlessly create WinPE bootable disk within only three steps. How?
Steps to use EaseUS Partition Master to create WinPE Bootable disk for all Windows OS
Feel free to click the download button to get EaseUS Partition Master and get EaseUS Partition Master serial key to activate it. Then follow the steps to create the WinPE bootable disk:
Step 1: Prepare a disc or drive
To create a bootable disk of EaseUS Partition Master, you should prepare a storage media, like a USB drive, flash drive or a CD/DVD disc. Correctly connect the drive to your computer.
Launch EaseUS Partition Master, go to the "WinPE Creator" feature on the top. Click on it.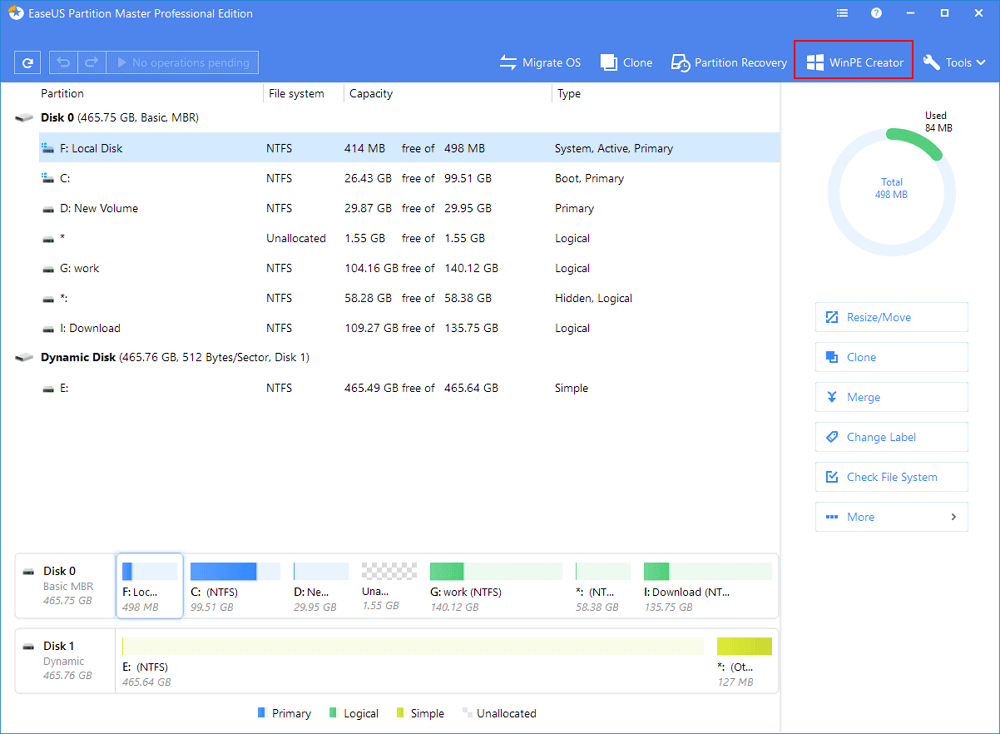 Step 2: Create EaseUS Partition Master bootable drive
You have created an EaseUS Partition Master WinPE bootable disk now. You can manage your hard disks and partitions through the bootable drive whenever the computer fails to boot normally.
If you have RAID drives, load the RAID driver first by clicking Add Driver from the menu bar, which can help you add the driver of your device under WinPE environment, as some specific device cannot be recognized under WinPE environment without drivers installed, such as RAID or some specific hard disk.