Can't save to usb flash drive, please help!
"I'm in deep trouble saving files to a SanDisk usb flash drive. My computer recognizes the flash drive but I can't save pictures or documents to it. Ctrl C+V not working, the 'save' or 'save as' option not working, even drag files directly to the flash drive not working. What's the problem? How to save files to a usb flash drive as usual?"
Being a removable storage device that is portable, a usb thumb drive, memory stick or floppy disk is designed to store data so that people can take it anywhere and transfer files easily. Since a flash drive not saving files is useless, you must spend some effort in finding a troubleshooting method so as to bring it back to life.
3 popular ways to fix flash drive not saving files properly
Here, 3 popular fixing methods are available when you can't save files to usb flash drive, or flash drive not saving files as it could have, including format FAT32 to NTFS, extend volume size and obtain an access permission.
Fix 1 - format usb flash drive and convert FAT32 to NTFS
If you are unable to copy or save files to the drive due to error 'file is too large for destination file system', good luck, you've determined the cause. The common file system formats of an external usb drive or memory card are NTFS, FAT32 ane exFAT. When your file is larger than 4GB and your flash drive comes with FAT32, you can't save file there due to the file system's maximum file size limit is 4GB.
To fix the issue, you can either use Windows Disk Management program to format FAT32 to NTFS or use third-party EaseUS Partition Master to convert FAT32 to NTFS directly without erasing data. For data safety, we strongly recommend the latter method.
Step 1_ Download and install EaseUS free partition manager on a Windows computer. Make sure your flash drive has connected to the machine correctly.
Step 2_ Launch the software. On the disk map, right-click the flash drive and choose "Convert to NTFS" option.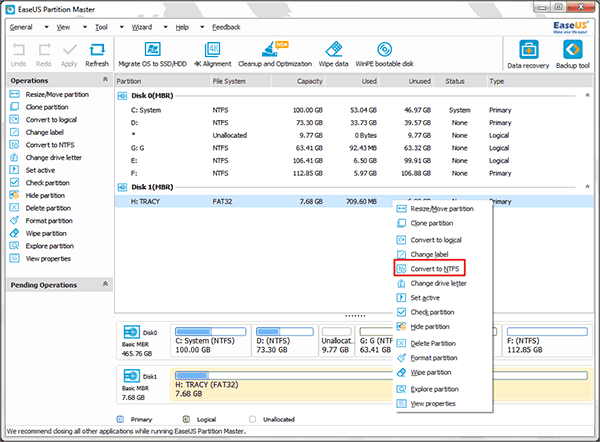 Step 3_ The pop-up dialog box will show the source and destination file system, click OK to confirm the FAT32 to NTFS conversion.
Fix 2 - extend volume size when disk is almost full
Did you receive 'low disk space' warning while trying to save files to a selected volume of the flash drive? If yes, proceed to troubleshoot the issue with EaseUS Partition Master.
Step 1_ If there is unallocated space behind the volume that prevents you from saving files there, directly use the "Resize/Move partition" feature to extend the volume size in order to keep newly added files.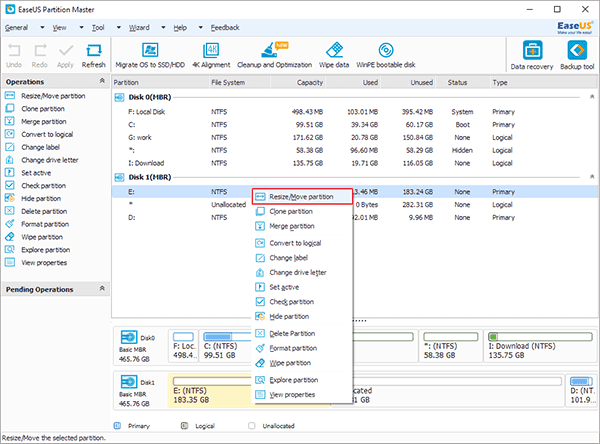 Step 2_ If there is no such unallocated space, you have to create one by shrinking the other volume before step 1.
Fix 3 - obtain a permission to save files to a specified location
Now we're arriving at the last commonly seen error that will cause the trouble, which is 'you don't have permission to save in this location, contact the administrator to obtain permission'. This happens a lot when you're trying to save some certain Microsoft files.
Step 1_ Press Windows and R keys simultaneously and open Run.
Step 2_ Type netplwiz and hit enter to open the User Accounts settings box.
Step 3_ Select the user account that gives the error message.
Step 4_ Click on Properties and then Group Membership, select Administrator and click Apply.
Hope the 3 approaches we've given help solve your trouble in saving a file to a usb flash drive or memory card. If all the fixes unfortunately failed, your flash drive is very likely write-protected. Try to remove write protection and get rid of flash drive won't save files.