
About the Author
Hot Topics in 2022
Top 5 Best Disk Formatter Software Free Download for Disk Formatting [Benefits Listed]
Key Takeaways of Best Disk Formatter in Windows:
1. Before getting the best disk formatter, make sure that you understand what will happen if you perform disk formatting.
2. Make sure you back up valuable data before applying the best disk formatter here to format and reformat a hard drive.
On this page, you'll learn what a disk formatter is, what you can do with a disk formatter tool, and its benefits and drawbacks. Most importantly, you'll get the best disk formatter software or tool here to successfully format a hard drive or external storage devices successfully in simple clicks.
Topics You May Also Like:
What Is Disk Formatter?
disk formatter reddit:
Hello! Do you guys know of a third party software that will perform a full format, just like windows does?Or it doesnt exist?Preferably at least the equivalent to what Windows does, or better, if there is such a software." - posted by u/an1991Ro from
Reddit
To understand what is disk formatter, let's first get to learn what disk formatting means here:
According to Wikipedia, "Disk formatting is the process of preparing a data storage device such as a hard disk drive, solid-state drive, floppy disk, memory card, or USB drive for initial use. In some cases, the formatting operation may also create one or more new file systems."
So what is a disk formatter? A disk formatter is a formatting tool or software designed for formatting a storage device for new usage purposes. It also enables users to assign a new drive letter, a new file system format to the target device.
Alongside hard disk formatter, you can also find other formatter software designed for formatting SD cards, external hard drives, and USB drives, such as:
What Does Disk Formatter Do?
What can a disk formatter exactly do for you? Here is a list of features and benefits that you can get by using a reliable disk format tool: 
Fix the type of the file system is raw error on hard drive partitions, SSDs, SD cards, USBs, etc.
Quickly remove or clean up all existing data from a hard drive, SSD, and other devices.
Change file system format on a disk drive to NTFS, FAT32, exFAT, EXT2/3/4, etc.
Make unreadable storage devices readable and accessible.
Fix drive access denied error on HDDs, SSDs, etc.
Fix internal file system corruption error.
Remove unknown viruses.
Fix soft bad sectors.
Why and When Do I Need Disk Formatter?
According to the benefits listed above, it's clear that a reliable disk formatter can assist you in resolving multiple storage device issues. Here is a list of situations in that you need to turn to a reliable paid or free disk format utility to format your hard disk drives instantly:
USB or hard drive gets full, and you want to format it to restore full capacity.
To switch file systems on disk drives, such as format SD card to FAT32, etc.
Hard drive partition is inaccessible, showing raw on Windows.
Computer warns of an unsupported file system on external hard drive or USB.
SD card is blank or has an unsupported file system.
Hard drive or USB drive is locked or write-protected.
External hard drive or USB drive is not showing.
Hard drive partition doesn't have a partition label and is not showing up in file explorer.
Virus removal software warns virus or malware was found in the target drive or storage devices. 
Can Disk Formatter Be Free?
So can a disk formatter program or software be free? Yes, sure!
Most operating system manufacturers have provided one or more built-in free disk formatting tools to assist Windows, macOS, Linux, and even Ubuntu users in formatting their disks for free. 
So how do I get a reliable disk formatter software or program for free? Continue reading, and in the next part, we'll introduce the best disk formatter that you can download for free and apply to format your disk drives with simple clicks.
Top 5 Best Disk Formatter for Windows 11/10 Free Download [2022 Recommend]
Here is a list of top 5 best disk formatter software and utilities that we tested and selected from 50+ similar disk formatting tools for Windows users to apply and format their disks successfully:
You may wonder which one is the best disk formatter out of the 5 listed recommended formatting software and programs, right? Check the comparison table and find which one suits your needs the most:
Disk Formatter
Formatting Level
Format Method
Supported Formats
EaseUS Partition Master Free
High-Level Format

NTFS
FAT12/16/32
exFAT
EXT2/3/4
ReFS

File Explorer
High-Level Format
Disk Management
High-Level Format
Command Prompt
High-Level Format
HDD Low-Level Format Tool
Low-Level Format
\
According to this table, it's clear that EaseUS Partition Master Free is mostly recommended as it supports the most file system format that can fulfill users' demands of setting up formats to their hard disk drives, SSDs, USB, etc., with ease. 
#1. EaseUS Partition Master Free - Easiest Disk Formatter
EaseUS Partition Master Free Edition is incredibly simple to use, one of many reasons that you should consider it when looking for a good free disk partitioning tool. - posted by Tim Fisher from
LifeWire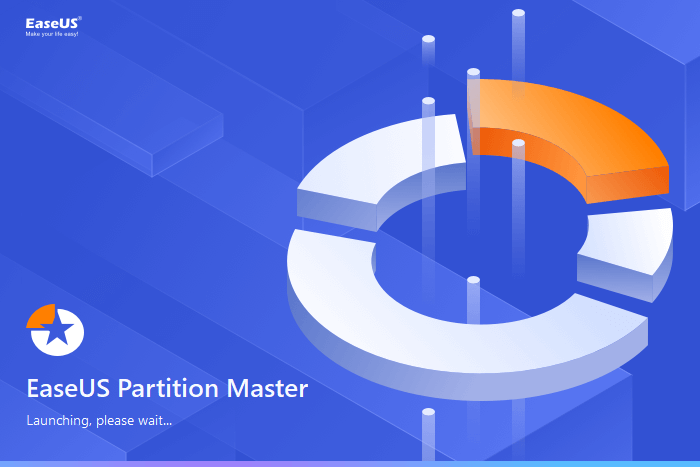 EaseUS Partition Master Free Edition is a free partition manager software that enables you to format disk drives and external storage devices for free. It simplifies the process of partitioning hard drives, allocating disk space, and optimizing disk performance in simple clicks. Here are some amazing free features that you may also like aside from formatting disks.
Free Features:
Manage hard disk drives, create, delete, extend, shrink, and merge partitions for free.
Convert NTFS to FAT32, convert FAT32 to NTFS for free.
Convert data disk between MBR and GPT for free.
Conver disk between dynamic and basic for free.
Hide/unhide, check file system errors for free.
Format or wipe disk partitions for free.
4K align SSD, initialize disk for free.
Clone system partition for free.
Clone data disk for free.
01
Pros:
24*7 free tech support
Email support: [email protected]
Easy to use with stylish UI design
100% secure, free, and user-friendly
Fully support Windows 11/10/8.1/8/7/XP/Vista
Stable and safe, regularly updated with sophisticated algorithms.
02
Cons:
Doesn't support macOS
Some advanced features like Migrate OS to HDD/SSD require activation.
Virdict: 
EaseUS Partition Master Free offers you a simple-to-follow interface that all levels of Windows users can apply to format their internal and external hard drives successfully. 
Guide to Format Hard Disk for Free:
Step 1. Run EaseUS Partition Master, right-click the hard drive partition you intend to format and choose "Format".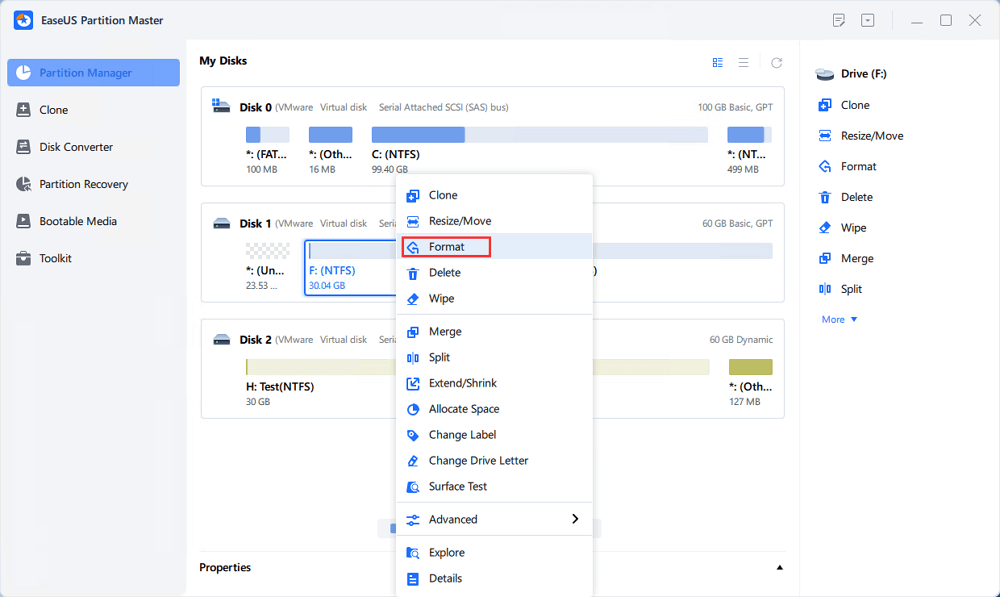 Step 2. In the new window, set the Partition label, File system (NTFS/FAT32/EXT2/EXT3/EXT4/exFAT), and Cluster size for the partition to be formatted, then click "OK".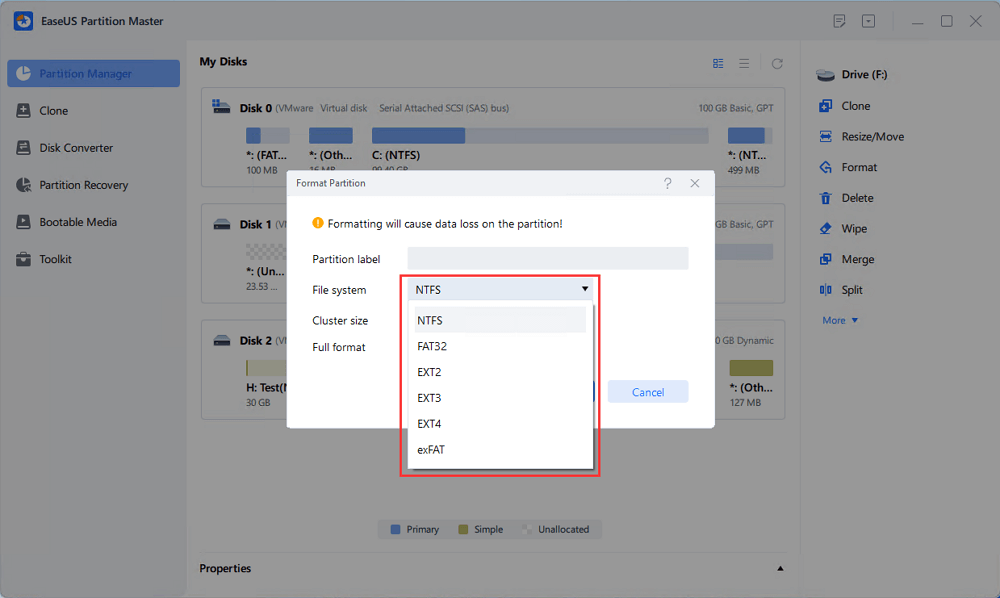 Step 3. Then you will see a warning window, click "Yes" in it to continue.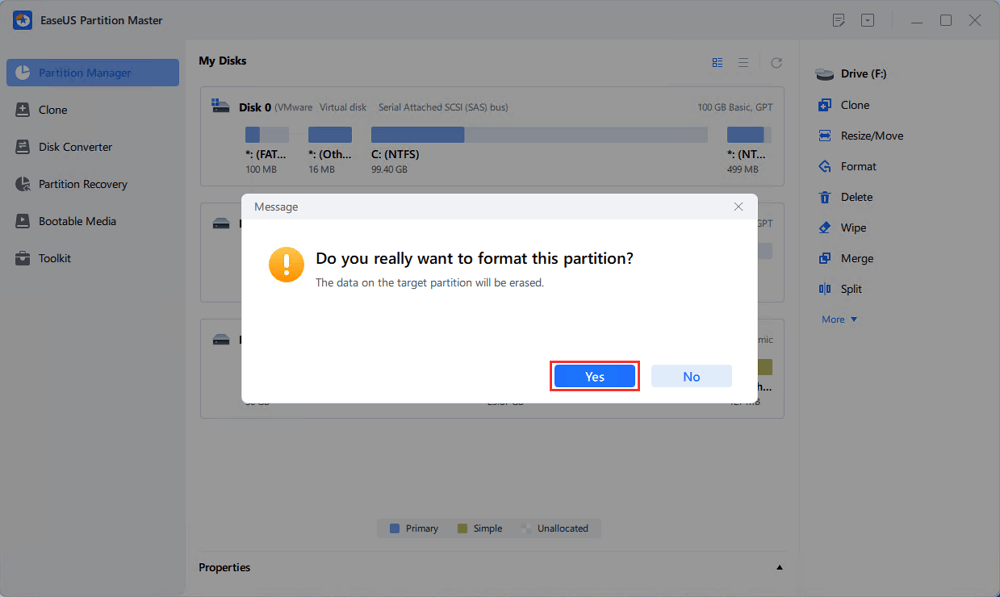 Step 4. Click the "Execute 1 Task(s)" button to review the changes, then click "Apply" to start formatting the partition on your hard drive.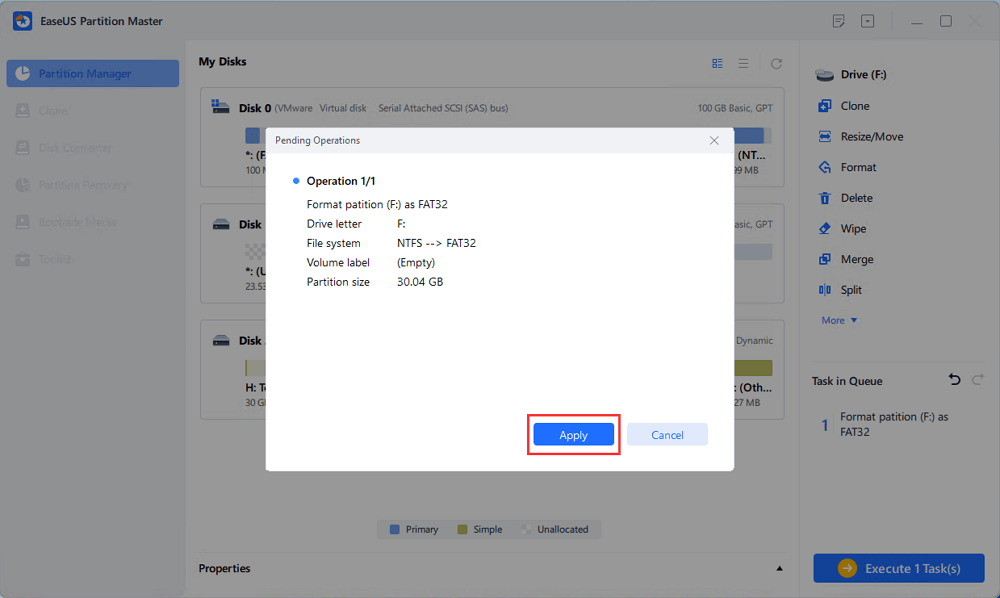 #2. File Explorer - Windows Beginners' Disk Formatter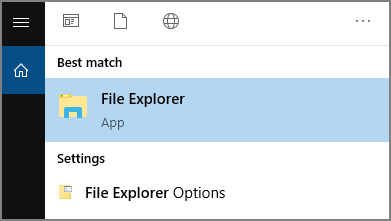 File Explorer provides Windows users with straightforward access to format hard disk drives on their own. All levels of Windows users could apply to format their hard drive partitions in File Explorer.
Free Features:
Full format hard drive partition.
Quick format SD card, USB, and external hard drive for free.
Format external hard drive or removable storage device to NTFS, FAT32, exFAT.
01
Pros:
Easy-to-use, 100% free
Doesn't require software installation
Quick to access
02
Cons:
Doesn't support EXT2/3/4
Can't format large drive 32GB+ to FAT32
Can't format a raw drive
Verdict: 
Windows File Explorer is provided by Microsoft to enable users quickly access their storage devices by pressing the Windows + E keys. If you simply want to format a small-sized storage device to NTFS, FAT32, or exFAT, you can try this method.
Guide to Format Hard Disk for Free:
Open File Explorer.
Locate and right-click the target drive you tend to format and select "Format".
Tick "Perform a quick format", reset the file system, and click "OK".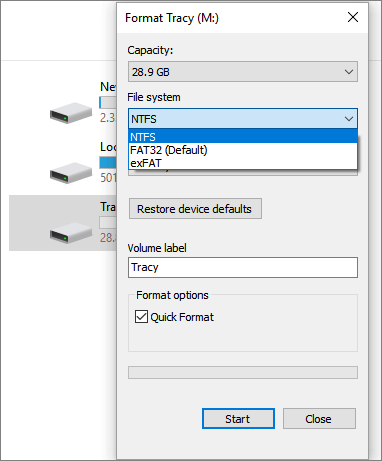 Note that if Windows pops up the error message "Windows Was Unable to Complete the Format", it could be multiple reasons that caused this issue. You may directly turn to EaseUS Partition Master, as recommended above, to fix this issue and format your disk instantly.
#3. Disk Management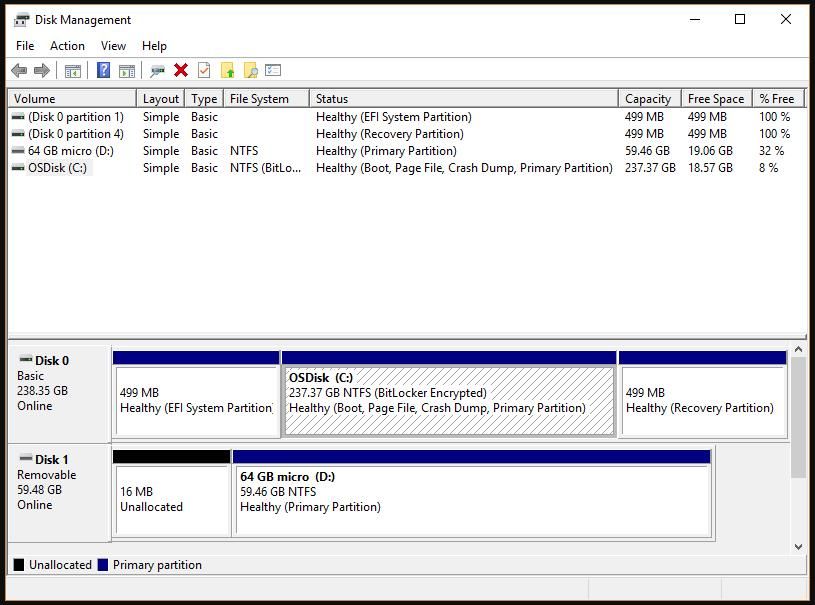 Disk Management is similar to File Explorer but does more than formatting disk partitions. Disk Management is more than a disk formatter. It offers multiple disk partitioning features to Windows users. To check more features in this tool, check the list here below.
Free Features:
Format disk drives, SD cards, USBs, or external hard drives for free.
Create a new simple volume for free.
Shrink volume for free.
Convert basic disk to dynamic.
Initialize disk to MBR or GPT for free.
01
Pros:
Simple to use
All features are free
Fulfill basic disk management partitioning demands
02
Cons:
Not for beginners.
Doesn't support EXT2/3/4.
Easy to make mistakes for Windows beginners.
Verdict: 
Disk Management enables experienced Windows users to make full use of disk space on Windows computers successfully. However, it requires you to be very careful while partitioning hard drives, especially when you plan to delete or format a hard drive partition. 
Guide to Format Hard Disk for Free:
Right-click on Windows icons and select "Disk Management".
Right-click on the target hard drive you want to format, and select "Format Volume".
Set a new drive letter and a new file system format to the drive, and click "OK".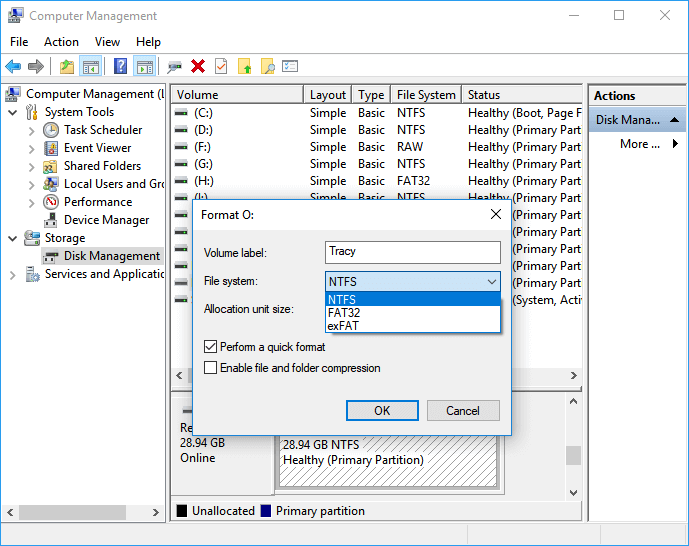 Bonus Tip: Sometimes, you may find that the format option in Disk Management is not available due to some reasons. To fix this issue, you can follow the tutorial guide here for help.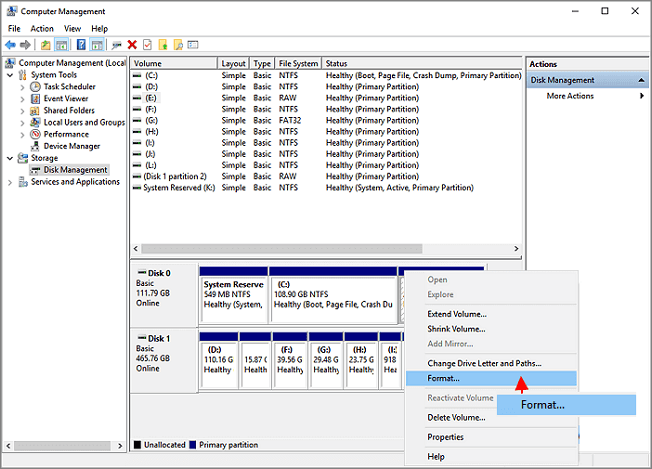 #4. Command Prompt - Administrative Disk Formatter
Command Prompt is a command line disk formatting tool that most Windows administrators prefer to use. It executes disk partitioning and volume formatting tasks. 
Free Features:
Free to format hard disk partitions.
Free to create, delete, extend, and shrink volumes.
Convert MBR to GPT, or GPT to MBR for free.
Convert basic to dynamic for free.
01
Pros:
Free-to-use
More than a disk formatter.
02
Cons:
Complex to use
Doesn't support EXT2/3/4
Easy to make mistakes
Verdict: 
Command Prompt is highly recommended for Windows administrators to partition and format hard disk drives. As for Windows beginners, take EaseUS Partition Master Free or File Explorer as your best shot at formatting storage devices.
Guide to Format Hard Disk for Free:
Press Windows + R keys, and type cmd.
Once the command prompt opens, type diskpart and hit Enter.
Type the following command lines one by one and hit Enter each time:
list disk
select disk * (replace * with the disk number of your target disk.)
list volume
select volume * (replace * with the volume number you tend to format.)
format fs=ntfs quick
exit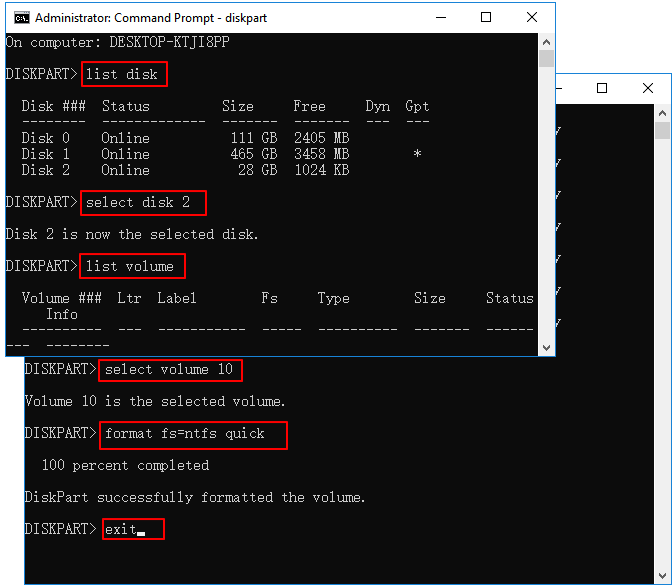 Sometimes, you may encounter disk formatting errors while running Command Prompt format lines on the target disk. Relax and you may follow the guide here to fix the respective error successfully:
#5. HDD Low-Level Format Tool - Renowned Low-Level Format Software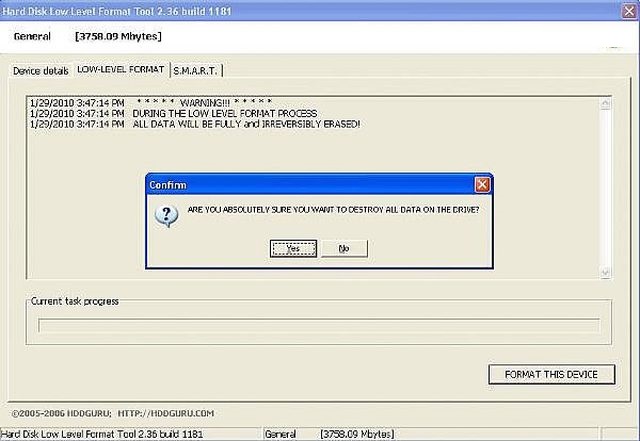 HDD Low-Level Format Tool is also known as HDD LLF, which enables users to low-level format Windows 10, Windows 11, or older Windows disk drives and external hard drives to their original state. 
Free Features:
Support low-level formatting SATA, IDE, SAS, SCSI, USB, Fireware, and SSD hard disk drives.
Support the most popular hard drive brands, including Seagate, Samsung, Western Digital, Toshiba, Maxtor, etc.
01
Pros:
Easy to use.
Low-level format hard disk drives to their original state.
02
Cons:
Not for beginners.
May cause physical damage to hard disk drives when used too frequently.
Verdict: 
Low-level disk formatter software - HDD Low-Level Format Tool is not for beginners. Experienced users should also be careful while using this tool to format storage devices. To fully format hard drives or storage devices so as to clean up existing data at once, you are recommended to try the former 4 disk formatters.
Guide to Format Hard Disk for Free:
Run Hard Disk Low-Level format tool.
Select the disk partition you need to format and select "Continue".
Click "Format This Device" at the Low-Level FORMAT section.
Conclusion
On this page, we recommended 5 best free disk formatters that enable all levels of Windows users to fully format their hard disks, USBs, SSDs, external hard drives, etc., with simple tutorial guides.
For the easiest disk formatter, don't miss EaseUS Partition Master. It's more than a simple disk formatter but a comprehensive disk manager software for both Windows beginners and Windows administrators.
If you are looking for another guide to format disks on Mac or other operating systems, follow the tutorial guide here for help:
FAQs of Best Disk Formatter for Windows
In this part, we collected some hot topics that are discussed by many users, and if you have a similar question in your mind, follow it and find answers here.
1. What is the best formatting software?
When you search for the best formatting software online, you may get multiple different answers online. Among most paid formatting software, you may want a free formatting utility. Here you can try: File Explore, EaseUS Partition Master Free, Disk Management, and even CMD to format a disk drive on Windows computers for free.
2. Does formatting a disk clear it?
Yes, formatting a disk does not only change its file system of it to a new one. It will also clean up the existing data on the disk and restore the drive to its full size.
3. What is the best program formatting hard drives?
On Windows computers, File Explorer and Disk Management are great programs for formatting hard disk drives.
On Mac computers, Disk Utility, is highly recommended for formatting hard disk drives.
As for third-party programs for formatting disks, you can try EaseUS Partition Master.
4. What types of format can a drive have?
For an internal hard drive, you can set NTFS, exFAT, or FAT32 to a drive partition. However, if the partition is bigger than 32GB, you can only format it to NTFS or exFAT.
For an external hard drive or USB drive, you can set exFAT, FAT32, or NTFS, and even EXT2/3/4 on it.
About the Author
Updated by Tracy King 
Tracy joined in EaseUS in 2013 and has been working with EaseUS content team for over 7 years. Being enthusiastic in computing and technology, she writes tech how-to articles and share technical solutions about Windows & Mac data recovery, file/system backup and recovery, partition management and iOS/Android data recovery.
Product Reviews
I love that the changes you make with EaseUS Partition Master Free aren't immediately applied to the disks. It makes it way easier to play out what will happen after you've made all the changes. I also think the overall look and feel of EaseUS Partition Master Free makes whatever you're doing with your computer's partitions easy.

 Read More

Partition Master Free can Resize, Move, Merge, Migrate, and Copy disks or partitions; convert to local, change label, defragment, check and explore partition; and much more. A premium upgrade adds free tech support and the ability to resize dynamic volumes.

 Read More

It won't hot image your drives or align them, but since it's coupled with a partition manager, it allows you do perform many tasks at once, instead of just cloning drives. You can move partitions around, resize them, defragment, and more, along with the other tools you'd expect from a cloning tool.

 Read More