Top 5 Best Free Data Wipe Software for Windows [Pros & Cons] | 2021 Recommendation
How do I wipe my hard drive clean for free? Do you know what is the best way for data destruction in 2021? Applying Diskpart clean command indeed works. However, it's not the smartest solution for data removal on Windows hard drive, SSD, or external hard drive. 
To erase data and wipe hard drive for free, you have a better option which is turning to reliable data and hard disk wipe software for help. Here on this page, you are about to learn the top 5 best free data wipe software in Windows 10/8/7. Select one and follow its tutorial to learn how to completely wipe computer data on your own now.
List of Top 5 Best Free Hard Drive Data Wipe Software | 2021 Recommendation
So what is the best software to wipe a hard drive? When you search hard disk eraser or data wipe software on Google, you'll get too many results from the searching page. To find a suitable one, you'll have to download and try each data eraser or disk wipe software one by one.
Taken days and nights, we tested over 50 disk wipe tools, and we listed 5 best of these tools here to help.
Check the pros and cons information of each data wipe software and select one to follow its tutorial guide to shred all files and reset your hard drive to its original state immediately:
Data Wipe Software
Pros
Cons
EaseUS Partition Master

Wipe partition data.
Wipe disk data on HDD/SSD, external USB, etc.
Wipe computer including OS drive with bootable disk
Wiped data are unrecoverable.
Support manage partitions, like creating, extending, shrinking, formatting volumes for free.

Some advanced features like migrate OS to HDD/SSD, partition recovery, etc., are not free.

Blancco Drive Eraser

Erase data from multiple drives simultaneously
Hard drive wipe software with certificate

CCleaner

Standard cleaning drive
Standard privacy protection

Complete cleaning is not free.
AVG antivirus is bundled to install with this software.

DBAN

No guarantee for data is completely erased.
Can't detect nor erase SSD.

Disk Wipe

Free to erase all data and prevent recovery of the data.

Outdated interface, not user-friendly.
Among the 5 free disk data wipe software, for a 100% green and efficient data erasing tool, EaseUS Partition Master Free with its advanced data wipe and disk wipe feature is highly recommended for most Windows users to try.
Now, let's move forward to view more advanced features of these data wipe software and learn how to wipe your computer hard drive data for free now.
#1. EaseUS Partition Master Free
Applies to: Wipe data in partitions, erase the whole disk, and even clean up computer data.
EaseUS Partition Master is more than a simple hard drive or data wipe software. Besides the data wipe feature, it enables you to manage partitions and improve computer performance with its advanced features. All Windows users can apply this tool to reset hard drive into a brand new state. 
Highlighted Features:
Wipe HDD/SSD, external hard drive, USB, SD card, etc., for free.
Wipe computer OS drive with bootable disk (not free).
Create, extend, shrink, format, and split partitions.
Migrate OS, clone, and upgrade OS to HDD/SSD/M.2/NVMe SSD.
One-click New Disk Guide.
Convert Disk to MBR/GPT, Basic/Dynamic, etc.
Data Wipe Software Free Download:
How to Wipe Data:
Step 1. Launch EaseUS Partition Master, right-click the partition you want to erase data from, and choose "Wipe Data".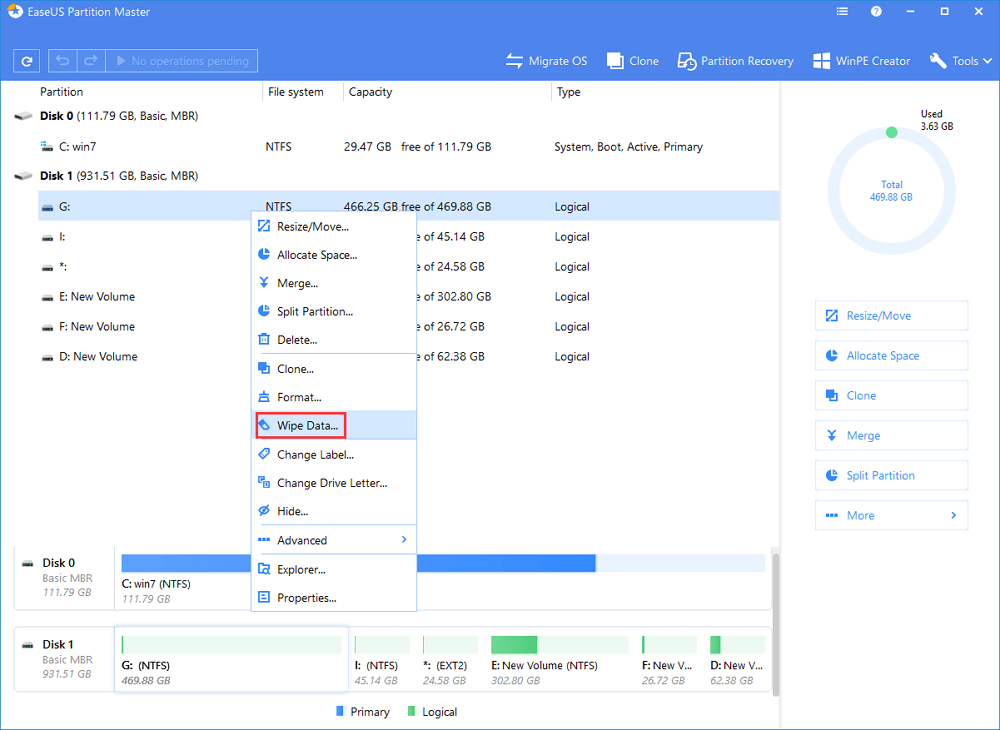 Step 2. In the new window, set the time for which you want to wipe your partition, then click "OK".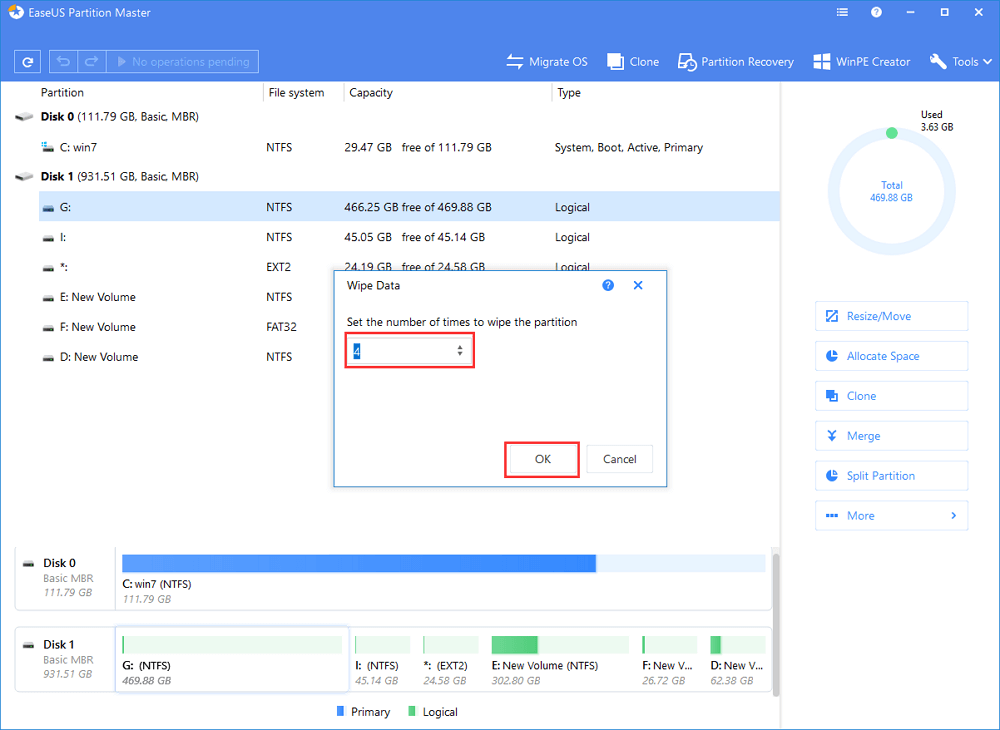 Step 3. Click the "Execute Operation" button in the top-right corner, check the changes, then click "Apply" to wipe the data on your partition.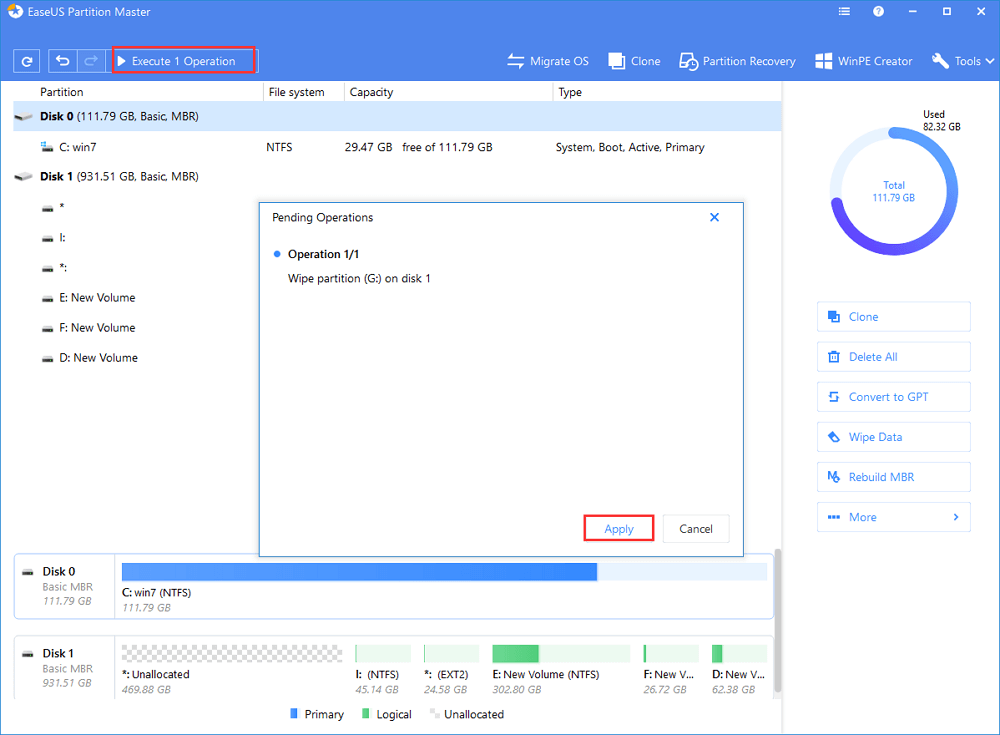 How to Wipe Hard Drive or SSD:
Step 1. Start to wipe data.
Select the HDD/SSD. And right-click to choose "Wipe Data".
Set the number of times to wipe data. (You can set to 10 at most.)
Then Click "OK".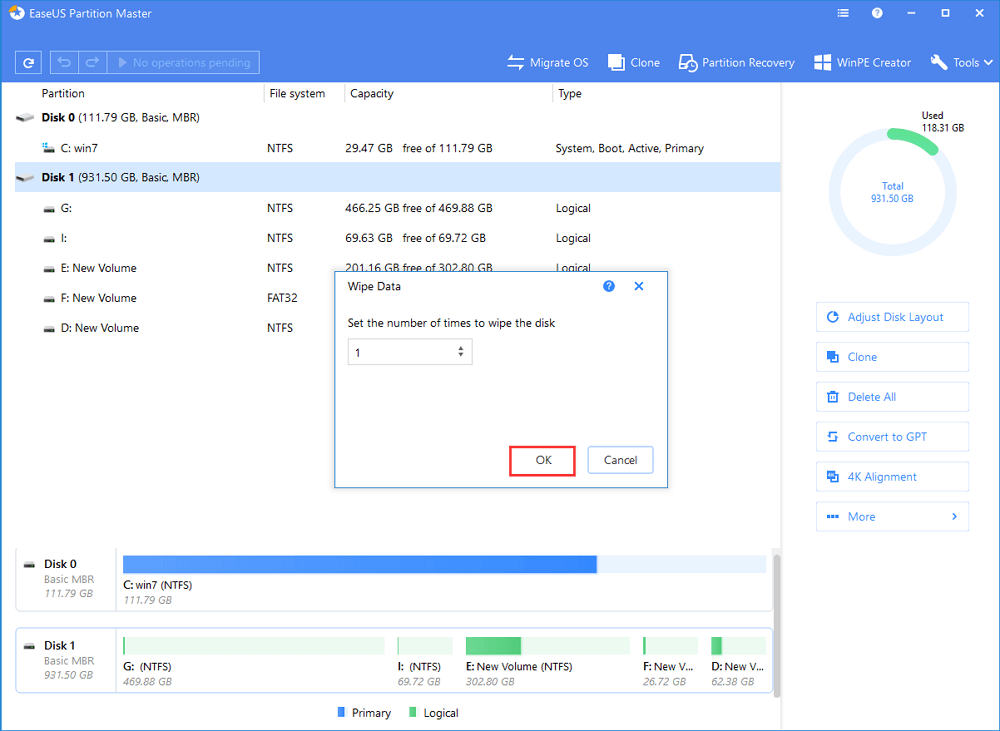 Step 2. Check the message.
A message tells you that the computer would restart after disk erase is recommended. Then click "OK".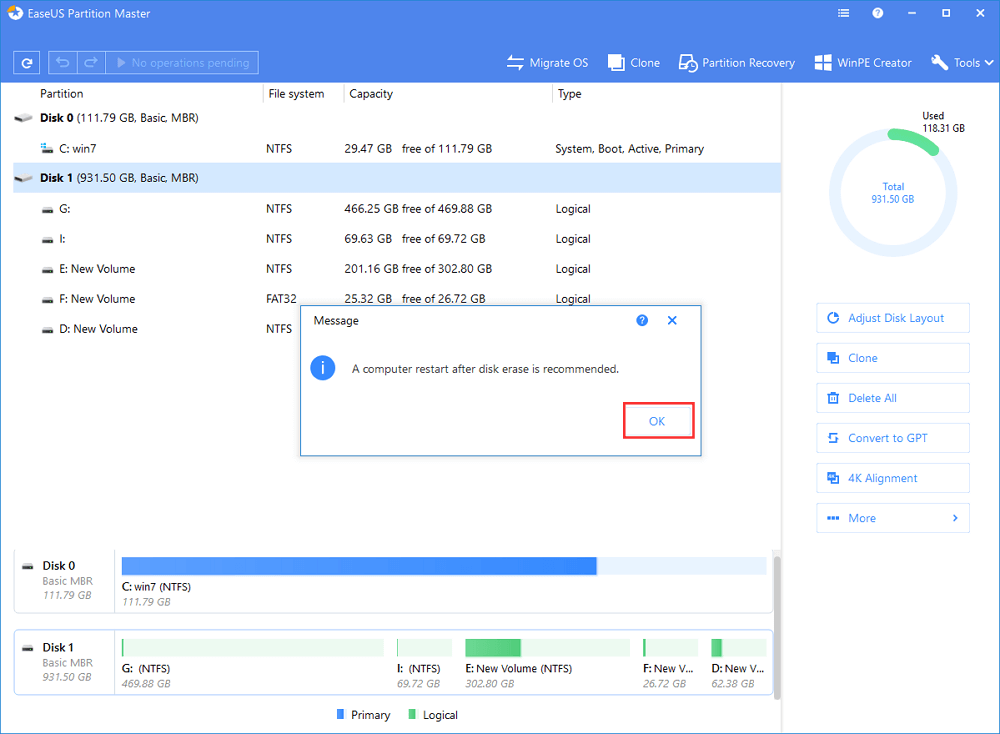 Step 3. Click "Execute the operation" and then click "Apply".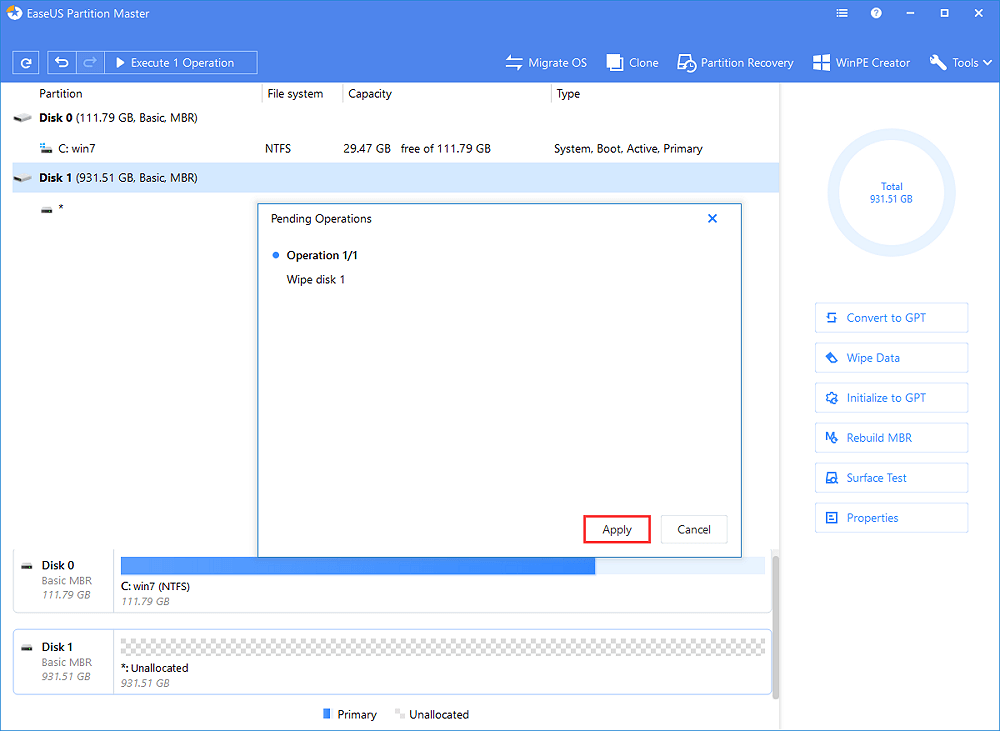 #2. Blancco Drive Eraser
Applies to: Wipe data on drives in PC, laptops, and Servers, etc.
Blancco Drive Eraser claims to be a certified data eraser that supports erasing files on patented SSD, multiple drives, and even wipe data from BIOS. If you are looking for data wipe software with a certificate, Blancco Drive Eraser could be one of them. 
Highlighted Features:
Wipe data on SSD, HDD volumes.
Wipe data from BIOS.
Identifies false positives while erasing data.
Supports erasing data on Server machines.
Data Wipe Software Free Download: https://www.blancco.com/products/drive-eraser/
How to Wipe Data: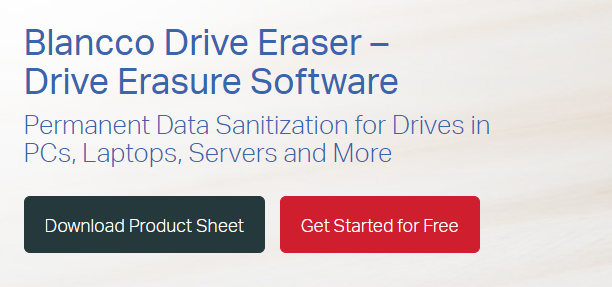 Step 1. Choose a specific data erase standard.
Step 2. Follow the software's directions to overwrite data from the device.
Step 3. The software will verify if the data has been successfully removed.
Step 4. Once done, the software will create a tamper-proof certificate providing that the erase process completes successfully.
 #3. CCleaner
Applies to: Wipe files and data on the computer, hard drive, and internet browsers.
CCleaner is an old & advanced data wipe software. It supports wiping data on a hard drive and free up space from a specific location on your computer. However, the free edition currently only works to protect the privacy and clean the disk at a standard level. 
Highlighted Features: 
Support health check of your computer
Support custom clean your computer, including file explorer file, internet browsing cookies, download location, etc.
Write registry changes.
Set to uninstall applications, wipe disk, find system restore image, find duplicated files, disable programs from startup.
Data Wipe Software Free Download: https://www.ccleaner.com/ccleaner
How to Wipe Data: 
Step 1. Click Custom Clean in CCleaner. 
Step 2. Scroll to the Advanced category and click Wipe Free Space.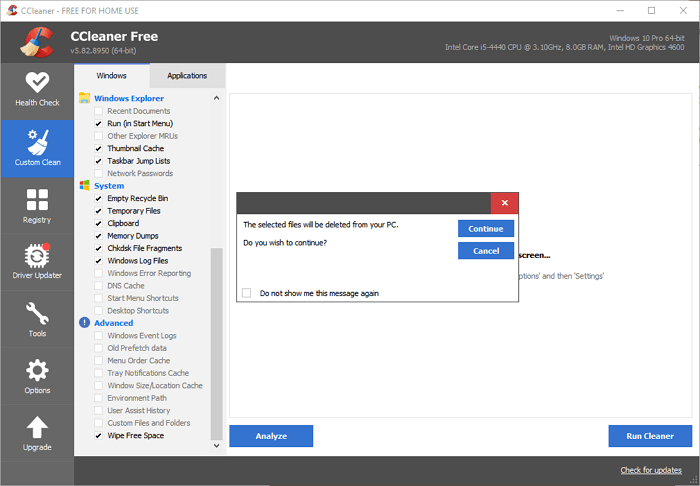 Step 3. Click OK at the warning window, and run Ccleaner to clean the drive.
#4. DBAN
Applies to: Delete information stored on hard drives in desktop, laptops, and Server machines. 
DBAN is free to use for erasing hard drive data. Although it claims that it cannot completely sanitize the entire drive data. It also couldn't detect SSD when it comes to erasing SSD data. But it's indeed a comprehensive data erasing solution for many companies with its free features.
Highlighted Features: 
Permanent data erase
Erase hard drive with ATA, SATA, SCSI connectors.
Remove virus/spyware from Microsoft Windows installations.
Data Wipe Software Free Download: https://dban.org/
How to Wipe Hard Drive Data: 
Step 1. Download DBAN and save its ISO file to your computer.
Step 2. Burn DBAN to a USB flash drive.
Step 3. Restart PC and boot into DBAN USB. 
Step 4. Choose an option from DBAN main menu: Enter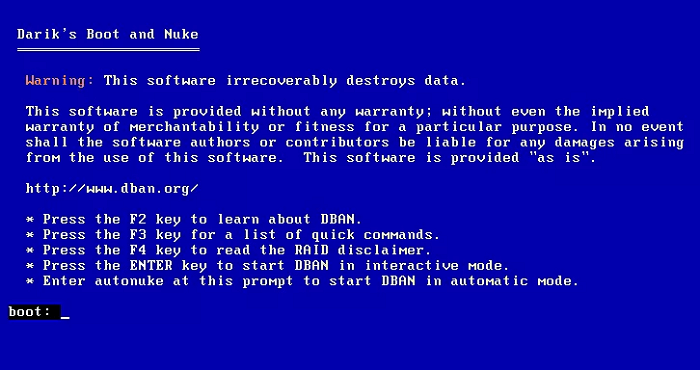 Step 5. Type Command to wipe hard drive data: 
dod - DoD 5220.22-M
dodshort - Same as dod except only 3 passes are run instead of 7
ops2 - RCMP TSSIT OPS-II
gutmann - Gutmann
prng - Random Data
quick - Write Zero (completely erase hard drive)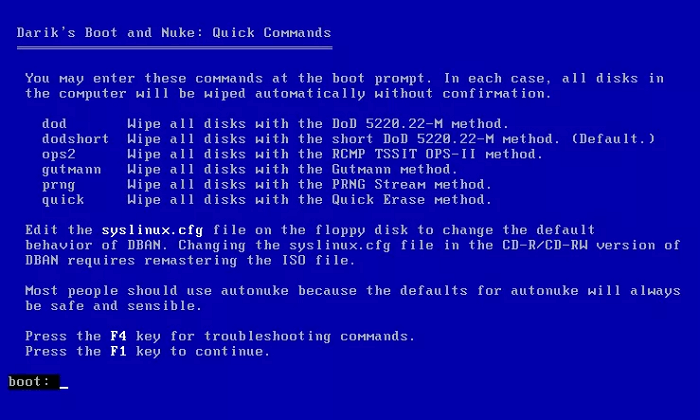 Step 6. Choose a hard drive to wipe and wait for the erasing process completes.
Verify DBAN if has successfully erased your hard drive. If it finishes the wipe process, you'll see a successful message.
#5. Disk Wipe
Applies to: Wipe volume data for free, erase all disk data and prevent recovery of those data.
Disk Wipe is released as freeware under EULA Licence, which makes it free for personal users to destroy data on their hard drives. Besides hard drive erasing, it also offers a formatting option for you to format a hard drive, leaving an option to recover data. 
Highlighted Features:
Wipe data on partitions and disk volumes.
Doesn't need installation.
Use quick format prior to clean drive for faster performance.
Support NTFS, FAT, FAT32 disk formats.
Data Wipe Software Free Download: https://www.diskwipe.org/
How to Wipe Data:
Step 1. Run DiskWipe.exe from PC.
Step 2. Select the drive or partition you want to erase and click Wipe Disk.
Step 3. The program will ask if you want to format the drive as NTFS, FAT, or FAT32, select one format.
Step 4. Choose the erase pattern and number of passes you want to use: One Pass Zero, One Pass Random, US Department of Defense Dod.
Wait for the process to complete.
Select the Easiest Data & Hard Drive Wipe Software, Go and Clean Up Your Data Now
On this page, we collected the 5 best free data wipe software that works to clean up and permanently erase data on your computer hard drive.
After comparing the Pros, Cons, and highlighted features in these software, you may have a clear clue about which tool to choose. If you are still uncertain about which to select, here is our Editors Pick that you can follow and try:
For internet data wipe software, CCleaner is good for you to try. 
For a Server data cleaner, Blancco Drive Eraser with its certified data erasing feature can help.
For the easiest and most efficient data wipe software, take EaseUS Partition Master.
Updated by Tracy King 
Tracy joined in EaseUS in 2013 and has been working with EaseUS content team for over 7 years. Being enthusiastic in computing and technology, she writes tech how-to articles and share technical solutions about Windows & Mac data recovery, file/system backup and recovery, partition management and iOS/Android data recovery.
I love that the changes you make with EaseUS Partition Master Free aren't immediately applied to the disks. It makes it way easier to play out what will happen after you've made all the changes. I also think the overall look and feel of EaseUS Partition Master Free makes whatever you're doing with your computer's partitions easy.

 Read More

Partition Master Free can Resize, Move, Merge, Migrate, and Copy disks or partitions; convert to local, change label, defragment, check and explore partition; and much more. A premium upgrade adds free tech support and the ability to resize dynamic volumes.

 Read More

It won't hot image your drives or align them, but since it's coupled with a partition manager, it allows you do perform many tasks at once, instead of just cloning drives. You can move partitions around, resize them, defragment, and more, along with the other tools you'd expect from a cloning tool.

 Read More
About EaseUS Partition Master
All-round disk & partition management software for personal and commercial use. Let it manage your storage drive: resize, format, delete, clone, convert, etc.
Video Tutorial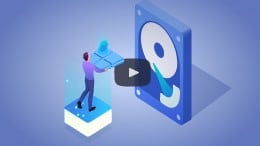 How to Partititon a Hard Drive on Windows 10/8/7
Was This Page Helpful
How Can We Help You
Find answers to common questions below.